Last updated - February 24, 2020
There will be occasions when you want to make changes to multiple products on your store. Opening each individual product details page and editing them one by one might be a taxing job. To avoid such hassles, WooCommerce offers an in-built option to bulk edit products.  With the help of this option, you can select multiple products and make changes to the product data fields and update them in one go.
How to Bulk Edit Products on WooCommerce?
By default, you will find a WordPress functionality to bulk edit products on your site. On your product page, you can select the products and choose the bulk edit option.
Watch the video below or read on:
Let's take a look at how to manage this:
Go to WooCommerce > Products.
Select the products you want to edit.
Here you will find a Bulk Actions drop-down on the top left of the screen. Choose the Edit option, and click apply.
Now, you will see a bulk edit screen where you can make changes to the selected products.
You will see the selected products that are going to be updated, along with the different product properties that you can change.
You can assign new categories and tags to the products, allow comments to the product listing, or change the Publish status of the product.
Here you will be also able to make changes to several product data fields.
The changes you can make to the product data fields include the following:
Product Price (Regular and Sale price)
Weight and dimensions of the products
Shipping class
Catalog visibility
Enable or disable featured product option
Modify stock information
Allow or disallow back orders
Enable to sell individually
Example scenario
Increase Regular Price of multiple products by 10%
We will first select 4 products. Please note the existing price for these products.
To increase the price of the above 4 selected products, you can select the option "Increase existing price by (fixed amount or %)" from the Price drop-down field. Enter "10%" and click update.
You can see the Regular Price of the selected products is increased by 10%.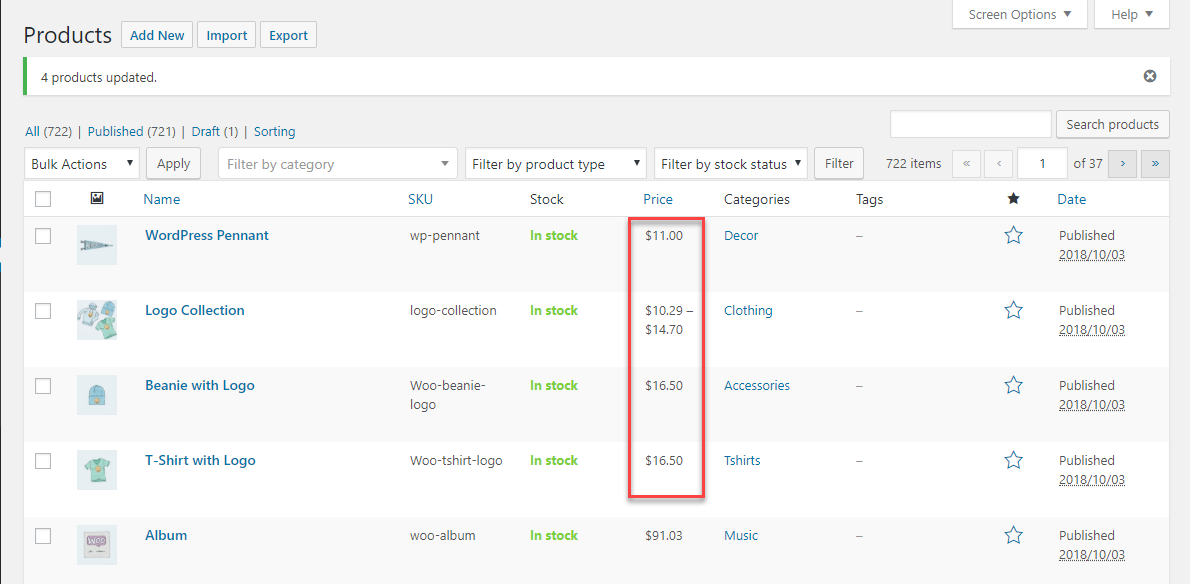 However, you might have noticed that the price has not changed for the second product. That is because it is a grouped product, and you need to change the price of individual products in a group separately.
Please note: With the default bulk edit option, you won't be able to make price changes to grouped products or variable products. These changes need to be made at individual or variation levels.
How to filter products to bulk update?
Your WooCommerce store might have several products, and at a given time you might want to make changes only to a select few. How will you select a specific set of products for bulk edit?
That is where filtering options would come to your rescue.
While using the default bulk edit option, you can filter products by three aspects: category, product type and stock information.
To filter by category, you can type in one of the categories on your store, and click the Filter button. All the products under that category will be listed. You can select the products you want to edit and update them in bulk.

To filter by product type, you can choose the product type from a drop-down, and click the Filter button. All the products under that product type will be listed.
You can also filter products by stock status. The filtering options allow you to select only In stock, Out of stock or Back Order products as per your requirement.
Example scenario
Now, let's look at another example. You want to set up a 5% sale price to all your In-Stock products. How will you manage this? Let's see step by step.
First, you will have to filter the in-stock products. Select In-stock from the Filter by Stock status drop-down and choose In-stock. All your in-stock products will be listed.
One thing to notice here the Number of items displayed per page. In this example, we have over 700 in-stock products on our demo store. And only 20 products are displayed on one page. So, we have to change the display option.
For this, click the arrow for Screen Options on the top right of your screen. Here, you can change the number of items displayed per page. Change it to a higher number than the products you want to edit (in this example, we are making it to 800).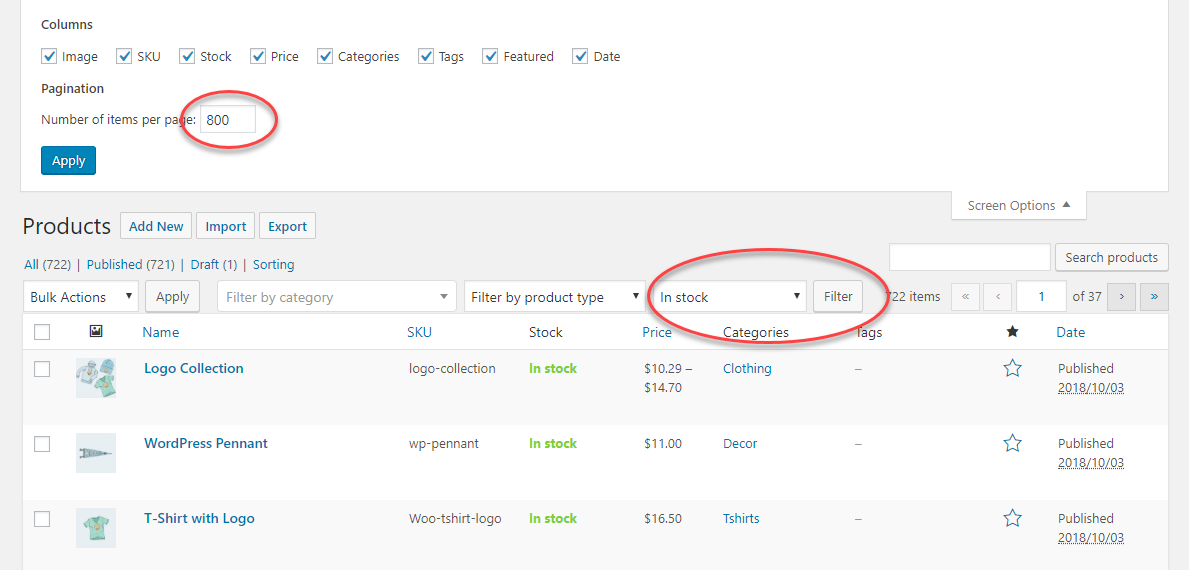 Now all your in-stock products will be displayed on a single page.
Please note: The maximum number of products you can display on a single page is 999. So if you have less than 999 products on your store, you can use this option effectively.
Select all the products and choose Edit from the Bulk actions drop-down. On the Sale field, choose "Set to regular price decreased by fixed amount or %". This will help you set up a sale price based on the regular price of the products.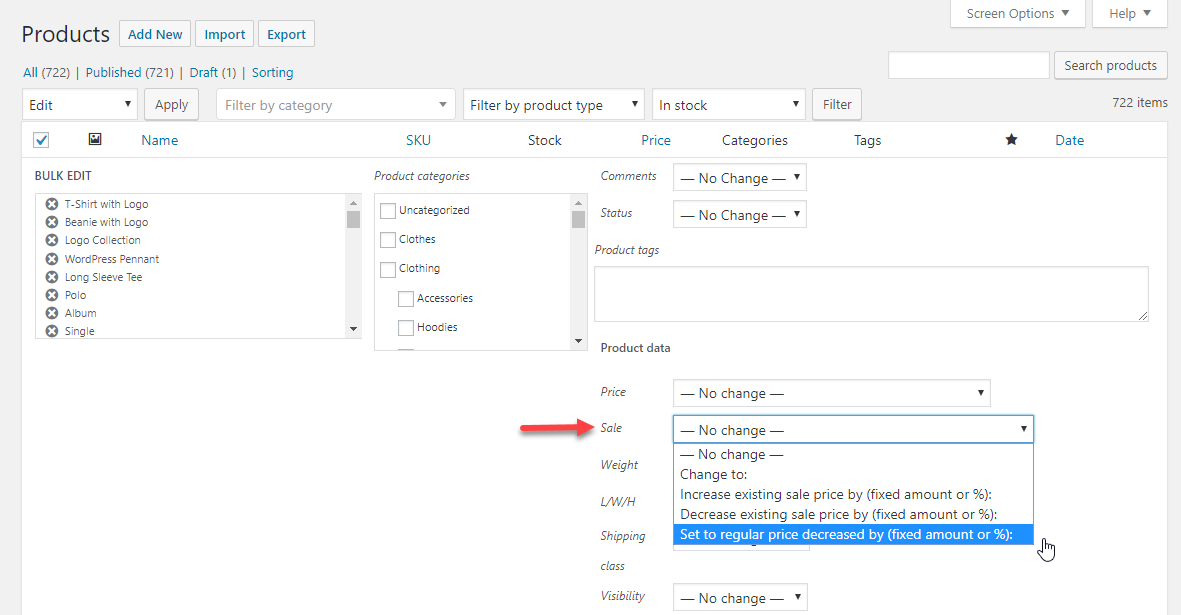 Enter the value you want to change (for this example, 5%), and click the Update button.
Now you can see a sale price has been set up for all your In-stock products.
Please note: You will have to manually change the price for individual variations of your variable products as the bulk edit operation won't change them.
Plugins to bulk edit products
If you have less than 999 products on your store, and you have mostly simple products, then WooCommerce in-built bulk edit option can be enough for you. However, if you have large number of products and quite a high number of variable products, you can use some of the third party plugins.
There are plugins in the market that can bulk edit over 10000 products at a time. Moreover, these plugins offers a better user interface and makes it extremely simple to bulk update large number of products in one go. Moreover, they will be quite helpful when you want to bulk update variable products and individual variations.
Some of these plugins even have an undo option that can be quite handy when you make mistakes while editing.
Here is a list of premium WooCommerce Bulk Edit plugins that you can try out.
This plugin will help you bulk edit WooCommerce product fields such as SKU, Catalog Visibility, Stock, Quantity, Regular Price, Sale Price, Shipping Class, Weight, Dimensions, Attributes and even product meta fields. Let's take a quick look at some of the advantages of using this plugin over the default bulk edit option of WooCommerce.
Extensive filtering options
Bulk edit large number of products
Edit multiple properties
Bulk edit custom fields
Preview option
Undo last operation
Exclude products from bulk edit
This one is another plugin that will help you filter products according to your requirements and make changes easily. You can edit thousands of products together with a simple user interface and easy operations.
Here are some of the standout features:
Extensive editing options
Control how you want to edit products
Filtering options
Create and Delete products
Export and Import Data
Bulk Edit Custom Fields
This one is equally comfortable whether you want to edit individual fields, or bulk update several ones at a time. It even helps you to edit product images.
Let's take a look at the features of WooCommerce Advanced Bulk Edit Plugin:
Extensive filtering options
Convenient editing options
Create products
Custom meta fields
Flexibility to edit large number of products
This plugin is another popular and user friendly option to bulk edit products on WooCommerce. If you make any mistakes while editing, the plugin offers a rollback option as well.
Here is a look at some of the unique features of this plugin:
Handle variations with ease
Extensive filtering options
Export and import options
Roll-back option
Meta field bulk editing
This plugin offers a very simple layout  and is intuitive and quite fast. You can create new variations on your store using this plugin.
The features of this plugin are:
Ability to handle variations easily
Convenient operations
Easily edit product price
Further reading