Last updated - December 5, 2022
Customer loyalty is one of the important factors that define the success of an eCommerce business. Even in a marketing perspective, repeat purchases from existing customers will be a cost effective strategy compared to acquiring new customers. So eCommerce store owners are often looking out for different strategies to entice existing customers to purchase more often. Having a credit system on your site, offering reward points, referral bonus, etc are some of the common strategies. In this article, we will discuss some of the popular WooCommerce credits, gift voucher & promotion plugins that you can use. These plugins should help create long term relationships with your customers.
If you want a plugin that offers extensive promotion management options, this one could be what you are looking for. It will help you configure discount coupons, credits, gift vouchers, and a lot of other promotional offers. The plugin is really popular among WooCommerce store owners and offers a lot of options to set up a creative promotional strategy.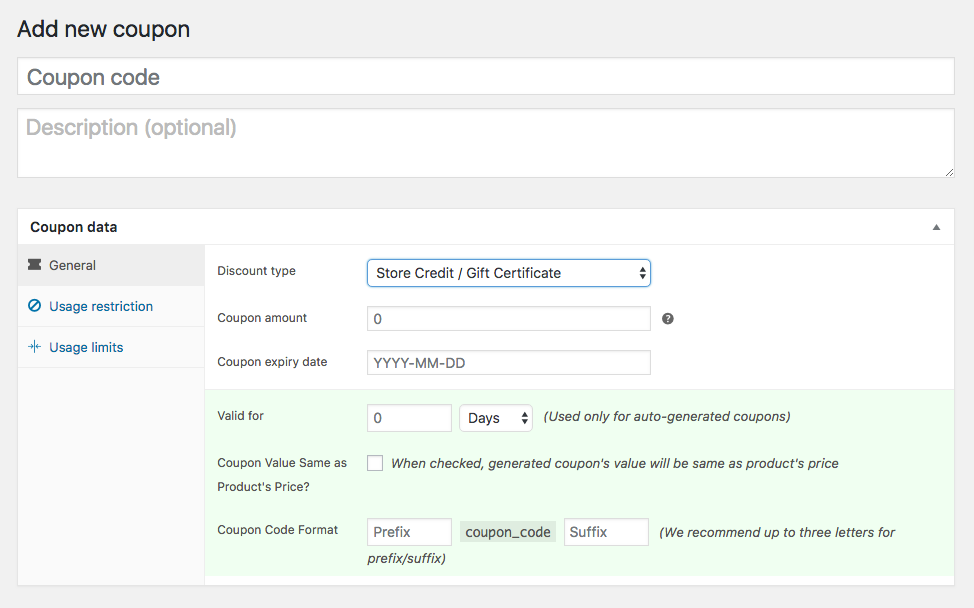 Features
Create fixed amount and percentage coupons based on several different conditions.
Easily generate coupons in bulk, create free shipping rules and product giveaways.
Associate coupons with the purchase of specific products.
Provide store credits and gift vouchers for customers.
Easily embed coupons on different pages of your store as per requirement.
Share coupons easily through emails and social media.
Intuitive user interface that will help you manage with promotional deals with minimum technical expertise.
Does not affect the performance of your store.
Compatible with several other WooCommerce plugins and helps you execute diverse promotional strategies.
A single site subscription of this plugin will cost you $99.
If you want to find a simple option to handle store credits on your store, this plugin could be a really good option. It will help you create a personalized experience for your customers and will generally improve the prospects of customer loyalty. Once store credit is added to customers' account, they will be able to make multiple purchases using that. You will be able to create store credits in such a manner so that you can measure the amoung of credits in every purchase. Moreover, you can use store credits when dealing with refunds, which will ensure that you are not completely losing a sale.
Features
Helps you create and share store credits with customers.
Control how you want customers to use their store credits.
Restrict store credit coupons to specific products or categories, or use it for shipping discounts.
Choose whether to allow customers use store credits along with other offers.
Integrate with other eCommerce plugins and external tools easily.
The single site subscription of the plugin will cost you $79.
We all know that coupons can be great for bringing in customers. But there's only so many times you can run the same percentage off deal with the limited options in the standard WooCommerce coupons. Advanced Coupons is stepping in to fix that for your store though. They promise the ability to add more advanced features to your standard boring coupons and they're taking a holistic approach.
Features
Cart Conditions can be used to save you money from misuse of coupons, they work a bit like rules that need to be followed before the coupon is allowed to be applied.
If the customer satisfies the Cart Conditions you can also have the coupon auto-apply.
You can use the Add Products feature to have the coupon add a product to the cart when it's applied. This is great for doing things like free samples or bonus products.
There's also an option to give specific discounts on Shipping, so you aren't stuck to just offering the same free shipping promotion anymore, you can discount other shipping methods.
Rewarding your customers for their purchases can be a great strategy to bring them back to your store. With the help of this plugin, you can create a reward system on your store that will assign points for purchases and other actions. You will be able to set up point system globally on your entire catalog, or only on specific products or categories. The plugin also gives you an option to set a maximum limit when customers are redeeming reward points.
Features
Set a reward system specifying the points earned per purchase or action, and how it can be redeemed.
Set a limit to the number of points that can be redeemed in an order.
Encourage customers to sign up for newsletters or write product reviews by assigning points for these actions.
Easily manage the points system for each customer.
Customize the reward system to suit your store and business model.
You can purchase a single site subscription of this plugin at $129.
If the whole process of applying coupons is affecting your conversion rate, you can consider using this plugin. You can avoid customers hunting for coupon codes by automatically applying coupons on the cart or checkout pages. You can create and send personalized urls to customers, which will automatically apply discounts. The plugin will hide the coupon fields from cart and checkout pages, and automatically apply them when customer qualified for discounts log in. You will be able to set up url coupons on your posts, pages or landing pages. When customers visit these pages, the coupon will be triggered and automatically applied.
Features
Create coupon urls that will automatically applies when a customer visits the site using that link.
Option to add products automatically to cart when customers click on the url.
Redirect customers to specific pages after applying the coupon.
Hide coupon fields if you notice a dip in conversion rate owing to customers searching for coupon codes.
The single site subscription of this plugin has a price tag of $49.
You can give away products for free using this plugin. The plugin helps you create gift coupons just like the way you can with other coupon management options. However, instead of offering a discount, this plugin will add a specified free product to the cart automatically. You can reward specific customers using this strategy, and is a good option to familiarize new products in the market.
The single site subscription of this plugin has a price tag of $29.
A lot of online stores will have multiple retail channels to sell products. If you have an online store and a physical store, sometimes you may want to use printed gift vouchers. This plugin will help you create PDF gift vouchers, which can be downloaded by customers. Customers can avail them for their next purchase either online or offline. It can be a great option for online service bookings, or events where customers are more probable to avail them at a store or venue. The gift vouchers are customizable, so that customers will be able to purchase them as gifts for their friends and family.
Features
Offer downloadable PDF vouchers, which customers can redeem at a physical location or online as store credits.
Allow customers to create personalized vouchers, which they can automatically email to the recipient.
Make voucher redemption easier by adding a QR code to the PDF voucher.
Great options to personalize the vouchers with six different background styles, and option to add images as backgrounds.
Control how customers use vouchers with partial redemption as well as block vouchers to prevent further redemption.
The plugin will cost $129 for a single site subscription.
Another great strategy to enhance customer loyalty and encourage repeat purchases would be to allow customers to store funds in their accounts. This plugin provides an option where you can let customers store funds in their accounts. Moreover, you can encourage them to use this option for payments by offering special discounts. If you are looking for an option to improve customer loyalty on your WooCommerce store, this plugin could be useful.
Features
Allow customers to stores funds in their account and replenish within the limits you have set.
Create discount offers to reward customers who use this payment option while checking out.
Allow customers to use store funds for partial payments.
Easily manage the store fund option from the backend.
A single site subscription of this plugin will cost you $79.
As you know, product reviews help a lot in driving conversions in an online store. It is important to have trustworthy reviews on your store from customers who have experience with your products. This plugin will help you encourage customers to write reviews on your store by offering special discount offers. When customers write a review of your products, you can send them coupon codes to redeem at checkout. Interestingly, the plugin will even generate and send a coupon automatically when a review is done. The cost of a single site subscription of this plugin is $29.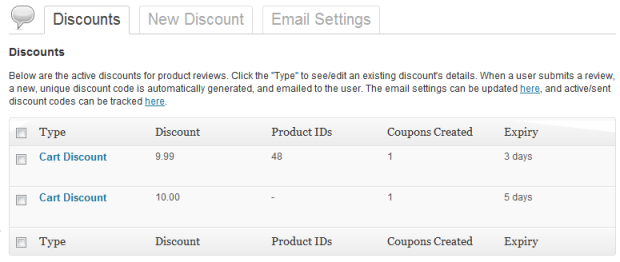 Customer referrals are a great way to find new customers and expand your market reach. With the help of this plugin, you will be able to set up a referral system for your customers. It offers both coupon-based and link-based referral systems, which you can choose based on your store strategy. Customers will be able to share referral links to their friends through email or social media effortlessly. The plugin offers both automatic and manual referral approval system for store owners. It also offers a fraud prevention option where suspicious referrals will be marked for further verification. You need to spend $79 to get a single site subscription of this plugin.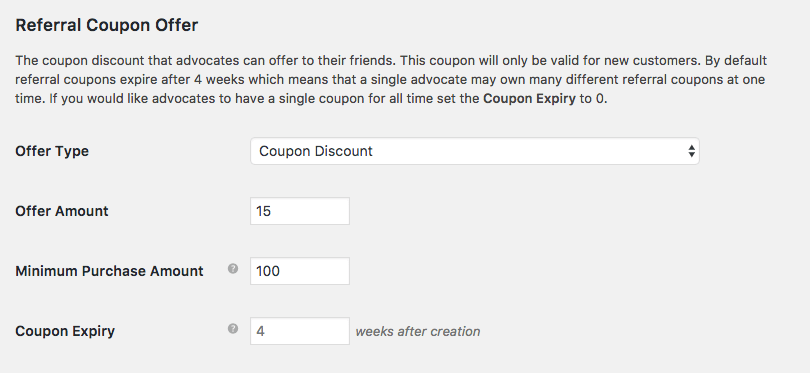 This plugin will help you make the coupon management process on your store more personalized. You can create different user groups on your store and automatically apply coupons for them. If you have different segments of customers on your store, this can be an effective strategy. For example, wholesale stores will have different types of customers who comes under different pricing brackets. You can create unique discounts for different segments. The plugin is compatible with WordPress user roles and you can also use the free WordPress Groups membership plugin to create segments.
Hope you got an overview on some of the most popular WooCommerce Credits, Gift Voucher & Promotion Plugins. Use these plugins to execute creative promotional deals and coupons based on analytics insights and observations.
Further reading