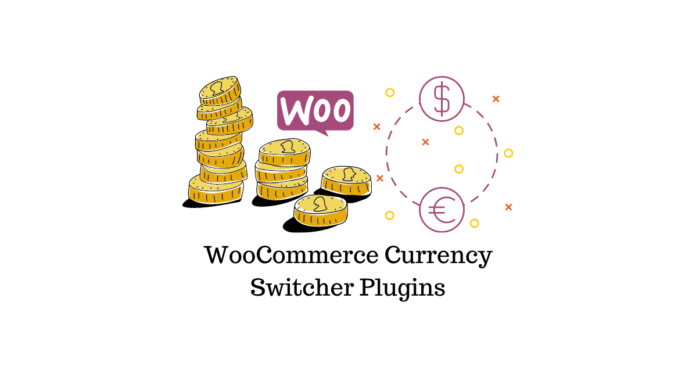 When you are selling internationally, it is important to display product prices in the currency of your customers. How will you switch currencies on your store automatically according to the customer's preference? You can use the help of plugins to incorporate this feature into your store. In this article, we will discuss some of the best WooCommerce currency switcher plugins that will help you enhance customer experience while selling internationally.
Best WooCommerce Multi Currency Plugins
You will find several interesting plugins in the WooCommerce ecosystem that will help you offer the option to switch currencies on your store. Here are some of the prominent ones.
Based on the geolocation of the customer, this plugin will display the right currency on your WooCommerce store. It will help you set up currency conversion manually or automatically according to your requirements. The plugin lets you keep the base prices in the default currency and then additional options as per your needs. Moreover, users will be able to pay in their own currency.
Features
Easily calculate and switch currencies on your WooCommerce store.
Sidebar widget to help users choose their currency of choice.
Include conversion commission in the displayed rates.
Automatic and manual options for conversion.
The plugin costs $99.
You will be able to display multiple country switchers with currencies on your WooCommerce store with the help of this plugin. It will determine the right currency to display according to the customers IP address. Additionally, customers will have the choice to pick their preferred currency while completing the purchase. You can also set a few country options as default for checkout.
Features
Display multiple countries and currencies.
Automatic and manual conversion options.
Allow customers to choose their preferred currency.
Allow options to override country preferences.
You can get the plugin for $99.
You will be able to provide an option for your international customers to choose a currency of their choice with this plugin. It has an option to automatically display the appropriate currency based on the location of the customer. With the help of a widget, you will be able to display the currency switcher on Shop, Cart or Checkout pages easily. The rates for conversion are updated at regular intervals to ensure the best experience for customers.
Features
Display an option that lets customers switch between currencies.
Enable or disable payment gateways based on currency.
Display currency symbols and country flags on the frontend.
Easily manage multiple pricing zones.
The cost of the plugin is $79.
This plugin helps to display prices on your WooCommerce store according to the preferred currency of your customer. It also offers multiple conversion rates and lets you round the converted value. The plugin switches back to the base currency of your store during the Checkout process. Moreover, the availability of shortcodes will help a lot with the plugin configuration.
Features
Helps you feature a multicurrency switcher on your WooCommerce store.
Multiple conversion rates and option for manual entry.
Additional filter options for subscription products.
Shortcodes for different display options for the currency switcher.
The plugin will cost you $79.
This is a feature-rich plugin that offers automatic currency conversion and currency switching options for your WooCommerce store. It provides an option to choose from over 160 different currencies, which you easily sort and prioritize. Customers will be able to switch currencies even during checkout, and you will be able to associate specific payment methods with currencies. It has an intuitive user interface and will be quite pleasing to work with in the backend.
Features
Currency switcher with automatic currency conversion option.
More than 160 currency units available, which can be organized as per your preference.
Intuitive design to complement your site and mobile devices.
Allow customers to pick a preferred currency during checkout.
You can get this plugin for $49.
You will be able to display a convenient currency converter widget on your WooCommerce store with the help of this plugin. The plugin will get the conversion rates and gives you an estimate. Though the converted price is stored, the base currency of your store will be used for checkout. The widget lets you add multiple currencies to the converter as per your requirement.
Features
Currency switcher widget to display product prices in different currencies.
Real time switching of prices to another currency.
Add multiple currencies to the widget.
Checkout using the base currency.
You can get this plugin for $29.
This plugin will help you configure a comprehensive multicurrency system on your store. This will enable you to operate in multiple international markets and display prices in local currencies. Apart from automatically displaying currencies based on customer location, you can also set up specific currencies based on location. The plugin offers options to add conversion rate manually, or apply them automatically. Additionally, you can hide some payment methods based on the customer's currency choice.
Features
Enhance customer experience with multiple currency options.
No limits in the number of currencies that can be added.
Manual and automatic options to configure conversion rates.
Customize the frontend display of currencies.
The cost of this plugin is $99.99
You can add a range of currencies on your WooCommerce store with this plugin, and ensure great outcomes in international markets. The plugin has a wide range of features including letting customers to checkout in their preferred currency, prices based on country or user role, etc. It is pretty effortless to use this plugin, as it offers both shortcode and widget support for the display of the currency switcher. Furthermore, there are different display styles available that you can choose for the frontend.
Features
Let customers switch between currencies easily.
Shortcode and widget to display currency switcher.
Automatic currency conversion.
Custom price format and display options.
The price of a Regular License of this plugin is $32.
This plugin helps to offers multiple currencies to customers, and also to accept payment on your store from different currencies. The plugin can automatically display a currency based on the location of the customer, and also has options to manually or automatically update conversion rates. In addition, the plugin lets you add a fixed amount as exchange fee, if it is applicable to your store strategy.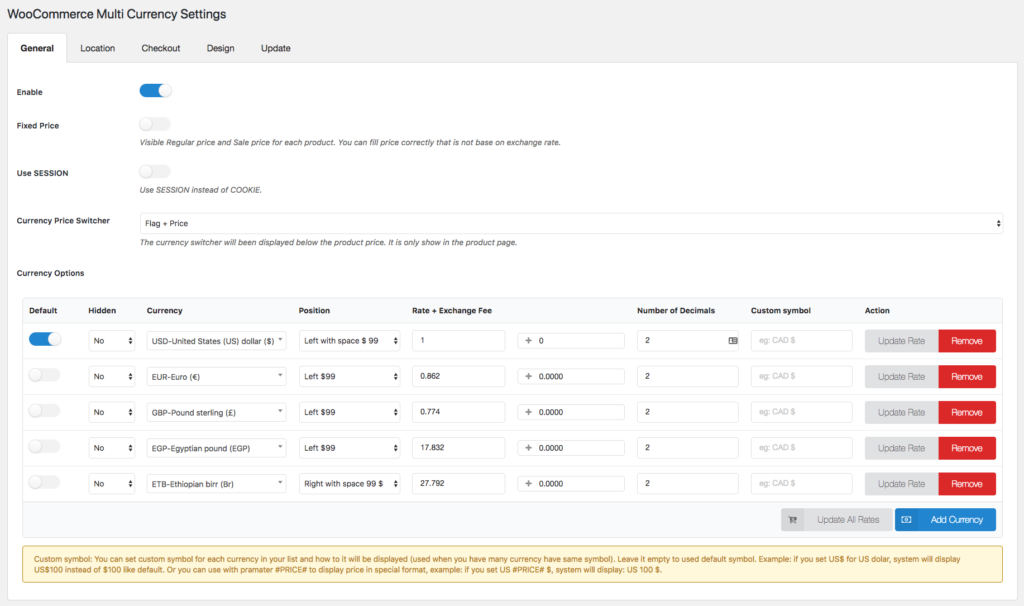 Features
Helps you display multiple currency options in the frontend.
Option to set conversion rates and update it it in regular intervals.
Option to add an exchange fee.
Different price formatting and currency symbols for the frontend.
The cost of the plugin is $32 for a Regular License.
You will be able to display currency by country and language using this free plugin. It also offers an automatic update of exchange rates and an option to switch to the store's base currency on the Checkout page. The plugin also supports shortcodes and widgets so that store admins can easily place currency switchers on the site.
Features
Display currency switcher on your WooCommerce store.
Currency can be determined by country or language.
Widget and shortcode support.
Automatically update currency conversion rates.
We hope these WooCommerce currency switcher plugins will help you effortlessly manage conversions and currency switching on your online store. If you have any queries, or want to share some knowledge related to this topic, feel free to leave us a comment in the below box.
Further reading