Last updated - August 25, 2021
Dropshipping offers wonderful business opportunities for budding entrepreneurs thanks to its low initial costs. In a dropshipping eCommerce store, the store owner will feature products that will be fulfilled by a dropshipping supplier. For anyone starting a new dropshipping business, it is important to understand the popular dropshipping suppliers, and ways to find interesting products to sell. For a dropshipping store, it is also important to find quality suppliers who will fulfill promptly on your behalf. In this article, we will help you with a list of the best dropshipping suppliers and the best WooCommerce plugins to help you import products easily.
Places to find products from Dropshipping suppliers and products
You will find a lot of popular websites that create curated lists of products for dropshipping from manufacturers and suppliers across the world. Since you need a certain assurance while starting a business, you may have to rely on these aggregators rather than finding dropshipping suppliers on your own. Here is a list of places where you will find quality dropshipping suppliers and goods.
Spocket is one of the most popular dropshipping suppliers if you are looking specifically for products from the US and Europe. On this platform, you will be able to choose from a wide range of original products from US and EU-based suppliers. You will be able to choose your products from categories that you prefer, and test them by ordering samples. It is quite easy to integrate the service with your eCommerce store irrespective of the platform, as it supports WooCommerce, Shopify, Wix and more. The highlight of this service is that you will be able to find dropshipping services with quick delivery timeframe.
The Starter pack will cost you $24 per month. There is a 14-day free trial as well.
Printful is a service that allows you to sell custom products. You can choose from a range of products and customize them effortlessly. There are intuitive design tools that will help you make creative designs in a matter of minutes. Moreover, you can seamlessly integrate with your eCommerce platform.
There are no initial costs when you sign up for Printful with WooCommerce. You will have to pay a fulfillment fees though.
Printify offers more than 300 customizable products to choose from. You will be able to easily add your own designs to these products and sell them at a price of your choice. Fulfillment will be take care by Printify, so you don't have to really worry about storage and delivery. There are easy options to integrate with your eCommerce store for multiple platforms.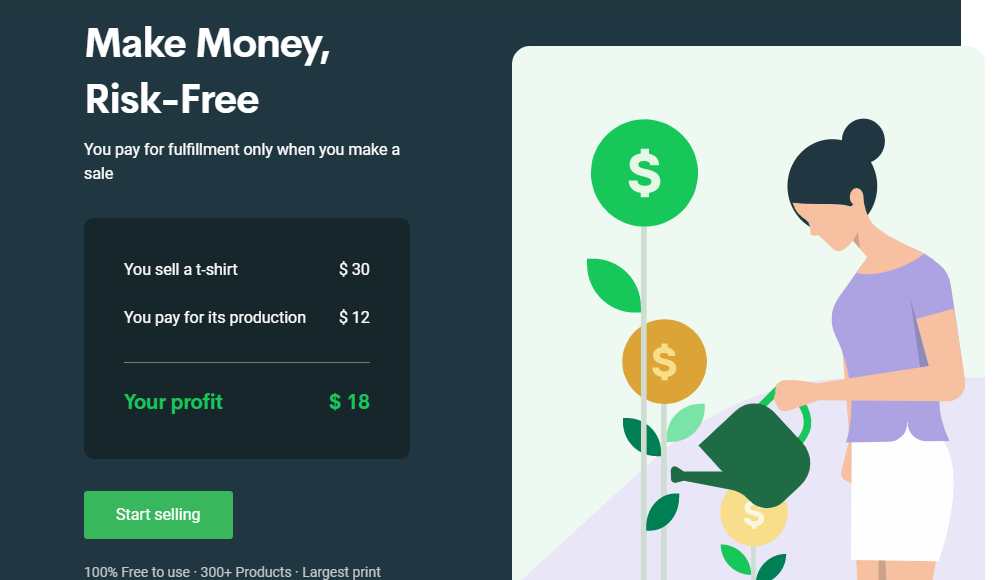 When you start the business, you can use the free plan, and as you scale your business, there are pricing plans starting from $24.99 per month.
You will get access to a large number of products made in French factories, if you are using the services of DropnShop. This will enable you to sell unique products that are not commonly available. The delivery timeframe too is competitive compared to other dropshipping suppliers, and you will be able to use your own branding. More importantly, they don't charge any sign-up or registration fees. Also, you can seamlessly integrate with WooCommerce, Shopify or other popular eCommerce platforms.
You will get access to more than one million products when you choose Doba. It offers easy integration with popular eCommerce platforms and marketplaces effortlessly. Since they verify the quality of dropshipping suppliers, you can be assured of getting good products. Moreover, the fulfillment process is quite streamlined, and you will be able to provide a great user experience.

Doba pricing plans start from $14.99 per month.
Wholesale2B is another great option to find products from dropshipping suppliers. There is no need for you to make agreements with suppliers, as the platform will handle orders and returns effectively. You can easily import products to be sold on your eCommerce store or different marketplaces.
Based on the platform you want to sell, you can opt for their pricing plans. With the free plan, you can view the available suppliers and products.
If you are targeting the US market, Sellvia is a great supplier to look into. Sellvia lets you fill your online store with demanded high-quality products stored in a California-based Fulfillment Center. Fast (1-3 days) shipping across the US along with powerful product descriptions for each product you are importing is provided. The subscription fee is $39/mo (free month trial available).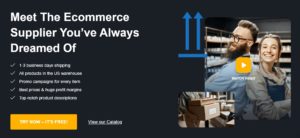 OfficeCrave is a large supplier of office stationery and cleaning products. They offer a dropshipping program that you can easily join. Since they have multiple warehouses spread across the US, the delivery will be relatively quick. Furthermore, they will ensure delivery without any brand labels if you prefer that.
You can join their dropshipping program by simply filling out the form on their site.
With over 15,000 products in their catalog, Sunrise Wholesale is a great option for dropshipping stores. You will have the flexibility to sell products on one of the popular marketplaces like Amazon or eBay, or set up your own store using Shopify or BigCommerce. The range of products they offer is truly amazing, and they will handle returns and refunds without hassles.
Monthly membership of Sunrise Wholesale will cost you $49 per month.
National Dropshippers is another great option to find products for dropshipping from a large number of manufacturers and distributers. The product range is quite diverse as it includes products of different categories such as apparel, outdoor gear, perfumes and pet supplies. They also guarantee a hassle-free return process as well.
Contact them to know the membership fee. There is a free 7-day trial.
Suppliers for specific niches
You can also find suppliers specific to a niche of your interest. Here are some examples:
Dropshipping Supplier Directories
If you want to consider the available shipping suppliers in a broader perspective, supplier directories could be of great help. Here are some options worthy of your consideration.
SaleHoo offers a directory of more than 8000 dropshipping suppliers. You can also use their service to import dropshipping products from AliExpress to Shopify.
This is one of the most popular options to help you access dropshipping suppliers from all the over the world. Depending on the products you want to sell, you will be able to find the real dropshippers and ensure the quality and authenticity of your products.
Wholesaler Central offers a link between wholesalers and resellers. It features a great range of wholesalers, manufacturers and distributers who will supply products to retailers. You can find a suitable wholesaler and directly do business with them.
Services to help you set up a Dropship store
There are some platforms that offer end-to-end support to help you set up a dropshipping store effortlessly. Here are some options:
Dropshipper.com is a comprehensive platform that lets you create your own dropshipping store from scratch. It will create a store with unique domain name, and helps you import products from AliExpress. You will also get access to several advanced features such as abandoned cart recovery, insightful reports, and efficient SEO tools.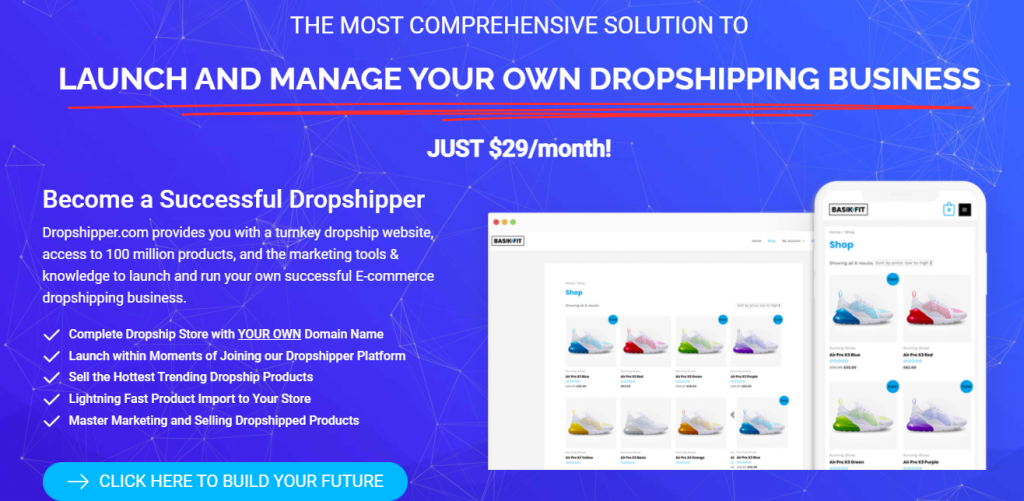 You can sign up for this service at $29 per month.
With this tool, you will be able to connect with more than 200 dropshipping suppliers, and will also be able to automatically sync products to your eCommerce store.
For inventory automation, the cost will be $99 per month. You can also opt for a complete automation package at $199 per month.
WooCommerce dropshipping plugins
Now, if you are using WooCommerce as your platform to set up a dropshipping store, there are several plugins that could help you with features like automatic product imports and supplier notifications. Please take a look at the following options:
If you are maintaining your dropshipping business on a WooCommerce store, this plugin could be handy. It helps your in AliExpress products, Amazon affiliates, or even to dropship with local suppliers. The plugin offers awesome support in assigning and importing inventory, creating emails and invoices, and also to set feasible profit margins.
The plugin costs $49.
You can manage to import AliExpress products to your store, and also manage orders effortlessly using this plugin. The main advantage is that you can automatically send orders to AliExpress for fulfillment.
You can get the plugin at $89.
With WooDropship, you can either opt for a complete package to set up a dropshipping business for you, or go for the WooCommerce plugin that will help you add and customie AliExpress products.
The plugin will cost $49 and the complete website setup will be $199.
Dropified offers great features to help you import dropshipping products from supported sites. It also offers features like advanced product research and automatic order placements. Dropified also has other plugins if you are looking for options to print private invoices for your own brand.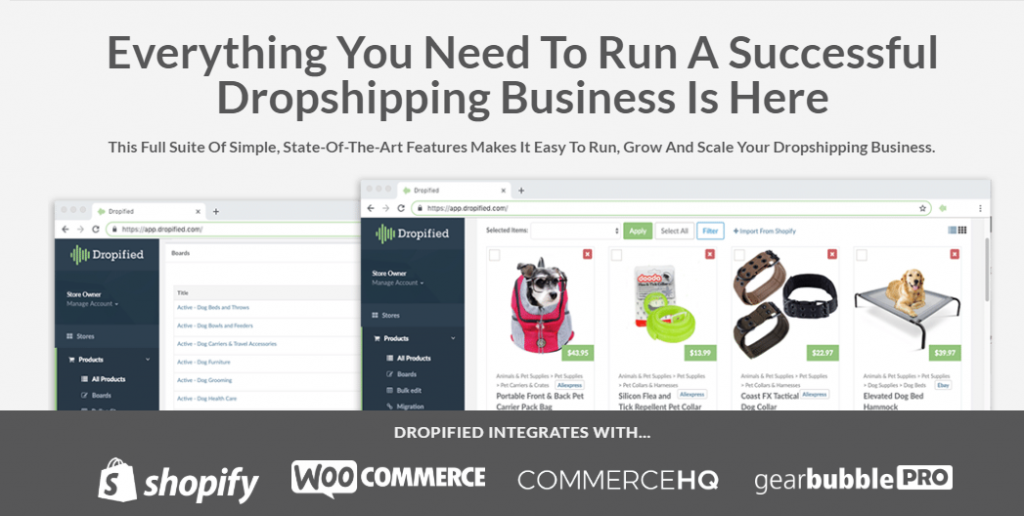 This is a free plugin that will help you import curated products from AliExpress to your WooCommerce store. Since the products are handpicked by experts, there are more success possibilities with this option.
Hopefully, this article has provided you with a good idea on dropshipping suppliers and how you can easily create a dropshipping store using WooCommerce dropshipping plugis. Feel free to leave us a comment if you have a query.
Further reading