Running an eCommerce store is not just about keeping all your products live at one location online. Often you may need to move products across for a range of scenarios. Moving your online store to a different domain, or uploading product feed to a comparison search engine, etc might prove to be challenging. Moreover, you may need to export product data to integrate with external tools for tax calculations or inventory management. WooCommerce provides great flexibility in moving products and other components of your store. This article looks into some of the best ways WooCommerce export products plugins help you in moving data in and out from your online store.
Default Products Export option of WooCommerce
WooCommerce, in the latest versions, has an inbuilt product import export tool. You can use this tool to export products to a CSV file. You can choose the required product types and fields that you want to export. This way, you can export the entire product data from your WooCommerce store including custom data. If you want to understand the detailed working of the in-built product import export tool of WooCommerce, read our article on the same.
WooCommerce Export Products with Plugins
Even though WooCommerce has introduced the product import export tool part of its core, you might still need a plugin when it comes to advanced features. Here is a list of WooCommerce export products plugins that are popular.
WooCommerce says in the future, all the advanced features of this extension would be available integrated with WooCommerce. However, till that happens, you may have to purchase this plugin for the listed features. It is available for purchase at $49 for a single site subscription. The five-site subscription is available for purchase at $79, and the 25-site one you can get hold of at $149.
The extension helps to save you valuable time by providing a simple tool to export and import complex WooCommerce products. The advantage of this extension is that it allows exporting products with custom taxonomies. For example, if you are using a custom category such as 'Brand', you can export product data associated with it. Similarly, you can also export custom product types that you create for specific purposes. Custom product types include the ones like Subscriptions, Bookings, Product Bundles, Product Vendors, etc. You can use the Product CSV Import Suite extension to export all these different product types.
A quick look at the features
Helps to import and export text-based data, which is a standard part of your WooCommerce product such as price, categories, description, images, etc.
Export data in custom fields as well, including taxonomies, attributes, etc.
Import and export product variations, while importing product variations, you may have to use separate CSV files.
Add more information to existing products.
Prevents the creation of duplicates and helps you update product data easily in bulk.
Update the stock using this plugin. For example, if you want to increase your stock by 3, you can do that by including '+3' in the file.
Offers great support to almost all of the popular WooCommerce extensions that create unique product types.
Also supports Google Product Feed, which creates a real-time feed to provide product information to Google Merchant Center.
A simple tool to import and export product data on your WooCommerce store, this one provides support for all product types. The plugin helps you import and export data to and from all WooCommerce product types. It also helps to move reviews on your site. Moreover, the plugin helps with the scheduled import and export of products via FTP using Cron jobs.
One of the outstanding features of this plugin is that it simplifies the import process with its automatic mapping. No need to manually map column headers of your CSV file with WooCommerce fields, which is a mandatory requirement in most other similar plugins. The simplicity to use is really what separates this plugin. If you are not sure about the format of your import CSV file, you can export one to get the format. Another advantage of using this plugin is that you can use Excel or Google sheet to modify the file.
Features
Download product details selectively into the CSV file from the WooCommerce admin.
Supports all product types including simple, variable, grouped and external.
Can export certain other product types that are not part of the default WooCommerce product types. These include products created by other plugins such as product bundles.
Export the standard components of product data including price, description, images, categories, etc easily using this plugin.
Also export custom product taxonomies on your site, you can export those too using this plugin.
Can add more custom product types using hooks.
Export a CSV with variable products, the data of both the parent product and its variations come in a single file.

Choose products of specific categories or types while exporting – specify how you want to export in the product settings page, and you get the CSV file accordingly.

Provides options for automatic export as well.

Set up the export of products to a CSV file at regular intervals via FTP.

Use a saved mapping file for scheduled exports, which really simplifies the process.

Along with the export of products, the plugin also helps in exporting and importing product reviews. Similar to products export, you can selectively import product reviews as well.
The scheduled export through FTP works in the case of product reviews too. More importantly, you can export the reviews created using product reviews plugin.
The availability of extensive filters is what sets apart this premium plugin from the free version, and its many competitors. Apart from advanced filtering options, the premium version has great automation options and custom export templates. Moreover, you get a seamless integration with many popular WooCommerce extensions available. The file options for export are also quite extensive. You will have the freedom to export into CSV, XML, TSV, XLS, and XLSX using this plugin.
This superior plugin offers great options to automate your export feature. You can save your exports as email attachments, or on WordPress media directory, or upload directly to FTP servers or cloud services. Moreover, the plugin promises a smooth integration with accounting software, Google Sheet or Excel.
Great options to help you with your store functions
The multiple export templates available with this plugin makes it easier for you to export store data the way you want it. For example, if you want to automate an export of a specific detail in regular intervals, you can easily manage that with this plugin. In fact, it will help you optimize your entire workflow. A unique feature of this plugin is the date based filtering option, where you can choose a date or a date range to define your export file.
Features
Export WooCommerce product data in different file formats such as XML, CSV, TSV, XLS, XLSX, etc.
Schedule exports to FTP, Cloud services or server.
Export templates to make your workflow smooth.
Advanced filtering options such as based on date for WooCommerce order export.
The plugin provides great support to some of the popular WooCommerce extensions such as subscriptions, Gravity forms, bookings, checkout field manager, etc. You can get a single site license of this plugin for $49. A 5-site license of this plugin would be $99 and for use in unlimited sites, you have to pay $149.
This popular plugin helps you migrate all your product data from one site to another in a matter of few clicks. The plugin handles the export process in an automatic manner which enables a smooth transfer. With WP All Export, you can download a zip file which includes all your data along with the required settings for the import process. So when you want to migrate products from one site to another, the process becomes quite easier. Moreover, the plugin helps you handle some of the complex aspects of a WooCommerce store. These include variable products, images, and attributes.
Features
Export huge volumes of product data from your WooCommerce store.
Offers great filtering options.
Provides a simple, visual interface to create filters for your data.
Drag and drop option to organize columns.
Additionally, it helps you create a Google Merchant Center product feed without hassles.
Automatically update your feed on a schedule that is comfortable for you.
Developer-friendly features that don't require a developer to manage it.
Multilingual exports thanks to WPML compatibility.
To purchase the standalone version of WP All Export, you will have to shell out $99. A combo version of All Import and All Export would cost you $169. And if you are looking for the complete package with all add-ons, you probably would want to go for the "Elite + Export" option. However, this one would cost you $249.
This is another great plugin that will help you export and import product data from WooCommerce. In addition, you can use it to export and import other types of data such as customers, orders, coupons, etc. It also help you with the migration of categories and custom fields and attributes. An important feature of this plugin is its capability to help you schedule export process according to your convenient time. And, the Export Archive feature could be a great help if you want to browse through the archive logs.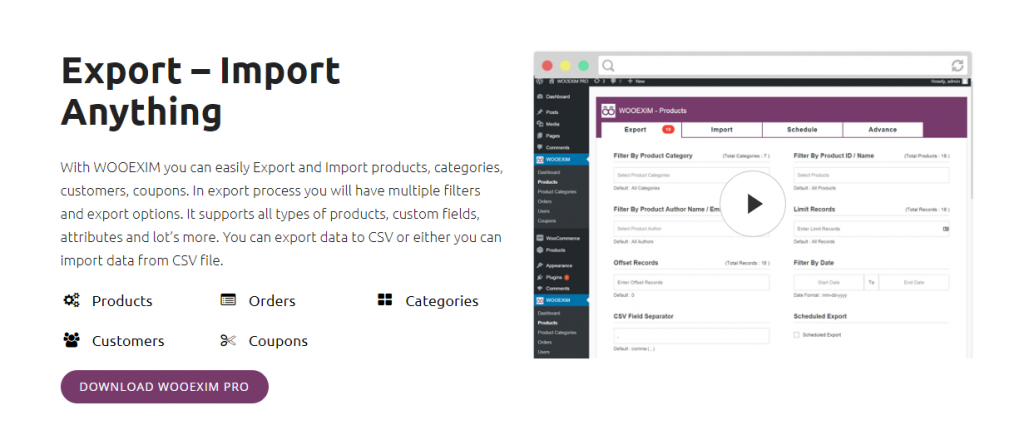 Features
Export and import any kind of data from your WooCommerce store – products, orders, customers, coupons, etc.
Supports all product types including variable products.
Multiple filters to choose from.
Schedule exports and send it to an email address.
Faster process with Ajax support.
Handle custom fields and attributes.
Preview before exporting the file.
Modify order status through import process.
Export archive to download previously downloaded files.
Export customer meta data.
The single site version of this plugin will cost you $18. There is another option that you can use for unlimited sites, which is priced at $57.
This is a simple plugin that helps you export data from your WooCommerce store. The data includes products, orders and customers. In addition, it helps you export meta fields that you specify. There is no limit to the number of meta fields that you can export using this plugin.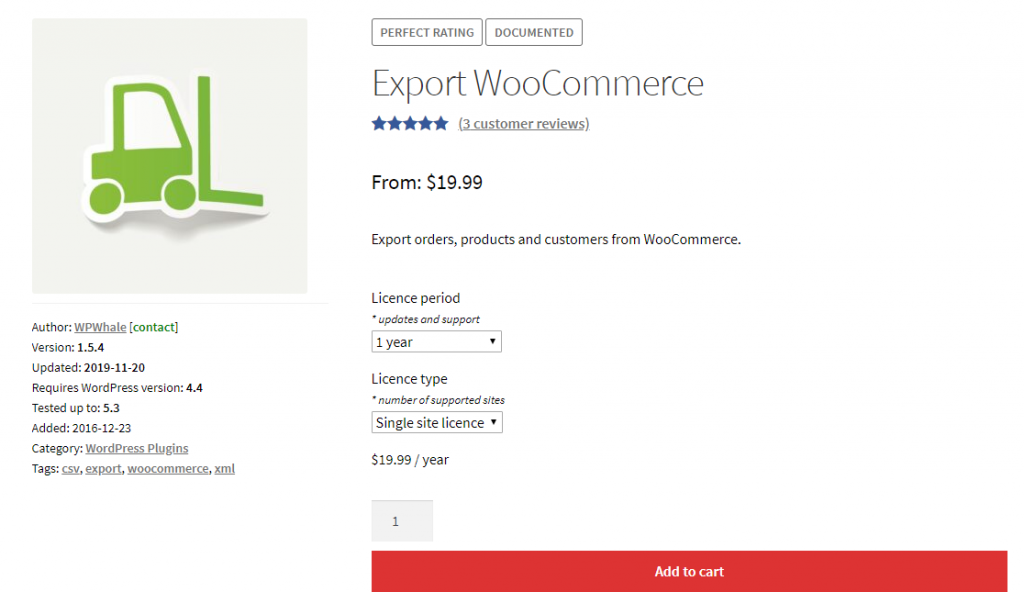 Features
Export WooCommerce store data including products, orders and customers.
Support for unlimited meta fields.
Simple settings to help you manage WooCommerce export product operation easily.
A single site license of this plugin will cost you $19.99 for a year. For unlimited sites, you can choose the second option that will cost $29,99 per year.
Conclusion
Exporting products and other components of a WooCommerce store is a daily reality for store owners. Most of the time you need exported data to be used in other external tools like accounting software. And many times, you may want to export data to be transferred to another site. This is particularly true for store owners who keep multiple stores for a variety of reasons. WooCommerce has incorporated a decent set of features to handle the import and export requirements. However, some of the established solutions in the market offer much more than the default capabilities of WooCommerce. This article must have given you a comprehensive idea on what WooCommerce Export Products plugins can do. You may have already made up your mind on which is the best option for your store's export needs. Let's know what you think about this article.
Further reading