Last updated - March 9, 2020
As a WooCommerce store owner, you might be constantly in the lookout for new strategies to promote your products. You must be using strategies like advertising or content marketing to drive traffic from Google search results to your site. How will it be if you can display your product information with pictures on Google search results pages, with a button to shop? It might be one of the most direct ways to ensure visibility to your products. In this article we will explore how creating a WooCommerce Google product feed can help with your online store products.
Read more about some of the best WooCommerce marketing plugins here.
What is Google Merchant Center?
Google Merchant Center helps you create a product feed that will be displayed on Google Shopping ads. It is a great way to create visually appealing advertisements that will be able to capture audience straight from Google. Customers will be able to find what they are looking for more readily with the help of shopping ads.
As a store owner, you will have better reach to prospective customers as they are finding you straight from their Google searches. Through the product feed, in fact, you are synchronizing your product information so that your customers can see the updated details for each of your products. In addition, you can link your Google Ads account and Merchant Center for a more effective promotional strategy.
Advantages of creating Google Shopping ads
If you are using Google shopping ads, there are some obvious advantages over the routine text ads. Here are a few:
As your products are visually represented, users will know exactly what they are looking for before even clicking. This is not the case with text ads, as users might occasionally get confused with the descriptions.
It enhances the chances of conversion by good margins. This is because they are getting relevant information like how your product looks or how much does it cost even before they reach your site. That means users are coming to your site with a more informed outlook, sometimes even after making purchase decision.
Displaying product ads means your products are available at more places on the search pages. Naturally, this increase the chances of your links getting clicked.
Moreover, Google Shopping ads are more cost effective, as it provides better conversion rate than your text ads.
WooCommerce Google Product Feed Plugins
Now, let's look at some of the best WooCommerce Google Product Feed plugins that will help you create interesting Google shopping ads for your products.
Placing Google Shopping ads improves the visibility of your products considerably. When users search for a product, they will see your products listed on Google Shopping options with links to your site. This will help a lot in acquiring customers and boosting conversions. To be able to list your products on Google Shopping, you need to create a product feed on your Google Merchant Center account. This plugin provides an easy option to create a Google Product Feed from your WooCommerce store.
With this plugin, you can generate an XML, TSV or CSV file that adhere to the mandatory requirements of Google product feed. You will be able to map your store categories with Google categories. And in case there are required fields that are not present on your WooCommerce store, you can add these fields using the plugin. It also allows you to exclude specific products from the feed.
One of the interesting features of the plugin is the option to periodically update your feed. This way, any changes you make on your store will reflect on your Google product feed as well. For this, you can specify a cron job at daily, weekly or monthly intervals. The single site subscription of the plugin costs $69. The 5-site and 25-site subscriptions are $99 and $199 respectively.
This plugin helps you create a product feed that will synchronize your WooCommerce store products with your merchant center account. For products to be displayed on Google product ads, Google specifies which all fields and what all information need to be included in the product feed. This extension automates these requirements and helps you create the feed without hassles.
Moreover, it helps you to gather data required by Google, even when it is not normally available on your WooCommerce store. To make things easier, you can configure information globally at a global level to all your products, or only to specific categories. In addition to Google product feed, the extension supports Bing product feed as well as Google Product Reviews Feed.
A single site subscription of the plugin would cost you $79. The 5-site subscription is available at $99, and the 25-site subscription is available at $199.
As Google shopping ads are more interesting with their visual presentation of products, it increases your chances of conversion as well. This plugin is another easy way to sync your WooCommerce store products to Google Merchant center.
Read more about strategies to optimize your conversion rate.
With the help of this plugin, you can simply create a product feed to sync with Google Merchant center. After creating the feed, you can choose to add products to it based on the categories or tags. It also allows you to choose all your products, to be included in the field. You can also include or exclude specific products by specifying their names as well.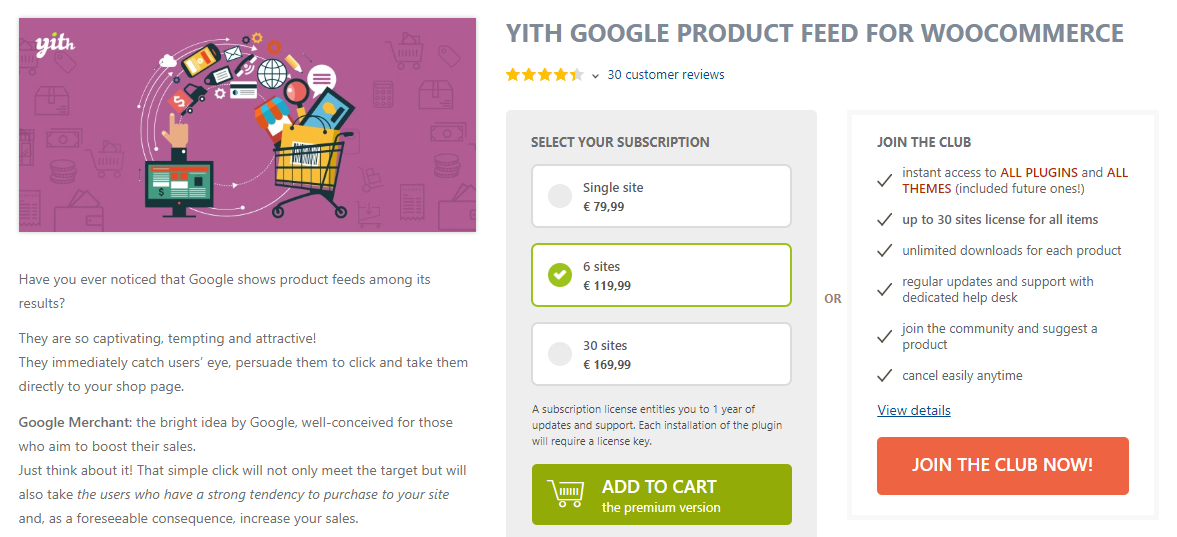 The plugin helps you create custom templates for your fields by including the required Google fields. You can also add custom fields that are not provided by default on WooCommerce. For certain Google fields, you can associate the same value for all your products by using a 'General Field' option. Also, you can override these general values at product level for simple products as well as variations.
The single site subscription of this plugin is priced at €79,99. The subscription for 6 sites would cost you €119,99. Whereas, you can also get a subscription for 30 sites at €169,99.
If you have less than 100 products on your store, you can use this free plugin to create your WooCommerce Google Product Feed. It helps you meet all the requirements specified by Google merchant center to display shopping ads. The plugin connects all the required and recommended fields with the WordPress database. This makes it extremely easy to use as you can instantly create a feed after installing the plugin. However, it also allows you to customize the values of these fields according to the specific requirements of your store.
In fact, this plugin even allows you to display a different title on the Google Product ads, if that helps your promotional strategies. Moreover, with the help of scheduled updates, you can ensure changes on your WooCommerce store is reflected in real time on the Google feed. If you have more than 100 products, you can also checkout the premium version of this plugin.
Best practices while creating a WooCommerce Google Product Feed
Google mandates a list of guidelines to follow, when you are promoting products through Google Merchant Center. Here is a look at these important guidelines.
Ads should direct users directly to the product
Basically, with Google Shopping ads, you direct users from the Google results page to your product page. They should be able to make a purchase from  where they are directed to. That means you can't post affiliate or pay-per-click links on your product feed.
Use the official language of the countries that you are targeting
Google requires you to use the official language of specific countries when you are displaying ads. For countries that have more than one official languages, you can create ads in all those languages. However, you need to make sure each ad links to a landing page of your website that features the same language. For example, if your product feed is in French, the landing page too should be in French.
Define a clear return and refund policy
For an eCommerce store owner, return and refund policy is especially important. Google Merchant Center too emphasizes this. The guidelines say your customers should be able to access the refund policy easily from your website. In the event that you don't allow returns and refunds, you should make sure that the customer knows that.
More importantly, your users need to understand what exactly they have to do to initiate a product return. It should also mention the specific instances where you will accept returns, as well as the time frame for it. The user should also know how soon they will get the refund after initiating the return of a product.
Find a few tips to handle returns and refunds more efficiently on WooCommerce.
Exercise caution while collecting personal information of users
If you are collecting personal information of your users, you need to do that quite responsibly in this post-GDPR era. Google mandates your site to have SSL certification if you are collecting personal information of your users such as credit cards. You should not sell your user's information or use their images in advertisements without permission.
Furthermore, it doesn't allow you to submit product ads, if the primary intention of your site is to collect personal information from user. It also prohibits you from offering free products or incentives to users, with the sole intention of getting access to their personal information.
Read more about GDPR guidelines that are relevant to a WooCommerce store owner.
Read the policies
There are several specific policies that you need to be aware of when creating a Google product feed. It will be great if you have a clear idea on these policies even before you sign up for merchant center account. You can take a look at the detailed Google Shopping ads policies here.
Verify the ownership of your site
You have to verify your website url and claim ownership to your site while setting up an account with Google Merchant Center. You can learn more about verifying your website here.
Meet the specific requirements for your website
In order to successfully sync your website with Google Merchant Center, there are certain requirements that your website needs to meet. These include having a clear display of your contact information with either a phone number or email ID. As discussed earlier, an SSL certificate is mandatory, if you are collecting personal information from customers. Your billing terms as well as return policy should be clearly stated on your site. And, more importantly, your users should be able to complete checkout process.
You can read more about landing page requirements for Google Merchant Center here.
Understand product data specifications
Google specifies certain formatting guidelines when you add product data to Merchant Center. You have to meet all of these to be able to seamlessly connect your online store products to Google Shopping ads. Thankfully, if you are using one of the plugins we discussed above, you can be assured of following all these requirements. Find more information on Google Product Feed specifications here.
Learn more about creating customer friendly product information on WooCommerce.
Keep your account active by signing in regularly
You need to sign in to your Merchant Center at least once in every fourteen months to prevent it from getting deactivated. Moreover, this will help you take a look at the product feed and ensure that everything is up to date.
How to create high quality product data?
The quality of your product data is a differentiating factor of your promotional strategies. Google provides several tips to help you ensure high quality product data. We will take a quick look at some of these tips as well.
Think in the perspective of your customers
To rightly depict product data, you need to think in terms of your customers. Knowing your customers' interests really well would be a good first step for this.
Find some tips to identify the target audience for your WooCommerce store here.
You can experiment with various strategies to understand what really goes well with customers.
Understand more about the scope of A/B Testing for your WooCommerce store here.
Create interesting titles
Google advises to make use of creative titles for your ads, so that key details and product attributes are highlighted. Sometimes, the title gets cut in the ad and that might not be a good thing for your product. To avoid this, you can keep the important information at the beginning of the title.
Use high quality images
The images that you use for your products should be of high quality. It should be able to catch the attention of the customer and convey the professional standards of your brand.
Ensure the product data is accurate
If customers are not getting accurate and updated data through the ads, it might gravely hurt your possibilities for conversion. Always make sure your product data is accurate and up to date. If you are using one of the above plugins we discusses, this will be taken care of naturally. All these plugins offer real time sync between your WooCommerce store and Merchant Center account.
Further reading