Last updated - September 8, 2020
Choosing the right payment method is a very important aspect when you set up an online store using WooCommerce. The available options are quite large when you browse through the WooCommerce marketplace. The trick lies in deciding on the best possible option for your store, considering a lot of factors including the customer location and currency. When you are just setting up the store, the default options might be sufficient to handle your transactions. But as your sale numbers increase, you would really want a lot more features to ensure seamless, secure transactions. Here are some aspects to consider while trying to decide on the right payment gateway for your WooCommerce store.
Choosing a WooCommerce payment method – some aspects to know
It's better-set things right at the start itself regarding the choice of, payment gateway companies.
Create an account
You need to create an account with the payment gateway company to activate that service in your store. Stripe allows you to test their payment gateway on your store before creating an account.
Read the terms and conditions
Payment gateway companies have their own fees, and terms & conditions for transactions. Although you have linked the payment gateway through WooCommerce, the later payment related interactions are through a direct channel between the store owner and the payment gateway company.
Decide on your account type
Based on your account and subscription type with the payment gateway company, the options available to you will differ. You need to carefully evaluate the available options and your business requirements before setting up an account with the payment gateway company. Popular payment companies, such as PayPal, provide additional options like merchant services and multi-user access on their 'Premier' and 'Business' accounts.
Setting up your WooCommerce payment method – few things to consider
While setting up your payment gateway, consider a few of the below-mentioned suggestions.
PCI Compliance
Security features need to be flawless when you are running an online store. If you are directly accepting the payments on your store, you need an SSL certificate for PCI Compliance. You can avoid this by setting up a redirect channel, where your customer is redirected to the payment gateway site to process the payment and then led back to your store to complete the checkout process. This is generally preferred by a lot of store owners as it relieves them from the PCI compliance headache.
Currency support
Having support for your currency is an important factor in a WooCommerce setup, as WooCommerce allows only one base currency at a time. You can customize to create your own currency set up if your currency is not listed in the currency drop-down. Another workaround in such a situation would be to install a plugin that would help you set up a custom currency. Premium plugins are available to change the currency on the shop display page without changing the base currency.
Recurring payments for subscription products
If you are selling products that are subscribed by customers and need periodic renewal you have to define how it works – automatic or manual. Read the Subscription Renewal Process article in WooCommerce Docs to understand more.
Payment Gateway methods to consider after setting up the store
After you complete setting up your store, there are diverse options to consider. Relative to the rise of your business needs, you can progress to get to the best payment gateway. The below series of steps might help you with it.
Start with default WooCommerce payment methods
Core WooCommerce install will give you three offline payment gateway options – BACS, Check Payments, Cash on Delivery, along with PayPal Standard. You will also be able to download two free extensions – PayPal Powered by Braintree and Stripe. The trouble with offline options is that you will have to manually manage the orders. Online options offer you the convenience of real-time management of orders. PayPal Standard is known all around the world and is a safe and simple option to set up at the early stages of your store. Your customers can pay using their PayPal accounts or by credit card.
Try free WooCommerce free payment method extensions as you progress
WooCommerce offers two free extensions that are widely preferred by store owners – PayPal Powered by Braintree and Stripe. These are secure and seamless and will definitely contribute to the efficiency of your store. Read our tutorials for PayPal Powered by Braintree and Stripe for further information.
Get premium payment method extensions for added functionalities
Premium Extensions offer versatile features to enable your WooCommerce site to function in a compelling way. The primary advantage of premium extensions is that you can incorporate the advanced security features of payment service providers on your store in a simple and straightforward process. You can ensure that your customers' data is protected without investing too much time, effort and money.
Here, we will focus on some of the premium extensions to incorporate WooCommerce payment methods.
Amazon has become one of the most popular online shopping options in the world. Almost all shoppers from different parts of the world likely has an Amazon account. You can leverage this fact, if you allow them to checkout from your site using their Amazon accounts. This will improve the user experience on your site as customers don't have to go through the hassles of an added step to input login and payment information. With the help of XAdapter's Amazon Payment Gateway Plugin, you can efficiently integrate Amazon Payment option on your store.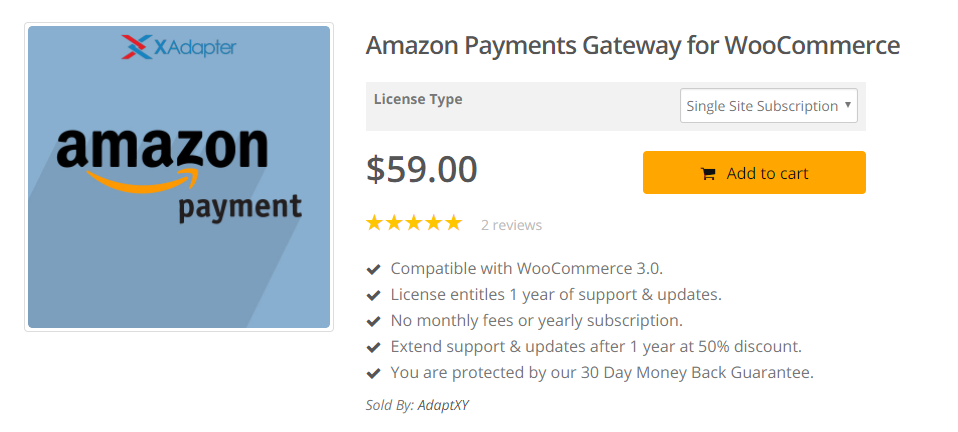 Advantages of using Amazon Pay on your store
Broaden your customer base by specifically targeting customers who are interested in the Amazon Pay option
Improve the possibility of customers coming back to your store, by providing an option to avoid the otherwise lengthy checkout.
Create a long term bond with your customers riding on the reputation of Amazon.
Increase revenue on your store, as you target a specific set of customers interested in Amazon Pay option.
Display 'Pay with Amazon' on your site with customizable banners and text.
Additional features of the Amazon Payment Gateway plugin
Some of the added features of the plugin includes:
Overview page – A convenient overview page on your WordPress dashboard, which you can effectively use to manage one click capture and refund.
Refunds from admin page – You can manage full and partial refunds from the individual order details page on the WordPress admin.
Authorize Payments – In cases where you are not yet ready to ship a product, you can authorize payments. The plugin has an option to capture payments later when the order is ready to be shipped.
Checkout from Cart page – Your customers will be able to checkout from the Cart page itself using Amazon Pay option.
Providing a seamless checkout to customers while keeping them on your site throughout might be a good strategy to improve user experience. XAdapter's Authorize.net Payment Gateway Plugin gives you a great option to accept credit card and eCheck payments on your site without redirecting customers to an external site. It also provides convenient options to manage refunds and authorized payments.
As the customers are not leaving your site at any point, you can analyze end-to-end customer behavior and devise better strategies to improve user experience. Please remember, you need to get an SSL certificate on your site to ensure the safety of transactions.
Feature Highlights
Accepts all major credit cards – You can accept payments from customers through all the major credit cards. Moreover, you can display the payment options with the logos of credit card companies.
eCheck Payments – There is a dedicated section in the plugin settings to set up eCheck payments. This way you can make sure your customers who want to pay through their bank accounts are happy.
Overview Page – A convenient overview page from which you can capture payments as well as process refunds; all in a single click!
Redirection url – Once the transaction is successful, you can redirect customers to a specific page on your site, such as a Thank You page.
Great customization options – You can customize the display text of the payment option according to your liking. Furthermore, you can create custom messages for successful as well as failed transactions.
Better security – The plugin offers support for Accept.js, which is a JavaScript solution that secures payment data sent to Authorize.net.
Conclusion
The payment gateways that feature on your WooCommerce site plays a big role in deciding the user experience of your site. This is because customers have very specific interests when it comes to how they want to do a transaction with a website. You may need to put in some efforts to understand your customer demographics and their interests before choosing the right payment gateway. A seamless checkout is almost always a factor for a customer to decide to come back to your site. So, carefully analyze the available options and the interests of your existing customer base before choosing a payment option.
Further reading