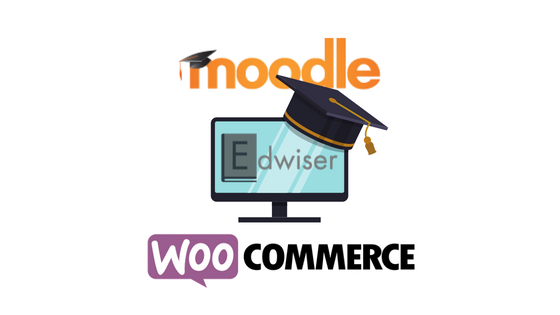 WooCommerce, for a long time, has reigned eCommerce charts and been a favorite for every business, enterprise or entrepreneur. From groceries to electronics, cosmetics to baby boomers, WooCommerce is used to sell every physical thing under the sun.
You may ask, is WooCommerce restricted to selling physical products alone? Nope! It allows full-fledged commerce of virtual products as well. A virtual product could be anything from an eBook, AudioBooks or…a course! And this could be good news for a Moodlepreneur such as you.
Courses that you build on an LMS like Moodle, can be easily sold using WooCommerce where you link a course (or more) to a product. But Moodle and WooCommerce is not a single entity – they're independently running platforms made for distinct purposes.
As we know, WooCommerce is built on and for WordPress. So, to use WooCommerce for Moodle, you first need to link Moodle with WordPress.
The bridge that leads you to a door of opportunities
One such plugin (the only one there is) that connects the two systems, is Edwiser Bridge. It's a virtual "bridge" that lets you operate between Moodle and WordPress interchangeably.
Being integrated with WordPress opens a lot of options for Moodle – social media sharing, branding, managing a blog to draw traffic to the website, search engine optimization, and marketing.
In short
;
Integration with WordPress is a boon for your courses and it is possible with Edwiser Bridge – a plugin that is small, but powerful.
Connecting Moodle to Woocommerce
Once you have installed Edwiser Bridge and changed the required settings to set the integration in motion, install WooCommerce on WordPress.
All that's left to do now, is – get the WooCommerce Integration extension supported by Edwiser Bridge.
Moodle-Woocommerce Integration
Installing the extension involves two basic steps:
Activating the plugin

Activating the license
To activate the plugin
You will receive an email after purchasing the extension. It will contain the download link – click on it. The extension will take a few moments to download.

On WordPress, follow the routine steps to install a new plugin.

Upon successful installation, click on 'Activate Plugin'
To activate the license
Go to Edwiser Bridge > Settings > Licenses

Use the License Activation key that you received in the purchase email

Click on 'Activate License' once you enter the key

Alright. Half your job is done here. Now comes the interesting part!
Using WooCommerce for Moodle
The Woocommerce-Moodle Integration plugin is fairly easy to use and now you're about to see a few steps to make the most of this awesome integration plugin. 😉
But before that
You need to make sure you're covered with the basics. Here you go –
Syncing Courses
The first step you must take to begin setting up your online shop is to get course details and their settings on the same board. With the synchronization option, you can simply import all the course information from Moodle to WordPress in a few clicks.
How to synchronize courses?
Head to Edwiser Bridge > Settings > Synchronisation

Check the required boxes

Click on "Start Synchronisation"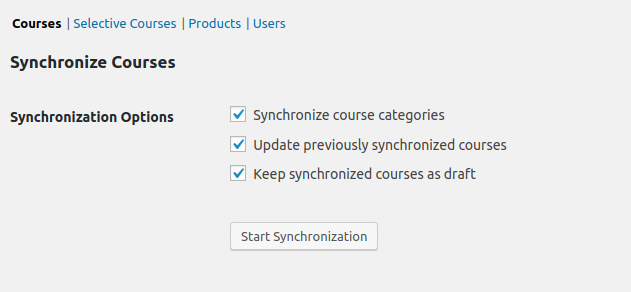 Once a student has purchased the course, they will automatically get enrolled in that course. After clicking on the course on WordPress, they will be directed to the course content in Moodle.
This process can be quite time-consuming and troublesome because you have to log in to different systems to access just one course. Extensions like Single Sign-On come in handy at such times because it requires one-time authentication. If you log in to WordPress, you're logged in to Moodle and vice versa – same goes for the logout process as well.
Link Course to a Product
The next step necessary to start selling courses with WooCommerce is to link courses to products. Unless you do this, your courses will not appear on the shop page.
The logic is simple: you associate a virtual commodity as a product that a user can buy.
After synchronization of courses from Moodle to WordPress, you now need to sync those courses as WooCommerce products.
Here's how:
Click on the "Products" tab

Check the box that says 'Create Courses as Products'

Click on "Start Synchronisation"
In instances where you want to disable the visibility of courses (for eg. spring semester courses during fall semester) from the WooCommerce shop page, you will have to disable the synchronization for all courses. Sounds pretty inconvenient, right?
If you have Edwiser Bridge installed, Selective Synchronisation extension will solve this problem for you. You select only those courses which you want to be displayed on the shop page, removing the unnecessary ones.
The courses you have not synced will remain on your Moodle though- no worries there. They can be synchronized as and when required.
Edwiser Bundle – The Bumper Prize
Woocommerce Integration extension can be brought along with the two useful plugins mentioned above – Selective Synchronisation and Single Sign-On. It's combined utility in the Edwiser Bundle lets you operate with the Moodle-Woocommerce integration effortlessly.
Step 1. Simple Products
On Moodle, you're restricted to selling one course at once. But with WooCommerce Moodle Integration, you can link multiple courses to a simple product- make a sort of "bundle" and sell.
Bundling gives you the opportunity to cross-sell related courses together. If your shop provides a course for say, the programming language PHP, you may bundle with it a basic short course for MySQL.
With the basic course, learners will be interested to go for the higher level courses as well. At this point, you have just created a big sales opportunity for yourself!
Note: The "Group Purchase" option comes only with the Bulk Purchase extension by Edwiser Bridge. With Bulk Purchase, admins or teachers can buy courses in bulk and enroll multiple students at once. It largely reduces your efforts to manage student enrolments!
Step 2. Variable Products
Variations in a product mean you offer the same goods but with different attributes. As a Moodle user, you get to offer the same course with their attributes changed. It's as simple as offering the same t-shirt in different sizes- but what happens when you offer more than just one t-shirt?
What if you could present various relevant courses in a single product page?
Let's look at an offer on a popular site for adventure sports products. These products are assorted for a hiker.
Unlike Variable Products, Simple Products cannot be used to up-sell other courses. Variable products by WooCommerce is a gem of a feature as it lets you combine and up-sell courses in the same category!
This might make it more clear: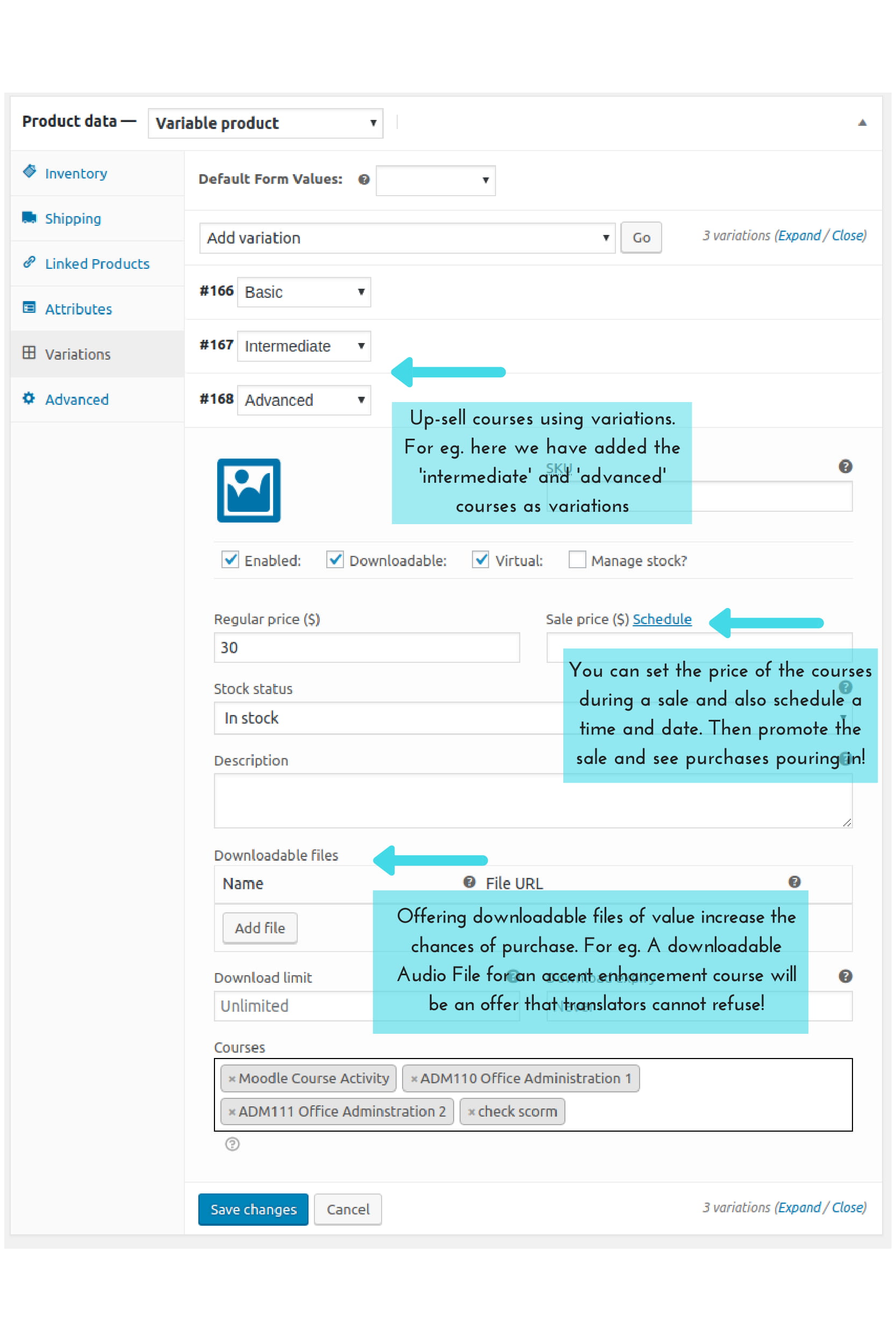 This is how your settings will look to potential buyers- the sheer visibility of available courses is always tempting for a student.
Step 3. Subscription-based Products
Imagine a training based course with which you wish to earn on a monthly basis. The Course Subscription feature by WooCommerce Integration lets you do exactly that!
For recurring income, subscription-based courses are the best solution. You can create long-term relevant courses that can be renewed at regular intervals. Set the price accordingly- if the course takes around 1200 hours to complete, it can be priced at 7-10$ a month. If its a short course of say 450 hours, then price it somewhere between 12-15$ a month.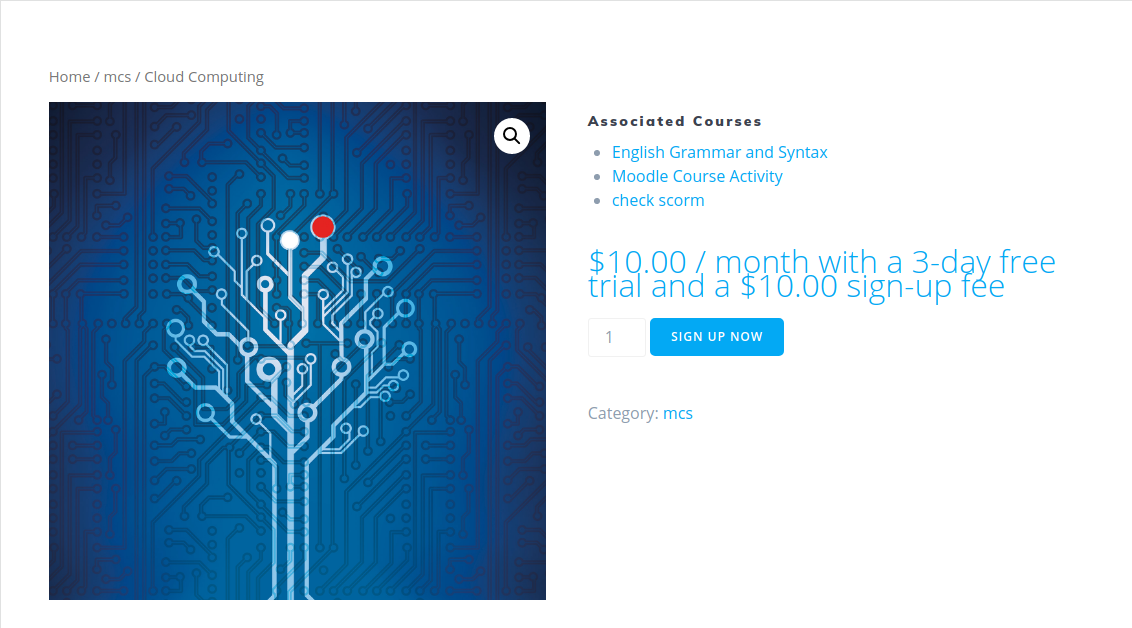 Free trials, sign-up fee, discounted renewals, quarterly sales are other marketing features you can enjoy with WooCommerce Moodle Integration.
What if the subscription ends before completion?
For some reason, if a student is unable to complete the course and their subscription ends (by setting an expiry date), they can renew the course using renewals. However, their course progress will not be deleted and the student will be able to resume the course exactly from where they had dropped it.
Gold Tips
for Sales
Amazon is the king of eCommerce, and there's no harm in taking inspiration from them.
Woocommerce, with its family of plugins, will let you boost your sales to new levels – without shelling out too much. It already has inbuilt features that show a list of 'Related Products' on every product page and shows the difference between the real price and sale price.
Along with these, you may also implement commonly practiced sales tactics that have been proven to be effective. For eg. a plugin that shouts "Sale!" with a sticky icon on the shop page, or a plugin that recommends bestselling courses. Something like "Buy 3 for the price of 2" will work wonders for you.
You must have often come across a message that says "Sale ends in 3 hrs". A plugin such as the 'Scheduler' by WisdmLabs creates this sort of urgency on the shop page. You can set a countdown timer for making courses available at Sale Price, or even set a 'last date' for availability – after which it will be no longer available.
Integration of a Century
Woocommerce and Moodle are both designed to be experts in what they are built for. Moodle, for learning and Woocommerce, for commerce. Their plugin ecosystem is one of the most diversified and extensive systems on the internet, and combining them makes it possible for you to achieve what you have dreamed.
Guest Post by :


WISDMLABS, known to build powerful and quality extensions for WordPress, WooCommerce, LearnDash, Magento and Easy Digital Downloads
They are also certified and recognized domain experts in WooCommerce, Event Espressso, LearnDash and EDD