The login and registration options that you offer on your website or online store is a key element in customer experience. Depending on your customer interaction patterns, you may want to try out different approaches to improvise your login and registration process. WooCommerce, by default, offers simple options for customer registration. However, you will be able to effectively personalize this section with plugins. In this article, we will discuss some of the best WooCommerce login and registration plugins.
You will be able to collect additional information from your customers thanks to this plugin. It will let you add custom fields to your registration forms so that necessary information can be easily collected. The custom field types include multi select forms, dropdowns, file uploads, dates and more. Moreover, the plugin lets you add a dropdown to let customers choose their preferred user roles while registering. Also, you will have the control to choose between automatic and manual registrations.
Features
Easily add custom fields to your registration forms.
Display additional fields on emails and My account pages of users.
14 different field types to choose from.
Optionally allow customers to choose their user roles.
The cost of the plugin is $49.
This plugin offers a user-friendly interface that will let you create custom registration forms effortlessly. The drag and drop form builder will be quite easy to use even for new users of WordPress. Importantly, the plugin offers no limits to the number of forms that can be created with it. Furthermore, you will be able to conveniently display the forms at different locations on your site thanks to the support for shortcodes.
Features
Custom registration form builder with a drag and drop interface.
Google ReCAPTCHA to protect from spam.
Email notifications to user and store admin.
Support for multiple column layouts.
A single site license of this plugin has a regular price of $99, check website for discounts.
Save your prospective customers from the tedious job of registering on your site by allowing them to login through their social media accounts. This plugin allows login through Facebook, Twitter, Google, Amazon, PayPal and more. Also, it offers you detailed reports on customers using social media accounts to login to your site. Overall, it could be a real booster to your store conversions.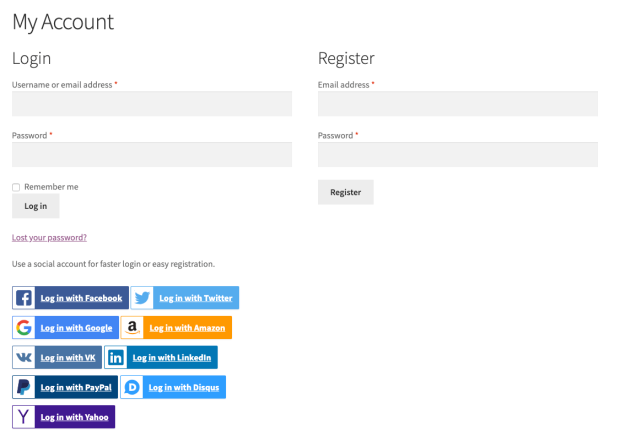 Features
Lets your customers login using their social media accounts.
Multiple social media channels.
Option to let customers link their social media accounts for faster checkouts in the future.
Compatible with Product Reviews Pro extension.
You can get this plugin for $79.
This is another option to make your checkout process smoother through social login process. The plugin supports login through Facebook, Twitter, Amazon, LinkedIn and more. Additionally, customers will be able to link their social media accounts with your store for a faster checkout next time they visit the store.
Features
Faster login process through social media and email.
Allow customers to link social media accounts with user profile.
Customized reports on social login.
Customers can manage their social login options from their My Account pages.
For $49, you can get this plugin.
This plugin will give you the control to redirect customers to a page of your choice after login or registration. By strategically redirecting customers, you will be able to improve store conversions. The plugin allows you to redirect customers after registration, login as well as logout. In addition, you will be able to set different redirects according to the user roles of the customers.
Features
Redirect customers to a specific page after login, logout and registration.
Control redirects based on customers' user roles.
Compatible with popular user role plugins.
Option to redirect to homepage, previous page, or any other page of choice.
The cost of the plugin is $29.
You can personalize the accessibility to your store for each customer with this plugin. It will help you restrict your store so that only registered customers will be able to view certain products or categories. With the plugin, you can encourage guest users to register as customers on your store. This could boost your conversion rate and chances for repeat purchases. Also, the plugin offers options to notify customers when their access is enabled or disabled.
Features
Restrict access to your store only for registered users.
Create restrictions based on products, categories or tags.
Restrict access for guest users from specific countries.
Notification options.
The plugin will cost you $49.
A faster registration process would mean better user experience and improved conversions. This plugin will help you simplify the login process as customers can easily login using their mobile phone numbers. Instead of using the default registration and login form of WooCommerce, customers will have another option of just entering their mobile numbers. Moreover, the plugin offers an option to hide the default login and registration forms as well. Also, their are options to customize the appearance of the mobile number registration option.
Features
Faster login and registration for customers by using their mobile phone numbers.
Reduces spam logins and help users with a faster login process.
Customize the mobile phone login button as per your store's design requirements.
Responsive.
You can get this plugin at $29.
For wholesale stores, assigning the correct user roles to their customers is an important process. It will help them access the right set of products and pricing. When you have a large number of customers, changing or assigning user roles could become tedious. With this plugin, you will be able to allow customers to choose their user roles at the time of registration itself. Also, you can allow existing customers to change their user roles from their My Account page.
Features
Add a field in the registration form to let customers choose their own user roles.
Choose between auto and manual approvals for user roles.
Email notifications will be sent for both customers and store admins.
Options to customize the field label.
The plugin costs $29.
As a WooCommerce store owner, you will be striving to provide the best experience to your customers while on the store. This plugin could be a great help for you while trying to fine tune your customer's experience on your store. The plugin helps store admins to login as customers so that you can easily identify and rectify any gaps. Additionally, it helps you make changes to the My Account section from the frontend.
Features
Login to your store as a customer.
Edit My Account section from the frontend.
Enable or disable admin-log history.
The button to switch back to admin login is customizable.
You can get this plugin for $39.
RegistrationMagic is a free plugin that will help you customize WordPress registration forms easily. It is a powerful plugin with options for managing users, tracking submissions, generating detailed reports, and more.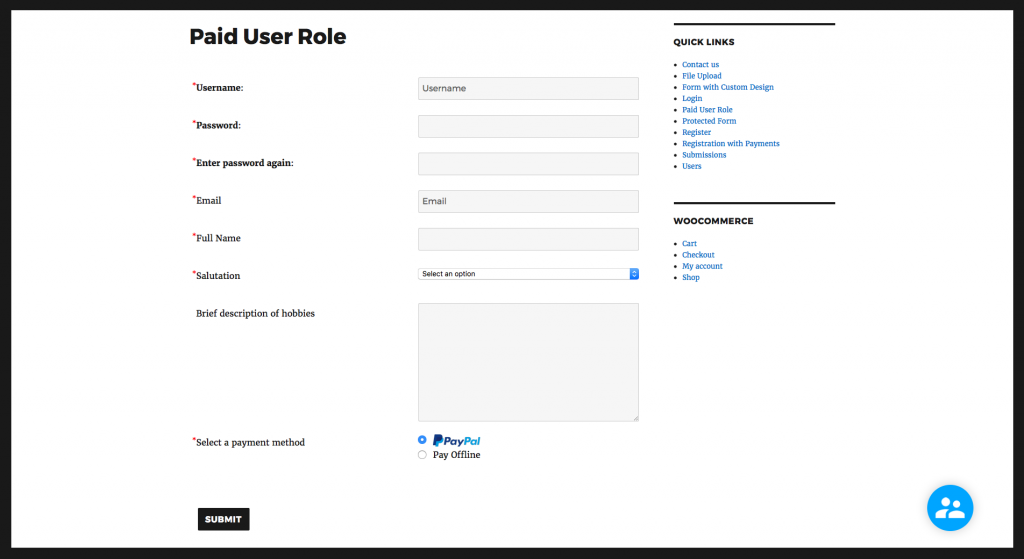 Features
Comprehensive management of registration forms.
Multiple options to personalize the form style and layout.
Google reCAPTCHA support.
Email notifications.
We hope these WooCommerce Login and Registration Plugins will help you personalize your store's login and registration section as per your unique strategy. Leave us a comment if you have a query.
Further reading