Last updated - February 24, 2020
If you make a living creating and maintaining WooCommerce websites, sooner or later you'll want to streamline the whole process and spend less time on mundane chores. Today, I'll show you the most popular ways to save time working with WooCommerce.
How To Save Time With a WooCommerce Membership?
There are different ways you can work faster with WooCommerce. Firstly, if you create WooCommerce sites regularly, consider getting yourself a subscription by a popular templates marketplace. Within a subscription (worth $15 – $30/month), you can have access to hundreds of new-gen WooCommerce themes, graphics and assets. Moreover, you get a handy chance to reuse your favorite templates multiple times.
The second way to save your time with a WooCommerce membership is outsourcing maintenance chores. Many companies in the online market offer you complete security protection, uptime monitoring, emergency care, as well as some more advanced optimizations. With a maintenance plan, you can also forget about such niggling tasks as daily backups, regular component updates, bug fixes, etc.
The third way to save your time with WooCommerce resources is automating your email marketing and integrating it with the other online marketing channels you use. Does MailChimp ring a bell to you? There are multiple companies that offer you great email automation solutions. They even go further, offering you the complex tools that let you segment your audience, create targeted content, sales funnels, social media ads, etc.
So, are you ready to see the best WooCommerce membership options of 2019? Go ahead and read about them below. For your convenience, I divided them into 3 categories. Enjoy!
Themes
Do you create WooCommerce websites on a regular basis? If you do, then you know that using templates for this purpose can greatly speed up your workflow. Instead of purchasing single-site licenses for each theme you use, get yourself a sound subscription that offers you many WooCommerce themes by the price of 2 – 3 templates.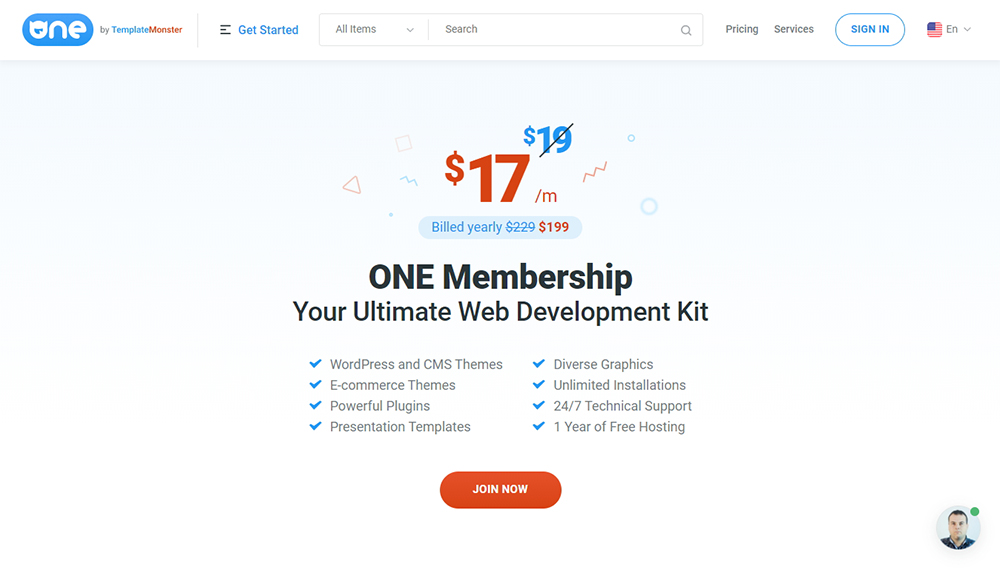 Let's start with the recent WooCommerce membership that has already gained steam and popularity in the web development community. It's ONE, offered by one of the largest online website template marketplaces, TemplateMonster. With ONE, you get access to a huge collection of 200+ WooCommerce assets and themes. Moreover, you can enjoy your unlimited access to a huge collection of web design tools, graphics, mock-ups, social media templates, etc.
ONE is a great WooCommerce membership for developers as it offers you unlimited installations of any template you like. With ONE, you can download as many themes as you wish and use them up to your liking.
Pricing:
ONE is a subscription for which you pay $19/month. The subscription is billed annually. You can enjoy unlimited access to 8500 products in total for $229/year. With ONE subscription, you can use fresh WooCommerce themes and web design tools all year round for the price of 2 – 3 high-quality WooCommerce themes.
ONE is an all-in-one solution for those who create websites on a regular basis. With ONE, every web designer and developer can save money by purchasing access to a huge collection of themes, plugins and tools all at once. Website creators love ONE as they get access to a huge collection of modern and easy-to-customize products, such as:
WordPress themes (1,000+ items);
41 Plugins;
E-commerce themes and extensions (2,100+ items);
Landing page themes (190 items);
Graphics (3,200+ items);
HTML templates (1,000+ items);
Other CMS themes (1,400+ items);
14 PowerPoint templates.
Web design newbies will also benefit from ONE, as this subscription provides them with all the tools needed for creating performance and SEO optimized websites. Multiple WordPress and WooCommerce themes included to ONE are compatible with the easy-to-grasp Elementor WYSIWYG builder.
The biggest advantages of ONE are the following:
High-quality 24/7 support via Live Chat, phone and ticketing system;
Unlimited downloads for any CMS and e-commerce theme;
All the tools that you need for website creation in one subscription;
You get constant updates and new items every fortnight;
You can also request custom ONE Services with exclusive discounts.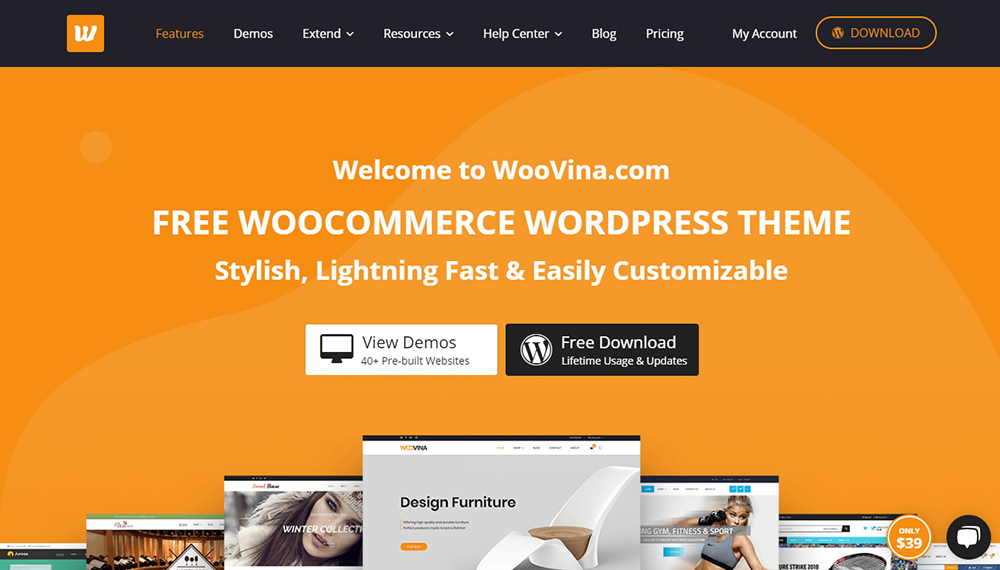 Another way to get unlimited access to a number of high-quality WooCommerce assets and themes is with WooVina package. This package consists of the WooVina theme and 11 stand-alone child themes for it.
Free Version: If you want, you can use the main WooVina skin for free together with a package of free must-have plugins. However, this option is rather attractive to small businesses. If you're a WooCommerce developer, you'll benefit more by going for the WooVina plans that include child themes.
There are 11 child skins that WooVina theme has to offer. They will let you quickly build different types of e-stores, like floral, beauty, houseware, cosmetics, organic food, clothing store, kids store, etc. All skins feature 5+ pre-built and ultra-modern homepage designs, providing you with an even larger collection of ready-made website designs.
Pricing: To get access to WooVine and its child themes, you should choose a subscription plan. Using WooVina with child themes on 1 website will cost you $59 in 6 months ($9.8/month). Using child themes on 3 websites + premium plugins will cost you $99 in 6 months ($16.5/month). Finally, you can install and use WooVine and child themes on unlimited websites for $499/year ($41.5/month). In this case, you'll get free installation and premium plugins.
Features of WooVina package (based on Business Plan):
Free Ticket Support;
Free and premium plugins included (Variation Switchers, Product Sharing, Popup Login, White Label, Preloader, etc.);
Credit Links Removal;
11 Child Themes Included.
Speaking about WooVina subscription disadvantages, I must admit that they have weak customer support. Only the Unlimited Plan for $499/year includes email support within 24 hours. In all other plans, support is provided through the ticket system with no deadlines. Unfortunately, Live Chat or phone support is not included, which might be the thing you'll miss.
WooCommerce Services
If you feel like outsourcing some WooCommerce-associated chores, you can get yourself a WooCommerce maintenance plan. With a maintenance plan, a professional team will take care of site updates and back-ups, website performance reports and improvement, anti-hacker protection, small fixes and maintenance, etc.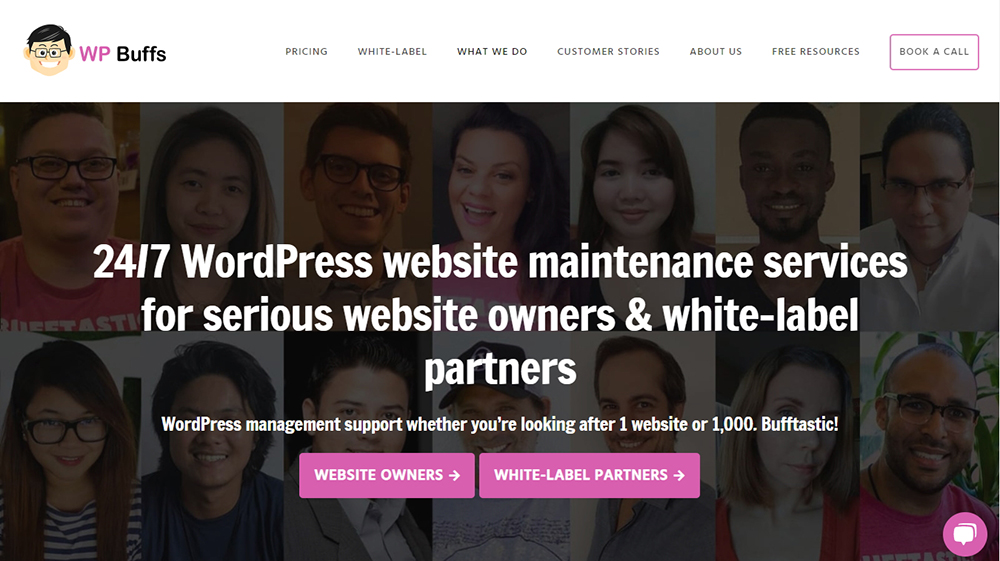 WPBuffs is an international team of web development geeks who provide WordPress and WooCommerce maintenance. The team of WPBuffs is ready to provide you with website maintenance based on a monthly subscription.
Pricing: There are three pricing plans that you can choose from. With the basic Maintain Plan for $67/month, you get the following maintenance:
Updating your themes and plugins (once a week);
Uptime monitoring (round-the-clock);
Cloud backups (every day);
Emergency support (round-the-clock);
Google Analytics Integration;
Fresh Security & Performance Reports (weekly).
If you also want to get the more advanced services like Speed Optimization, Complete Malware Removal or access to 1,000+ free and premium plugins, got for the more advanced Protect and Perform Plans ($147/month and $197/month).
WPBuffs is a time-saving and trouble-free service for everyone running WordPress and WooCommerce websites. WPBuffs team provides WooCommerce care only with its Perform Plan ($197/month). You'll receive all the care needed to have your e-store secure, smoothly running and fast.
WP Buffs advantages:
Covers all maintenance needs of WooCommerce websites.
Maintenance is offered by an award-winning international team that delivers exceptional customer satisfaction.
WPBuffs will take care of Google Analytics integration for you.
You'll also get unlimited maintenance like small fixes, edits to content, plugin adjustment and CSS tweaks.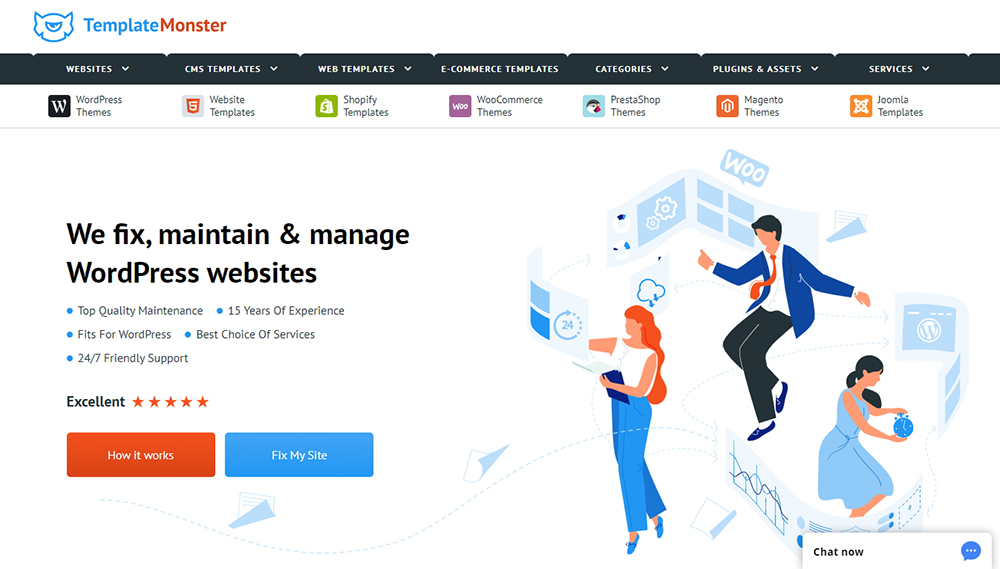 If you're after finding a more affordable monthly WooCommerce maintenance subscription, it will be WordPress Maintenance by TemplateMonster. This company offers you a prolific package of WooCommerce maintenance services for $69/month. And this is the price of their Premium Plan, which has a lot to offer.
What services are included in the e-commerce WordPress Maintenance plan? See below:
Performance and SEO Optimization;
Debugging (once a week);
Performance and Activity Reports (once a month);
5 hours of content updates and minor changes (monthly);
Constant Uptime Monitoring and Emergency Support;
Speed Optimization (once a week);
Go-to Plugins Bundle;
24/7 Support (Live Chat, phone/remote and tickets);
Security protection and on-demand site transfer;
Basic SEO Setup and consultations;
24/7 Emergency Care.
Maintenance by TemplateMonster will be ideal for website owners and developers, who want to delegate a number of chores associated with running their websites. TemplateMonster offers highly competitive pricing, a wide array of services and premium support for any issues. At the same time, unlike WPBuffs, TemplateMonster team doesn't provide Google Analytics integration.
The biggest advantages of WordPress Maintenance by TemplateMonster are:
Comprehensive pricing for the WooCommerce-ready Premium Plan;
You ensure that your website is always up and running with 24/7 uptime monitoring and prompt emergency care;
TemplateMonster provides award-winning technical support for any issues that occur with the WooCommerce websites you are creating/managing;
You get 5 hours of custom work, which you can use to request small fixes by professionals.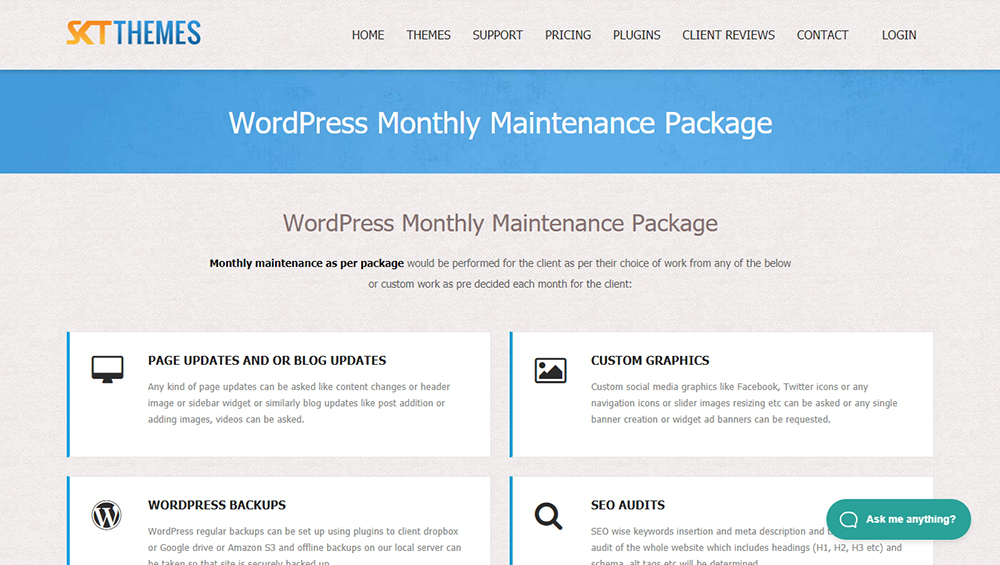 And there is the third option, widely loved because of its low price. SKT Themes is an established WordPress theme provider, who offers an attractive maintenance package. Their maintenance package includes a wide range of services, though the customer support they provide is disappointingly limited.
Pricing: You can get the needed WooCommerce assets and maintenance for just $50/month (Enterprise Plan). This is the most affordable of the quality maintenance plans for WooCommerce.
SKT Themes maintenance will be ideal for WordPress and WooCommerce website owners, as well as for those who develop and maintain these websites. To get a better understanding of whether SKT Themes Maintenance meets your needs, check the services they provide below:
Adding content to your pages/blog posts;
Working with graphics, including slider image resizing, creating custom social media graphics, banner creation;
Regular backups to client's Dropbox, Google Drive or Amazon S3;
SEO help (adding keywords and meta titles);
Solving plugin conflicts;
Security audits;
Uptime monitoring;
Reporting problems and proactive troubleshooting.
With the Enterprise (WooCommerce) Plan, you also get additional services, such as database optimization, solving theme coding problems, SEO audit and performance optimization.
Unfortunately, SKT Themes does not provide round-the-clock technical support. Instead, they offer you their support just during working hours (10am to 7pm, Indian time zone). In case of emergency, their Maintenance Team can be contacted by email/Skype round-the-clock.
Email services for WooCommerce
The next thing that you're perhaps need running e-commerce stores is email marketing automation. This is a greatly time-saving and cool thing, when it's set up with professional WooCommerce resources and tools. Below, you'll find the three most popular WooCommerce-ready tools for streamlining your email marketing efforts.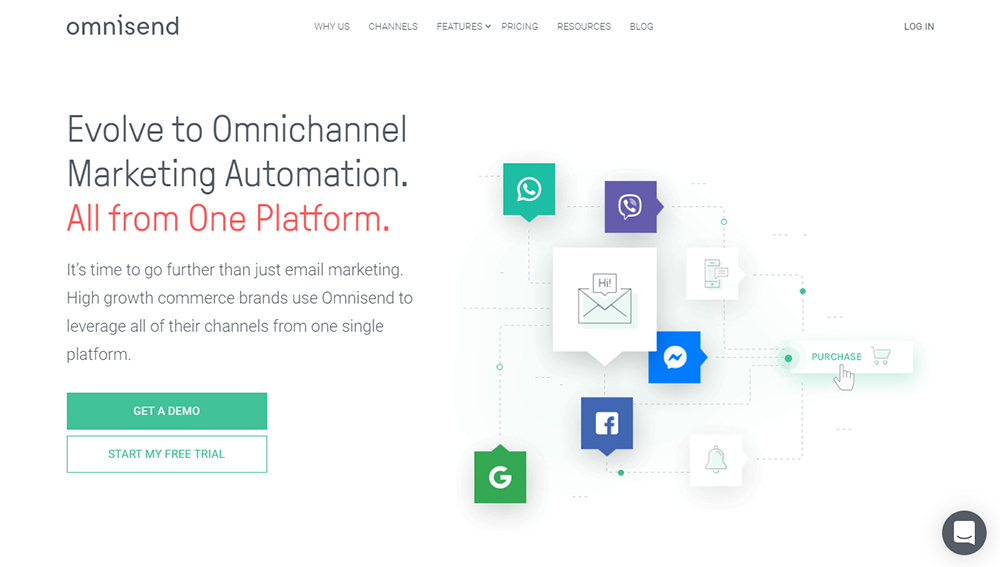 Omnisend is an all-in-one marketing automation platform that lets you control all your marketing campaigns from a single dashboard. The team behind Omnisend is oriented at providing best solutions for high-growth e-commerce businesses. With Omnisend, you can choose between emails, SMS messages, web push notifications and Viber/WhatsApp messages to reach out to your prospects and convert them.
Pricing: Omnisend offers scalable pricing. The Standard Plan will cost you just $16/month. It provides access to the following features:
Interactive Signup Forms and Email Elements;
Advanced Client Pool Segmentation;
Automation of Workflows and SMS;
Product Import + Recommendations.
If your main goal is email marketing automation, the Standard Plan should cover your needs. However, if you're looking for a significant engagement and conversion increase, consider going for the Pro Plan (worth $199/month). With it, you'll also get Google Customer Match, Custom Audiences for Facebook, Viber, WhatsApp and Facebook Messenger integration, web push notifications command, etc. On top of this, you'll enjoy Priority Support.
Omnisend will be a great tool for everyone working on promotion through different marketing channels. This tool will fully cover the marketing automation needs of a single WooCommerce business, as well as satisfy all the needs of seasoned email marketers.
Useful features and advantages of Omnisend:
Helps send more relevant messages;
Lets you drive more sales with Custom Automation;
Welcome, Abandonment, Confirmation and Post-purchase Automation;
Lets you create both email and SMS campaigns;
Trouble-free integration with WooCommerce;
Round-the-clock support.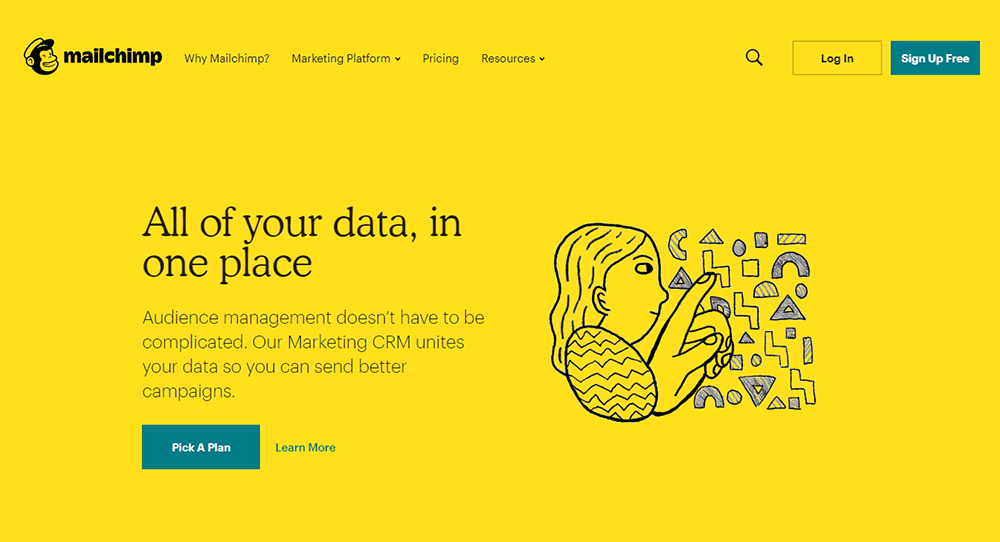 The next email marketing solution is the iconic MailChimp. For years, its one of the leading solutions for marketing and automation that keeps up with the times with ease. MailChimp offers you their advanced Marketing CRM that you can easily integrate with WooCommerce and other plugins and website engines.
Pricing: MailChimp platform will help you find, attract and nurture customers for WooCommerce businesses. The Essentials Plan (just $9.99/month) provides you with must-have features for email senders. With the Standard Plan ($14.99/month), you get better insights for attracting more customers.
MailChimp will please anyone interested in capturing leads and increasing conversion with email marketing tools. MailChimp is a scalable solution, the features of which will meet the needs of different businesses. Moreover, MailChimp can be both used by web marketing rookies and seasoned professionals.
Here's what you get with MailChimp (with the Standard Plan):
Access to numerous email templates and WooCommerce resources;
A/B testing for newsletters;
Custom branding;
Award-winning 24/7 Support;
Ads retargeting tools;
Custom email automation series;
Advanced audience insights;
Up to 5 audiences and 100,000 customers;
Insightful clients pool stats.
MailChimp platform offers you both single-step automations and complex workflows. You can create such single-step automations as 'Welcome' emails, order notifications, abandoned cart reminders, etc. And you also get access to the more advanced automation tools that let you create lead nurturing campaigns and onboarding series.
Finally, with MailChimp, you can also advertise through channels other than email. You can integrate MailChimp with landing pages, Facebook and Instagram ads, other social postings, podcasts, popup forms, retargeting ads, etc.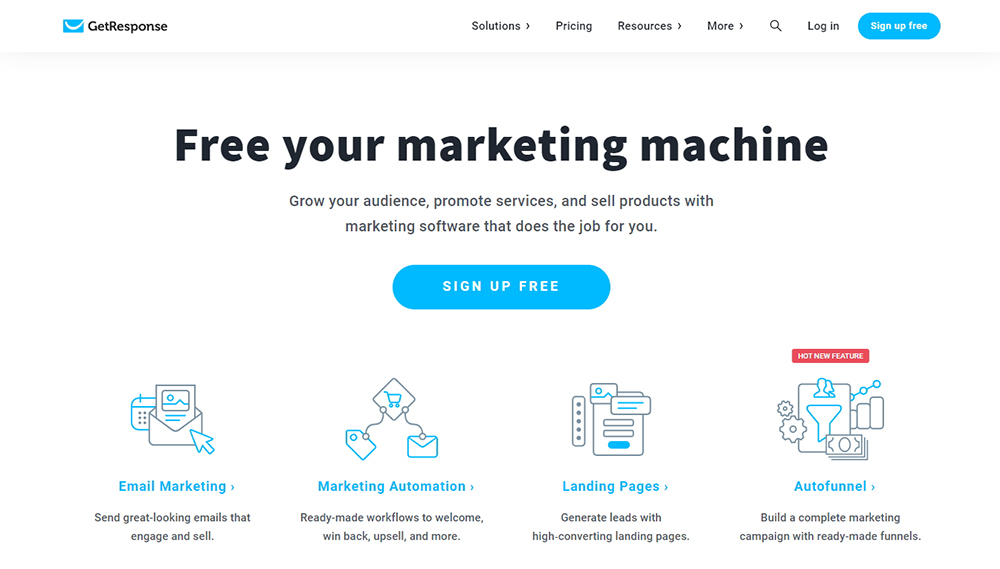 GetResponse is another comprehensive and all-in-one email marketing software. It lets you take full control over setting up autoresponders, sales and lead funnels, Facebook ads and webinars. To make the most of your landing pages, you can easily integrate them with GetResponse too. By doing this, you'll make your lead generation tools even more powerful.
Pricing: You can use GetResponse free for up to 30 days. After the trial, you can choose among the Basic ($15/month), Plus ($49/month) and Professional ($99/month) plans.
Thanks to its scalability, GetResponse becomes an ideal tool for different users and their needs. If you're only starting with automation, consider the Basic Plan, which offers:
Autoresponders;
Integration with landing pages;
Unlimited automation templates;
1 sales funnel;
Unlimited lead funnels;
Facebook ads.
The more advanced Plus Plan also offers you the following GetResponse features:
Automation Builder (up to 5 active workflows);
Webinar Creator (up to 100 attendees);
Simple CRM for all-in-one marketing;
Prospect Tagging and Scoring System;
Up to 5 sales funnels;
Collaboration with 3 users;
Up to 5 webinar funnels.
GetResponse is a modern and competitive email automation company that delivers you high-quality tools and support. They also have a large library of how-to guides and tutorials.
Over To You
I hope that you've enjoyed my list of best WooCommerce memberships, maintenance providers and email marketing tools.
Of course, this list isn't all-inclusive. Do you have your favorite picks for WooCommerce memberships and tools?
Share them with others! Perhaps one day, I'll come back with a follow-up, including all of your suggestions.
Take care and master WooCommerce!