Last updated - February 24, 2020
It is common knowledge among marketers that acquiring a new customer is much more challenging that getting an existing customer to purchase again. If you have an eCommerce store, you might want to create a bunch of loyal customers while expanding your customer base. Setting up a membership option on your store is a surefire way to improve customer loyalty and repeat purchases. For WooCommerce, the best option to set up this will be through the WooCommerce Memberships Extension. In this article, we will discuss some of the essential reasons to choose WooCommerce Memberships plugin on your online store.
Flexibility to sell memberships
One of the standout features of this plugin is the flexibility that it offers to help you create different approaches to managing memberships. With the WooCommerce Memberships plugin, you will be able to create membership plans independently from products. You can associate any of your product types with these memberships and develop interesting business models. However, it also allows you to create memberships as standalone products. For this, you can create a membership and a product for that membership and associate both together.
You can also offer memberships as part of other product purchases. For example, you can provide a membership with special access to a content section for all those who purchase a specific subscription on your site. More importantly, this plugin gives you the control to create memberships manually and create an exclusive access to a select list. Whatever be the strategy you are looking for, you can effectively use this plugin to support it.
Restrict and drip content
One of the important functionality that you may see with the memberships plugin would be the option to restrict content. It helps you restrict the content in effective ways to make your membership plans effective. One of the advantages of using this plugin is that you will be able to drip content using it. That means you will be able to schedule how different tiers of memberships can access your content. You can selectively provide access to a series of articles to members based on their membership levels.
For example, you can have three categories of content as 'Beginner', 'Intermediate' and 'Advanced' and control how your members are able to access. This will give you a chance to improve user experience on your site and let users access content at a pace set by you. It also lets you create a free trial period when you are selling subscriptions on your store.
Restrict purchase capability from your store
The plugin gives you a chance to create an exclusive purchase club on your store. It gives you an option to sell certain products only to members. This can be done using two different strategies according to what works for you. For example, you can create a set of products in a separate area, which only members can access. Or, you can make the products visible to all, but only provide purchase option to members. This can help you create a long term strategy by creating a fan following to your customers.
By letting only a privileged bunch of customers to access your products, you will be able to generate a lot of interest from like-minded customers. You can even schedule product access just like you drip content by scheduling a time for customers to access. Creating an idea of exclusivity around your product can help you get ahead depending on the specific market trends in your industry.
Offer privileges to loyal customers
Any membership plan helps you encourage customers to purchase repeatedly from your store. You need to create a loyal set of customers who will regularly purchase from you. One of the strategies you can adopt will be to provide special offers and privileges only to your members. The plugin offers an option that will help you offer free shipping to your members without setting any other conditions like a minimum order amount.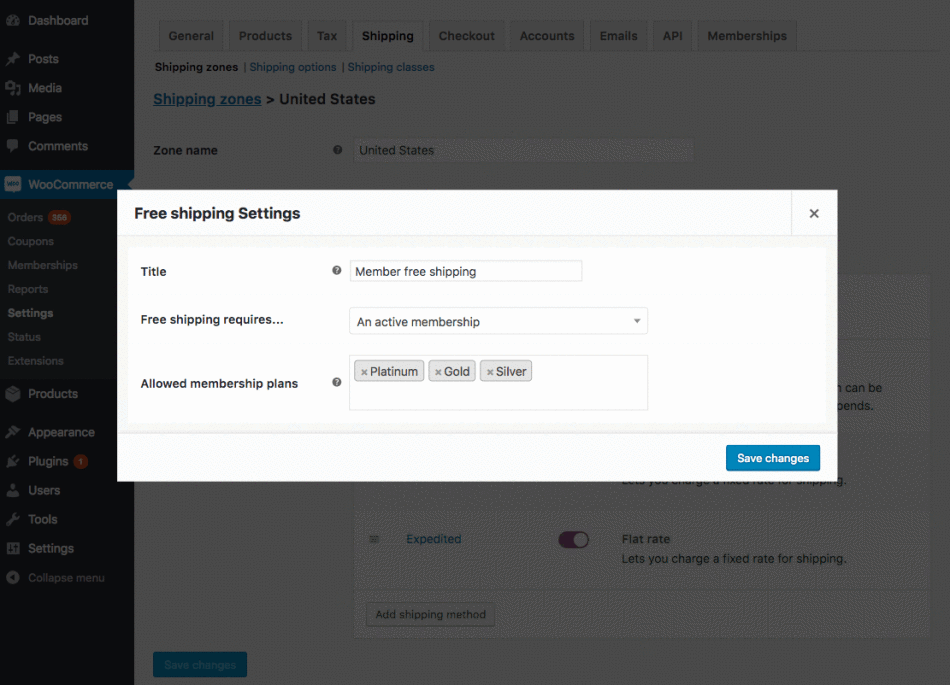 Similarly, with the help of this plugin, you will be able to offer special discounts to members. You will be able to create specific discounts to members on all your products, or select products or categories.
Great interface for members
While setting up a membership option on your site, it is important that you make it easy for your members to understand their privileges and offers. WooCommerce Memberships plugin offers a great user interface so that your members can easily find information in the designated area. Members can view the relevant information on the My Account page.
The plugin displays the membership privileges in an organized manner here. Your members will be able to view what all special access they have on your site. Or if you are dripping content, they can see when a particular content will become available to them. They will also find information on special offers, discounts, etc., as well.
Better communication with members
Proper communication with members is important to maintain a long term relationship with your them. WooCommerce Memberships plugin facilitates this with the help of options like "Membership Notes". It helps you track information about memberships of a customer, and include any relevant information from your side as notes. The plugin even allows you to send the membership notes to customers through email.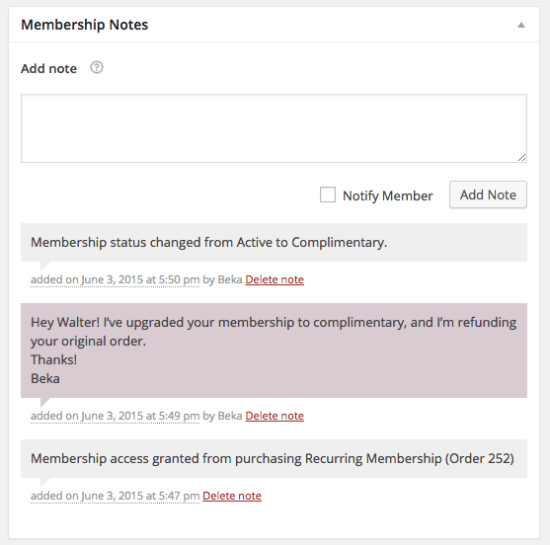 In addition, the plugin helps you create notifications to members. You can send reminders to inform members on expiration dates as well as to encourage them to renew their memberships. Such efforts can help you manage good relationships with customers over longer periods.
Easily manage memberships
The WooCommerce Memberships plugin helps you manage memberships effectively on your store. It offers a great set of features to help you manage different aspects related to your memberships. With the help of these features, you can effectively manage a membership program on your store.
However, there might be cases where you want to export your membership data to be used in other third part tools. Or you may want to import some data from some other tool to the WooCommerce memberships plugin. For these scenarios, the plugin offers an export / import option. You can import and export member data to and from the plugin via a CSV file.
Combine effectively with Subscriptions
One of the standout features of WooCommerce Memberships plugin is its seamless compatibility with the WooCommerce Subscriptions plugin. Both these plugins can be really good as standalone tools, but they compliment each other well to create better scope to both. Here are a list of features that might be helpful for your memberships when used along with the Subscriptions plugin.
Accept recurring payments for memberships.
Control the free trial period with the help of content dripping feature.
Members can be controlled through subscriptions.
Use the pro rata payment options of Subscriptions to set up accurate membership costs.
Let users share membership access
With the help of Teams for WooCommerce Memberships extension, you will be able to sell memberships to other companies and groups. This is a great option to sell memberships that will be used by a bunch of people like a corporate team or family members. One user will be able to handle the billing aspect, who will be able to invite other members to share the content.
Quite easy to set up
As you have seen, the WooCommerce Memberships plugin is capable of a lot, and helps you achieve your business goals easily. However, that doesn't mean you will have to struggle to get it up and running. It is a relatively easy plugin to set up according to your varying business need. To get started, you will have to purchase the plugin and install it just like any other plugin.
Read this article to understand how to install and set up a WooCommerce plugin.
The initial configuration will be based on the fact that whether you want to sell memberships or not. If you are planning to sell memberships on your store, you need to create a product and then associate the membership to it. Once you are clear about that, you can create a membership plan and define the terms for it. You can easily add discounts and content restriction strategies according to your strategy. Setting up the basic aspects of this plugin is quite intuitive and simple. You can find more details on setting up this plugin here.
Setting up a memberships option on your WooCommerce store can open a lot of scope for improved customer loyalty and better revenue. If you have a WooCommerce store, you can comprehensively manage memberships using the WooCommerce memberships plugin. Hope this article has given you a few reasons to choose this plugin. Leave us a comment if you have a query.
Get WooCommerce Memberships extension today!
Further reading