Last updated - February 24, 2020
Creating an eCommerce marketplace can be a good business model. On your eCommerce store, you can get vendors to register and sell their products. You will be able to get revenue in the form of commission for each sale that happens through your store. The major advantage of this model is that you don't have to worry about inventory management and fulfillment. With the help of some of the best WooCommerce multi-vendor marketplace plugins, you can easily create a marketplace and let vendors register on your store. In this article, we will compare two of the best WooCommerce multi-vendor marketplace plugins, Dokan, and Product Vendors.
Before getting into the detailed comparison, let us take a look at the important features of both the plugins.
This plugin lets you easily convert your WooCommerce store into a marketplace with multiple vendors, products and settings for payout. You will be able to collect a commission for each sale on the store. As revenue keeps coming, you will be able to build and grow a community around the domain and attract traffic to your store.
Features
The major features of this plugin include:
Supports different product types
You can sell physical products, digital downloads, bookings and more. Moreover, you will be able to sell your own products alongside products from different vendors.
Easy vendor registration
You will find customizable vendor registration forms that will help new vendors to register on your marketplace. The plugin also allows you to send approval notifications to vendors when their application is accepted.
Set up custom commission rates
You will have complete control over the commission rates in the store. You can set commissions by a fixed value or percentage value. This means you can set up lower commission rates for new vendors, or long term vendors depending on your strategy. Setting a unique commission rate for one vendor while keeping a different rate for the others is easily possible with this plugin.
Allow vendors to manage the admin
Vendors will have their own admin interface where they can manage their products and other aspects. This will reduce the workload as you don't have to worry about the product settings of individual vendors. There is an option to provide complete access to vendor admin, along with an option to provide limited access.
The commission will be assigned only after the order is completed
The plugin will assign commissions only after the order status is changed to 'Completed'. This will help you avoid any hassles due to incomplete orders.
Detailed reports
The plugin offers detailed reporting features, which will help you have an overview on sales, earnings, and commissions for each vendor.
Decide on the frequency of payouts
The plugin allows you to define the frequency of the payouts to vendors. Weekly, fortnightly and monthly payouts are allowed. You can delay commission payout during the refund window. PayPal Payouts will help with delayed payments so that any return or refund request can be addressed without hassles.
The single-site subscription of this plugin will cost you $79. The 5-site subscription is $99 and the 25-site subscription is $199.
Dokan is one of the most popular solutions to help you set up a multi-vendor marketplace. It offers a user-friendly interface that allows vendors to easily manage their products. You can easily customize your store using Dokan and set up all the required aspects of your store. Moreover, it works with most of the popular WooCommerce themes and hence there is no problems with compatibility issues. It also supports a large number of payment gateways and is also compatible with multiple languages.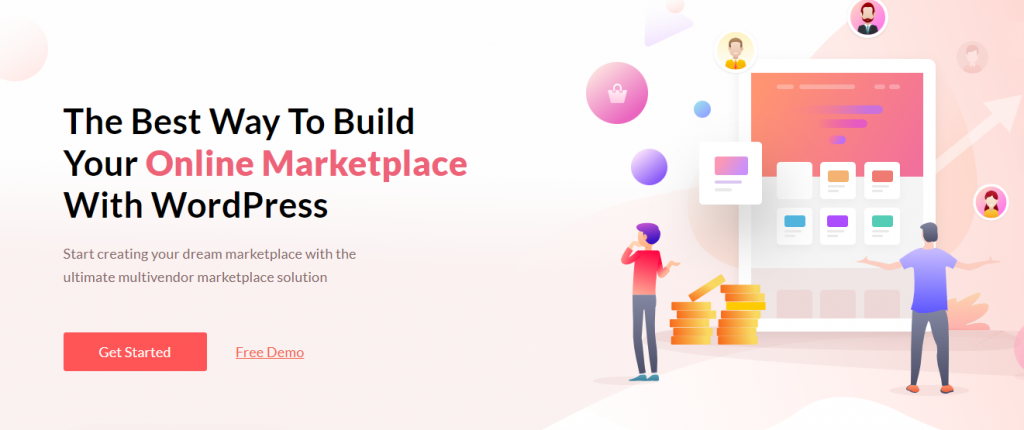 Features
Dokan too offers convenient features to help you set up a well organized multi-vendor marketplace. Some of the standout features of this plugin are as follows:
Perfect integration with WordPress and WooCommerce
Dokan offers seamless integration with WordPress and WooCommerce and hence can be really easy to use for WordPress users.
Freedom for vendors to create an individual storefront
Each vendor can create their own storefront design and even offer customer support separately. Similarly, vendors will be able to handle promotional offers and discounts independently as well.
Compatible with most WooCommerce themes
Dokan is compatible with the most popular WooCommerce themes. In addition, you will get a free WordPress theme that you can use to design the layout of your store.
Frontend dashboard
Customers and vendors will be able to access the store through a customized dashboard when you are using Dokan. This will allow vendors to easily manage their inventory, sales, orders, promotions, etc. Vendors can easily request payouts through this dashboard as well.
Control over commission rates
Dokan allows great control for store owners to define the commission rate for each vendor. You will be able to set up commission rates globally across the store. In addition, you can even set a different commission rate for individual products.
Reporting features
Dokan offers extensive reporting features as well. Your vendors will be able to see detailed reports on their sales performance on the Reports dashboard.
Integrated review system
Dokan comes integrated with a review system. As you know, reviews have great potential to increase the conversion rates in your store.
Easy payout management
You can easily manage vendor payouts with Dokan. It allows you the flexibility to set a minimum withdrawal limit and preferred payment gateway for payouts.
Independent shipping management
Dokan allows for independent shipping management for vendors as well. The zone-wise shipping feature allows your vendors to handle their own shipping. It also integrates with Shipstation and allows vendors to access options from popular shipping carriers as well.
Additional options for vendor management
Dokan offers a few additional options to help you manage various aspects related to vendors. You will have the control to activate or deactivate a vendor to sell their products on your store. Similarly, you will be able to broadcast announcements on the vendor dashboard. This can be done globally to all vendors or only to specific ones whom you want to communicate with.
The pricing starts from $149 for the single site license of the plugin with advanced features. There is also a free version available with basic multi-vendor functionality.
Comparison between Product Vendors and Dokan
When you compare two WooCommerce multi-vendor marketplace plugins, there are a few aspects that you need to consider. We will list down these aspects and analyze how each of these plugins fares.
Vendor management
One of the most important features that you have to look for in a WooCommerce multi-vendor plugin will be how it helps you manage different vendors. Let's see how both plugins compare when it comes to vendor management.
Product Vendors plugin offers convenient options to help you manage vendors on your store. There are four user roles created by the plugin – store admin, vendor admin, vendor manager, and pending vendor. You can allow access according to your store strategy and manage vendors. The registration form is customizable with the help of code snippets if you want to add more fields.
Dokan too offers extensive features to help you manage vendors. Vendors can register on your site using the registration form, which you can customize to add additional fields. After submitting the form, each individual vendor can configure their storefront. The store owner will have complete control over which vendors are active and which ones are not. It also allows store owners to set up commission rates according to your convenience. The vendor announcement option is a standout feature that will help you communicate with your vendors globally or selectively.
Comfortable options for vendors
Vendors should be able to easily add and manage products in the multi-vendor marketplace.
With the Product Vendors plugin, vendors will be able to manage their products and configure per-product shipping options as well. They can control their profiles and view their orders and sales reports as well.
Dokan offers an individual storefront for each vendor. Vendors can easily manage their profiles from the frontend dashboard as well. This will help them handle their sales, payouts, orders, promotional offers, etc.
Flexibility in setting up a commission rate
This is another major aspect of a multi-vendor marketplace. As the store owner, you should have the flexibility to set up commission rates.
The Product Vendors plugin offers you options to customize the commission rates based on vendors or products. Dokan offers multiple options to set up commission rates. You can set up Global rates, along with rates based on vendors, categories or individual products.
Support for different product types
You need to check if the plugin that you use allow setting up different product types. Both Product Vendors and Dokan allows you to sell multiple product types including digital products.
Additional features
When you consider a plugin, you need to check at the additional features that it offers as well. Product Vendors plugin offers a decent package with useful features to handle all the fundamental aspects of a multivendor marketplace.
On the other hand, Dokan offers a lot of additional features to make your marketplace easier to handle. You will get access to more than twenty add-ons when you purchase the higher priced licenses of Dokan. This can be a great differentiating factor considering the scope of your marketplace.
Pricing
Pricing can also be a concern when you are comparing two similar products. The WooCommerce extension is pretty much straightforward in this department. It has three pricing options as follows:
Single site license – $79
5-site license – $99
25-site license – $199
Dokan, on the other hand, has a more complicated pricing pattern. There is a free version with all the basic features. Each of the paid options has got additional features with it. So, you need to carefully see the most suitable plan for your business idea before picking one. The paid options are as below:
Starter (Single site) – $149
Professional (3-site) – $249
Business (5-site) – $499
Enterprise (20 sites) – $999
Which is the best option among WooCommerce multi-vendor marketplace plugins?
Both Product Vendors and Dokan are good options when it comes to setting up a multi-vendor marketplace. You need to carefully evaluate your requirements and accordingly choose the best option for you. If you need a simple, efficient option to manage your vendors, the Product Vendors plugin can be a great choice. On the other hand, if you are looking for a feature-rich option that gives you great flexibility, Dokan can be your best bet. I hope this comparison helps you choose between two of the best WooCommerce multi-vendor marketplace plugins. Leave us a comment if you have a query.
If you want to create a Multi-Vendor eCommerce website with either WooCommerce Product Vendors plugin or Dokan Multi-Vendor Plugin, you can watch the below video tutorial.
Further reading