Last updated - December 3, 2019
If you are running a WooCommerce store, you need to expand it over time. An obvious way of doing this is by diversifying the product line. However, there is an easier way to do this if you are not really keen to add more products of your own. You can allow multiple external vendors to sell on your store. And you can set a fixed commission for every sale of these vendors. So, you will be able to manage a steady revenue without heavily investing in it. And more importantly, with diverse products, your site will be more popular with more traffic and customers. If your store is based on WooCommerce, you have ample options in the form of plugins to get this idea going. This article focuses on some of the best WooCommerce multi-vendor plugins that will help you expand your store.
WooCommerce multi-vendor plugins
A multi-vendor store can be a possible expansion of an existing WooCommerce store. Alternatively, you can think of starting a new eCommerce store as a multi-vendor marketplace. There are successful examples of both approaches, and we will look into some of the aspects of building a successful marketplace. But first, we will look at some of the best WooCommerce multi-vendor plugins more closely.
This WooCommerce extension helps you turn your store into a marketplace with different vendors, multiple products, and suitable payment options. You can take a commission from vendors to let them sell on your site, which has a fan following built by you. The main advantage is that you can feature all kinds of products in the store, and even incorporate bookings.
You can set vendor-specific commission rate using this extension. Interestingly, you can use this feature to reward new vendors who join your marketplace by setting a lower commission during the starting period. This will be different from the global commission rate that you have set up on your site. And, if you don't want added hassles in store management, you can let each vendor handle the admin side for their respective products.
You can set up the payment process such that vendors are paid only once the order is completed. There is also an option to delay the payment to deal with the possibility of customers returning the products. Furthermore, the plugin offers sales reports that give you a bird's eye view of sales, vendor earnings, commissions, etc.
Helpful settings
The extension has straightforward set up to help both vendors and marketplace owners. Vendors can manage their public profile and product line as per their convenience. And, they can even set up per product shipping rules and view sales reports of their products. On the other hand, the marketplace owners can handle almost every other feature of the store. This includes selectively adding vendors, approving product additions, and setting the payment cycle. You can set the commission based on vendor, product or as a single rate across the store.
You can purchase the single site subscription to the plugin for $79. 5 site subscription is $99, and 25 site is $199.
Multi-vendor marketplaces are great ways to earn passive income when different vendors are allowed to sell their products on your store. With the help of this YITH plugin, you can manage multiple vendors on your site efficiently. You can collect more information on each vendor using this plugin, and can set multiple admins on your site. This will enable each vendor to manage their set of products individually. In addition, there is absolute freedom in setting commission rates. You can choose to base it on each product or vendor, according to your convenience. Also, it enables easy payment processing with an instant Pay button on the WooCommerce admin side.
The plugin also lets you allow a lot of freedom to vendors to set their own sales strategy. They can independently manage coupons and respond to product reviews. In fact, this will take a lot of load from store owners in managing the site on a daily basis. And, for the overall management of the store, there are intuitive features that can save you from a lot of hassles. You have the option to apply global changes on the store applicable to all vendors. Similarly, you can choose not to display products from certain vendors, if needed. In addition, you can generate insightful reports that would help you understand the performance of the store.
The plugin has a lot more features that enable smooth communication between your vendors and customers. You can purchase the single site license of this plugin for $99.
In the crowd of free marketplace solutions, Dokan stands out tall being the no.1 multi-vendor marketplace software for WordPress. It offers chunks of features no other solution provides in its free version. Any amount of vendors and products can easily be handled without any hassle. Dokan currently marks more than 20k active marketplaces worldwide making it the only WooCommerce based marketplace plugin to reach this height. 
It provides its vendor separate dashboard to manage everything from the frontend. The admin of Dokan can easily set a specific commission rate based on each vendor separately. There are four different commission types to fulfill the requirements of any kind of online marketplace. Its user-friendliness, easy configuration options, and compatibility with any WooCommerce themes for store design are the USP worldwide. Its premium clients get advanced modules, regular version updates and 24/7 after-sales support that is known to be the best in class. 
Dokan supports the popular payment gateways like PayPal, Stripe and more. Moreover, its ultimate goal is to keep providing state-of-the-art marketplace service & solution that will also boost customer satisfaction.
This free plugin offers a bouquet of features that you otherwise see in premium plugins. You can manage a large number of vendors in your store quite efficiently using this plugin. You can approve new vendor registration manually or automatically, and manage multiple aspects using bulk actions. In addition, you can set commission specific to the product, vendor or globally through the entire site. Payments can be done instantly with the click of a button, or schedule it for a later time. Moreover, the plugin has a lot of features that enable simple registration process for vendors. And, if you want any optional features, you can check out some of their add-ons as well. With over 150 five star rating and over 7000 active installs, it is really popular in the WordPress community.
This is a plugin that offers a multi-vendor environment that is simultaneously smooth for both vendors and the store owner. The vendor and store owner both have the freedom to edit and manage product information. Features like approving vendors, setting commission, etc. are reserved only to the store owner. You can set a different commission for separate vendors if it works on your store. The plugin also makes sure the URL structure is SEO friendly to ensure good search engine ranking for your site. After all, the success of a marketplace lies in its ability to reach a maximum number of audience.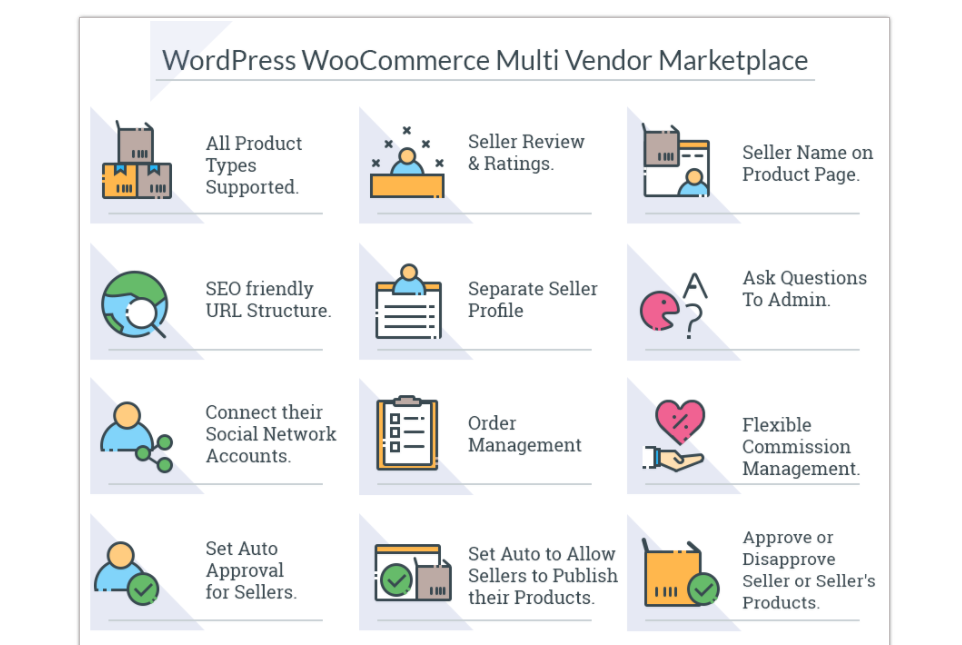 You can purchase this plugin for $99.
This is a good multi-vendor plugin with a good share of advanced features. The professional looking dashboard makes the sales reports quite accessible. It provides vendors to add their own shipping rates per product or through a table of rules. Multiple commission types, coupon management, and fully customizable store banners are some of the other aspects of the feature list of this plugin. The plugin is available for purchase at $149, which includes one year of support and updates.
How to create a successful multi-vendor store?
When you are not able to feature your own product line to diversify your store, you can rely on external vendors and their products. As the store owner, it'll save you from a lot of direct hassles such as inventory management, customer support, etc. Moreover, the diversity of products will bring in more traffic to your store, and as a result, more vendors will be interested to sell on your store. Though it may sound easy, you may have to follow a set of guidelines suggested by industry experts to make it work. Let's look into some of the best practices in multi-vendor management in more detail.
Pay close attention to each vendor
One of the immediate challenges in managing a multi-vendor environment is that you have to pay attention to each one. Even when you are individually selling through your store, there are multiple aspects that need your attention. These include crucial elements such as inventory management, shipping, post-sale support, etc. However, when you are talking multi-vendor, all these aspects become manifold. Definitely, there are options to allow vendors to handle aspects of their individual set of products. But you need to consistently ensure that each vendor is doing a good job. Because, if one vendor creates a bad impression, it will reflect on the entire site. So, even if multi-vendor sites offer opportunities for less work and more pay, you can't completely focus your attention elsewhere.
In addition, you need to ensure each vendor is handling their products in a consistent manner according to your quality standards. A professional display of product information with quality images and good copy is a necessary requirement. Similarly, you have to pay attention to the shipping and fulfillment, post-sale support, etc., of each vendor. You can maintain a review system for vendors to keep them motivated to keep up your quality standards.
Decide on an optimal commission
On a multi-vendor store, your source of income is the commission that you receive when vendors sell their products. You may need to devise some strategies to keep an optimal commission. Most of the WooCommerce plugins discussed in the above list has an option to set this based on different criteria. You can set a commission based on individual products or vendors, or you can keep a common rate across the store. Additionally, you need to take care not to charge too high or low; the right approach will come to you after some initial experimentation.
Also, if you are giving freedom to vendors to manage discount coupons on their own, you need to decide on the commission strategy there too. Is the commission percentage going to be based on the original or discounted price? This is something you need to consider before setting up commission rates on your multi-vendor site.
Monitor order fulfillment
Though fulfillment is not a direct responsibility of the store owner in a multi-vendor setup, you need to make sure there aren't any delays. Because, even if a single vendor falters, it can affect the site's reputation badly. So you need to constantly keep a watch on open orders and proactively initiate a conversation with vendors if you notice issues.
Shipping policy
Shipping is an important aspect of any online store selling physical products. However, when it comes to a multi-vendor environment, there are two ways to handle this. Either you can create a shipping strategy applicable to the entire store, or you can let each individual vendor choose their own. Vendors will be more interested to use options that they are most comfortable with. Irrespective of which option you choose, you need to track shipping to ensure prompt product delivery.
Return policy and customer engagement strategies
On a multi-vendor marketplace, you still need to keep a collective identity in a few matters. For example, the customer engagement strategies should be common to all products and vendors featured in your store. Similarly, return policy should be uniform across vendors. If there are variations in these aspects, it can only help to confuse your customers.
Payment strategy
As you are the store owner, payments from customers will directly come to you. It is then your responsibility to pay each vendor accordingly. You can choose to set up an instant payment method or maintain a schedule for payment. You can choose whichever works for you, but need to have a process to organize it perfectly. PayPal is a reliable solution that you can try to efficiently manage multi-vendor payments.
Flawless reporting
You need to have good reporting capabilities on a multi-vendor store. Sales reports should give you a good overview of the overall performance of your store. At the same time, you need reports that give you insights on individual vendor performance. This will help you identify any potential problems, and options to rectify them instantly.
You can also watch the below video tutorial. The video may or may not include the plugins mentioned in this article.
Conclusion
Multi-vendor marketplace is a trending eCommerce business idea that offers a lot of scope for passive income. The tempting factor of a multi-vendor store is that you can successfully run one without even having a single product of your own. However, it still comes with varied challenges in store management, sometimes trickier than an individual store. Thankfully, if you are using WooCommerce, there is no dearth of options to help you set up a multi-vendor marketplace. We hope this article has helped you find a useful WooCommerce multi-vendor solution for your store. Let us know if you want to share a unique insight on the matter.