Last updated - July 29, 2019
PayPal is a leader in online money transfers and WooCommerce is one of the most popular eCommerce platforms. The global reach, simplicity, and affordability of both solutions have made them quite popular among businesses of all kinds and sizes. PayPal is actually one of the largest companies in the world for internet payments. Likewise, WooCommerce powers close to 30% of all online stores in the world. This article explores how WooCommerce PayPal integration helps your online store in multiple ways. You will also find some information about PayPal Business in a Box, which is a great option for budding businesses in the United States.
WooCommerce PayPal Standard
When you first set up WooCommerce, you will find an option to add PayPal Standard as a payment option. It redirects your customers to PayPal website to complete their payment transaction. PayPal Standard uses Instant Payment Notification (IPN), which is a message service that automatically notifies users on matters related to their transactions. It helps a lot in your store management and you can keep your customers updated on the order status. However, according to a WooCommerce note, you need to make sure that your hosting service "supports HTTPS connections through CURL/fsockopen using TLS 1.2 or newer certificates."
You need to have a PayPal business account to use this payment method in your store. If you have a personal account with PayPal, you can change it to a business account.
Setting up PayPal standard is straightforward. Enable the option for PayPal on the settings page. Add a title and description for the payment option. After this, you need to enter the email address that you would like to receive payments from your customers. This email id should be the same one that you use for your PayPal business account. Once these settings are done, you can start accepting payment through PayPal on your WooCommerce store.
There are some tools that will help while you with testing and troubleshooting. These are Sandbox, which enables you to test your store before going live. This is kind of a trial mode, where actual payment will not happen. However, you need a separate Sandbox account for this. If your developers need debug data to check the functioning of the gateway, you can enable debug mode as well. The debug data can be found in WooCommerce > System Status > Logs.
Advanced options
There are some advanced options that you can set up according to your requirements. One is sending the shipping address to PayPal instead of the billing address. Also, you need to note that there is a verification process with shipping addresses. If the address is not valid, PayPal might decline the transaction. Another advanced option is enabling 'address override'. This is useful when you don't want the address verification of PayPal to change the address. However, WooCommerce recommends to keep it unchecked.
You can also use another email account, which is different from the official one you used in the PayPal account. Similarly, you can choose to add a prefix to your invoices. This is particularly useful to distinguish between different companies if you are using the same email for multiple ventures. In the settings field, you also have options to capture the funds immediately or authorize for later. If you enter your API credentials, funds are captured automatically when the order status changes to 'processing' or 'completed'. This is applicable when you choose the option to 'only authorize' in the Payment Action field. There is also a field to enter the PayPal identity token, which can be useful when you face trouble with IPN.
Automatic return to your website
PayPal Standard has an option to make sure your customers are returned to your website after the transaction. You can simply specify the URL of an order receipt page on your site. The customers will automatically return to your site. If you need to read more about the settings and some common issues, please read this WooCommerce documentation.
This is a free extension available for download from WooCommerce. You can choose to download it while the setup wizard is running. Alternatively, you can download the zip file of the plugin from the WordPress plugin repository. Basically, using PayPal Powered by Braintree store owners can accept payments via multiple options. These options include PayPal as well as credit and debit cards. The payment flow is simple and just requires a signup from customers. The main advantage of this payment method over PayPal standard is that customers can make their transaction without leaving your website.
With PayPal Powered by Braintree enabled on your store, you can accept payments from all major credit cards. These include Visa, MasterCard, American Express, Discover, Diner's Club and JCB. You can easily process refunds, voids and authorized transactions, all within the admin section of your WooCommerce store. Let's look into some of the interesting features of this plugin in more detail.
Easy setup
Compared to other payment methods, this option is free and quite easy to start with. You can enable the whole process by simply clicking the Connect with Braintree button. There are no tedious steps involving copying and pasting of API keys and such.
Secure solution
As PayPal is one of the most reputed names in internet payment, you can be convinced of the safety of your online transactions. This is achieved by the use of 'Hosted fields', which make sure your transactions are complying with safety regulations. Additionally, there are some fraud detection tools that will help you – risk threshold tools and AVS/CVV checks. Interestingly, you can turn these features on without any complicated procedures. Moreover, you will be accessing the latest technologies in payment processing all the time.
Supports subscriptions
Subscriptions are a great way to generate recurring income on your WooCommerce store. One of the challenges in online subscription business is that not all payment options would accept recurring payments. There is no such worry when you are using PayPal Powered by Braintree. It's a seamless solution for the recurring payments for your subscription plans. Read our article if you want to know more about WooCommerce Subscriptions.
Faster checkout
Your customers can experience fast checkout, as PayPal customers can checkout without entering password or card details. Quick checkouts can really help in improving the conversion rate on your site. Read our article if you are looking for some insights on checkout optimization.
Easier management of refunds
You can easily process refunds for payments done through PayPal and credit cards from the WooCommerce admin area. As a matter of fact, you can initiate full or partial refunds simply by the click of a button.
If you need help in configuring, read our article that has set by step instructions to set up PayPal Powered by Braintree.
This is the third PayPal solution that you can set up on your WooCommerce store for free. When your customers with PayPal account choose this payment option, their information is pre-filled on the checkout page. Basically, the advantage of PayPal Express checkout is that it enables a much faster checkout. As already mentioned, a faster checkout has the power to improve your conversion rate considerably.
Advantages of using PayPal Express Checkout
There are some marked advantages in using this solution as a payment option on your site. Let's look further.
Free and secure
You can set it up without any extra charges. Moreover, the secure servers of PayPal handle your transactions. So, you can leave any worries about safety and PCI compliance aside.
Ease of setting up
Similar to the Braintree option, this one also doesn't require any tedious steps to set up. You can simply click "Set your PayPal account" button and you are connected to the gateway. There is no need to manually transfer account credentials to your WooCommerce site. You can manage this setup flow in most of the countries in the world, except for Brazil, Japan, India, and Israel.
Faster checkout for customers
WooCommerce PayPal Express Checkout offers a unique, in-context checkout where customers with PayPal account can manage a super-fast checkout. This is made possible by passing the shipping and billing information from the PayPal database to your WooCommerce store. This experience is optimized for desktop devices and mobile devices a little differently. On PCs and Macbooks, your site will be in the background with a smaller checkout window in the front. However, for mobiles and tablets, there is a fully optimized checkout window. In addition, one-touch checkout experience is also there for customers who have a PayPal account.
Capture directly from WooCommerce
You will be able to capture previously authorized transactions from the WooCommerce admin section, without logging into PayPal.
Credit checkout for US customers
Exclusively for US customers, there is an option to do credit checkout. It'll add a lot more flexibility to your customers' buying plans. At the same time, you will receive the payment at the time of purchase itself. This might provide quite a boost to your conversions. With this option, customers can choose to pay the whole amount within six months without any extra charge or interest. There are no extra charges for the store owners as well to use this service. Overall, it is a win-win option for both customers and store owners.
Even though WooCommerce offers free solutions for PayPal integration, you can try out some premium options if you prefer getting good support. XAdapter is reputed for their amazing support team, and you can try the PayPal express checkout plugin. It has advanced checkout options that would simplify your checkout considerably. Subsequently, this will lead to happier customers and better conversion rate.
If you want to know more about WooCommerce PayPal Express Checkout, read our article.
PayPal has designed a new solution to help entrepreneurs who are starting out in a small business. It is a package of four different tools essential for starting an online store – PayPal, WooCommerce, GoDaddy, and Xero. That means you have a managed WordPress hosting solution, an eCommerce platform, a payment gateway, and an accounting tool. Interestingly, a set of essential components required for a successful eCommerce business is offered to you in a box here.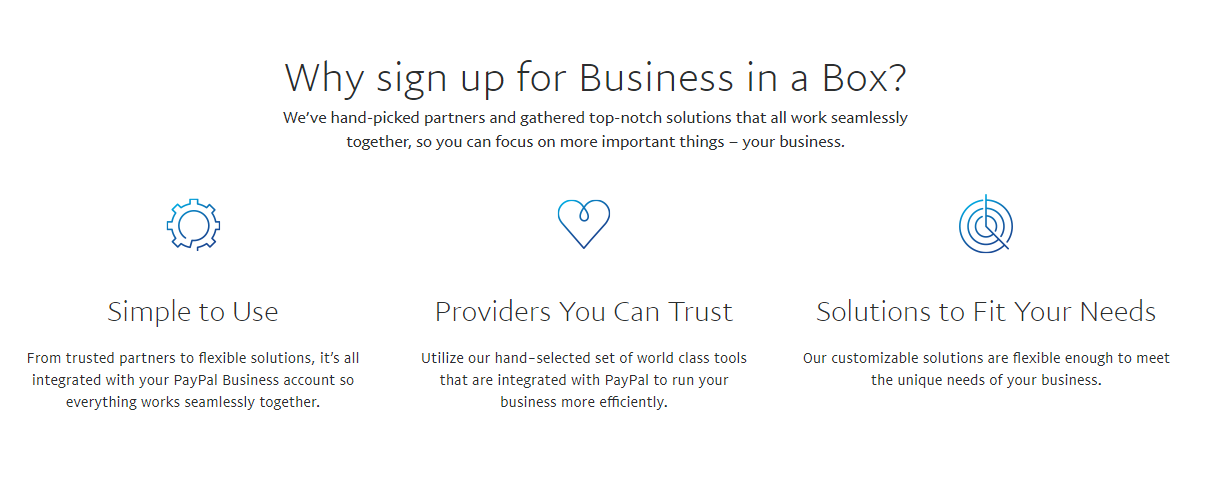 Let's look into each of these components in more detail:
You already know how WooCommerce and PayPal Express checkout works for a great customer experience. Furthermore, you get a 30-day trial of Xero and the WooCommerce Xero Extension in the box. On top of all this, you might get access to PayPal Working capital business loan, given you meet certain eligibility criteria.
Why choose WooCommerce PayPal Business in a Box?
Seamless integration – You get a variety of awesome services required for an online store at one place. Pretty easy to set up too.
Reliable solutions – All the components of this deal are great for setting up a successful business. All are in the market for long and power numerous businesses across the globe.
Great customization – With multiple business solutions in a box, you get the tremendous flexibility to design a great store strategy. In addition, you can customize all these solutions according to your specific requirements.
Conclusion
WooCommerce PayPal integration is a great option to manage your store checkout in an optimized way. PayPal is one of the most trusted online payment solutions all across the world. In addition, it combines the power of the numerous users of PayPal to create a smoother checkout in WooCommerce. WooCommerce offers multiple options to integrate PayPal into your site. All these options are available for free with WooCommerce. You can simply install them and be assured of long-term positive outcomes. Furthermore, PayPal offers a boxed deal which includes multiple tools required to set up a small business. This would truly encourage enterprising people to start a business. If you have an opinion on this article, please let us know.