Last updated - January 5, 2021
Several eCommerce businesses use multiple retail channels for their sales. When you are selling through multiple retail channels, you need to keep inventory status and order details in sync. A good point of sale (POS) will help you manage all the data in one place and provide a great experience to your customers. In this article, we will discuss some of the best WooCommerce Point of Sale (POS) plugins that you can use to manage multiple retail channels.
This plugin will provide you with a secure POS system to manage all your cash transactions from your browser. You will be able to manage and process orders on your physical store by linking to your WooCommerce store. Data related to your inventory, orders and customers will be automatically synced when you are using this plugin. More importantly, FooSales connect seamlessly to WooCommerce using the REST API and doesn't give you any hassles in integration. Also, the user interface is intuitive, and you can easily manage order information, from the store backend.
Features
Sell products through different channels including physical store, popup store, etc.
Synchronize inventory and order details from the same intuitive dashboard.
Order source and other details can be accessed from WooCommerce backend.
Apply WooCommerce coupon codes during billing.
Automatic tax calculations from your WooCommerce tax rates.
Issue partial and full refunds, and restock individual products without trouble.
Use any third party cash machine to accept cash payments.
Keep track of inventory with barcode scanners.
Send invoices automatically to customers, and print if necessary.
Engage customers better by creating their profiles.
Safer as customer data is stored in your web server rather than a third party system.
The single site subscription of this plugin will cost you $249.
This plugin too helps you handle physical as well as online stores effortlessly. You can turn the browser practically into a cash register and manage your orders, customers and stock. Different kinds of businesses that sell through multiple channels can make use of this plugin to handle multiple retail channels. The plugin works seamlessly with WooCommerce and offers advanced configurations to help you handle different business requirements. Moreover, you can easily create multiple user profiles to handle the cash register.
Features
Create WooCommerce POS to accept orders from physical stores.
Maintain multiple retail channels and manage multiple users to handle your orders.
Custom POS experience for each department in your store.
Ability to add products from the POS interface.
Option to create discounts as well as collect extra charges.
Create separate order notes for customers as well as internal order handlers.
Easily access previous orders for customer support queries.
Accept payments through cash or card (support for third party card terminal).
Print or email invoices at the end of the sale.
Barcode scanning.
Easily update stock information.
Simple tax calculation and extensive reporting features.
You can purchase the single site subscription of this plugin for $199
If you are using Lightspeed Retail Point of Sale system, this plugin will help you integrate your WooCommerce store with it. You can simply install the plugin and connect your store to your Lightspeed Retail account. Both accounts will be synced so that your stock information and order details will be always updated in both places. Please note you need to have a Lightspeed Retail account to be able to use it.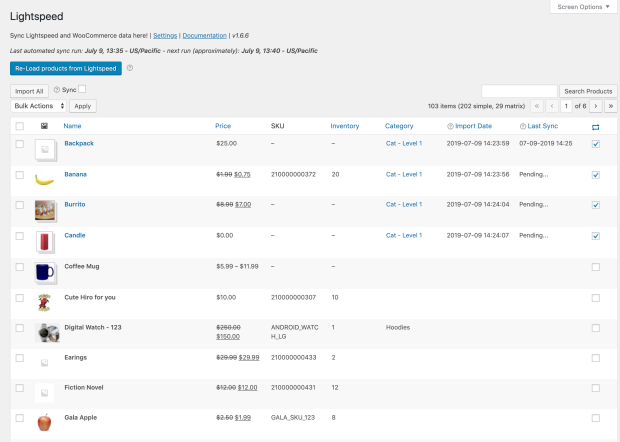 Features of Lightspeed Retail
Easily sync your WooCommerce store and Lightspeed Retail account.
Manage your inventory from the POS system.
Centralize inventory, customers and order from multiple channels.
Facilitates different payment methods, including mobile payments.
Customize the look and feel of your point of sale system according to your branding requirements.
Great analytics features with instant data, export options, employee tracking and more.
Process refunds without hassles.
Maintain great customer relationships.
Great support through phone, chat and email as well as access to introduction webinar.
The plugin will cost you $149 for a single site subscription.
Irrespective of the type of your business, you can use this plugin to create a WooCommerce POS system. That means you will be able to accept payments from different channels and locations without investing on expensive equipment. The plugin will help you create a virtual cash register that can be used anywhere.
Features
Create a WooCommerce POS using REST API to sync orders to WooCommerce database.
Create unlimited stores and separate registers for different departments in your store.
Centralized dashboard to help you track orders and sale figures effortlessly.
Provide access to your team members to the cash register through the frontend login form.
Engaging POS interface to help you create products as well as manage stock details.
Create discounts, markups, order notes, etc.
Accept payment through multiple methods for a single order.
Print or download customized sale receipts.
Supports barcode scanning.
The single site subscription of the plugin costs $189.99.
This is another popular option among WooCommerce Point of Sale (POS) Plugins that offer extensive customization options. You will be able to accept orders from multiple channels as well as well as track your inventory real time through your WooCommerce store. The plugin processes orders quite fast, and offers easy search options for products and customers. Moreover, it will help manage different cash outlets and multiple users.
Features
Create a WooCommerce POS system to manage billing of your physical stores.
Intuitive user interface.
Unlimited cash counters with multiple cashiers, separated by departments.
Frontend login option for cashiers.
Automatic tax calculation.
Supports cash, card and other payment options.
Customize the POS system for your convenience.
The Starter plan of this plugin will cost you $199 per year. There is also a free version, which supports only cash gateway.
With the help of Hike WooCommerce integration, you will be able to use your WooCommerce store as a virtual cash register for your different retail channels. You will be able to handle every aspect of your stock, products and customers using this system. To be able to use this, you need a Hike account and then you can integrate your WooCommerce store with it.
Features
Create a WooCommerce POS system by integrating your store with Hike.
Sync existing inventory from Hike or your WooCommerce store automatically.
Use Hike dashboard to manage orders from the physical store as well as online.
Manage customer profiles in both platforms easily.
Extensive reporting options.
Simple integration.
The pricing plans start from $59 per month.
Square is one of the most popular POS solutions. With the help of this plugin, you will be able to integrate your WooCommerce store with your Square account easily. It will enable you to manage different sales channels effectively and handle inventory, sales and customers smoothly. You can get yourself an account with Square, and use this plugin to integrate it with your store in minutes.
Features
Accept online and offline payments through major credit cards.
Automatic sync of WooCommerce store and Square account to facilitate real time updates.
Option to let customers save their payment details.
Efficient risk management and security tools.
Detailed reporting features.
The plugin is available for free download in the WooCommerce Extensions store.
If you are looking for another free solution to set up a WooCommerce POS system, this plugin could be another option. It will help you create a great WooCommerce POS system with efficient filtering options. Moreover, your inventory will be always updated irrespective of the sales channel. The plugin offers an intuitive user interface as well.
Hopefully this article has provided you with a good idea on some of the best WooCommerce point of sale (POS) plugins. Leave a comment if you have a query.
Further reading