Last updated - December 5, 2022
According to marketing principles, it is much easier to make an existing customer purchase from you than acquiring a new one. And hence, it is important to keep customers loyal to your business. You should be able to provide a consistently good user experience and keep customers interested in your products. A good strategy to build long term relationships with customers will be to offer a points and rewards system on your store. In this article, we will discuss some of the best WooCommerce points and rewards plugins you can use on your store.
This plugin helps you reward your customers for purchases as well as other actions that you want them to take on your store. You can set up a systematic approach to grant points based on different criteria relevant to your store. While using this plugin, you will have complete control over the reward system by setting limits to the allocation of points and associated discounts. You can allot points globally across your entire product range, or only to the purchase of specific products or categories.
It gives you great scope to set up conversion rates for reward points. For example, you can set a rate that defines a specific number of reward points will be converted to discounts during a purchase. More importantly, you can set limits that determine how many points can be availed for a single purchase. Customers will be able to view and manage their points balance from their My Account page. The plugin also offers extensive customization options to personalize your reward system, and also to communicate with customers.
Features
Easily create a reward system by defining points for purchases and actions, and assign discount values for point redemption.
Encourage customers to sign up for your newsletters or to leave product reviews by assigning points for these actions.
Set limits to the maximum discount value at product, category or cart levels.
Simple settings for customers to manage their points balance.
Store owners can easily access the points changes made by individual customers.
A single site subscription of this plugin will cost you $129.
A loyalty program on your eCommerce store will be a great option to retain customers and build long term relationships with them. With the help of this plugin, your customers will be able to amass points when they make a purchase on your store. They can collect a certain number of points to redeem it for coupons or discount on your store during future purchases. This will be a great way to encourage customers to purchase regularly from your store.
It even helps you set up instant rewards when a customer makes the first purchase as well. Moreover, the plugin offers a great interface to help both customers and store owners to manage the points system.
Features
Create a point system to reward loyal customers for their purchases.
Limit the reward system to only a group of customers using user roles.
Set up unique point system for specific products or categories.
Shop managers will be able to modify the points balance of customers manually.
Supports all WooCommerce products including variable products.
Specify a specific order status to be attained to award points.
Set expiry dates for points so that customers will be encouraged to purchase more from you.
Send notifications to customers for points redemption, expiry, etc.
Assign points for specific actions on your store such as registration, adding a review, reaching a milestone, birthdays, etc.
Display point information (such as how many points will be earned) on product, cart and checkout pages.
Option to redeem points for free shipping offer.
Simple interface for customers to view and manage their points.
Support for multiple currencies.
A single site subscription of this plugin will cost you $89.99.
Satisfying your online customers is one of the effective strategies to boost your reputation as customers form the base of your business. Acknowledge their commitment towards your WooCommerce store and offer exclusive rewards for their loyalty using WooCommerce loyalty plugin and make their shopping experience memorable.
Install WooCommerce loyalty plugin in your store and greet your customers with rewards when they perform actions like purchasing a product, signing up or writing a review. This illustrious WordPress loyalty program will elevate the brand value of your store to the apex.
A crucial aspect of this plugin is the referral program, with which you can reward your customers with points using the referral program when they refer your product or store to their friends and family. Thus, increasing the traffic to your store results in more sales which will yield you more revenue, eventually.
Launcher Widget, a distinct feature of the plugin using which you can reveal the discounts you offer in your store in a chat popup like a widget. Are you annoyed that people visit your store and leave without taking any action on your store? With Launcher widget, convert those visitors into customers by showcasing the discount they can benefit if they signup to your store. Yes, with this plugin you can effortlessly convert potential leads into customers or subscribers.
Features
Displays your discounts in a dynamic chat popup like widget.

Launcher widget showcases the rewards awarded for signing up.

Current reward points can be viewed effortlessly using the launcher widget.

Launcher widget is easy to customize (no coding required).

Shoppers can easily locate, earn and redeem the points offered.

Reward customers for specific actions like signing up, purchasing a product, etc.

Reward your customers with exclusive points for writing a product review.

Reward points to shoppers when they refer your store to their friends.

A dashboard that displays all recent activities.

Engage with your customers instantly.

Customized referral URL for each customer.

Points earned can be renamed with custom names.

Points can be rewarded inclusive/exclusive of taxes.

Instant notification when products are added to the cart.

Instant notification when shoppers check out.

View customer details with ease.

Expiry dates for points rewarded.

Points can be rounded off to the next integer value.

Set maximum and minimum order values to earn points.

Total points awarded and total points redeemed will be displayed in a dynamic dashboard.
This is a comprehensive option to set up a reward and loyalty program on your store. You will be able to include and encourage customers to be part of your business growth with the help of this plugin. Basically, you will be able to assign reward points to customers for purchases, writing reviews, sharing your products in social media, referrals and even to sign up on your store. Customers will be able to redeem the reward points they earn for discounts in future purchases.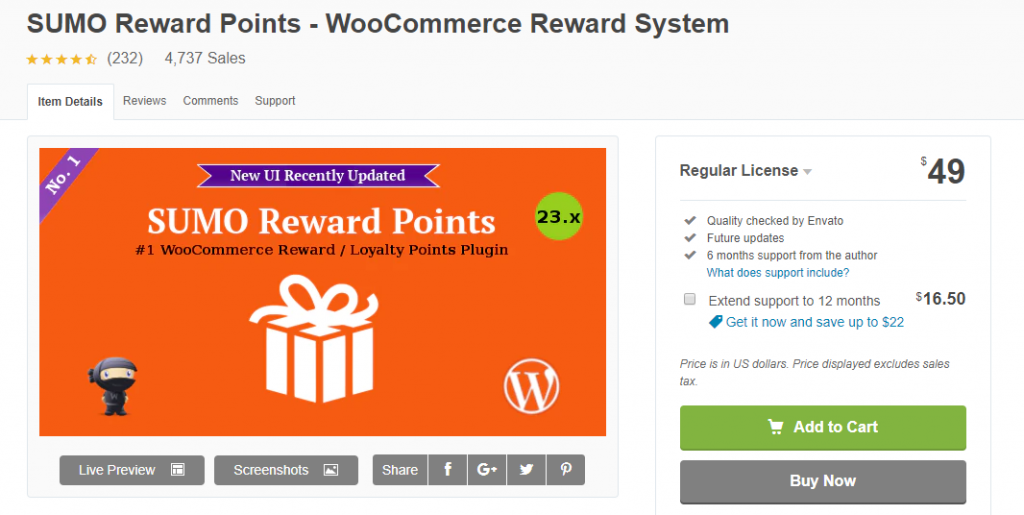 The plugin supports different product types including subscription points. Moreover, it offers a simple user interface that will let you set up conversion rates for earning as well as redeeming points. You can also set higher limits for points redemption so that the reward program will not affect your profitability.
Features
Helps to create an efficient reward system on your WooCommerce store to enhance customer satisfaction and loyalty.
Assign points for different scenarios like product purchase, reviews, referrals, social promotion, etc.
Set reward points for all products in your catalog, or only for specific ones or categories.
Allow customers to redeem points for cash, or transfer to other customers.
Set minimum and maximum limits for points redemption.
The regular license of this plugin is available at $49.
The merchants can use the rewards plugin to grab their customers' attention by providing them with exclusive discounts. You can build a separate loyalty program with complete ease by using this plugin, further helping with customer intention.
Using this plugin effectively gives your loyal customers the power to convert their points into actual money.
Features
It helps to build brand loyalty
The customers get a chance to earn points on sign-ups and can convert these points as well
The merchant can also build a separate loyalty program for their customers
It helps with customer retention
This is another interesting option to create a loyalty program on your store. You can assign points to customers for purchases and they will be able to redeem the points as coupons or discounts. With its unique settings it will help you retain existing customers while attracting new customers. The plugin even allows you to create multi-tiered membership levels that will let you create different discount rates for points redemption.
Features
Offer points to customers for different actions on your store such as product purchase, writing reviews, referring friends, etc.
Reward customers for commenting and sharing your referral links in social media as well.
Customers will be able to redeem points by using them for partial payments for future orders.
Set an expiry date for points, and notify customers when their points are nearing expiry.
Easy configuration options to set conversion rate for points allotment and redemption.
Supports variable products so that you can assign points for the purchase of individual variations as well.
Customers will be able to share their points with other customers.
The plugin costs $39 for a regular license.
WooRewards is a feature-rich plugin that will help you create an extensive rewards and loyalty program on your online store. It has an intuitive interface that will help you configure the reward points system effortlessly. Moreover, there are several shortcodes and widgets to help you personalize the rewards system on your store. And, regular feature updates will help you take the benefits of the latest trends of marketing.
Features
Helps you create diverse loyalty systems, which will help you set up more than 15 methods for customers to earn points.
Let customers redeem their points in the form of discounts or free products.
Wizard to help you generate loyalty programs automatically.
Layered reward system where customers will be able to unlock more rewards as they progress.
Create temporary rewards system for celebrating holidays or customers' birthdays.
Shortcodes and widgets to help you display relevant information to customers.
Extensive customization options.
Complete integration with WooCommerce.
The Pro license of this plugin will cost you $70.
Gratisfaction is a comprehensive platform that will help you with loyalty marketing, referrals, gamification and other marketing campaigns. You can download the Gratisfaction plugin for WooCommerce to integrate it to your store. It allows you to reward customers for different actions such as purchase, reviews, signups, referrals, social shares and more. Moreover, there is flexibility in redeeming reward points as well, as customers will be able to convert points to discounts or for free gifts. You will be able to increase your conversions as well as customer loyalty using this plugin.
myCred is a flexible points management system that you can use on your WooCommerce store. It lets you reward your customers in three ways – through points, ranks and badges. The plugin offers automatic point allocation when customers perform specific actions on your store. You can reward customers for simple actions like logging in to your site or for leaving a comment. The plugin lets you create limits to redeeming points so that it will be in the expected range. Moreover, there are several add-ons available with the plugin to simplify complex tasks associates with the plugin.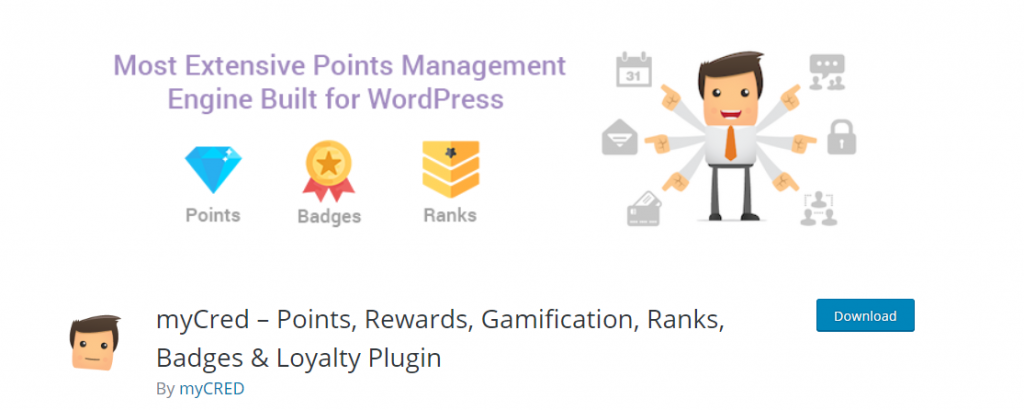 Hopefully, this article will help you pick the best from the best WooCommerce points and rewards plugins. Any queries, please leave us a comment.
Further reading