Last updated - March 1, 2021
Personalized products are a rage in the present eCommerce scenario. As affordability and availability of products seem ever increasing, products with a hint of personal touch naturally become more appealing. eCommerce stores of all sizes and range are trying to reap the maximum out of this trend. And, according to statistics, this is not just a temporary phenomenon. Personalized products are here to stay. In fact, it might become an essential aspect of eCommerce in the near future. So, as a WooCommerce store owner, it is imperative that you want to try out the scope of personalization on your store and products. Fortunately, you can find quite a few good tools to personalize products on your store. This article explores the trend of personalized products and suggests some of the best plugins to manage WooCommerce product add-ons.
What is a personalized product?
Companies have come up with innovative ways to provide personalized products to customers. There are options to choose each and every component of a product. Interestingly, this kind of personalization would make the customer feel a lot more interested in the product. For example, when you are choosing a Dell laptop, multiple options are available even to choose the processor, operating system, and memory. Once you choose the basic components, you will get a huge variety of product add-ons that you can choose. These range from mouse, keyboards, speakers to skins, bags and gaming consoles. You can see the scope of product add-ons are really huge, and Dell very effectively uses this strategy in their products. And from a customer's perspective, the add-ons they choose really make a difference.
The psychology behind personalized products
When you customize a product with a design detail or a unique accessory, it gets a more personal vibe. This provides a better sense of ownership to the customer and a certain emotional connection to the product. The prevalence of eCommerce has made this particularly a common practice. For example, Nike offers customization options for its shoe designs. This is something that was not easy earlier for big brands who make quite a large number of products. Interestingly, offering options to personalize products is relatively easier for small businesses who create products by demand.
How WooCommerce Product Add-ons help?
WooCommerce product addon plugins help you offer personalization options to your customers in a flexible manner. Most of these plugins work well with simple and variable  WooCommerce products. Coupled with this, a seamless integration with subscription and booking plugins would mean that you can devise a seamless, multi-level store strategy. For example, on a t-shirt (variable product), you can offer custom print choices to customers. Or for a room booking, you can let customers opt for extra bed options or additional meals. Overall, it gives a lot of flexibility in terms of personalization and enhanced customer experience. Let's look into some of the best extensions that help you with WooCommerce product add-ons.
This extension will help you offer customization options for your products. WooCommerce Product Add-ons extension adds a variety of options to facilitate add-ons such as checkboxes, dropdowns, text areas, radio buttons, input boxes, etc. It gives a certain interactivity to your store experience. You can easily take customer input on any product that needs suggestions. For example, engravings on jewelry, special messages in gift boxes, or added services in a booking, etc can be easily done.
You can set up addons globally, or specifically with individual products. You can add name and description to your addons. And when there are multiple add-ons, you can easily sort them and rearrange according to requirements. You will be able to add a price to the addon, which will be added to the product price when the customer selects it. The extension is compatible with WooCommerce subscriptions and Bookings. However, this extension does not support conditional logic. If you want to create multiple add-on options according to what customers choose, you can try out the next one we are discussing.
You can purchase WooCommerce Product Add-ons extension for $49 for a single site subscription. A 5 site subscription would cost you $79 and 25 site $149.
If you want to offer advanced product configuration to your customers, you should get WooCommerce's Gravity Forms Product Add-ons extension. You can create multiple forms for your products including conditional logic, pricing fields, submit buttons, and user input prices. The extension also makes sure there are no duplicates in the cart by tracking the products that contain the Gravity Form. Additionally, you will get great control over price displays in your store. You can get the extension from WooCommerce at $99 for a single site subscription. However, you will need Gravity Forms installed for it to work.
How to ensure page speed while using WooCommerce product add-ons extension
WooCommerce advises making each of your product pages into a Gravity Form page. This way, you will reduce the number of fields while using conditional logic for variations. The idea is to make conditional logic separate for variations, and consequently increase the loading speed.
WooCommerce Product Add-Ons Ultimate plugin allows you to extend your products with extra fields. Field types include check boxes, file uploads, name your price, number and text input, select drop-downs and text areas. You can order your fields into groups and apply conditional logic so that, for example, you only display a field if a previous field is checked or contains a certain value.
Extra fields can be added to simple and variable products. You can assign prices to each field and the total product price is automatically calculated. Product Extras for WooCommerce is perfect for adding personalized messages, engravings or dedications (e.g. on jewelry), greeting cards, gift wrapping. The possibilities are endless.
Certain fields give you additional choices. For example, with text fields you can specify a minimum and maximum number of characters and you can even choose whether to charge per character. You can also specify whether fields are required and add descriptions to fields if you wish. WooCommerce Product Add-Ons Ultimate works with any theme.

With this plugin, you can add unlimited input fields on your product page. You can offer multiple options to your customers like choosing a print for a t-shirt or mug or take design suggestions. Customers will have an option to upload an image or a file they want to share with you. The plugin allows five different input types – checkbox, radio button, select field, text and text area. It also supports conditional logic, so that you set up relatively complex product configurations. Additionally, using this plugin, you can attach fields to order and email as well.
Product personalization is really easy with the YITH Product Add-ons plugin. It allows customer inputs through a text field, or pre-configured checkboxes or radio buttons. You can set up additional options for all the products in your store, or only for specific categories or individual products. Also, it supports conditional logic, where you can optionally set a drop-down option for customers who choose the option related to it. It also helps to increase the price based on any of the additional options that are selected by the customers.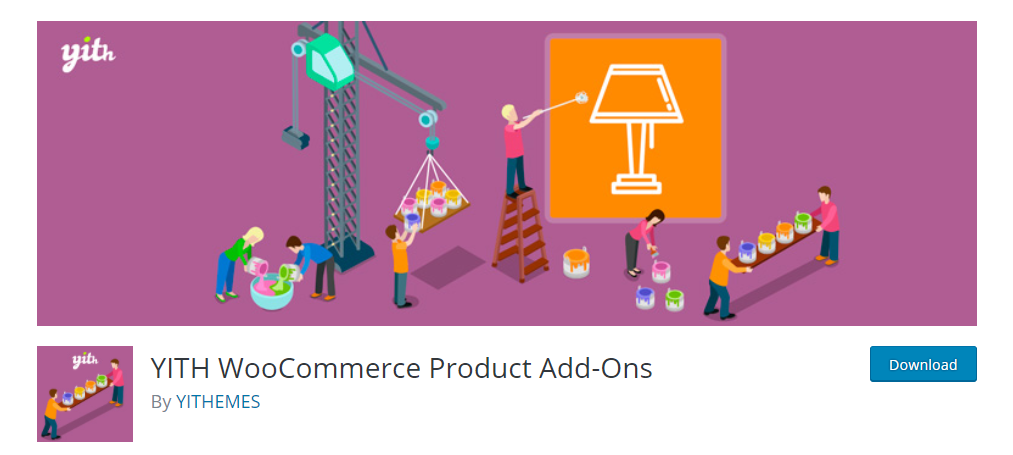 With more than 3000 active installs, this plugin has moderate popularity in WordPress circles. However, it seems like the plugin is not updated regularly at the time we are writing this article. It is a good idea to test thoroughly before starting to use it. Alternatively, you can try the premium version of this plugin.
This WooCommerce plugin helps you offer great customization options for products in your store. Your customers will be extremely happy to find options to personalize favorite products according to their liking. The result would be better customer loyalty and conversions on your store. With the premium version of the YITH plugin, you can offer unlimited combinations of additional options for your products. Options include radio button, checkbox, select field, text area, and file uploader. The prices also change dynamically according to options that the customers choose.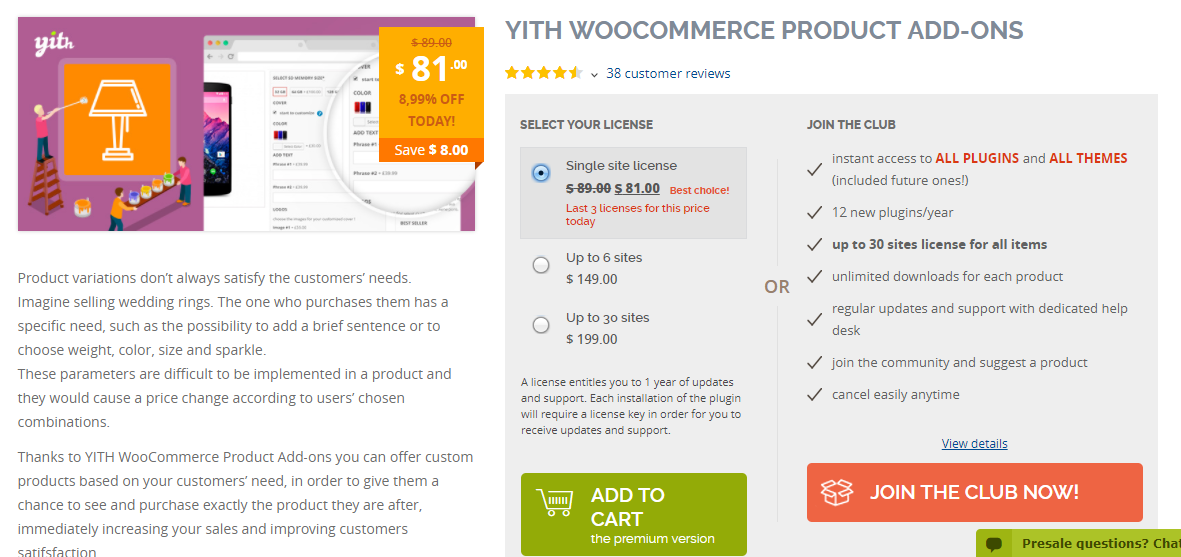 Additionally, you can make certain customer input fields mandatory, for them to be able to add the product to cart. You can limit the file uploader so that users will be able to upload only the file formats that you specify in the plugin settings. Also, you can set a tooltip for advanced options and attributes. Furthermore, you can opt to display the product image, along with the choice of the add-on. This would increase the likelihood of customers to choose that particular addon. There are even options to let users select variations from the shop page. You can purchase the single site license of the plugin for $89. If you are looking for a six-site license, you can get it for $149. Up to 30 sites license is available for $199.
Advantages of offering personalized products on your store
Clearly, personalized products are an interesting strategy for eCommerce stores of all sizes. Let's try and list out some of the obvious advantages of offering them to your customers.
Keep up with the trend
eCommerce is all about offering the most modern trends while utilizing the latest advancements. As customers are constantly looking out for the latest styles and trends, you need to keep up with such expectations. Offering personalized products is clearly a modern trend, and it will definitely give a positive impression to the customers. Moreover, being in alignment with the latest technological advancements will surely increase the overall value of your eCommerce store.
Create a stronger customer base
Offering a chance to customers to design and customize products would clearly make them associate your store with a 'feel good' factor. Consequently, this would help you expand your customer base and loyalty. Also, you will be able to build a good association with your customers more easily. Naturally, when there are more options to personalize a product on your store, your visitors are bound to spend more time there. This would enable conversion rate too. If users are putting considerable efforts on your store, chances of them buying the product will also be higher. Afterwards, once your product reaches them and if they liked the whole process, they are going to come back. Or, they may talk about the experience to some of their friends. Either way, it helps a lot in conversions and improving customer loyalty.
Build your brand with ease
When your store offers options to personalize, suddenly you stand out from the rest of the crowd. This helps to build a name for your brand easily. There will be multiple online stores that sell the same or similar products that you sell. And it's a common trend for customers to compare prices of products between multiple stores. Naturally, if they get something more with the same product, customers are going to opt for your store. The personalization need not be something extensive like the Nike shoes mentioned above. A free gift wrapping option, a choice to enclose a note with a gift, or a combo deal with an accessory can do the trick.
Never stray from your budget
Even though it seems like a modern feature to incorporate into your store, offering personalized products is not really an expensive deal. With the available technologies, you can easily set up options to personalize your products. For example, WooCommerce community offers a set of amazing plugins to configure product add-ons on your store. It's up to your store strategy to decide how you want to use it. If you want to add options that customers have to purchase, it'll be a great way to increase overall sales numbers. On the other hand, if you want to offer add-ons for free, that will also help much.
Conclusion
Product personalization offers great scope to eCommerce store owners, especially to those who are using WooCommerce. Studies consistently point to the emerging nature of personalized products. The time is just right to capitalize on the innovative potential of product personalization. You can start simply with gift wrapping and personalized notes with your products. Temporary customization like stickers and skins for gadgets might work really well if you have a youthful customer base. Similarly, you can try out permanent customization options such as jewelry engravings or t-shirt prints. Overall, if you make sure to maintain the quality, and the speed of delivery, personalization may contribute to customer loyalty.
This article has attempted to cover some of the best WooCommerce product add-ons solutions. You have probably got a glimpse of the emerging trends around personalized products. You can also read on WooCommerce custom fields, to understand a slightly different strategy. Let us know how you found this article by leaving a comment in the below section.
Further reading