Last updated - March 17, 2023
There are different innovative strategies available in the eCommerce industry that aims at customer delight. Allowing customers to design their own products is one such strategy that has huge potential. If you have a WooCommerce store, and would like to offer an option to customers to design products, you will find several plugins to help you with it. In this article, we will discuss some of the best WooCommere product designer plugins you can install on your store.
Check out our video describing popular product designer plugins:
KILB product designer plugin offers a comprehensive option to let your customers personalize products on your store. You can feature different types of products such as mugs, posters, t-shirts, etc., and let customers add their own designs. The plugin lets customers add their own images, or choose from the available images. They can also experiment with the font, and add QR code to products.
Features
Offer customizable products on your WooCommerce store.
Allow customers to upload their own images, or use pre-defined ones.
Intuitive settings.
Extensive customization options with CSS and JavaScript.
The plugin costs $299.
This is another great option to enhance customer experience on your store by letting customers personalize products. Customers will be able to design different aspects of the products on a unique design interface to which they will be redirected from the product page. Images, text, clip art or shapes can be used in the designs. Customers can design the product first, and then add it to cart to complete the purchase. Store owners will have the option to charge customers for individual components as well.
Features
Easy settings for product personalization
Custom edit interface and option to save designs.
Multiple attributes can be customized and they can be individually charged.
Several pre-designed templates available.
The cost of the plugin is $99.
As the name suggests, the Product Designer for WooCommerce by Design'N'Buy merges the power of product personalization with the leading eCommerce platform.
With this solution, online printers get access to a comprehensive web-to-print solution that enables you to sell custom items such as t-shirts, caps, mugs, greeting cards, and more.
This WooCommerce Custom Product Designer integrates directly into your shopping cart, thus making it easy for your customers to design and place an order from the comfort of any device.
When it comes to customization, you can offer editable templates for various products that your customers can personalize and order. You have the complete freedom to choose which and how many products you would like to sell online.
There is also an option of a live quotation calculator, which helps them estimate how much the print job will cost them. In addition, match the design studio theme and colors with your company branding from the backend.
You do not have to just stop at product customization for WooCommerce when you choose Design'N'Buy. There is a lot you can do on your online print store as well.
Features
Configure products — 8 sides, mask and overlay, design area, 3D preview
Stock and manage pre-decorated products and readymade design templates
Set up product catalogues, add clipart and photo library, and assign colors and fonts
Manage orders and download ready-to-print vector output files in PDF and CMYK
Unlike other plugins in the market, DesignNBuy offers a flexible pricing model. You can either purchase it on a monthly subscription or buy a one-time license.
This is one of the most flexible WooCommerce product designer plugins. You will be able to decide which products you want to offer the personalization option, and what part of the product. Interestingly, it offers a layered system for design, which will help you keep track of the applied changes. It supports different file systems such as PNG, JPG and SVG. The plugin also offers an advanced color system as well as interesting text and image transformations.
Features
Flexible product designer plugin.
Multiple file formats.
Advanced color system and transformations.
Varied layouts and flexible pricing options.
The plugin is priced at $69 for a Regular License.
Allow your customers to add text or artwork to a product, create personalized jewelry, or customize furniture pieces with ease. Every kind of customization is possible with Kickflip. From adding images, text, material, colors, components, and extra prices per option, unleash your customer's creativity! Empower your customer's creativity, increase their engagement, and boost conversions with outstanding product customization experiences.
Features
Unlimited options & variants
Add an image or text on a product
Dynamic pricing for options at an extra cost
Multi-component products: visually add or remove a piece of a product like a section of a sofa.
Pricing for Kickflip is $0/month. Pay per successful sales only (2.19% transaction fee)
PH WooCommerce Product Addon by PluginHive is an amazing plugin that lets WooCommerce store owners create and sell customizable products. This plugin provides extra product options for your WooCommerce products using controls like checkboxes, radio buttons, dropdown, multi-select option, color options, color picker, date and time picker, and input fields like text, text area, numbers, telephone number, email, etc.
The control options come with a price and conditional logic attached. So, now there is no limit to how much you can customize your products. Through this plugin, your customers can personalize their products before placing orders.
Features
Flexible Pricing for Extra Product Options.
Combined Product Addon Summary with Price.
Display Extra Options based on User's Selection.
The plugin is readily available in French and English language.
24/7 customer support via chat, phone call, zoom call.
Both free and premium plugins are available.
Customers can easily design products like shoes, t-shirts, Gaming accessories, tour booking packages, pizza delivery services, coffee mugs, and many more.
This product designer plugin supports different kinds of customizable products from cards to hoodies. It offers a convenient user interface and advanced features to ensure utmost customer satisfaction. Some of the features include Mask Layer, Photo Effect, Curved Text, etc. It supports multiple file formats such as PNG, SVG and JPG; and offers a versatile edit zone for diverse products.
Features
Help your customers design products effortlessly.
Supports different product types.
Pre-designed templates and advanced features.
Free Lumise theme available.
The Regular License of this plugin is priced at $64.
This is a comprehensive solution to offer product customization on your WooCommerce store. Store owners will be able to change the color, size and layout of the editor according the nature of the product. Moreover, the editor is especially user-friendly with powerful features to change colors, font and text, and a drag and drop interface.
Features
Responsive product designer based on HTML 5.
Drag and drop designer with advanced features.
Support different product types and printing methods.
Easy option for users without coding knowledge.
The plugin will cost you $50 for a Regular License.
This is another convenient option with multilayer product customization options. It offers seamless integration with WooCommerce and lets store owners manage diverse forms, steps and products in their stores. The plugin also offers conditional linking and supports complex price calculations. PNG, SVG and JPG formats are supported.
Features
Powerful product designer with support for multistep forms.
Complex price calculation and conditional linking.
Fully responsive and compatible with all browsers.
Easy to manage multiple forms and products.
The plugin costs $20 for Regular License.
You will be able to let customers personalize diverse product types on your store using this plugin. Customers will be able to add images to the product editor and position it as per their requirement, and then go ahead with the purchase. The plugin offers a very convenient interface, and has a wide range of features for a great user experience.
Features
Convenient design panel for easy personalization of products.
Customers will be able to upload their own design or images.
Responsive design
Easy to customize.
The plugin costs $47 for a Regular License.
This plugin works for you if you are selling a wide range of products such as t-shirts, business cards, mugs, etc. Customers will be able to browse through the templates, and choose one they like to base their design with. Based on the components chosen by the customer, you can adjust the pricing as well. Some of the other interesting features of this plugin are integration of Google Fonts, Facebook, Instagram, etc.
Features
Product customizer for different product types.
Advanced image editing.
Print-ready PDF output.
Support for multilingual stores.
The plugin costs $61 for a single site license.
With this plugin, you can let your customers effortlessly customize the products they are purchasing from your store. It allows customers to add different visual elements like clip art, QR code, text, etc., to their products. The plugin lets you feature unlimited templates on your store. Moreover, it offers seamless WooCommerce integration.
Features
Product customization plugin with multiple options.
Allow design on both front and back.
Unlimited templates for smooth design.
Stock images and Google Font support.
For a single site, you can get the plugin for $19.
Create an immersive shopping experience for your customers with real-time 3D product previews. Allow product customization and view them before buying. Receive a ready-to-print for all the custom orders and configure percentage or fixed rate on product margins. This plugin allows customers to personalize any product such as clothes, shoes, jewelry, watches, promotional items, etc.
Features
Upload pre designed artwork or allow customers to upload their own images to create unique and personalized products.
Access to over 140 million artworks on the platform created by talented artists across the world.
Customize product color, size, orientation, add texts and view 3D replicas of the designed products in realtime and AR.
Pricing for Zekeke starts at $6.29 per month for beginners.
Variation Swatches for WooCommerce is an aesthetic plugin that allows customers to select attributes for product variations. Customize product variations into radio images, colors, or labels and check them in the quick view option. To personalize the development process you can disable the defiant plugin stylesheet and type your own CSS.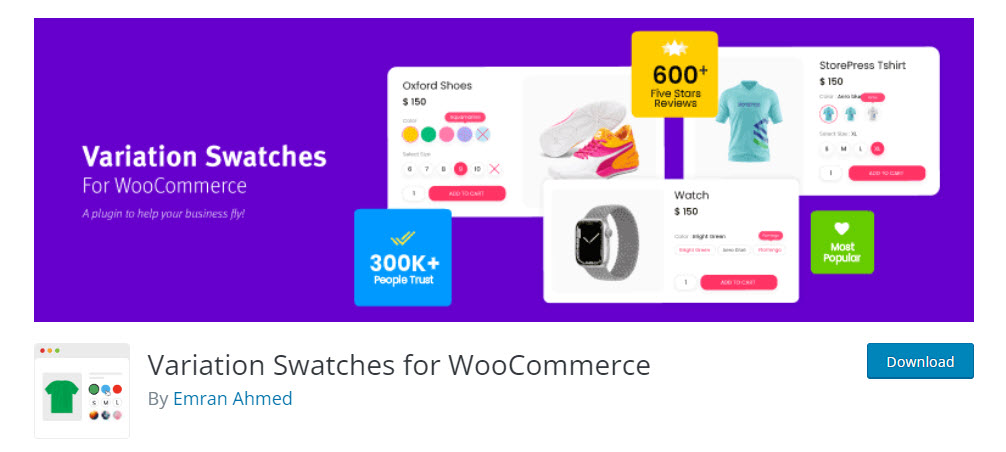 Features
Automatically convert all variation dropdowns to buttons or vice versa.
Insert and display settings for flexible swatches tooltip.
You can integrate this plugin on your website for free.
Users can design their own products supported by a live preview throughout the designing process. Create photo-realistic products, generate print files for orders, and exact high-resolution specifications. With the MyStylew plugin, you can personalize major items such as phone cases, t-shirts, canvas prints, etc. Host the customer designs on the cloud with MyStyle Platform and Amazon s3.
Features
Upload photos, add custom text, patterns and colors and use text gradient effects.
Integrate with WooCommerce products and directly add products to the shopping cart.
Design products directly on the website and print image files with exact specifications.
The basic plugin can be downloaded from WordPress.org but the developer version costs $8.25 per month.
Customize the default sale badges into appealing badge designs for WooCommerce. This personalized plugin allows users to add text, images, icon labels to their products. You can use these badges during sales, discounts, or give special features to your items.
Features
Create unlimited badges with pre designed templates on a fully responsive interface.
Customize text, color, font, and view live changes.
Set countdown timer on badges for expiry or timeout during sales.
Download this plugin on WordPress.org and the premium version is priced at $17.
We hope these WooCommerce Product Designer plugins will help you provide an awesome experience to your customers. If you have any queries, feel free to leave a comment in the box below:
Further reading