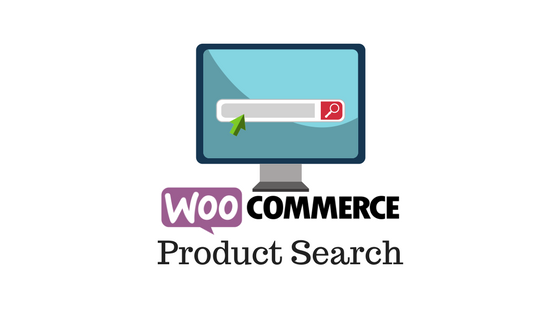 Last updated - November 19, 2021
Every eCommerce site needs to focus on providing the best experience for its customers. Providing advanced search options is one such aspect that would rank high in terms of good user experience on your site. Product search options are relatively not a hassle if yours is a store with just a handful of products. However, when the number of products and categories increase, you need to provide advanced search options for users to find the exact products they are looking for. In WooCommerce, this can be achieved by utilizing specific extensions for product search. This article lists out some of the best WooCommerce product search plugins for your online store. After reading this article, you should also understand how optimized product search options play a major role in customer experience.
WooCommerce Product Search
Customers on your store would love it if the product search is bringing instant results. This WooCommerce extension offers to help the product searches more relevant and fast. This is by using a logic to enhance the relevance of products in search results. The search keywords are given different weight based on their presence in the title, descriptions or tags. There are advanced controls that would help to improve the relevance of products and categories in searches.
The extension also offers instant results functionality, where relevant product names are displayed in the searches while the users are still typing their keywords. As a result, your customers can find the products they are looking for much faster than otherwise required. In addition, the extension offers you the flexibility to place the search option anywhere on your site. Overall, WooCommerce Product Search extension helps you refine the search functionality on your site by assessing the relevance of the typed keyword.
YITH WooCommerce Ajax Search (Free)
This free plugin improves your search functionality by adding Ajax powered instant search results on your WooCommerce store. Basically, when customers enter a keyword in the Ajax powered search box, it will provide suggestions for relevant products from your store. In fact, this will instantly help customers to not waste any time in searching for products. Customers are spared from the tedious process of browsing through multiple menus and categories to find a product. Overall, this increases the prospects of sales and conversions on your store.
The plugin helps you to add the search form anywhere on your site with the help of widgets and shortcodes. Moreover, this plugin gives you the flexibility to customize the search form according to your preferences. And, you can control how to display the search results as well, by setting a minimum limit of search characters and a maximum number of search results.
This plugin offers fast and optimized results that help your clients to find what they are looking for. Also known as "the Google of online store product search engines", it's a totally tailored site search. With a personalized search experience, Doofinder collects data, analyzes customers behaviour and offers relevant results for each search improving your conversion rate.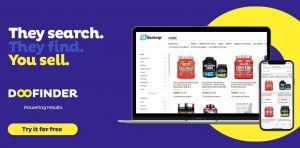 The installation of this extension usually takes less than 5 minutes and no coding is required, it has a native plugin.
Doofinder site search features:
Intuitive installation process

AI personalization

Real-time statistics 

It offers synonyms and autocomplete

You can add banners and special offers to your site search

Image & Voice Search
It works on both desktops and smartphones, and It is a search engine fully compatible with WooCommerce. Moreover, it is available for all eCommerce platforms and its results are based not only in words, but also on the user behavior within the store.
YITH WooCommere Ajax Search (Premium)
This premium plugin offers quite a few features that would help you to provide the best functionality to your search feature. It provides you an option to show an image of the product in the search results. And, you get the control to decide where to show it on the form. The plugin also gives you an option to add the description and price of a product in the search results. This will be especially relevant when there are discount deals going on in your store. Moreover, you can add a label to grab the attention of customers to products on sale.
Furthermore, you can allow the users to apply filters in their searches using categories, tags, etc. and, you will get to use two different layouts for the search form.
WooCommerce Advanced Product Search
This plugin gives you an advanced search option on your WooCommerce store. Your customers can search for your store using product categories and tags. In addition, there is the shortcode option that would help you place the search form anywhere you want on the site. The plugin also offers several filter options for the searches. These include Title, Date, Price along with ascending and descending options.
Advanced Woo Search
This free plugin offers the live functionality feature in your store. It also allows a search based on various parameters like title, description, categories, tags, etc. And, you can place the search form anywhere on the site using a shortcode. Moreover, it offers an option to display product image and price in the search results.
WooCommerce Search
If you store has only 100 or fewer products, you can use this free plugin. This cloud-based plugin provides instant search results to your WooCommerce store. It really speeds up the search process on your site, and as a result, increases the chances of conversion on your store. Search term auto-correction, visual highlighting, etc., are some of the advanced features of this plugin.
Predictive Search for WooCommerce
WooCommerce predictive search is a great option to create an effective product search option on your store. Your customers will be able to search for products based on a number of criteria such as name, SKU, category, tags, etc. You can also search by combining some of these criteria as well. It is pretty easy to configure this one. You can easily add it to your theme or page builder using a widget, shortcode, Gutenberg block, or even using PHP function. The plugin is thus comfortable for both beginners as well as advanced users.
Predictive search helps you optimize your entre site according to different requirements of your store. You will be able to exclude any product, page or post from search as per needs. The plugin also integrates seamlessly with a range of SEO plugins. The plugin offers a lot of customization options to help you set up the best experience for your customers.
WOOF – Product Filter
WooCommerce Product Filter is one of the most popular options to make the product search more effective  on your online store. It is quite feature rich and offers great options to customize the settings even if you are not an expert in WordPress. When you use the premium version of this plugin, you will get the options to add several advanced filters. These include filters for SKU, color, image; a slider for taxonomy; a dropdown for hierarchy, etc. One of its advanced features allows you to collect statistical data of search requests.
Features
Insert product filters anywhere on your site using shortcode and widget.

Display and filter targeted products in a single page or post content.

Ajax enabled for faster loading of results.

Filter products using metadata, SKU, price, etc.

Reliable support.

The regular license of this plugin would cost you $34.
FiboSearch
This plugin provides a lot of power to the product search functionality on your WooCommerce store. It provides an autocomplete option, which will enable customers to find products faster. The plugin is extremely fast, even if you have a large number of products in the range of 50000 on your store. There is a free version too, which can be ideal if you are just starting up your store.
The premium version offers several advanced features; some of which we will mention below:
Search using individual variation SKU and product attributes along with a lot of other search criteria.

Advanced algorithm to prioritize search results quickly.

Custom CSS to personalize the search form.

Option to embed or replace search form irrespective of the theme you are using.

Quick and reliable support.
For a single site license, you need to pay $49. They also offer 30-day unconditional refund option if you are not sure about the purchase.
Smart WooCommerce Search Pro
This is a comprehensive solution that will help you manage your WooCommerce search functionality effectively. It is especially important to provide easy options for customers to find products on your store, and this plugin does exactly that. The plugin integrates seamlessly with the default WordPress and WooCommerce search functionality and offers advanced features. You can even display a customized search option on the sidebar with the help of this plugin.
Features
Easy configuration process with simple integration to default search options.

Extensive customization options to ensure a great user experience.

Varied search criteria including product SKU, variations, categories and tags.

You can search through custom fields, product attributes, taxonomies, etc.

Option to display search results with image, price, out-of-stock label, etc.

Optionally exclude out-of-stock products from search results.

Plugin is mobile friendly and compatible with other plugins such as Advanced Custom fields and WooCommerce Brands.
Premmerce Product Search
This is another useful plugin that will help you improve the search feature on your WooCommerce store. One of the standard features is the spelling correction option, which will make the search results relevant even when customers type wrong. It is Ajax-enabled and offers fast results including auto suggestions. The plugin integrates perfectly with WooCommerce search function and helps you configure it easily.

Features of the premium version
You will be able to set up a minimum number of symbols to start the live search.

It also provides an option to set up the number of results that will be displayed during a live search.

Button to help customers choose to display all results on the search results page.

Option to search products based on short description and SKU.
The single site license of the plugin is $49.99.
WooCommerce Search Engine
This is a great option to set up a smart product search option on your WooCommerce store. One of the highlights of the plugin is the autocorrect option, which will help customers get relevant results even when they type the keyword wrong. The plugin is one of the most preferred options because of its ability to provide fast search results.
Features
Search by product categories, tags, SKU and attributes.

Option to set up search keyword synonyms so that customers can easily find what they are looking for.

Keeps the design consistent with your theme on the search results page.

Option to track and analyze search behavior by customers on your store.

Display trending, featured and recently visited products to customers to market them better.
The regular license of the plugin would cost you $59.
Search WP
This plugin helps you enhance the default functionality of WordPress search. Compared to the default search option, you will be able to let users search for eCommerce products, documentation, custom field content, and more. It is quite easy to install and configure, and hence even beginners to WordPress can easily manage to use it.
Features
Integrates well with multiple eCommerce solutions for WordPress such as WooCommerce, Easy Digital Downloads, etc.

It will give you the power to set up multiple search engine for varied requirements on your site.

Keyword stemming to enhance the relevance of search results.

Ability to search for custom field content, shortcode output etc.
The single site license of this plugin has a price tag of $99
Advanced WooCommerce Product Search Plugin / Ajax Search
If you want to deliver your user fast search returns, "Advanced Product Search for WooCommerce" will be your top choice. It's a powerful and easy plugin that permits users to search products from your shop/store. It also encourages the users to buy by displaying the result instantly. So, in a word, it is an extension that gives the user a quick product search. And helps increase your product sales as well.
Features
When users search for any products from your site, the results will emerge without reloading.
You don't have to be an expert coder or any coding knowledge needed to build any Live/Ajax/Instant search results.
Simply install and start searching by related keyword to see a product list come in front of you and as well for your users.
Works with WooCommerce simple products as well as variable products.
The single site license of the plugin is priced at $16.
Instant Search Plus
This is an advanced WooCommerce search plugin that will give you a lot of options to customize the user experience on your store. It is easy to set up and manage, and will help a lot in improving your conversion rate as well.
Features
Hosted service that ensures fast results without impacting your site performance in any way.

Enabled with Artificial Intelligence and Natural Language Processing to ensure relevant results each time.

Autocomplete to help customers find products faster, and hence helping in enhancing conversion rate.

Ability to predict user's intent and accordingly show product recommendations.

Smart navigation and AI-based synonyms to help with searches.

Easy to install and set up.
How to enhance product search in your store?
Product search is one of the most important aspects of an eCommerce store. It is through the site search that prospective customers find the products that they are looking for. As a result, product search becomes one of the most important determinants of sales and conversions.
Understand the dynamics of search
It is quite possible that you think product search is a straightforward process. However, in eCommerce, time is the essence, and shoppers don't always have the patience to type out everything accurately. Anyway, as a shop owner, it is up to you to guide all prospective customers to the relevant products, whether they are patient or not. That is why modern search algorithms come loaded with multiple features to handle misspellings, plural queries, synonyms, etc. So, this way you are making sure the customer lands on your product page even when he/she types the name of the product with a different name or spelling.
Furthermore, advanced search tools use multiple parameters to employ search relevance to connect customers to products. For this, machine learning can be effectively used to optimize search relevance. However, one important aspect is to upgrade your search functionality continuously. eCommerce is a dynamic domain where technology and user behavior change rapidly. And if you don't upgrade your search functionality promptly, there are chances that you might be left behind.
Refining long tail keywords
It is more likely that some users are using long tail keywords to find products in your store. Now, the natural assumption would be a long keyword will be more specific, and provide more relevant search results. However, if you have not refined your search functionality, search tool might return several products based on each of the single words in the long tail keyword. This would mean disaster in terms of specificity on searches. A great way to tackle this is to use 'AND' separators in the search. So, if a customer searches with a long phrase connected by 'AND' separators, naturally there will be more relevant results.
Anticipate misspellings
Another great way to provide more relevant search results is to anticipate possible misspellings of your products and include that in the search logic. You can provide multiple spelling variations of a product so that searches with all those spellings lead to the product. Examples for this would be using both numeric and textual equivalents, alternative spellings of common words, etc.
Use auto-suggestion
Auto-suggestion is commonly used by leading eCommerce sites to guide customers to the right product. This gives the site owner a lot of possibilities to present several products in their store. So, when a customer is typing the search keyword itself, he/she gets an idea of what all products are available in the store.
Leverage keyword research
A good keyword research should be the base of your product search strategy. Keyword research can be a necessity in search engine optimization, but you can also use effectively to refine your product search process as well. Naturally, it will help you include alternate spellings, synonyms, etc., in your search logic. In addition, you can search on competitor's sites to get all the relevant keywords related to a product. And, you can use this data to refine your store's product search as well.
Consistently analyze your searches
You need to consistently examine how your search tools are functioning. Experts advise doing a manual analysis of your search results. This will give you a better perspective to understand how the existing search tools are performing. The most important criteria would be to understand if the returned results are all relevant. You can check if all the additional search settings that you applied are returning relevant results. If your current search is not returning results as estimated, then it might be time to rethink your product search strategy. Thankfully, there are plenty of tools to set up a robust product search strategy on your WooCommerce store.
Some of the plugins discussed above can provide advanced logic to properly return results by channeling search relevance appropriately.
Work on the search box too
Until now, we have discussed how you can make search results accurate to provide appropriate results to customers. Another important aspect here is how and where you place the search box.
Place search boxes in multiple locations
If the search box is only available in one corner of the home page, it might be difficult for customers to come back to it every time they want to search something. A good way to tackle this would be to place the search box in multiple locations. For example, you can place a search box on every product page. This way, if a customer can quickly search for one product while checking out another. Most of the WooCommerce solutions we discussed in this article offers shortcode option to place the search box in multiple desirable locations on your site.
Make the search box catchy
If your search box is kept in a manner tough to spot, there are chances that your customers might miss it. The trick here is to keep the search box in a distinguishable way. This doesn't mean to include flashy elements that go against the overall visual language of the store. However, a slight design modification or color coding can take it a long way. If the customer is not able to recognize the search option, they might use other elements in your store like the category menu for product searches. This might lead to some frustration among customers, as sometimes the category structure can become quite complicated.
Leave enough room in the search box
While designing the search box, there might be a tendency to leave it really small. This might be in accordance with the overall design of your site or other aesthetic considerations. However, if it is not able to function in the desired way, then it becomes a wasted effort. Sometimes, your products have bigger names when the SEO title mentions attributes as well. And, when a customer tries to type the full name, a small search box might prove inadequate. If half of the text is hidden while typing, you would naturally feel an annoyance. This definitely can leave a bad taste in your customer's experience. Even if it seems like a trivial issue, such minor things can lead to some definitive bad vibe on your store.
Conclusion
Across the world, eCommerce businesses are gathering steam. As a result, minute aspects of a website and its functionalities are analyzed and discussed in more detail. This is all the more evident from the fact that new tools and solutions are coming to the market on a regular basis. WordPress WooCommerce community is quite prompt in providing cost-effective solutions to advanced functionalities. WooCommerce product search is one area where you can try out several solutions to provide the best search results for your customers. This article has listed out some of the best WooCommerce Product Search plugins that you can try out on your site at the moment. Some of these are free and some are premium. Based on your business strategy and product range, you should choose an appropriate one.
Further reading