Success in eCommerce is dependent on several factors. However, one aspect that you really can't compromise with is presenting products in an attractive manner. You probably have to experiment and try out different strategies to find an optimized way to do this. This is because you need to take varied aspects into consideration like analytics insights, the nature of your products, etc. You will find some interesting tips to manage your product information in a customer friendly way here. In this article, we will look into some of the interesting plugins that will help present your WooCommerce products exceptionally.
Create a wishlist
Every visitor on your site won't be interested in buying your products right away. There might be several instances where people visit your site to research on products. They might want to look elsewhere too to see if a better deal is available. And sometimes, they'll come back to your site to make a purchase after realizing that it is the best. Or, there might be instances where someone is researching to make a purchase around a special occasion like their birthday. In these cases, if there is an option to save those products on your site, they can easily find them in their next visit.
Same way, if these products are saved, you can be proactive and remind them to complete the purchase. Either way, it will be a real boost to your conversion rate. Featuring a wishlist on your site is what we are talking about! For your WooCommerce products, you can make use of the below plugin to manage wishlists. You will find similar strategies to improve your conversion rate here.
This plugin enables your customers and site visitors to add any number of products to their wishlists. It is a great way to enhance conversions on your site. Moreover, it also offers opportunities to find potential new customers, as these wishlists can be shared. When customers share their lists with friends and family, you are really getting more new visitors and potential customers to your site.
Main features
The plugin comes with several interesting features to help you make use of the wishlist functionality to its full potential.
Let customers store products till they wish
For your registered, you can allow to keep products in their wishlist as long as they want. At any time, they can come back and make a purchase on your store. However, for guest users of your site, the wishlists will be deleted after 30 days. Also, the wishlists will be removed when they delete the cookies on their browser.
Customers can choose how many lists to create
Customers can create wishlists however they want it to be. Some would want to create and share a list to their family and friends. Then there will be some who want to maintain their own private wishlists. The plugin provides great options to maintain all these strategies. They can make their lists public, which can be seen by anyone on the site. Or they can choose to share it only with specific people they know. And, they can keep it completely private too.
Social connection
Of course sharing a wishlist through social media will make it all the more engaging. Using this plugin, you can easily share your lists with multiple social media channels including Facebook, Twitter, Pinterest, etc.
Support for all product types
The plugin supports all WooCommerce products including simple, grouped and variations. It also supports products using product add-ons extensions. You can find more information about WooCommerce product add-on plugins here.
Engage customers better
Every time a customer browses through a product that is already in one of their wishlists, the plugin will notify them. In fact, it will tell them exactly which list the product belongs to.
Fully customizable
The plugin offers great options to customize the functionality. You can easily change the text and the button to suit your customers. You can even add personalized icons instead of the button that comes default with the plugin.
Bulk actions
Your customers get extreme flexibility while handling their lists. They can easily select multiple products and add them to cart all at once. Similarly, they can easily move items from one list to another too.
A single site subscription of this plugin would be $79. You will also find a 5-site subscription at $99, and a 25-site subscription at $199.
Another great option that you can try out is YITH WooCommerce Wishlist plugin. This one offers most of the features of the above plugin, and some more. When there are multiple products in their wishlists, users can ask for a custom price to purchase all the products. Sometimes offering a deal in such a case might be profitable for you. Similarly, you can suggest a promotional offer to customers as well. The plugin will also help you monitor how customers are adding products to their wishlists, and accordingly devise specific discount strategies.
You can use the wishlist functionality to make more users register on your site as well. For example, you can offer the wishlist functionality only to our registered users. And then, encourage guest users to use the wishlist functionality by registering. The single site subscription of this plugin would cost €70. The 6-site and 30-site ones are €106, and €163 respectively.
Displaying content dynamically
You might be already familiar with dynamic pricing options, which allows you to make dynamic pricing adjustments for specific products. Similarly, you can display content dynamically based on some pre-defined rules and conditions. It can be messages about special offers, or stock levels. In many ways, you can improve possibilities of conversion by appropriately displaying messages that push customers to buy from you. It can also be useful information regarding how a particular product can be used in a better way. Overall, this approach can enhance your customer satisfaction rate as well.
This plugin enables you to display messages, warnings, and advertisements on your site based on the action taken by a user. You can analyze customer behavior on your site thoroughly and display conditional content wherever you find necessary.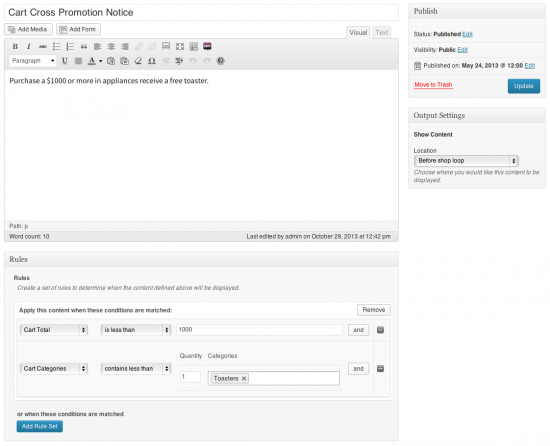 Sometimes, a customer might be spending more time on a particular product page contemplating whether to buy or not. And, you might have an upcoming sale on that product. If you display information about this sale offer at the right time, the customer will definitely come back and buy the product during the sale. Apart from ensuring better conversions, such messages can improve the overall customer satisfaction on your store as well.
You can use this plugin to display messages in a lot of other conditions as well. For example, a product about to run out of stock, or an interesting cross sell suggestion from the same category, will add a lot of value to your store strategy. You can use it also to display pricing tables that you set with the Dynamic pricing plugin. To set up pricing tables, you can purchase the dynamic pricing plugin here.
The single site subscription of the plugin would cost you $49. Find the 5-site and 25-site subscriptions at $79 and $149 respectively.
List multiple retailers for the same product
Sometimes you might be featuring affiliate products on your site, which you  can create using the default options of WooCommerce. You can read about more about WooCommerce Affiliate Marketing here. However, it would be great if you can also include links to multiple other retailers, as well as sell those products directly on your store. Here is a plugin that will help you do exactly that.
This extension helps you list multiple retailers on your WooCommerce store. You can set up retailers or distributors on your store by adding links directing to their websites. And, your customers will have the choice to purchase from any of the options. They can either purchase directly from you, or go to a retailers website and purchase from them.
This way, you can list multiple retailers for each product on your store. The link for the retailer can be set up globally on the entire website, or can be added individually on each product. With the help of the plugin, you can also customize the text for the 'Add to Cart' button. In certain cases, you can offer a product that customers can only purchase from the retailer. Also, you can make an option to offer retailers, only when your site doesn't have enough stock of the product. Furthermore, the plugin helps you present the information on retailers using a button or a drop-down.
The plugin is priced at $49 for a single site subscription. There are also 5-site and 25-site subscriptions, which are priced at $79 and $149 respectively.
Comparing different products
Sometimes when you have several similar products on your site, your customers might become spoiled for choice. They might be confused with multiple features and specifications, and won't be able to make a purchase decision. This can even lead to them abandoning their cart and going elsewhere. How can you prevent this scenario? Offering a comparison chart detailing the specifications of different products can really help customers to make a choice. Let's see a plugin that will help you set this up.
With the help of this extension, you can display a comparison between different products on your store. Customers will be able to see a detailed list comparing price, rating, stock level, product descriptions, etc., side by side. Moreover, your customers will be able to add more products for comparison, if they require to do so.
The single site subscription of the plugin is $49. 5-site subscription is $99, and 25-site subscription is $149.
Keep products of the day
You can promote products better on your store, if you display specific products as 'Products of the Day'. Here is a plugin that will help you set up this.
This plugin, helps you add a widget that will display products of the day on your WooCommerce store. You can set up different products on different days according to the sales strategy. The overall hits on individual products will show improvement this way. You can use this plugin to boost sales of certain products, when you combine it effectively with analytics insights. The plugin also helps you customize the widget options and decide what kind of information to be displayed.
Conclusion
Presenting WooCommerce Products effectively is a big factor in your store's conversion rate. In the WooCommerce ecosystem, you will find several products that will help you enhance the merchandising process on your site. Hope this article has given you an overview on some interesting plugins that you can use on your WooCommerce store. Please let us know if you want to include another one in the list.
Further reading