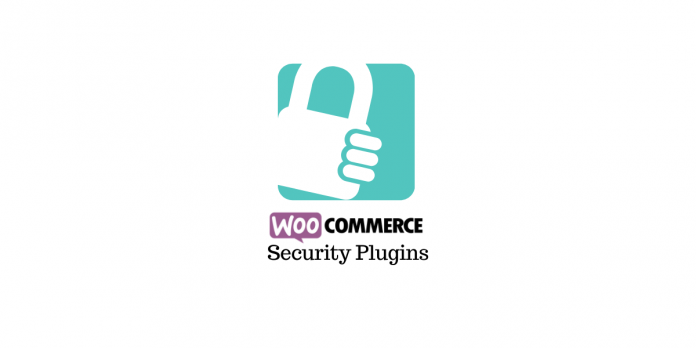 Last updated - January 5, 2021
WordPress offers decent security features to start with. However, when you are running an eCommerce business on a WordPress site, you might want to invest in a security plugin as well. You might need features like continuous site monitoring, regular backups, malware protection, etc. In this article, we will look into some of the best WooCommerce security plugins that you can rely on to ensure your online store's safety.
Jetpack is a popular option that will help you make your WooCommerce store much safer. It offers features like daily scanning, content backups and easy restores to ensure your site's security. Moreover, Jetpack focuses a lot on site performance and enables you to offer the best experience to your customers. Furthermore, you will get access to brute-force login protection and spam filtering. Also, you will get exceptional support when you opt for a paid plan of Jetpack.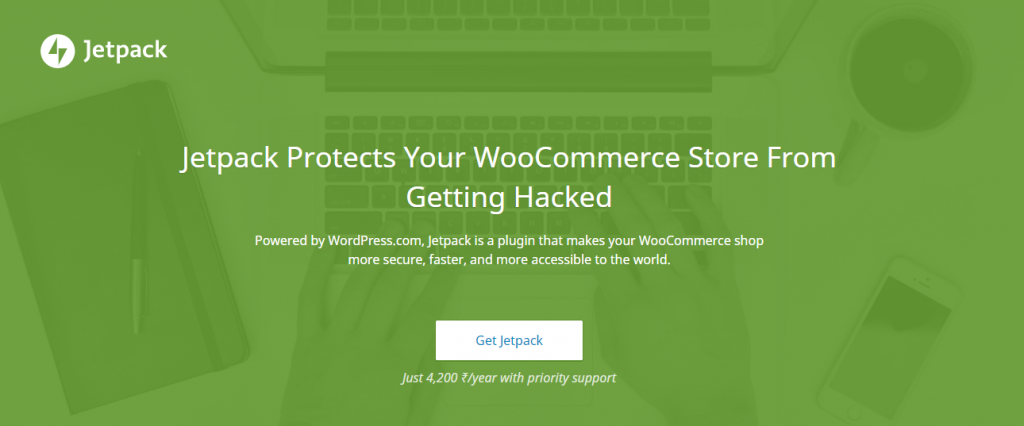 Features
Constant monitoring to detect downtime from different locations.
Daily scans to detect any suspicious activity and prompt email reminders.
Automatically resolve common issues and expert support for complicated ones.
Automatic spam filtering powered by Akismet.
Real time back ups and single click restoration.
Option to choose whether to restore entire website or specific components.
Block malicious IPs automatically.
Option to make two-factor authentication mandatory.
Easily enable or disable plugin auto updates.
The Premium plan should cost you around $5-6 per month. Check the website for exact details.
This is one of the most powerful security solutions for WordPress. It has an endpoint firewall and a secure malware scanning solution that will ensure all round safety of your website. The endpoint firewall has proven to be more effective than cloud security solutions, and hence your website will be more secure with Wordfence. Moreover, it comprehensively scans WordPress core files, plugins, themes, etc., to detect any vulnerabilities. Furthermore, it has a large database of detected threats that will help in detecting new threats easily.
Features
Web Application Firewall (WAF) that runs at endpoint and offering a seamless integration with WordPress.
Comprehensive security scanner to ensure content safety.
Huge threat defense feed that provides intelligence to identify hacker behaviors and detecting new threats.
Protect your site from leaked passwords.
Regular monitoring to identify threats.
Manually block suspicious activities from specific IP addresses or malicious networks.
Easily repair files and recover your site from a hack.
Enable two-factor authentication.
A single site license of the plugin will cost you $99.
Sucuri is a cloud-based security solution that you can rely on to ensure the security of your WordPress site. It offers a Web Application Firewall to protect your site from hackers and DDoS attacks. Moreover, it will constantly monitor your site and notify you when there are potential vulnerabilities. Furthermore, it helps to boost your site performance with a CDN service. Also, you will get access to malware removal without any limits.
Features
Safeguard your WordPress website from hacks and malicious attacks.
Continuous website monitoring to detect malware.
Helps to repair and restore the website in case of an a breach.
Automatic and manual cleanup options.
Expert panel to help you with the best solution in malware removal.
Optimize your website performance with multiple caching options.
Highly optimized CDN and HTTP/2 support.
A Basic package of Sucuri will cost you $199.99 per year.
You will find a range of options to secure your WordPress website using this plugin. It works relentlessly to identify vulnerabilities on your site, and helps you enhance admin security. Moreover, it offers a solid defense against automated attacks that could hamper your peace of mind. The pro version of the plugin offers malware scan, password security, two-factor authentication and a bunch of other features.
Features
Helps you prevent WordPress malware, hacks and other security breaches.
Protects from brute force attempts by limiting the failed login attempts.
Alerts on file changes.
404 error detection.
Layered password strength enforcement based on user roles.
Disable WordPress dashboard during inaccessible hours.
Heightened login protection.
Schedule database backups.
Email notifications when there are failed attempts to login.
You can download the basic version of the plugin from the WordPress plugin repository. The Pro version pricing starts from $80.
You can find a range of awesome security features with this plugin. It offers firewall, malware scanning, spam protection, database backups and several other security features. In addition, it offers custom code to enhance the security of your website. Moreover, the plugin is quite easy to configure. You will find features like auto restoration, malware scan and real time monitoring with the premium version of the plugin.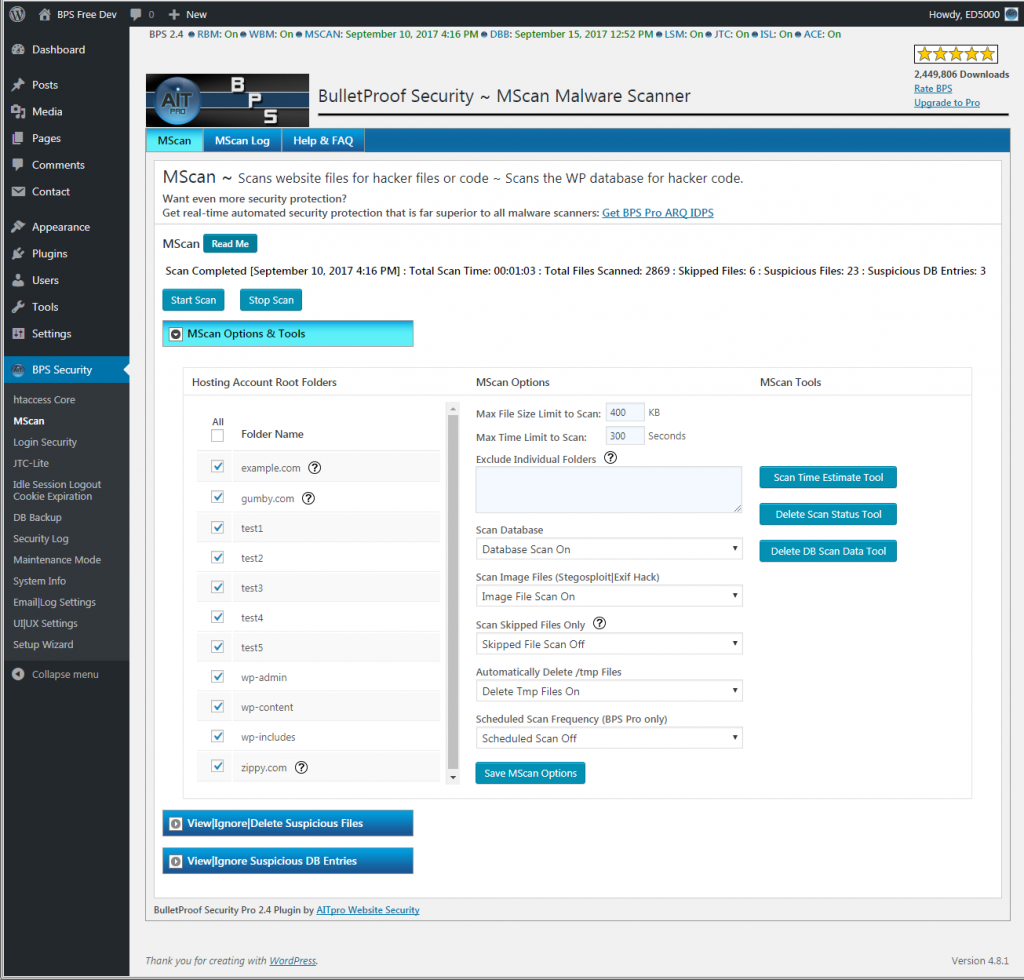 Features
Malware scanning and security firewall.
Single click set up wizard to help you configure the plugin easily.
Regular monitoring to ensure login security.
Manual, partial and scheduled database backup options.
Themes to modify the appearance of the user interface.
You can download the basic version of the plugin free.
If you are looking specifically for a solution that protects you from automated bots, this plugin could be of help. The Google reCAPTCHA option will provide a shield on your site that will protect your site from spammy bots and other automated tools. Interestingly, it offers a common solution that works with both WordPress and WooCommerce. Moreover, the settings are quite simple, and you will be able to configure and selectively enable it even if you are new to WordPress. You will be able to stop fake registrations and orders on your WooCommerce site effectively with this plugin.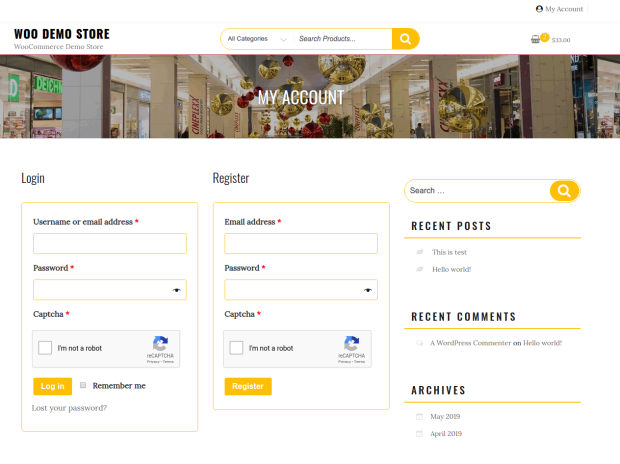 Features
Enable reCAPTCHA for different touch points on your WooCommerce store.
Login, registration, checkout, add payment method, etc. is protected by reCAPTCHA.
Custom label and error messages.
Option to keep the Submit button disabled until reCAPTCHA is entered.
Automatically detect user's language.
Different themes.
The cost of the plugin is $29.
This plugin helps a lot in preventing brute force attacks on your WordPress site. It has three different filters that lets you apply a blend of hard and soft defense strategies.
Features
Block username logins and filter attempts to login with empty usernames.
History of login attempts to analyze the pattern of attacks.
Add-ons to help incorporate additional features.
Works well proxy servers and several third party plugins.
You can download the plugin for free from the WordPress repository.
You will be able to effectively implement two-factor authentication on your WordPress site with the help of this plugin. It supports different protocols and lets you set it up based on different user roles on your store.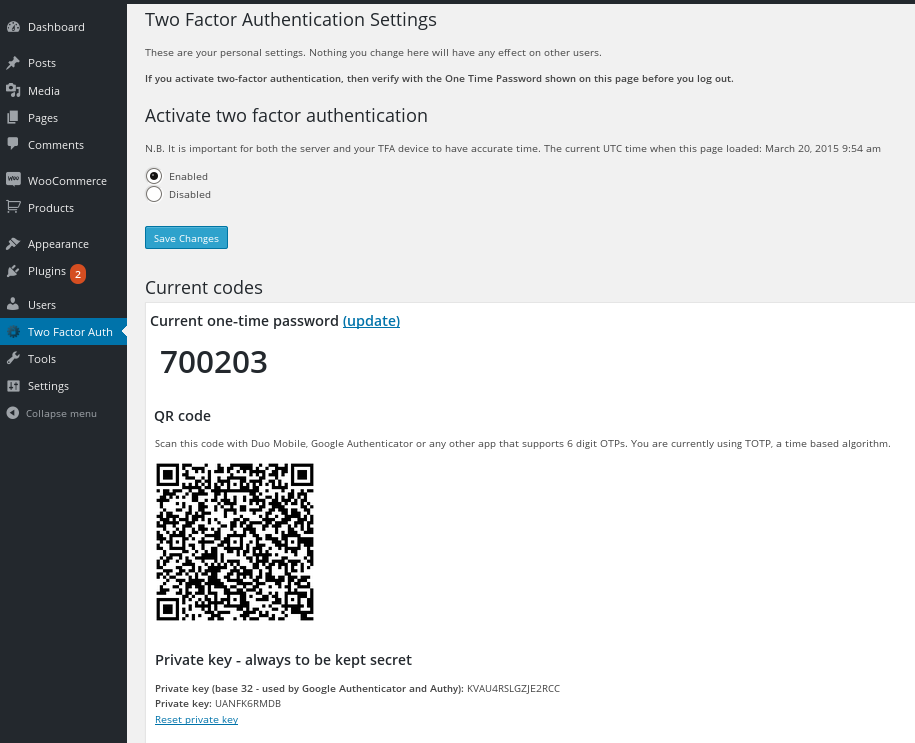 Features
Two-factor authentication supporting standard TOTP and HOTP protocols.
Graphical QR-codes for easy scanning.
Option to enable two-factor authentication based on users or user roles.
Seamless support for WooCommerce login forms.
The plugin is available for free on WordPress.
Hopefully, these WooCommerce Security Plugins will be effective in protecting your online store from malicious attacks. Leave us a comment if you have a query.
Further reading