Last updated - July 8, 2021
Most marketers know how important SEO is and, there are numerous studies and statistics out there to prove that importance. For example, 70% of searchers click on organic results as opposed to paid results.
So, I'm not going to tell you how to use Keyword Planner or something. That would be like…telling a Gen Z'er how to use Snapchat.
If you want to crush your competitors, you need to take it to the next level with some advanced SEO for your WooCommerce site. And be well-versed in the most up-to-date SEO practices for 2019.
Here's what you need to do to up your WooCommerce SEO game:
1. Optimize Metadata for Clicks
Yes, keywords are valuable for SEO. But you should never optimize your product and category page metadata based on keywords.
For example, this over-optimized result from ASOS is totally unappealing:
Instead, use your meta title and description to entice users to click. Click-through rate is becoming an increasingly important ranking factor for SEO, even if some believe it is simply an indirect one.
Larry Kim at WordStream says, "Organic CTR is actually a super-important building block — a foundational must-have for more successful SEO overall."
Levi's provides a much better example of how you can optimize metadata to improve CTR:
When people search for your site, their intent is transactional. Thus, you must emphasize the value of your product (as in the above example) or special offer to get them to click. And, in turn, a better CTR will improve your overall rankings.
2. Speed Up Load Time
Site speed, especially mobile site speed, is paramount if you hope to rank well in 2019. The Google Gods themselves announced that, starting in July 2018, it would become a significant ranking factor.
It takes just a couple seconds of extra load time for bounce rate to dramatically increase:
Google wants to provide the best and most relevant search results to users. They don't want users to bounce.
But what might be slowing your site down? WooCommerce names slow hosting providers as one of the top reasons. So if you have a lot of products or you wish to scale your store, managed WooCommerce hosting is your best option.
There may also be a problem with the theme or plugins you have installed. Use the WordPress Health Check plugin to test your site for issues that affect site speed. Remember that even a couple of seconds can have a negative impact on SEO.
3. Add Rich Snippets
Those that do SEO really well do two things: cater to search engines and cater to users. Rich snippets are a perfect example of this in action.
Snippets give searchers all of the info they are looking for in one place, such as reviews, prices and so on, while the code helps Google organize information.
Here you can see how eBay shares a bunch of information in the form of rich snippets:
To do this for your store, add product schema to your pages. Google's Structured Data Markup Helper generates the code you need for rich snippets. First, select "Products" and enter your URL. Then, all you have to do is highlight any text or imagery you wish to include, like so:
With this tool, you don't need top-level tech skills to add schema to your site.
4. Create Quality Blog Content
This might not be the first thing you think of when you think about WooCommerce SEO, but don't underestimate the power of posts. They will give you a competitive edge.
SEO-meister Brian Dean says, "Quality content and links will still be the foundation of SEO in 2019." In other words, Dean considers content and links the most important aspect of SEO.
Due to the Google Medic Update, you want to focus on E-A-T (Expertise, Authoritativeness and Trustworthiness) when it comes to creating SEO-friendly content.
The cosmetics brand Anastasia Beverly Hills does this particularly well. They often post tips from founder Anastasia Soare and a range of other experts, as in this example:
For your WooCommerce store, work on building the authority of your authors. For instance, you could have them guest post on leading blogs in your niche. And consider collaborating with influencers or relevant industry experts like Anastasia Beverly Hills does.
5. Simplify Site Navigation
User experience (UX) is vital for SEO. As I said before, Google is committed to providing the best search results. Naturally, the ability to easily navigate your site is a vital component of positive user experience.
Research shows that 21% of Americans are frustrated by unattractive and hard-to-navigate e-commerce sites, meaning they are more likely to bounce. And as I mentioned, a high bounce rate is no good for SEO.
It's important to note that simple navigation makes your site easier for bots to crawl, too.
The first step toward streamlined navigation is to have an easy-to-follow structure. Make like Hansel and Gretel and use breadcrumbs, allowing visitors to move between pages effortlessly.
Take a look at this example from Best Buy: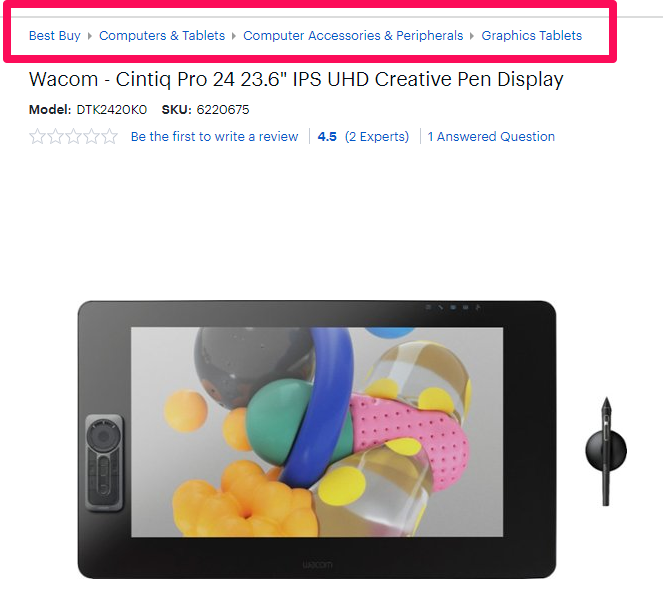 It's also a good idea to simplify things by having only the most important links in the main navigation menu.
At the end of the day, clear and simple site navigation reduces bounce rate and increases dwell time, which works wonders for SEO.
Final Thoughts
The SEO game is ever-changing. Your WooCommerce store doesn't have to suffer, as long as you make a conscious effort to rise up the SERPs and stay on top.
Certain elements of SEO have become more important than ever in the last couple of years, such as site speed and user experience. WordPress and WooCommerce are inherently SEO-friendly. But you have to be diligent about your SEO if you want to rank higher.
Now it's over to you. Your first step: Check that your pages are optimized for clicks, not just keywords.