Last updated - July 8, 2021
On a WooCommerce store, the Shop page is where customers see your products. The display and layout on this page is extremely important for your conversions.  Depending on the nature of your store, you can choose different layout options. In this article, we will look at the process of displaying categories on the shop page of your WooCommerce store.
You can change the shop page display on your WooCommerce store by using the WooCommerce Customiser.
Shop page display
On your WordPress admin panel, go to Appearance > Customise > WooCommerce to access the settings, and click Product Catalog. Here you will see an option for Shop page display. There are three options in a drop-down – show products, show categories, show categories and products.
If you want to show only products on your shop page, choose the first option. Now as you can see only your products will be displayed.
When you have a large number of products and different categories, you have to consider ease of navigation, and showing all products may not be the best option. You can opt for the second option to show only categories. Now users will be able to click a particular category, and see all the products listed under that category.
Now, if you want to give the best of both worlds to your customers, you can choose the third option. Here both products and categories will be displayed. Those who want to navigate to a product through categories can go to the category page. And those who prefer to go directly to the product page, can do so.
Category page display
WooCommerce also provides options to determine the layout of category pages as well. If you display the categories on the shop page, and a customer clicks the category name and lands on the category page. How will you control the display on the category page? The next setting is for this.
Again you have three options – you can show products, subcategories, or both products and subcategories.
Let's see each. If you select products, all the products in a category will be displayed on the category page.
By selecting subcategories, you can display all the subcategories in that category. Customers can click a sub-category to see products inside that. 
The third option is to display both subcategories and products in the category page. Based on what is suitable for your store, you can choose any of these options.
The Product Catalog customiser also gives you options to change the default product sorting, where you can choose to display products based on popularity, average rating, etc.
You can also modify the number of products displayed in a row and also the number of rows displayed in your Shop page.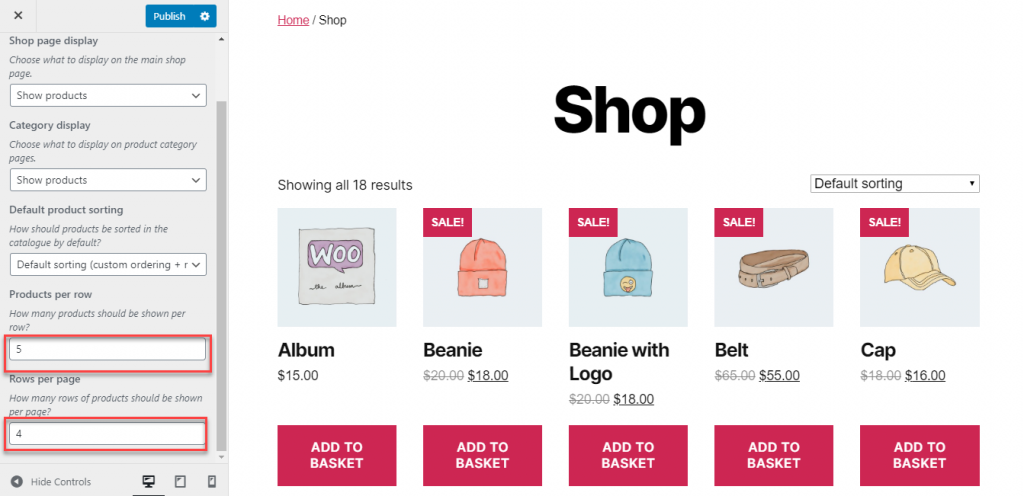 If you need further options to customize the display on Shop pages, you can try the Nested Category extension of WooCommerce.
Using this extension, you can display subcategories in the shop page as well. This will help you organize your shop page more efficiently, and users will be able to find products more easily. The plugin will help you choose specific categories to be displayed in the nested layout. Overall, this plugin provides an intuitive navigation option and enhances customer experience on your WooCommerce store.
Hope this article has helped you understand how to display categories on your WooCommerce shop pages.
Further reading