USPS is one of the most popular shipping options if you have a business in the United States. It is the largest delivery network in the US and offers special shipping services for all kinds of businesses. As it is an independent agency of the United States Federal Government, it has access to locations and areas inaccessible to most other private carriers. Due to all these reasons and more, you might want to include USPS in your shipping strategy. If you are running a WooCommerce store, there are several plugins to help you set up USPS shipping. In this article, we will focus on the best WooCommerce USPS Plugins that will help you set up real-time rate and label printing on your online store.
Check out tips that will help you create a successful shipping strategy for WooCommerce.
Advantages of displaying real-time rates on your WooCommerce store
Shipping, arguably, is one of the toughest aspects that an online store owner has to deal with. Flaws in your shipping strategy can lead to increased cart abandonment on your site as well.
Find out how you can successfully reclaim abandoned carts on WooCommerce.
By displaying real-time rates, you can:
Avoid shocking customers by displaying unexpected shipping rates on the checkout page.
Create a transparent transaction that will win the trust of customers, where they are aware of actual shipping charges for each product.
Provide better customer experience as customers can make the purchase decision by also considering the shipping charges.
Best WooCommerce USPS Plugins
If you require the services of USPS to be available on your WooCommerce store, you can purchase one of the popular plugins we discuss below:
You will be able to completely automate the USPS shipping process on your WooCommerce store with help of this plugin. In addition to displaying real-time rates, you will be able to print shipping labels and provide tracking information to customers. In addition, it helps to automate the packaging process as well, as it helps you to choose the right box for your packages.
It is pretty easy to get started with this plugin. You can purchase the plugin and install it, and you will see an additional tab on your WooCommerce shipping settings for USPS. You can simply enable this to show shipping rates to customers. When a customer places an order choosing USPS shipping, you can manage the rest of the things from your WooCommerce admin page itself. This includes paying postage, printing labels, and generating tracking details.
In addition, the plugin also offers some more features for your convenience. These include options to add funds to the Stamps.com account manager, disable the display of postage charges on the label, etc. You can also set a fallback rate, in case there is a connection problem with Stamps.com API. Overall, this is a comprehensive solution to display real-time rates and print shipping labels of USPS on your WooCommerce store.
Features
Display live USPS shipping rates with estimated delivery date.
Print domestic and international shipping labels through Stamps.com API.
Print shipping labels in bulk with the help of ELEX WooCommerce Stamps.com USPS Bulk Label Printing Add-On.
Automatically generate shipping labels with ELEX Stamps.com USPS Auto-Generate & Email Labels Add-On.
Shipment tracking.
Multiple parcel packing options.
USPS flat rate boxes.
Price adjustments for individual services.
Schedule pickups with Stamps.com-USPS Pickup Request Add-On.
Compatible with popular WooCommerce plugins.
You can get a single site license of this plugin for $69. The 5-site license is $99 and the 25-site license is $199.
If you are using e-VS of USPS, you can use this plugin to automate your WooCommerce USPS shipping needs. Under the e-VS or Electronic Verification System, you can pay postage with the help of electronic manifest files. Everything else is more or less the same as the plugin we discussed above. You can simply install and provide real-time USPS rates, print shipping labels and provide tracking information to customers.
Moreover, you can use online or offline rates and will have the control to display all available rates of USPS or only the cheapest. The plugin also handles unpacked item rates and helps to display a fallback rate in case there is a problem in displaying live rates. Furthermore, you can toggle Commercial rates on and off according to the requirement of your store.
Features
Display live shipping rates of USPS services with estimated delivery date.

Shipment tracking for customers and store admins.

Different parcel packing options.

Price adjustments.

USPS Flat Rate boxes.

Print USPS eVS labels with postage.

Print USPS eVs Scan Form.

Compatible with popular WooCommerce plugins.
The plugin would cost you $69 for a single site license. 5-site and 25-site licenses are available at $99 and $199 respectively.
Sometimes your shipping strategy demands you to display rates of multiple carriers. This would enable your customers to choose the best option for them. More importantly, you might have different products in your catalog that requires different approaches to shipping. You can manage several of these scenarios more efficiently if you are using the services of EasyPost.
This plugin helps you integrate the services of FedEx, UPS as well as USPS to your WooCommerce store. Like the other two plugins we discussed, you will be able to pay postage print labels and offer to track information with this plugin too.
In addition to the regular features, this plugin also helps you with in-built USPS flat rates. Some of the other features of this plugin include the option to cancel a shipment after it is created. You will also have the control to make EasyPost shipping available only to specific countries with the help of this plugin. It also offers an option to toggle between the 'Live' and 'Test' modes and helps you set up a fallback rate in case of problems connecting to the respective APIs.
Features
You can get this plugin at $69 for a single site license. 5-site and 25-site licenses are available at $99 and $199 respectively.
This is another popular option to display real-time rates of USPS on your WooCommerce store. However, if you want to create shipping labels from the real-time rates that you show, you have to purchase their Stamps extension as well. The plugin helps you customize the names of the shipping services that you display. More importantly, you can add costs to the shipping rates displayed by USPS. The extension also helps with your box packing requirements.
Features
Display accurate shipping rates of USPS.

Enable or disable individual services.

Edit the name of the service.

Add a cost to the service.

Pack items individually, or use a box packer.
The single-site subscription of this plugin is $79.
With this extension, you can manage to print the labels based on the shipping service selected by customers in their orders. Basically, Stamps.com connects your store to USPS, and provide a flawless process for your shipping requirements. However, please note that with just this plugin, you won't be able to display real-time shipping rates. For displaying real-time shipping rates, as well as creating shipping labels, you should use it combined with the above plugin.
The plugin allows managing your Stamps.com account from within your WooCommerce admin. You will be able to delete shipping labels as well as process refunds too. And when required you can easily transfer funds to your Stamps.com account as well. The plugin also helps you feature a discounted USPS rate, which is a definite way to save some money on your shipping expenses. Moreover, you can purchase package insurance with a 10% discount, when you purchase from Stamps.com.
Features
Automatically create USPS shipping labels and print them.

Access to all USPS shipping services.

Discounted rates and insurance.

Process refunds and delete shipping labels.
The single site license of this plugin would cost you $79.
You can use this plugin to display USPS shipping rates on your Cart and Checkout pages. It offers an option to add a markup price to the services. The plugin offers package tracking and advanced 3D box packing as well. Furthermore, you will be able to access USPS web tools as well.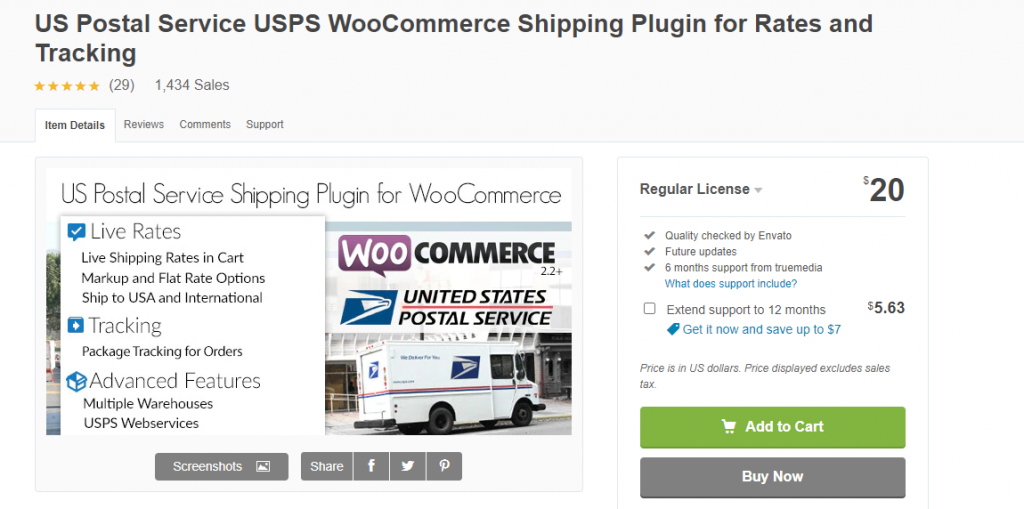 Features
Display live shipping rates of USPS services.

Ship to US and other international locations.

Option to ship from multiple warehouses.

Access to USPS web services.

Advanced 3D box packing.

Provide tracking information to customers.

USPS Flat Rate.

Add price markups.
The Regular License of the plugin costs $20.
If you are using WordPress WooCommerce Multi Vendor Marketplace plugin, you can use this plugin to display USPS shipping rates. You will be able to enable or disable the USPS shipping option on the Checkout page based on your requirements. Moreover, it also offers real time freight calculation via API.
Features
Provide USPS shipping services on your multi vendor marketplace.

Enable or disable USPS services according to store needs.

Allow sellers to enable or disable USPS services for their products.

Option to configure different container sizes.

Freight calculation through API.
Common Label Printing Woes
A lot of new eCommerce store owners don't know a lot of printing shipping labels. So, there might be a lot of confusion about this topic. A new eCommerce store owner who needs to print labels would have quite a lot of questions. We will try to address some of these questions here.
How to print shipping labels from WooCommerce?
When you are using one of the popular shipping carrier plugins, you will be able to print postage-paid shipping labels from your WooCommerce admin with a single click. This will save you a lot of trouble that may range from going to a shipping carrier's office, and depend on them to get the labels printed.
What size should be my shipping labels?
The standard size that is commonly used is 4″×6″, which is recommended by experts. However, you might want to use a different size for certain specific purposes as well.
What printer should I use to print shipping labels?
Another common query related to shipping is the type of printer that you need to use. For lesser requirements, you can use a common laser printer that you use for other purposes. However, when you have a lot of labels to print, investing in a thermal printer would be a cost-effective solution. However, this means you will have to shell out some more money than the cost of a normal printer.
How to get free shipping supplies?
A lot of new shop owners don't know that there is a way to get free shipping supplies for your store. Most popular shipping carriers offer free supplies and even deliver them to your address. USPS too offers free shipping supplies to its customers. You can get USPS branded labels and stickers, along with priority mailboxes, envelopes, global shipping kits, etc., from USPS.
Why USPS is a great option for your shipping needs?
USPS is the largest delivery network in the United States and naturally, it is a great option if your business is located there. Here are some more reasons to choose USPS as your shipping carrier.
More accessibility – USPS has the best range when you compare it with all the other popular shipping carriers. As it is the official postal service of the country, it even helps other carriers to get the last mile connectivity.
Free flat rate boxes – You will get free flat rate shipping boxes at no extra cost. This will be a great deal if you are just starting out with your business.
Priority delivery – With flat rate boxes, you are also availing the priority delivery services of USPS. That means your customers will be delighted with your shipping speed.
Accurate rates – The shipping costs go out of your calculations. There won't be any unexpected surcharges or fees, that might surprise you. Even for Saturday or residential delivery services, USPS does not add an extra cost. This would help you better in managing your expenses.
Better security – You can be more assured when you are sending packages through USPS. They have access to the mailbox and often attempt to re-deliver a package when the first attempt is unsuccessful. Overall, the chances of theft are lesser with USPS, as there is protection from Federal authorities.
Advantages of using Stamps.com account for USPS shipping
Stamps.com is a great alternative to fulfill your USPS shipping needs. Let's take a look at some of the obvious advantages.
For international shipments, you can use the Stamps.com account to pay postage, print shipping labels and customs forms pretty easily. Moreover, you can save considerably while shipping packages internationally. Stamps.com offers discounts on Priority Mail International, Priority Mail Express International and First-Class Package International Services.
You will get access to customs forms easily from your Stamps.com account. This can be a hassle when you have to visit the post office to gather the forms.
On the Stamps.com account, you can access the International mail manual, which will help you avoid customs delays. Also, you will get up to a 40% discount while purchasing international insurance.
Furthermore, it gives you the freedom to use the normal printer or a thermal printer for your label printing needs.
Take advantage of USPS shipping with WooCommerce plugins
USPS allows merchants to connect through their API to provide shipping services to customers. The plugins we discussed in this article make your job much easier by making these services available in your WooCommerce dashboard. Moreover, the whole process is automated and pretty simple to configure. Your customers will find these options extremely delightful as you are transparently displaying actual shipping rates. Moreover, with the reliable service of USPS, you can manage better long term relationships with customers. Hope this article gave you a solid idea of getting USPS shipping services on your WooCommerce store.
If you prefer watching a video, you can check out the below video. The video contains additional plugins.
Further reading