Creating backups of your site regularly is an important step in WordPress security. It will help you confidently deal with any attacks or hacks that may happen on your site. To create a WordPress backup, you can rely on some of the popular backup plugins, or use the services of your hosting service provider. In this article, we will discuss some of the best WordPress backup plugins as well as the options from hosting service providers.
Which WordPress backup option to choose – Backup Plugin or Hosting Service's?
Depending on your requirements, you can choose to install a backup plugin or the backup service of the hosting provider. A lot of hosting services offer free backups, however, there maybe charges for restoring the site. So, at first look, it may seem like opting for a hosting service's backup is more economical though it may not be the case always. Hence it is advisable to check all the terms and conditions thoroughly before opting for a backup plan.
Another aspect to consider while choosing a backup option will be the storage location. Generally, storage locations are limited when you opt for hosting service's backup option. With a WordPress backup plugin, you may find several more storage locations such as Google Drive, Amazon S3, Dropbox, etc. Moreover, you will have more control over your backup files with a backup plugin than the hosting service's option.
Backup plugins offer you more flexibility in terms of defining the nature of the backup, and also in scheduling backups. On the other hand, the backups offered by hosting services are limited in terms of functionality. As a result, new WordPress users may find hosting service backup options more easy to use.
Both options will have its own pros and cons. It is better to thoroughly consider your requirements, and choose between both these options.
Best WordPress Backup plugins
Now, let's take a closer look at some of the best WordPress backup plugins.
This is one of the most popular options to create a WordPress backup. It will save you from unexpected errors, updates gone wrong, server issues and hacks. You will find a comprehensive set of advanced features that will let you create a complete backup with easy restore options. Moreover, you will find different options to schedule backups, and can easily restore them in a single click.
Features
Create scheduled backups for your WordPress site.
Support manual and automatic schedules.
Central and remote storage options.
Encrypted storage.
One-click restore.
The pricing plans start from $70 for a Personal license. You can also try out the free version.
BackupBuddy offers one of the most simple and comprehensive options for WordPress backup. It helps you create a backup file including everything that constitutes your site. Moreover, you can quickly restore the saved backup file in case of a mishap. The plugin also offers options to schedule your backups.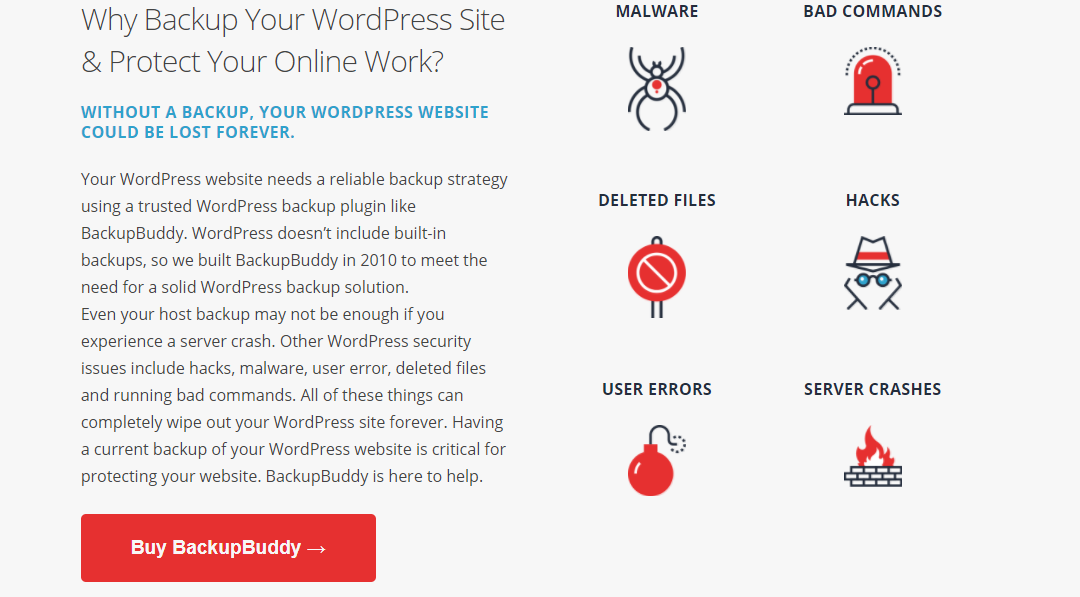 Features
Comprehensive WordPress backup solution.
Customize each backup as per needs.
Create automatic backup schedules.
Remote storage options include Amazon S3, Google Drive, Dropbox, etc.
Email notifications.
Specialized tool for effortless site restore.
Jetpack is one of the popular ways to create a WordPress backup. You can save backups and restore the site in a single click using Jetpack. It also maintains a detailed activity log, which will help you identify the exact action that lead to a problem with your site. Moreover, you will be able to experiment with your site settings more confidently, thanks to Jetpack backup option.
Features
Create WordPress backups easily.
Quick restore option.
Automatic backup schedules.
One-click restore.
Option to restore from a specific backup point.
For Daily backups, the cost will be $9.95, and for Real-time backups, the cost will be $49.95. Please check the website for ongoing discount offers.
This is one of the most reliable backup options you can get for your WordPress site. It offers a range of features to make the process smooth such as cloud storage, inbuilt staging, bulk site updates, etc. More importantly, they boast a perfect success rate for restores. Furthermore, you can manage multiple sites and WooCommerce stores effortlessly.
Features
Reliable WordPress backup option.
Secure storage options.
Free staging option.
Easy restore options.
Uptime and performance monitoring.
Dependable support team.
The Basic plan will cost you $7.4 per month.
This is a simple and powerful tool to help you with WordPress backups. You can schedule backups effortlessly, and recover your site promptly using this tool. In addition, they offer a range of cloud storage options including Dropbox, OneDrive, Amazon S3, etc. It is quite easy to work with it, and it offers support for multisite.
Features
Simple plugin to create WordPress backup.
Easy to restore sites.
Multiple cloud storage options.
Support for large sites as well as multisite.
Email notifications.
Advanced options to customize the backup.
Quick support.
The Personal license is for $69.
Best WordPress Backup options from Hosting providers
As discussed above, there are several hosting service providers that offer good backup options. Here are some of the important ones.
Cloudways is one of the most reliable managed cloud hosting platforms for WordPress sites. You will find advanced backup options with most of their pricing plans. Cloudways offers automated and on-demand backups for your site, which you can restore in a single click.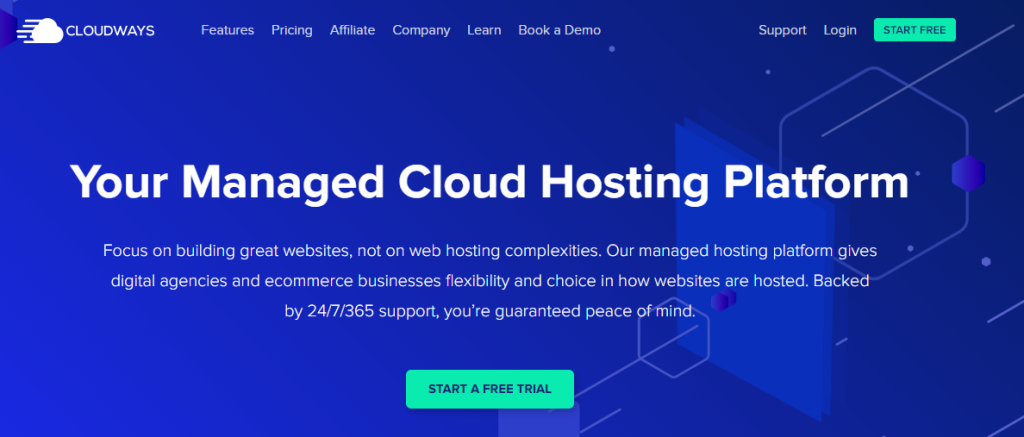 Cloudways hosting plans start from $10 per month. The charges for offsite backups are $0.033 per GB irrespective of the storage service provider.
Digital Ocean is one of the easy and flexible hosting options for WordPress sites. They offer reliable backup services that you can enable easily. They create backups on a weekly basis, and each of these files will be saved for four weeks.
You may check the website for exact pricing.
Kinsta is one of the hassle-free managed WordPress hosting options. They offer daily backups that will allow you to restore the site easily. And, they offer separate backups for staging and live environments. In addition, you will find an option to increase the backup frequency to every six hours.
The Starter plan will cost you $60 per month.
10Web offers an automated WordPress hosting service that offers several advanced features. They offer a free backup service that has several advanced features that you will see in backup plugins. These include differential backups, and convenient backup schedules. In addition, you will get free cloud storage in Amazon S3, and a reliable one-click restore option.
The automated WordPress hosting plans of 10Web start from $10 per month.
Siteground is a recommended WordPress hosting option with a range of packages to choose from for sites of all sizes. You can easily enable backups for your site when you  have a shared of cloud hosting plan activated. Moreover, they offer a user-friendly option to restore backups from the Site tools option.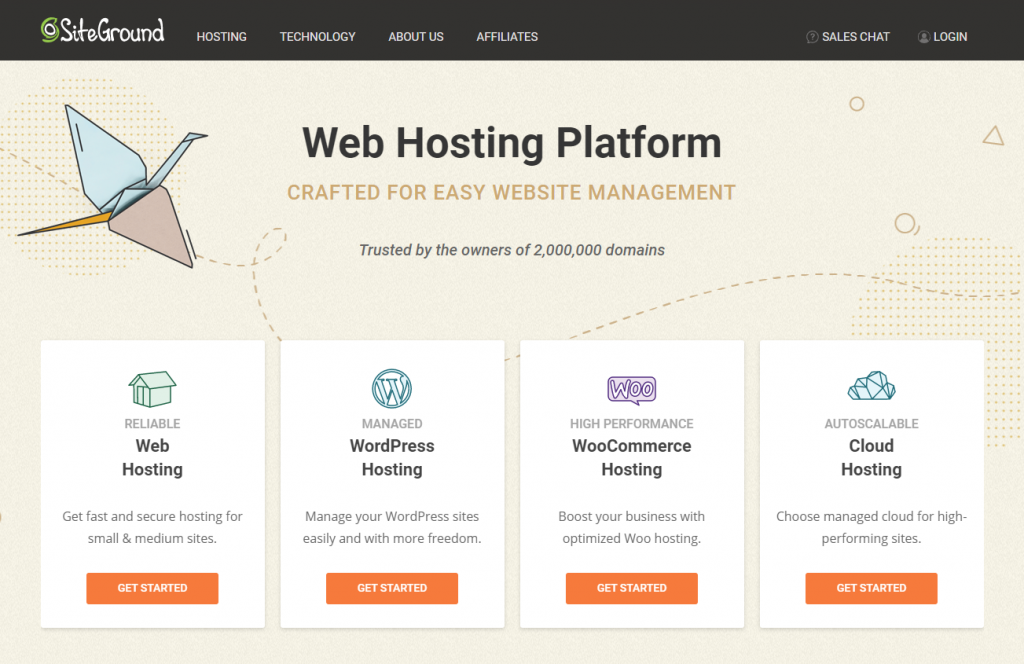 They offer WordPress hosting plans starting from $6.99 per month.
Hopefully these options will help you with your WordPress backup. Leave us a comment if you have a query.
Further reading