Last updated - February 9, 2023
One of the key features of WordPress is that it can be used for small websites or blogs, and also for high traffic, enterprise level solutions. One of the aspects that can make a difference in site performance is the hosting plan that you choose. For an enterprise-level site, you need better server infrastructure to handle traffic surges and dependable support. The hosting service should also allow seamless developer inputs, and offer staging site for testing. In general, the enterprise hosting service needs to feel premium for its customers in all aspects. In this article, we will discuss some of the best WordPress enterprise hosting platforms that offers good support and consulting.
WordPress Enterprise Hosting – Features to look out for
Before getting into the top ones, let's take a look at some of the essential features of a good WordPress Enterprise hosting platform.
Fast loading times – Your site has to load really quickly to help customers come back.
Scalability – Should be capable to handle variations in traffic.
Security – Should protect your site from malicious attacks.
Backup – The service needs to have good backup plans and data retention capabilities.
Customer support – There should be a dependable customer support team that is capable to resolve issues promptly.
Best WordPress Enterprise Hosting Platforms
Now, lets see some of the top platforms that offer WordPress Enterprise Hosting.
WordPress VIP is one of the best solutions for WordPress Enterprise Hosting. A lot of high traffic website around the globe (such as New York Post, CNN, Spotify, etc.), use this service for their hosting needs. It offers a fully managed cloud platform that ensures great performance and reliable security. Moreover, you will find great flexibility to handle customizations and it will effortlessly tackle surges in traffic.
The continuing and support and guidance right from the launch of your website is another characteristic trait of WordPress VIP. They will help you build the right user experience with innovative technology and useful partnerships. In fact, they help you review your entire code to ensure that there is no compromise in efficiency. The large ecosystem of developers will help you find the right technical integrations without hassles. You can partner with some of their top technology partners for design and development inputs.
Features:
Here is a quick look at some of the outstanding features of WordPress VIP:
Open source solution – Enables you to collaborate with the vast community of developers and designers that will ensure growth as well as transparency.
Global community – Since the WordPress ecosystem is a global one, you will be able to find solutions more readily.
API support – The robust APIs open a lot of possibilities to help you connect with a variety of systems and processes including mobile applications.
No hidden costs – Since WordPress VIP is a comprehensive solution, you don't need to worry about charges for code review, licenses or for additional traffic.
Comprehensive support – You can choose how you want to utilize the service of WordPress VIP. According to the service that you select, you can get the best value for your money. Their services include on-site training, and they also offer consulting on best practices. You will also get help for operations planning, as well as for proactive performance monitoring.
Pagely offers a great solution for WordPress enterprise hosting. With great focus to performance, security and scalability, it is a preferred solution of many big websites. Some of the popular websites that use Pagely service include Disney, Visa, eBay, etc. Pagely offers really powerful servers backed by Amazon, which has the capacity to handle heavy workloads. They offer reliable security through their comprehensive methodology called PressARMOR.
With in-built options for caching and CDN, they will help you optimize your site for the best speed and performance. Moreover, your developers will get access to several modern tools like WP-CLI, error/access logs, Git support, system level crontab access, etc. Pagely also offers secure backups on Amazon S3 and allows timely data retention in case of emergencies. Moreover, you will get access to a reliable support team as well, with 7 days support in the US and the UK.
Features:
Here are some of the features of Pagely to look out for.
Reputed expertise in managed WordPress hosting with experience over 10 years.
Great support in maintaining your WordPress site with timely updates, security and performance optimization.
Ensures you can scale effortlessly with the backing of Amazon Web Services.
Automatic daily backups to provide quick damage control.
Great server infrastructure with all the modern tools such as PHP7, NGINX/OpenResty, Redis, etc.
Round the clock support from real WordPress experts who have extensive experience.
Some of the big names such as Intuit, Ubisoft, GE, etc., uses the premium features of the Kinsta enterprise plan. Kinsta promises to offer complete stability and continuous uptime for your site. It will equip you to handle unexpected traffic surges and the like pretty effortlessly. Moreover, they offer a great stack of developer tools to help you with maintenance of the site. And, you will be able to find several add-ons for any additional features that you may require for your site.

Features
Here is a a look at some of the top features of the Kinsta plan:
State of the art infrastructure powered by Google Cloud, PHP 7, NGINX, LXD containers, MariaDB, etc.
Continuous website monitoring to defend DDoS attacks or to prevent any malicious code from running.
Partnership with KeyCDN, an HTTP/2 and IPv6 powered content delivery network, to ensure fast loading of your pages.
Automatic backups to revert your site and contents in case of an issue.
Staging environment to help with the development workflow along with modern tools like WP-CLI, Composer and Git.
Another important hosting service provider you can rely on for enterprise level solution is Cloudways. Powered by Kubernetes, an opensource system for deployment, the hosting service of Cloudways will help you prepare for traffic surges. Their technology ensures that your site has continuos uptime, which is a primary factor for any website. Whenever, there is more traffic, there will be automatic allocation of additional resources to ensure that your site handles it smoothly.
When you choose an enterprise solution of Cloudways, you can naturally expect a dedicated, 24/7 priority support as well.
Features:
Here is a list of standout features of Cloudways enterprise hosting:
Assistance to set up your site according to the specific needs of your enterprise.
Easy to scale according to varying requirements of your website.
Continuous monitoring to ensure any potential problems are detected well in time.
Managed backups, dedicated firewalls, security patching, etc., to ensure you have complete peace of mind.
Round the clock support from a team of WordPress experts.
A fantastic option for WordPress enterprise hosting is provided by Nexcess. It is a popular option for many large websites because it places a strong emphasis on performance, security, and scalability. For businesses that depend on the web, enterprise hosting serves as an online backbone. There are countless ways Nexcess may boost your performance with custom architecture.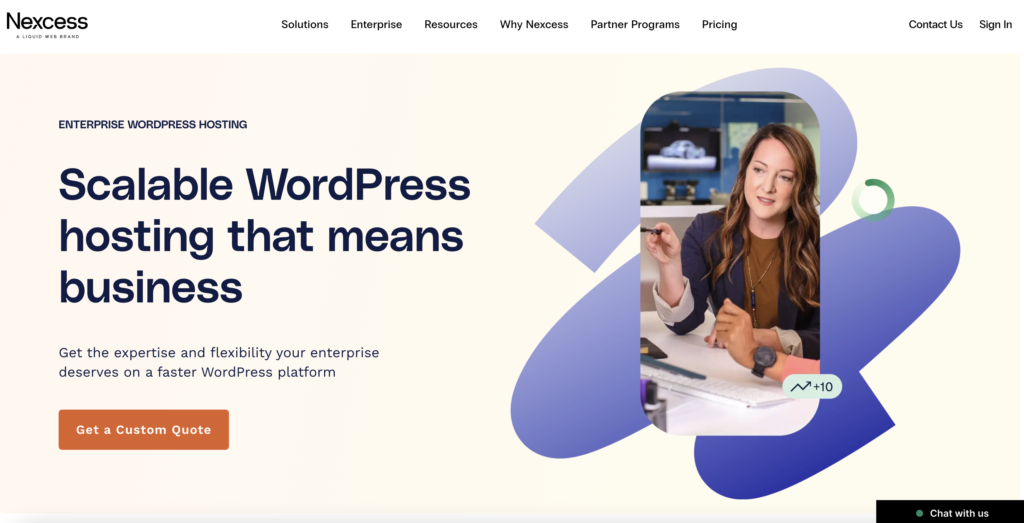 Your technical support is handled by qualified professionals, who also provide flawless security. The platform also offers enterprise hosting for WooCommerce and Magneto.
Features:
The platform provides a number of crucial functions, such as,
Fast, flexible infrastructure with custom architecture.

No matter how many users are online, your servers remain blazing fast because of high availability.

Strong Performance – Global clusters that have been optimized for performance give it when you need it.

Strong Security – Environments are PCI, GDPR, and SOC I & II certified compliant.

Guaranteed 100% network uptime.

White-glove support from the Nexcess Enterprise Support Group, which is considered a Best-in-Class Enterprise Support.
Price: The pricing chart ranges from $9.50 to $499.50 per month or an annual cost ranging from $190 to $9,990
WP Engine is a great hosting solution for enterprises looking to offer a superior experience to their users. They make sure to ensure your site is fast and stable at all times while enhancing the user engagement. At the same time, they ensure your site is always safe with real time threat monitoring. They partner with industry majors such as Microsoft and Findlaw with their superior enterprise level solutions.
Features:
Some of the features of WP Engine that might be relevant for you are listed below:
Optimized enterprise level infrastructure backed by Amazon Web Services and Google Cloud Platform.
Helps your site perform flawlessly at all times with free SSL certificates, advanced caching options and global content delivery network.
Flexible options for developers such as SSH Gateway, Git integration, Staging environment, etc.
Premium support from a bunch of experts who will be totally committed to the success of your business.
If you are looking for a cost effective solution for WordPress Enterprise hosting, Pressable might be what you are looking for. They offer all the essential features of a good managed WordPress hosting service including free SSL certificates, global CDN, daily backups, etc. Furthermore, you will find superior service that helps you in every step of your WordPress site management. Pressable can be a reliable solution for high traffic enterprise sites and WooCommerce stores. Some of their popular clients include Whirlpool, Valet, Laughing Squid, etc.
Features
Here are some of the features of Pressable Enterprise hosting plan that might be useful for you:
Easy onboarding – They will help you set up your site on dedicated servers, to make you life easier. They also have an auto migration feature.
SSL certificate – Pressable offers free SSL certificate to ensure that your site and its transactions are secure.
Jetpack – Offers premium plugin Jetpack to help with your site maintenance.
24/7 service – Their expert support team will make sure that any problems you may face is resolved promptly.
This is another fast and reliable option for WordPress hosting. Several popular high traffic websites, such as those of MIT, foodrepublic, SendGrid, etc., run on their services. With their enterprise hosting solution, practically you will also getting access to a dedicated system administrator as well. Moreover, their container-based platform ensures that your site is performing the fastest at all times.
Features:
Let's look at some of the features of Pantheon WordPress Enterprise Hosting:
Container-based infrastructure to help you handle traffic surges smoothly on your site.
Helps to manage numerous sites from one codebase. This would help you ensure standards, while allowing individual customizations when necessary.
Managed SSL certificates to keep your site and visitors secure.
Identical environments for development, staging and production.
Automated back ups and instant revert in case of an issue.
Support from WordPress experts 24/7/365.
10Web offers a comprehensive platform to host your WordPress website. With a great set of advanced tools, it makes your WordPress site management extremely easy. It ensures that your site is performing fast and stable continuously. Here are some of the standout features of 10Web Hosting service.
Features
Powered by Google Cloud Platform, which makes it secure and fast.
Modern technology stack that includes PHP7, NGINX, LXD Containers,etc.
Elastic scaling where more resources are automatically allocated based on the site load.
Staging environment to test updates and other major changes.
Automatic backups saved on Amazon S3.
Automatic migration services that will help you move your site without hassles.
Great support team to handle your queries 24/7.
SiteGround offers a custom solution for WordPress enterprise hosting. They offers a reliable infrastructure that helps you scale effortlessly. More importantly, they offer ample tools for custom development workflow, if you require the flexibility. Moreover, they offer enterprise level assistance for your business through custom onboarding and personal account managers.
Hope you got a basic overview on the big players in WordPress Enterprise hosting. Please leave a comment if you want to share with us your experience with any of these hosting services.
Further reading