Last updated - February 21, 2022
WordPress is an open source software that is continuously improvised by bright mins around the world. In fact, one of the reasons behind the huge popularity of WordPress is the culture of knowledge sharing that inspires beginners to delve deeper into the ecosystem. Naturally, you may want to keep yourself updated by following the most popular influencers in the WordPress and web development domain. In this article, we will present you with a list of WordPress influencers that you could follow.
Recognized as one of the most influential personalities by different popular magazines and journals, Matt Mullenweg is definitely one you need to follow. You can find his thoughts and ideas from the Twitter handle or from his blog ma.tt.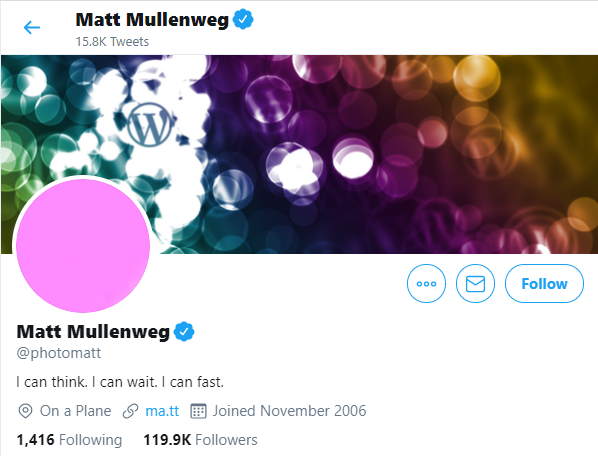 Mike Little is the cofounder of WordPress, who worked wit Matt Mullenweg in developing the first version of WordPress in 2003. You can contact him through the website Mikelittle.org, where he currently offers WordPress development, consultancy and training services. He is also the founder of Zed1.com.
Mark Forrester is the cofounder of WooCommerce, which was later acquired by Automattic. You can follow him on Twitter, as well as Instagram for regular updates on his life and thoughts. In addition, you can also check out Mark Forrester's blog.
The founder of Yoast SEO is another WordPress influencer you cannot miss. You can learn more about his life and his WordPress journey through his profile on different social media channels. Check out the blog joost.blog and Yoast website for more details about Joost De Valk.
Jason Cohen is the founder of WP Engine and an influencer you can follow if you are interested in WordPress. Follow blog.asmartbear.com to find his insights on WordPress and entrepreneurship. Jason Cohen will be surely an inspiring personality to follow.
The Editor of WordPress Tavern, Sarah Gooding is a personality you need to follow if you are interested in WordPress. On her social media profiles, she regularly posts about WordPress updates and topics related to writing. You can keep yourself updated about the latest developments in WordPress and associated tools through her blog articles.
Syed Balkhi is a popular figure in the WordPress ecosystem. Apart from being the man behind WPBeginner, a treasure-trove of WordPress tutorials, he has also created tools like OptinMonster, WP Forms, MonsterInsights, etc. If you are a serious WordPress enthusiast, you may have already come across some of these resources and tools.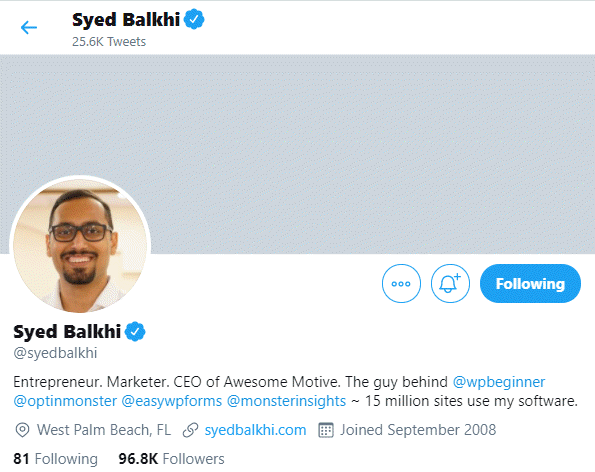 Dan Norris is an entrepreneur, content marketer and speaker, who might be an inspiration for your business goals. You can go through is blog posts and tweets to find a lot of insightful posts on content marketing and entrepreneurship in general. Check out blog dannorris.me for more details.
Adii Pienaar is the co-founder of WooCommerce and the founder of Conversio, which was acquired by Campaign Monitor. Through his blog and tweets, he talks about his wide range of interests, where entrepreneurships seems to be a recurring topic. Follow him on social media to gather insights on WordPress and entrepreneurship.
Helen Hou-Sandí is the Director of Open Source Initiatives at 10up and a WordPress Lead Developer. She is also a classical pianist and her blog and social media posts has her interesting take on technology, music and more. Follow her to know one of the top WordPress influencers a little better.
Andrew Wikel is a WooCommerce Ninja at Automattic. You can get updates on WooCommerce and other WordPress related posts through his Twitter handle.
Senior Community Manager at GoDaddyPro, Andy Mcllwain is a Meetup organizer too. His tweets and blog posts delve into areas outside technology as well, such as art and philosophy.
Co-founder and COO at WebDevStudios, Lisa Sabin-Wilson is another influential personality in the WordPress circle. She is the author of several books including WordPress for Dummies. For actionable insights on WordPress web design and development, you can follow her blog and twitter handle.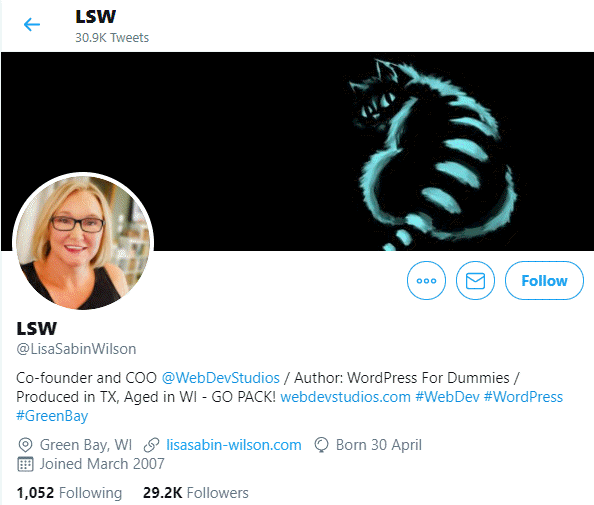 Brad Griffin is a WordPress and WooCommerce expert, who has a lot of interesting insights on technology topics. If you are trying to keep yourself updated on the latest developments in the WordPress ecosystem, make sure to follow him.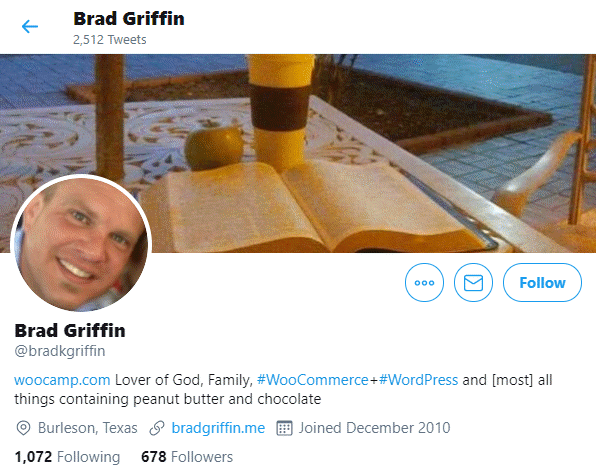 Brian Gardner is a designer and WordPress expert, whom you can follow if you are interested in WordPress web design. You will find links to a lot of interesting themes on his blog briangardener.com.
Jan Koch is the host of WP Agency summit. You will get updates on all the latest WordPress events and interesting workshops through Jan Koch's social media accounts.
Shawn Hesketh is a popular WordPress influencer who has created one of the renowned WordPress courses, WP101. You  can follow his social media profiles to get updates about his courses and other interesting posts.
If you would like to know more about digital strategy and content marketing, you can follow Kim Doyal. She is the co-founder of Content Creators Planner, and on her blog you will find different courses to broaden your knowledge in content marketing.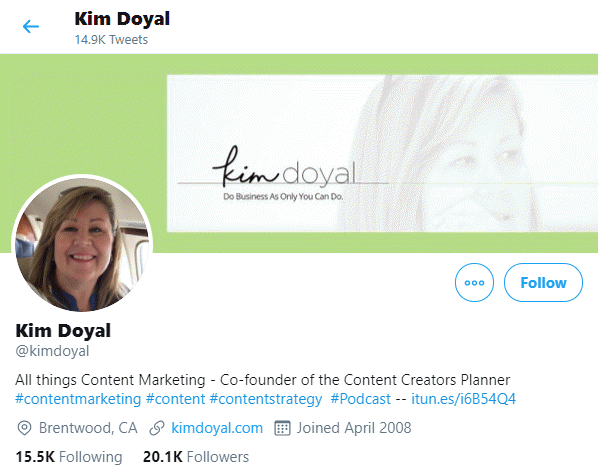 Carl Hancock, the founder of Gravity Forms, is a WordPress expert you should surely follow if you are interested in WordPress. You can follow his Twitter handle for posts on diverse topics including technology and politics.
BobWP, is the man behind the famous podcast do the Woo. As stated in his Twitter bio, he is actively connecting the WordPress creative community that consists of developers, designers, freelancers, agencies and entrepreneurs.
Brenda Barron is a writer of different topics related to WordPress. Her company DigitalInkwell offers content marketing, blogging, copywriting and social media services.
Chris Lema is a famous personality in the WordPress and WooCommerce domain. He is currently VP of LiquidWeb, and you can find help for your WordPress project through his website. The website also features podcasts and interesting articles.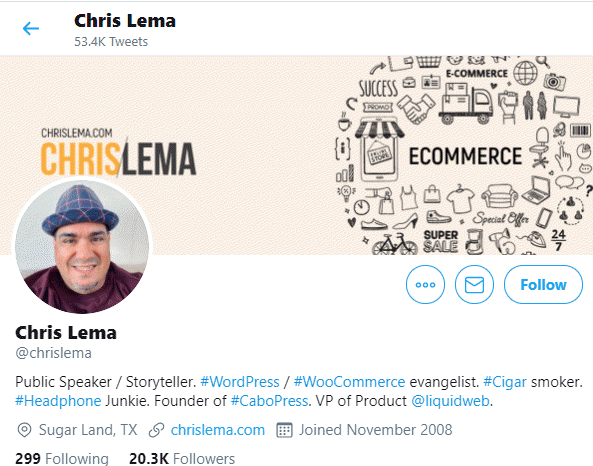 Co-founder of WP Forms, Jared Atchison shares information on WordPress development, marketing and entrepreneurship. You can find a lot of interesting information related to technology through his Tweets.
The founder of WP Buffs and WPMRR Virtual Summit, Joe Howard is a bright personality in the WordPress ecosystem. You can follow him for the regular and insightful WordPress podcasts and other updates.
A designer and WordPress contributor, Tammie Lister works at Automattic. Passionate about WordPress technologies, you can follow her on social media for her interesting take on design and other interesting topics.
Alice Elliott offers WordPress training for beginners. You can find all her blog articles and training material on the blog Fairy Blog Mother. Also follow her on Twitter to get updates on the latest tutorials and web development tips.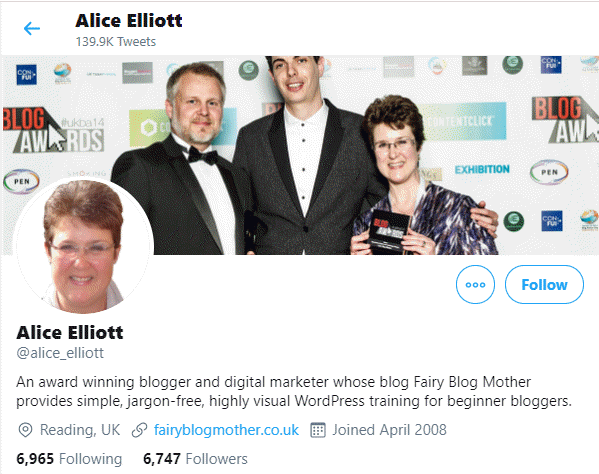 Angela Bowman specializes in WordPress training, and partners with agencies, developers and designers to create interesting WordPress websites. On Boulder Digital Arts, you will find a wide range of training material including graphic design courses and user experience training. Follow the Twitter handle for updates on upcoming meetups and other WordPress-related events.
CEO and co-founder of WebDevStudio, Brad Williams is an important personality in the WordPress ecosystem. Currently focusing on WebDevStudios' vision and direction, he is a US Marine Corps veteran as well. Brad is also co-author of Professional WordPress Book Series.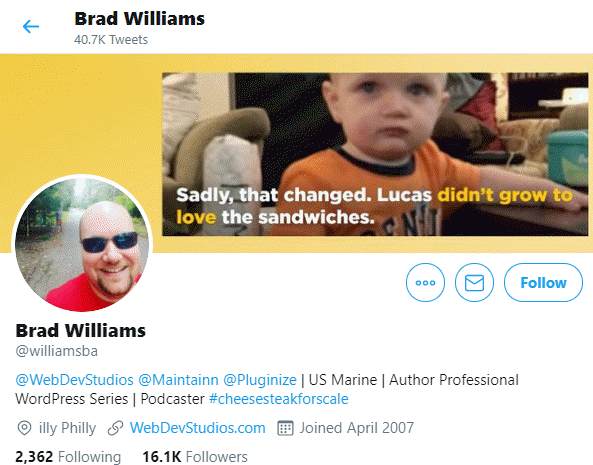 Alex Cooper is the person behind WP Eagle, a resourceful blog on WordPress. He is also the creator of several interesting YouTube videos to help you grow your expertise in WordPress.
Previously the Chief Marketing Officer of Kinsta, Brian Jackson currently runs a WordPress agency with his brother. Check out his social media accounts and the website forgemedia to find interesting tutorials and performance-oriented plugins.
Hopefully, this list of WordPress influencers will empower your WordPress journey. Do leave us a comment if you think we have missed out on any important personalities.
Further reading