Last updated - July 8, 2021
This short article introduces electronic learning management systems [LMS] and gives some fantastic statistics about their importance. The article then discusses Learning Management Systems for WordPress. It contrasts three of the best WordPress LMS Plugins and analyzes how they compare with Moodle, a long established LMS.
What Are Learning Management Systems?
An electronic learning management system [LMS] is software for educational purposes such as enrollment of students, documentation, creating and terminating courses, creating contents of all sorts for these courses, assessments of students and staff and much more.
Learning management systems have always existed since education started, however, electronic learning management systems did not really start until the Internet ensued in the late 80s and early 90s.
The first LMS was launched by a company called SoftArc in 1990. The LMS arising from this was called FirstClass. FirstClass still exists and has had a number of owners since it since 1990. Since those early days, the market for LMS has exploded massively and we will soon discuss how that market is developing. Before we begin to do this though, we should look at Moodle.
Moodle
Moodle is the most popular and widely used LMS in the world. The Moodle LMS is very flexible, open source and completely free. Anyone is free to download Moodle. Moodle has over 100 million users; a number, which is still growing. There are more than 100,000 Moodle sites deployed globally, in at least 225 countries. Moodle has been built by the Moodle project, which is supported financially by more than 80 Moodle Partner service companies scattered throughout the world.
History of Moodle
Initially, Moodle was the brainchild of Martin Dougiamas, an Australian who grew up in that vast country's outback during the 1970s. He was educated, using correspondence schools for the remote areas of Australia, with a curriculum that was delivered by radio. As a consequence, he became very interested in distance learning, leading to the first iteration of Moodle in 2002. The Moodle LMS has come a long way since then.
Some interesting facts about LMS
Here are some surprising facts about the economic value of LMS. The LMS market is worth billions of dollars. In 2017,  well over 65 percent of organizations offered some sort of mobile learning. Electronic learning [eLearning] using LMS has become the principal method of in-service training for many thousands of organizations. This includes about half Fortune 500 companies. During 2018, the LMS market reached over $8 billion per year and on current trends will reach more than $23 billion per year.
These figures are imposing, leading to the obvious question, "why has this happened?
Why are WordPress LMS Plugins Popular?
There are several reasons, however, most of the growth in the industry is from sales of LMS to business. Modern business is far more complicated than it used to be and there is a great need for employees to be upskilled. An LMS drastically improves the learning rates of all staff at any enterprise. The greater the skills and knowledge staff acquire, the greater the productivity and profitability of the organization.
Many LMS are based on WordPress.
WordPress
What is WordPress? WordPress is open source [free] website creation software written in the PHP computer language. WordPress is the most straightforward, most powerful and most common blogging and website CMS [ content management system] there is.
Before you start on an LMS based on WordPress
You have to sign up for a WordPress hosting account. This is going to be the home, on the Internet, of your website.

You must also get a domain name, which is the website's internet address [e.g. xyzBlahBlah.com].

Where do you find these? There are millions, all over the world. All you need to do is enter

WordPress hosting

into any search engine.

The next step is installing WordPress on your website. There are plenty of good tutorials on doing this. There are excellent instructions in this article 

which you can refer.
Now that you have WordPress installed, you are in a position to choose a WordPress LMS plugin for your website. However, before doing this, we need to talk about themes and plugins.
Theme
The theme of a site is software used in WordPress that decides how your website looks and works. By changing the website theme, your site will look different to any a visitor to your site. There are literally thousands of free WordPress themes, which can be found in the WordPress.org Theme Directory, although if you want you can get a custom theme.
Plugin
A plugin is software containing functions that can be added to a WordPress website. Plug-ins are almost unbelievable in the range of things they can do. They are written using the PHP programming language and should integrate easily with WordPress. With plugins, it is simple to add important features to a website. Often, this can be done without a single line of computer code. There are thousands of free plugins at the official WordPress plugin directory.
This is a plugin by which you can integrate an existing Moodle site with WordPress. It's free, which is fine, but means you are dependent on an existing Moodle site. We will have more to say about this later.
Dripfeed Content
If you have an online course then it is useful to use a feature called dripfeed, where the LMS automatically releases parts of the content. There are reasons for this:
Reason #1:

If you are selling the course then you protect yourself and the content from money back guarantees you may have. If you make everything available at once then dishonest people will download the course then demand their money back. With dripfeeding, you give sufficient to view and try the product but you don't give everything at the start.

Reason #2:

You may need to keep your students or subscribers in sync so that they move through the course at the same pace.
LearnPress is a genuine LMS Plugin for WordPress. With LearnPress, you can easily make & sell online courses. Each course can have a curriculum, lessons & quizzes. These are managed with a simple user interface. With this plugin, you can do all of this with no coding knowledge.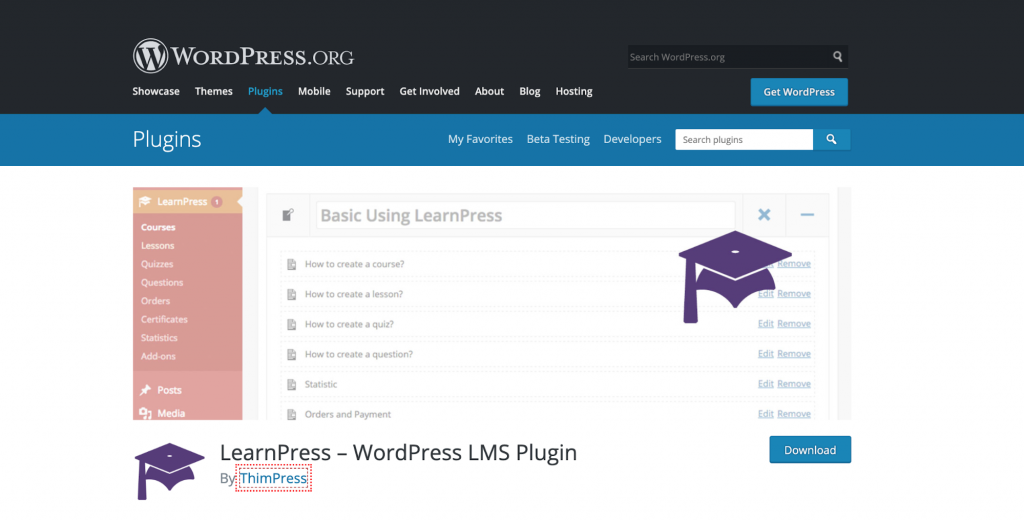 LearnPress is described as free and always free, however,  there are premium high-quality WordPress Plugins, which you pay for similar to in-app purchases when you get an app. If you really commit to LearnPress the cost could be hundreds of dollars.
For instance, if you wish to dripfeed content then a plugin for this will cost nearly $40. Before you go overboard with this or any LMS, do some research and carefully decide what you need. It may well be that the free version of LearnPress is adequate.
Another WordPress LMS plugin is Sensei. Sensei was created by the WooCommerce organization. Sensei is very flexible and easy to use and uses similar best practices to WordPress and WooCommerce.
Creating courses with Sensei is easy, but it not as powerful as some other LMS. For assessment, there are quizzes and assignments. These can be graded automatically or manually. It is possible to create badges and certificates for students.
The above paragraphs described the good points of Sensei. What about the less favorable? If you wish to sell your courses and hence receive payments you will need WooCommerce. The process of selling courses is not completely straight forward.
Sensei is supposed to be compatible with WordPress themes and plugins, however, problems have been noted. In fact, at least one critic said that Sensei caused major damage to his site.
Sensei is not free. Prices start at $129 for a single site license, which includes one year's support and updates. Top price is $279 for 25 site licenses.
If you want to dripfeed content then you pay an annual subscription of $29-$129 for the plugin, which enables you to do this.
LearnDash
LearnDash is the market leader for WordPress Learning Management Systems. It is not a free system with prices ranging from $159-$329. LearnDash has much to offer and is a very good product. One feature that all versions of LearnDash have is free dripfeed, which, in my opinion, is almost essential.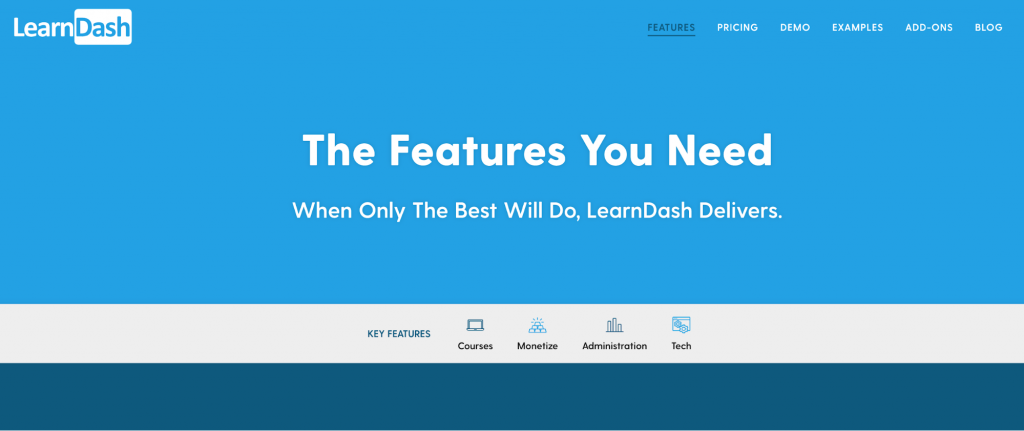 Here is what some expert commentators had to say when comparing WordPress LMS.
Should you use Sensei or LearnDash?
If you are quite experienced and use WooThemes and/ or WooCommerce it is sensible to choose Sensei. There is a very good Sensei demo site, so provided you are not unfamiliar with WordPress and your needs are not too great then Sensei is a reasonable choice. However, apart from that, LearnDash is a superior product. The Woo organization seems to have created Sensei as an afterthought, whereas LearnDash is the product of people who want to produce the best possible LMS.
Positive Features of Sensei
Reporting

After installing Sensei [and its free plugins] the administration interface was checked. There was a good overview of course content and enrolled users, with the ability to drill down for more information. At this stage, LearnDash exports a CSV with limited information in comparison.

Messaging

. Sensei has more notification types, in comparison to LearnDash where reporting is limited.

Certificates

. Sensei has a much better method of designing certificates than LearnDash.

Cost

. From the very beginning Sensei is cheaper than than LearnPress, however, there are costs in plugins which equalize the initial advantages of Sen.

Support

. Sensei has a very good support site with a very active community of users. LearnDash has comprehensive documentation. A post in the forum is generally acknowledged that day.
Having read this, you may think there is a clear case for LearnDash.
LearnPress, LearnDash or Sensei?
As we have seen, neither LearnPress, LearnDash or Sensei is perfect. All three have features that could be improved. As noted, Sensei does not seem to have been developed because the company responsible has other priorities. LearnPress is supposed to be free but there are a lot of hidden costs. If you're interested in a free LMS then investigate LifterLMS, however, despite its cost LearnDash is the best of the three, as long as you don't mind the modest cost.
What about LearnDash in Comparison to Moodle?
I have used Moodle a lot. I haven't used it for a while, however, there are superb documentation and an active user community that you can go to for just about any problem. If you are good at getting under the hood of computer applications then set Moodle up on your own computer and play around. I think it is a beautiful piece of software but you may not like it.
Having said that, there are those who think that a WordPress based LMS has far more going for it than Moodle. As this article is concerned with WordPress LMS, this opinion has to be seriously considered.
For an excellent article about this, go to the G2 site. There is a very detailed comparison of both LMS. You will find that both LMS have high rankings, 4.3 for LearnDash and 3.9 for Moodle. The article did not go into LMS such as WordPress Moodle, which enable you to use WordPress with Moodle. There is a very responsive SMS help on this site where you can get more information.
Conclusion
To finish, everything is more straightforward using WordPress. Consequently, if you need something, which is basic, quick, easily installable, and extended with plugins, then use WordPress. However, Moodle has a vast user base and solutions for many problems and could be right for you. If you go down the WordPress route, then LearnDash is almost certainly your best choice.
Further reading