Last updated - July 18, 2022
Maintaining a WordPress site could be a hectic task for some. What if site maintenance activities are taking a lot of your time and you can't find enough time to focus on other aspects of your business? You may need a good support provider in that case. Thankfully, in the WordPress ecosystem, you can find a lot of quality service providers who offer timely help. In this article, we will list out some of the best WordPress maintenance service providers that you can rely on.
WP Tech Support is one of the most popular WordPress maintenance service providers available at the moment. They offer 24/7 services all over the world to help WordPress site owners maintain their websites. For any problems you may face with your WordPress site, they are capable to offer a quick resolution. Moreover, they make support and reporting more accessible at their portal.
Features
Ongoing emergency fixes for your WordPress site.
Weekly updates of WordPress core, themes and plugins.
Daily backups and round the clock site monitoring.
Performance tune up and website improvements.
Plans start from $45 per month.
WP Buffs offers round-the-clock WordPress maintenance services for WordPress site owners. In addition, they offer white label site management, which could be a useful option for freelancers and agencies who serve their clients.
Features
Unlimited WordPress edits with all monthly plans.
Fully managed security and speed optimization services.
Realtime backups, and weekly plugin, theme and core file updates.
Continuous monitoring and emergency support.
Basic plans start from $56 per month.
If you are looking for an affordable WordPress maintenance and support service, you can give FixRunner a try. They offer one-time service, as well as different other support options such as malware removal, site upgrade, custom upgrade, performance optimization, etc.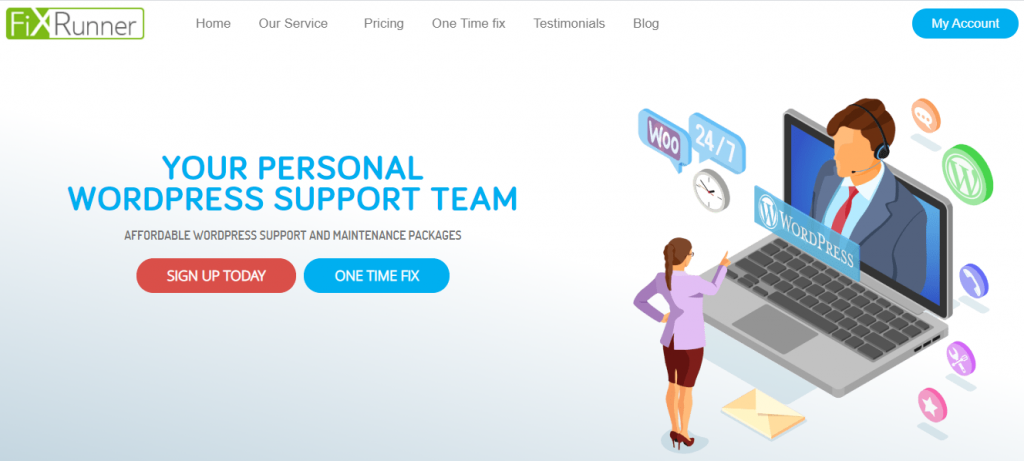 Features
Personal support from a bunch of WordPress experts.
Secure WordPress updates.
Performance optimization for the best loading speeds.
Security scanner against hacking threats.
The pricing plans start from $49 per month.
You can consider this USA-based company for WordPress maintenance services. They offer great expertise in protecting and managing your WordPress website. They have a range of support service options that you can choose from according to the specific requirements of your website. According to their customers, quick delivery and effective communication are two aspects that helped the stay with WP SitePlan.

Features
Protects your site from hackers, malware, etc., as well as fixes bugs.
Site backups and help for updates.
Continuous monitoring.
Helps with analytics integration and database optimization.
You will find pricing plans starting from $29.
You will find a comprehensive range of services with Maintainn. They will take care of design, development, updates as well as security of your WordPress website. In addition, you will be able to ensure the best site management outcomes thanks to their team comprised of industry-leading experts.
Features
Ongoing maintenance service plans.
Regular offline backups.
Solid security service in partnership with Sucuri.
Weekly updates of WordPress core, plugins and themes.
The Standard Plan start from $54 per month.
WP Maintainer offers a range of services to help you maintain your WordPress website effortlessly. Once you start a plan with them, they will audit your sites, and make necessary modifications to ensure optimized performance and advanced security. Moreover, you will be able to easily request for support through tickets.
Features
Hassle-free WordPress maintenance service.
Regular updates of WordPress core, plugins and themes.
On-site or offsite backups at a schedule determined by you.
Security service including malware monitoring and cleanup.
They have a single pricing option for $99 per month.
You will find on-demand WordPress maintenance services on FixMySite with a moneyback guarantee. They have a simple process to provide you quality service. You can raise a ticket to request for service, and they will assess your requirement, send you a quote and get to work. The site offers different range of services to choose from.
Features
Wide range of WordPress maintenance services from small tasks.
Repair any issues on your website.
Malware and security strengthening.
Speed optimization, website transfer and even redesign services.
Different services have separate pricing.
Diverse aspects of your WordPress website will be taken care of by wpExpress. They will helps you with security concerns, SEO, marketing as well as WordPress edits. With an exxperienced and talented crew, your website will be in safe hands.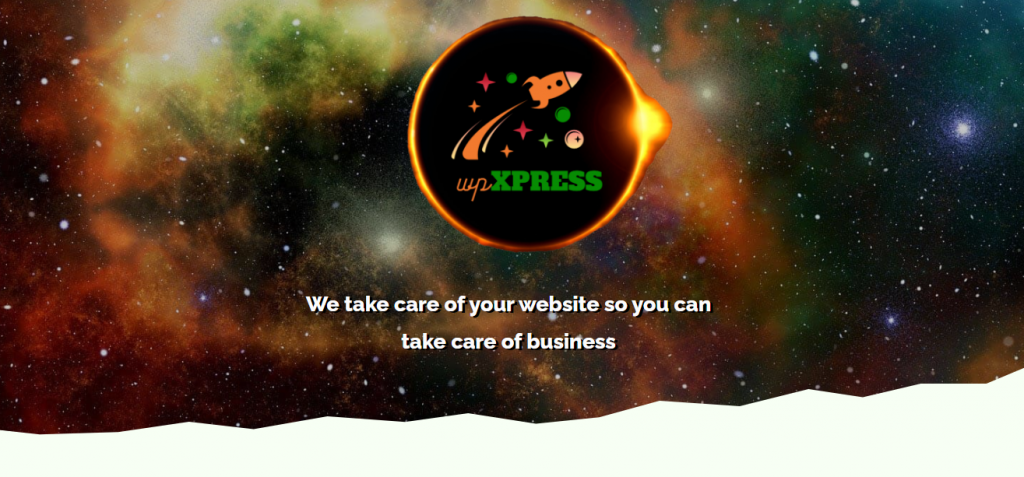 Features
Best value service plans.
Unlimited fixes and site modifications.
Page speed monitoring and advanced spam protection.
Support for security, SEO and marketing.
Plans start from $79 per month.
You can sign up for GoDaddy Pro plan to make your WordPress site management hassle free. You will be able to manage diverse aspects of different sites effortlessly. There are a big list of features to help you manage multiple sites effortlessly using this option.
Features
Automated security check and uptime monitoring.
SEO reports and broken link scans.
Optimize site performance.
Scheduled backups.
Check the website for pricing details.
You will get expert help in a range of WordPress maintenance aspects thanks to WP Tangerine. Starting from small fixes and modifications, you can use their service even for a complete site redesign. Moreover, you can simply signup, and get started with their support by submitting your requirements.
Features
Wide range of WordPress maintenance services.
Comprehensive site optimization for a successful website.
Emergency care as well as regular updates and care.
Feature additions and site overhaul as per requirements.
Basic plan will cost you $197 per month.
You will get a complete package that covers your WordPress site's maintenance on Total WP Support. They offer a range of plans suitable for medium to large websites. You will find services for your everyday WordPress issues as well as for specialized requirements.
Features
Great WordPress support and maintenance service with diverse plans.
Proactive security handling with firewall, and fixing potential threats.
Cloud-based backup and regular WordPress updates.
Continuous monitoring to ensure your site's uptime.
The Essential plan will cost you $49 per month.
If you are looking for help to maintain your WordPress site, you can signup for GoWP's services. They will provide you with the required expertise to handle diverse maintenance requirements of your site. In addition, they also have an option to hire a developer who will help you with your site maintenance requirements.
Features
Comprehensive site management plans for your WordPress site.
Visual validator to ensure safe updates on your site.
Continuous security monitoring and malware cleanup.
Option to hire a developer.
Maintenance plans start from $29 per month.
With professional maintenance support, you can make your WordPress site more efficient. With an expert team working behind your site, you will be able to focus more on other areas of your business. You will get Valet's support on core WordPress maintenance, eCommerce-specific areas, and also to help you optimize site performance.
Features
Support for core WordPress maintenance.
Ensure an optimized workflow on your eCommerce site.
Site health assessment.
Help to improve accessibility of your website.
Contact them for pricing details.
As a website owner, you can save a lot of your time spent for site maintenance if you signup for the services of Newt Labs. They will help you in implementing security measures, helps you incorporate new features, and also provides support for bug fixes. You will find suitable services for website owners, freelancers and agencies.
Features
Handover nagging bug fixes and other maintenance issues to an expert team.
Get support for bug fixes, site updates and security monitoring.
Managed WordPress hosting.
Access to premium plugins.
Pricing plans start from £59 per month.
With Pro WP Care, you will find exceptional services for hosting as well as maintenance and support. They will monitor your site round the clock and ensure the best security for your website at all times.
Features
Helps you focus on your business without worries on site maintenance.
Continuous site monitoring for performance and security.
Regular assessments and suggestions for improvements.
Help with search engine ranking.
Plans start from $79 per month.
Hopefully, this list of WordPress Maintenance Service Providers will help you find peace of mind while maintaining your website. Leave us a comment if you have a query.
Further reading