Last updated - December 5, 2022
Memberships will help you create a recurring revenue stream using your website. With the help of memberships, you will be able to create a structured payment plan with selective access to your resources. This privilege access model will attract more users to be part of your membership plan and you can improve customer loyalty. If you have a WordPress site, there are several plugins to help you set up a membership system. In this article, we will discuss some of the best WordPress membership plugins that you can use on your website.
Setting up a membership plan on your online store can be a great way to ensure recurring income and customer loyalty. If you are running an online store with WooCommerce platform, WooCommerce Memberships plugin is the best option to set up memberships. You will be able to integrate your products and content with memberships and create a more viable business model.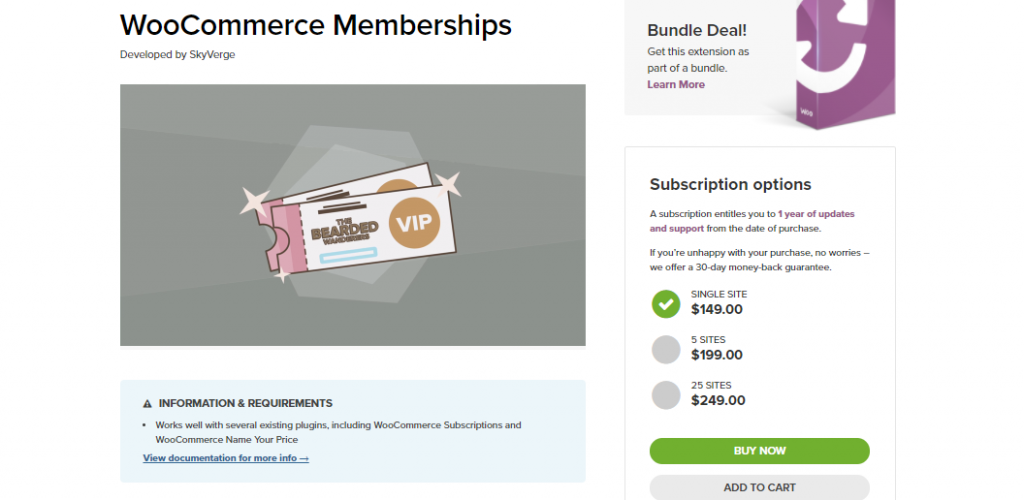 This plugin offers several possibilities for the enterprising store owner. You can restrict content as well as drip content according to the progress of memberships. You will be also be able to sell membership plans, associate product discounts to memberships, or even provide purchase option only to members. The interface is quite simple to help you manage memberships. And the customers will be able to view all the relevant information on content access, product discounts, etc. in an organized manner in the members' area.
Additional features
Here are some more things that you need to know about this plugin if you are creating a WordPress membership site.
The single site subscription of this plugin will cost you $149.
One of the most comprehensive WordPress membership plugins that you can use to create memberships on your site is MemberPress. You will be able to charge users for accessing the content on your site. It also allows you to create membership subscriptions and manage them effortlessly. Based on the membership plan that a customer choose, you will be able to provide them with selective access for posts, pages, categories and more on your WordPress site.
The set up is quite simple, and you can configure it perfectly even if you don't have advanced WordPress knowledge. You will have to spend $149 to get the single site subscription of this plugin.
More features
Here are some of the features that will make your job easy while handling memberships:
Build your own closed community forums with plugins like BBPress.
Manage a coupon system comprehensively.
Stable and secure option thanks to following superior coding standards.
Dynamic pricing page templates to help you control the appearance of membership products.
Content dripping options and effective subscription management.
Easily configure different payment gateways
Actionable insights from the analytics dashboard.
If you are looking to create an e-learning website, LearnDash could be one of the automatic choices for you. It is one of the most popular plugins to help you create and sell online courses. Apart from creating and selling courses, it will also help you drip content, set up quizzes and offer rewards to your customers. It will make interaction with your learners a breeze with advanced features like Engagement Triggers.
Feature highlights
Here is a look at some of the noteworthy features of this plugin:
Powerful course builder with an advanced point system, drip content, community forums and certificates.
Create membership access to all your your courses and handle recurring payments with Subscriptions.
Manage user profiles and assignments with features like group management, email notifications, and automatic access expiry.
Detailed reporting features to give you insights on enrollment, student progress, etc.
This responsive plugin offers seamless media integration, multi-site compatibility, and works well with most WordPress themes.
The Membership for WooCommerce plugin lets the WooCommerce store owners cultivate recurring revenue from selling membership plans and allow user registration on your eCommerce stores. Start a membership-based business or add a new WooCommerce members-only area to urge customers to avail membership offer categories and their benefits. It is valuable for both users and admin.
Features
Select Membership Products
Include One Plan Benefits In Other Membership Plans
Select Access To Membership Pages and Posts
Select Access To Exclusive Membership Products
Override Access To Membership Plans
Better Membership Reports
Send Membership Plans Action Notifications via Email
Sort Membership plans
For a one-site plan, the plugin costs $99.
A sleek and straightforward WordPress membership plugin called ProfilePress allows users to take both one-time and recurring payments. Through Stripe and PayPal, you may collect membership fees and offer subscriptions. It offers comprehensive reporting on your revenue, refunds, sales, and other information. You may go down to individual membership plans or examine reports for any time frame.
For limiting access to any material on your website, including posts, pages, custom post kinds, and navigation menus, PofilePress provides a robust content security function. You may also design front-end login and registration forms for users.
Features
To increase the functionality of your membership, ProfilePress offers a variety of add-ons, including:
Social login: Allow people to effortlessly register and log in to your website using their social network credentials using social login (Facebook, Twitter, Google, LinkedIn, GitHub, VK).
User moderation: This allows you to determine whether to accept recently registered users. Likewise, blocking and unblocking users is always an option.
Two-Factor Authentication: Using two-factor authentication, which requires more than simply a password to log in, you may increase the security of WordPress users' accounts.
Email Confirmation: Before allowing new users to log in, make sure they confirm their email addresses.
Connect to some of the most well-liked email marketing programs, like Mailchimp and Campaign Monitor.
This is one of the simplest options to set up a membership plan on your WordPress site. You will be able to set up payments and subscriptions, and use shortcodes to manage users. And, it also allows you to protect the content according to different membership levels on posts, pages as well as on custom post types. Moreover, it integrates well with WooCommerce to help you restrict access to the store page as well as for product purchase. Also, you will be able to create discounts per subscription and products. The plugin integrates seamlessly with BBPress, Elementor, Profile Builder, etc.
Features
The plugin offers the following features as well:
Subscription management
Option to set up a sign up fee and free trial.
Automatic email notifications.
Basic reporting features to provide information on subscriptions and revenue.
Option to prevent different customers logging in to the same account simultaneously.
Export membership data via CSV.
The single site license will cost you $69.
Restrict Content Pro is a powerful solution that will help you create a membership plan on your WordPress site. It helps you integrate with several payment options and provides you a good range of features to help you manage a membership plan. The basic version with 12 official free add-ons is priced at $99.
Features
Here is a quick look at the major features of this plugin:
Integrate with multiple payment options like PayPal, Stripe, Braintree, 2Checkout, Authorize.net, etc.
Easy to create unlimited discount codes.
Manage different tiers of subscription packages.
User-friendly member dashboard.
Data export through CSV files.
Reporting dashboard to understand performance for selective time periods.
You can selectively restrict content on your eCommerce store and set up a membership plan using this plugin. It will help you create courses and manage a membership plan effortlessly. You can selectively provide content access to customers who have opted for one of you membership plans. The plugin helps you restrict WordPress pages and posts, WooCommerce products as well as videos.
List of features
Here is a quick look at some of the popular features of this plugin:
Create unlimited membership plans.
Restrict access to specific content only to paid members.
Configure a time limit for accessing content.
Easy interaction with users through the 'Messages' widget as well as through email notifications.
Integrate with Subscriptions.
Dedicated reporting section.
The single site subscription is available at a price of $99.
This is a feature-rich option to set up memberships plans on your website or online store. It helps you create digital courses and accept recurring payments for restricted access to your content and resources. You will also be able to create private community forums and offer discounts and special offers applicable only to select members. It has built-in integration of six payment gateways and extensive options for restricting content. You can get the basic version for free and get a 5-site license for $297.
Top features
Here are the top features of this plugin:
Create and control multiple membership levels.
Integrates with top payment gateway options.
Restrict content as per your strategy
Create community forums.
Custom email notifications.
You will be able to set up a membership plan in a matter of minutes using this plugin. With the help of this plugin, you will be able to sell products, subscriptions and memberships, and also set up a password protected member's area. The plugin enables you for better customer management with options to build email lists, free and paid membership plans, and smooth checkout plans. You will also get access to a detailed reporting dashboard with metrics like lifetime customer value, refund rates and member activity log.
Major features
Here are some of the features of this plugin that you will find useful:
Password protected member's area.
Drip content.
Comprehensive member management from the backend.
Simple interface for customers to manage their membership details.
Shortcodes to let you handle customization without coding.
Set up discounts and special offers.
The pricing starts at $19.95 per month for 1000 members.
If you are looking for a simple and intuitive tool to set up memberships on your WordPress site, this plugin will be really helpful. It offers a user-friendly interface and you can set up the plugin easily even if you are a beginner of WordPress. The plugin helps you integrate most of the popular payment gateways to your membership system so that your customers have ample choice. It also offers integrations with popular email marketing tools and helps you build your customer base easily.
Great feature list
The plugin offers an extensive feature list to help you set up a robust membership site.
Option to let your customers pay per post.
Secure download manager to avoid unauthorized access.
Informative member dashboard to help you have an overview of your members.
Drip content to create an organized course schedule for your members.
Create protected categories with access only to certain membership levels.
The single site installation will cost you $97, which is a one-time payment.
s2Member is a flexible and highly customizable option among WordPress membership plugins. It lets you restrict and provide selective access to varied resources on your site such as posts, pages, categories, tags, downloadable files, etc. The plugin also lets you manage subscriptions easily on your site with recurring and non recurring payment options. As the plugin offers shortcode support, you can easily manage integrations without writing any code. There is a free version of the plugin with basic features. You can opt for the advanced versions of the plugin from $89.
Features at a glance
Here are some of the features of this plugin that are essential to a membership site.
Multiple payment gateway integrations.
Security features such as brute force login protections and unique IP restrictions.
Custom registration forms and email templates.
Mailing list integrations
Shortcode support
WooCommerce integration.
Hope this article has given you good information on the best WordPress membership plugins. Leave a comment if you have a query.
Further reading