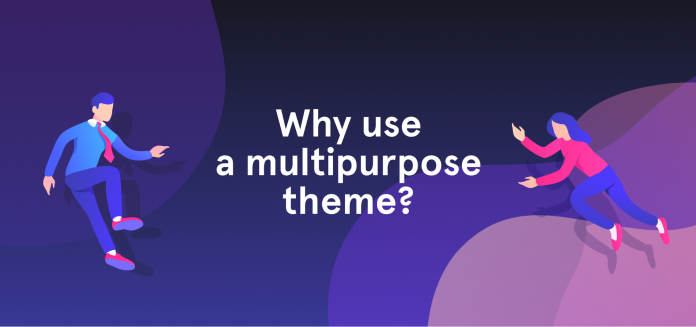 Last updated - December 11, 2020
Choosing the right theme is one of the most important options when you are building your website. There is a wide range of WordPress themes with different styles and designs on the web. From niche to multipurpose. How to find the right one and create an amazing site to attract more users? It is the main topic that we want to disclose in this article. 
For deeper research, we decided to check the WordPress multipurpose theme features in practice and chose Monstroid2 for our experiment as an example.
Multipurpose or niche? What's the difference?
Let's highlight the main differences between niche and multipurpose themes. Niche templates are designed and customized for the one narrow topic of the website. It can be a theme for blog, restaurant, law services, etc. Multipurpose themes include several pre-designed website designs with all the pages already built with different features, so you can use them with various projects. If you are a developer or frequently change your site design, multipurpose theme is for you. 
The list with multipurpose themes advantages is really huge. Here we want to highlight some benefits of using a multipurpose theme with your website:
Behold the variety of pre-designed sites
Multipurpose themes often include several pre-designed sites from which you can choose. Some of them include the diversity of skins on the same topic, and others, like Monstroid2, gather in their library pre-built templates on various topics.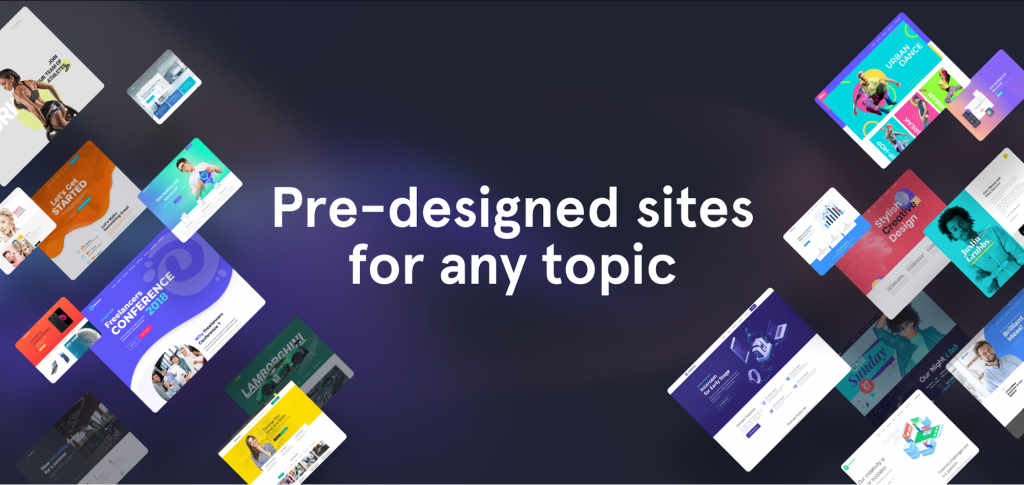 With the second group, it is easy to build almost any project. You can choose one of pre-designed templates, or if you like several different  pre-designed pages and sections you are free to combine them and create a website with the help of them both. Some of the multipurpose themes even have modular functionality allowing to mix and match sections with different designs for unique purposes.
In Monstroid2 skins collection, for one, you will find templates for such topics as education courses, sport clubs, beauty centres, car tuning, restaurants, architecture companies, travel agencies, medical clinics, personal blogs and many others. Each of them has a unique and special design which suits the chosen topic. 
Dive into creativeness with extra functionality
One of the most valuable things in multipurpose themes is that they usually include a lot of features to liven up your project. Like with the Monstroid2, which offers a diversity of over 100 ready-to-use widgets you can add to your website or blog post, you will have no limits when creating any kind of content. In a multipurpose theme,  you will most likely find button presets, sliders, contact forms, parallax effect, animated boxes, etc.
Such variety allows you to choose the most trendy decisions for your website. For example, you can use the parallax to make your pages catchy or use sliders and carousels to show more imagery. Animated effects add the eye-candy glow to your widgets, while banners catch visitors attention even more. These and other features will help to bring your imagination into reality.
Find lots of pre-built sections for fast page building
The majority of popular multipurpose themes use different builders as a foundation. Therefore, working with your content becomes easier. There are a lot of builders developed for WordPress you can choose from.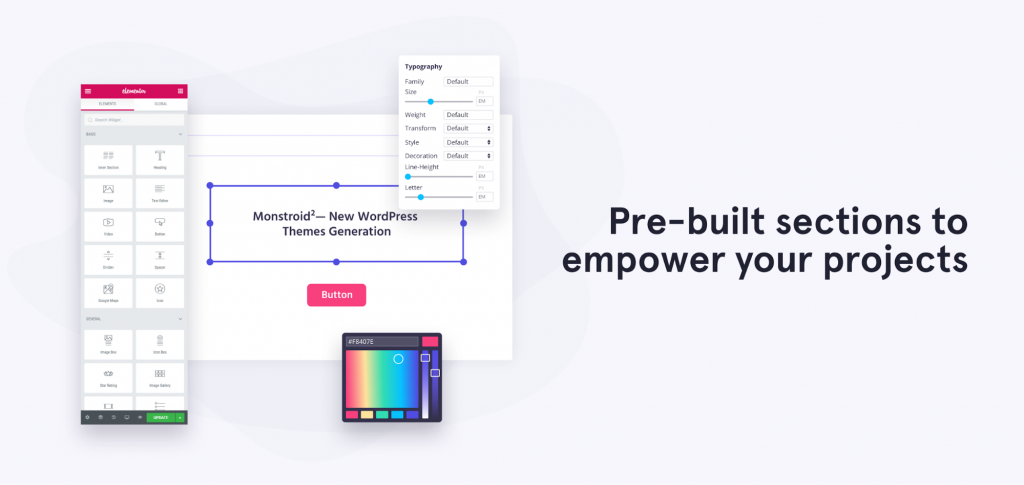 For example, Monstroid2 is based on Elementor – the world's favorite drag-n-drop page builder. This fact allows you to easily customize and build pages with lots of widgets and elements. There are a lot of setting you can change in a few clicks. That is why working with Elementor allows you to build pages faster than with any other builder. Special premium plugins are included in a multipurpose theme to give more opportunities for you.
You can install the theme with all its pre-built plugins and features in one click if it's provided with the Wizard that ensures smooth onboarding. As it is built with Elementor, you wouldn't have to know a lot in coding or struggle to do customization. 
Build content without coding
In a multipurpose theme you will find a lot of prepared pages for any tastes. For one, in Monstroid2 you'll have access to everything from blog pages to shop templates – everything you need to build a strong platform for your project. This pages library is available to use and simple to customize. Also, there is an opportunity to create your own headers & footers, shops and product page templates. Change them at your discretion.
Multipurpose themes will help you strengthen your projects. You can create a website for a business consulting company and at the same time add a blog page for sharing your articles from this sphere. Or if you are a blogger you can create a blog website and add shop page to sell your own merch there. With Monstroid2 there is a wide range of abilities. Like most of Multipurpose themes, it literally represents its name – there are pages for all kinds of purposes.
Saves time and money
The multipurpose theme solves time wasting and money problems. If you are a web developer and you work with more than one website such decision as using only one flexible theme instead of switching the several themes, looks alluring. Monstroid2 includes more than 50 skins you can choose from. 
You pay for the theme only one time but in exchange get a lot of themes and widgets which you can use with your projects. That is why with this theme, it won't be a problem to build a cosmetics online store website as well as website for building company.
Get regular updates
Your website will be always relevant. Multipurpose themes are also premium themes, therefore they have a strong background and enough attention from the developers of these themes. As Monstroid2 is a premium multipurpose theme too, it regularly has updates. So be sure that you will be in trend for many years. Furthermore,  with the regular updates there come new skins. 
Use all the opportunities to make your work better
We have made an acquaintance with multipurpose themes functionality. It is really the best way to create an excellent website with all necessary features. Such themes include a lot of extra tools for page building. You can show all your creativity with multipurpose themes and use the best premium plugins with your own projects. 
A lot of web developers have started using multipurpose themes, that simplify their working process. Moreover, the majority of premium multipurpose themes are SEO-friendly, as in case with M2. It means that they are created according to all the latest and effective SEO standards. 
Finally, as we have used Monstroid2 as an example, we want to mention some more advantages of using this theme. Besides all the points about what we have told you above, M2 will also impress you with its weight. It is super light, that is why it works faster than other similar themes.   
But no matter what WordPress multipurpose theme you'd choose, you will definitely find in it so much more than in any niche theme. If you're a web developer, or have many projects you work on, you will be excited to find our that the right multipurpose theme will make your work so much easier, while saving your money and time.