Last updated - June 3, 2022
The capability to schedule appointments online could be an essential aspect for many businesses. Those who are dealing with accommodations bookings, rental schedules, service appointments, etc., may need to integrate this feature to their website. With a reliable tool to manage scheduling, you will be able to manage your site better and enhance user experience. In this article, we will discuss some of the best WordPress Scheduling plugins.
With WooCommerce Bookings extension, you will be able to let customers book appointments and reservations easily. You can set up the available time slots and customers will be able to make bookings at their preferred timings. The plugin offers easy options to create one-on-one appointments as well as multi-person events like guided tours. You will be able to offer special pricing for bookings, and send reminder emails to customers when their booking date is approaching.
Features
Easy option to let customers book appointments.
Create different time schedules your bookings.
Display available timings in customers' time zone.
Optionally review bookings before approving them.
The plugin costs $249.
This is another popular option to create diverse booking schedules on your WooCommerce store. You will be able to offer flexible booking schedules, one-time appointments, recurring bookings, etc. The plugin also has the capability to dynamically calculate the booking cost based on different parameters like number of slots, number of guests, extra services, etc. From the store admin, you will be able to easily control the availability according to your business strategy.
Features
Easily create and manage different types of bookings.
Control available time slots and dynamically calculate costs.
Sync store bookings with Google Calendar.
Configure reminders and notifications.
The plugin costs $99 for a single site license.
It's easy to schedule appointments for service-dedicated businesses with the MotoPress Appointment Booking plugin. You are allowed to create any number of services, add multiple locations and employees, assign individual schedules for the specialists, and set any service duration. The features list involves options for multiple bookings and scheduling for groups. Your clients will have the ability to pay for the services online (via Stripe, PayPal, or direct bank transfer) or at the office. What's more, this WP schedule plugin features smooth integration with Gutenberg, Elementor, and Divi page builders and a system of automated email notifications.
Features
Insert an appointment booking form with a mobile-friendly booking widget.
View the booking details through a centralized admin calendar.
Assign Appointment Manager and Appointment Employee user roles.
Synchronize bookings with an employee's Google Calendar.
A license for a single site costs $49 while a license for unlimited sites costs $199.
You can create a booking system for different business requirements using this plugin. You will be able to create bookings based on number of people, date, season, etc., and calculate costs dynamically. There are several features to avoid unexpected bookings including the capability to approve or reject a booking request. Moreover, the plugin has a very user-friendly admin interface that lets store owners handle the intricacies of booking schedules easily.
Features
Easily create and manage bookings and appointments for different services.
Create fixed booking units and bookings with varied durations.
Manage booking costs dynamically.
Easy management of bookings including an option to review requests.
The plugin has a price tag of $199.99 per year.
This is a great plugin that will help you create event schedules and display them in varied styles. The plugin lets you create different schedule styles thanks to the customizable templates. It integrates with WooCommerce seamlessly to enable you to sell bookings and tickets on WooCommerce. Moreover, the plugin offers an intuitive interface that will help you manage different aspects of the schedule effortlessly. Furthermore the plugin is compatible with most popular WordPress themes and has great customer support.
Features
Simple plugin that helps you create event schedules in WordPress.
Multiple timetable styles that can be easily customized.
Easy to configure different booking types.
Extensive documentation and reliable support.
You can purchase the Regular License of this plugin at $39.
Booknetic is a great plugin that allows you to easily manage your appointments and bookings. It has a user-friendly interface, and it is effortless to use. You can create unlimited schedules and manage them from one central location. Booknetic also offers an online booking system so your clients can book their appointments directly from your website. Overall, this is a great plugin for managing your appointments and bookings. If you are looking for an easy-to-use scheduling plugin, then Booknetic is a perfect choice for you.
Features
A mobile-ready responsive design that means your booking website will look great on multiple devices
PayPal, Stripe, Mollie, Square, Razorpay, and WooCommerce payments support
Notifications from SMS, email, and WhatsApp, Telegram, Webhook triggers
Add unlimited services, category
Multi-Language and RTL Support
Monthly/yearly subscription
On the admin panel, make arrangements
Registration, Login Form for Tenants
The cost of the plugin is $79.
Bookings for WooCommerce Pro
Bookings for WooCommerce is an excellent plugin that turns your WooCommerce store into a full-featured booking system. Using the plugin's functionality, you can easily construct an online booking system that meets all of your customers' needs.
This may be beneficial to you because it enables you to easily develop an online booking system that allows you to:
Request time-based reservations.
Provide a simple confirmation/rejection feature for bookings.
Offers a specific calendar listing for bookings.
Allow for easy cancellation and rescheduling of reservations.
Provide a detailed timetable to indicate booking availability.
Offer booking periods with a time constraint.
The plugin license costs $79 for single-site, 5 sites is $159 and 10 sites is $259.
This plugin is a great tool to feature appointments and bookings on your website. You can embed booking forms on a page or post, and visitors will be able to choose and book according to their preferences. It syncs with different calendars, and offers easy option to export booking details if required. The plugin offers email notifications and reminders that will help you ensure a great experience for your customers. Another unique feature of this plugin is the in-built PayPal integration which helps you use the plugin without WooCommerce. However, if you want other payment gateways, you can combine the plugin with WooCommerce and manage.
Features
Easily incorporate appointment forms on your WordPress site.
Sync with Google Calendar, iCal, Outlook, etc.
Easy customization options for developers.
Notifications and reminders for better customer experience.
The Personal plan of the plugin will cost you $99.
With this free plugin, you can easily integrate a booking system on your WordPress site. The plugin is quite flexible and offers a wide range of options to help you create an efficient booking system. You can present the available time slots on the frontend, and let customers pick their preferred choice. The booking form is responsive, and you can prevent double booking by setting limits. Additionally, the plugin has a user-friendly backend interface that lets you manage the overall booking process in your site effortlessly. The plugin offers email notifications to both customers and store admins.
Features
Integrate a booking system on your WordPress site.
Efficient configuration options for the booking calendar.
Customize the appearance of the calendar.
Support for multiple languages.
This plugin helps you easily create schedules for diverse events on your WordPress site. You can customize the appearance of the schedule with information on timings and then organize into a user-friendly timetable. The plugin also comes with an upcoming events widget. The plugin has a responsive design and it is pretty straightforward to configure. It offers shortcodes to enable easy configuration, and offers intuitive customization options.
Features
Manage online schedules easily for varied events.
Easily customize the appearance of the events timetable.
Filtering option for visitors to find their preferred events.
Support for shortcode and integration with appointment booking plugin.
You can set up a feature-rich appointment system on your website with the help of this plugin. It is especially easy to configure a booking system with this plugin thanks to the availability of a shortcode. Also, it offers a convenient calendar view in the backend to give you a clear idea on the appointment status at a given time. And your store staff can easily add appointments from th backend. The plugin also offers notifications for different status changes.
Features
Set up an automated booking system.
Shortcode to place the booking wizard anywhere on your site.
Intuitive management of the booking system from the WordPress backend.
Option to configure email notifications.
This plugin helps you effortlessly display appointment schedules on your WordPress site. Your customer will be able to easily book a convenient time. To avoid any scheduling hassles, you can limit the daily appointments, and also set specific intervals between bookings. The plugin is quite easy to set up and ensures a great experience for your customers to book appointments. It also offers seamless integrations with several other tools that will help you improve your bookings and appointment system.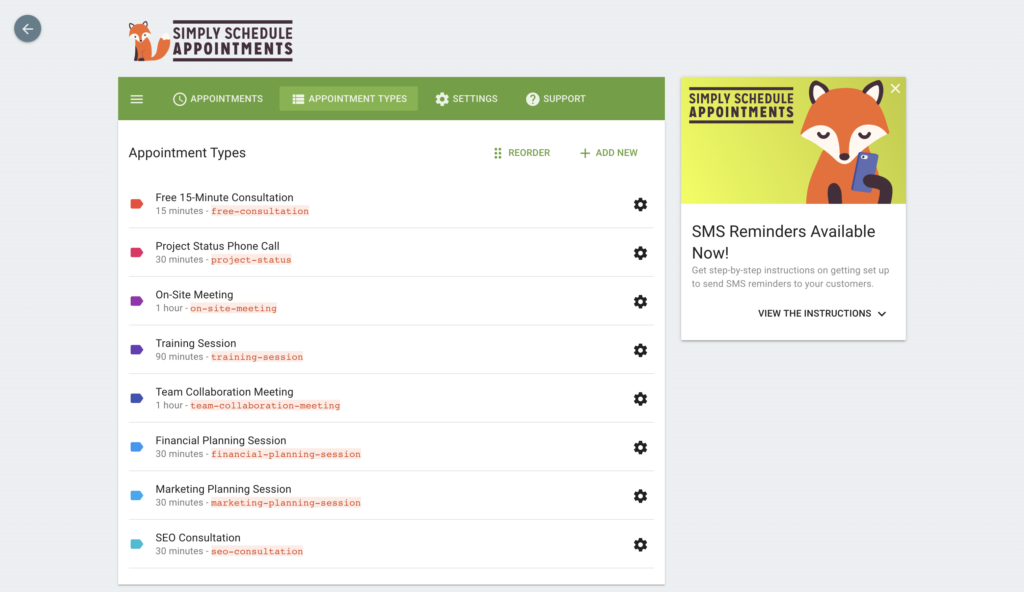 Features
Simple plugin to help you accept appointments on your website.
Offer different types of appointments.
Limit daily appointments and set time intervals between schedules.
Fast setting up process.
We hope these WordPress Scheduling Plugins will help you manage your appointment and booking schedules more effectively. Share your views in the below comments section.
Further reading