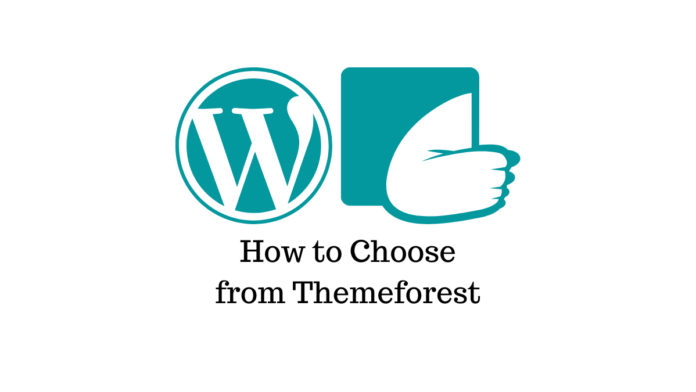 Last updated - November 17, 2021
You can handle the design aspects of a WordPress site effortlessly with the help of numerous themes available in the ecosystem. As you know, apart from the appearance of a site, themes also play a role in the functionality and performance as well. Themeforest is one of the most popular destinations to find premium themes for your WordPress site. If you are planning to purchase a theme from Themeforest, you might find a huge number of choices. How will you pick the right one? In this article, we will help you to choose the best suitable theme for your WordPress site from Themeforest.
An overview on Themeforest
Themeforest is a huge library of themes built by top theme developers located all around the globe. A very stringent review ensures that all themes presented on Themeforest are of the best quality. All themes you find on Themeforest will be responsive, and will create a consistent user experience irrespective of the screen size or device. Moreover, you will get access to a huge collection of eCommerce-ready templates, not just for WooCommerce, but also for Magento, Shopify, etc. Detailed documentation and live demos will help you get the best out of the themes that you choose. When required, it is quite easy to get in touch with theme authors, and there is also an option to contact the Envato Help Center.
How to choose a theme on Themeforest?
When you look for WordPress themes on Themeforest, you will see an abundant choice (over 11k) of diverse themes. For a WordPress beginner, this could be overwhelming. To help you out in such a situation, we have listed out some of the aspect that you need to follow to choose the most suitable theme from Themeforest.
Create a shortlist
One of the first steps to find a theme on Themeforest is to pick a category of themes according to your requirement. From the WordPress themes page, you can go to different categories such as Corporate, Creative, Blog/Magazine, eCommerce, Retail, etc. You can also Browse the new themes or best sellers, if you don't want to limit your search to any specific category listed.
If you keep scrolling the page, you will find different curated collections that could appeal to you. Some of the options are as follows:
Weekly Bestsellers
Hot under $40
New Bestsellers
Top portfolio items
Top WordPress online store themes
There is also a good number of filter such as:
Tags
Price
On Sale
Rating
Date Added
Software version
Compatible with
By considering all these options, you will be able to build a shortlist of themes that could be useful to your current requirement. Once you have the shortlist ready, you need to go into further details regarding each theme.
Use the live demo
The live demo is one of the best options to get to know a WordPress theme in more detail. You can click the Preview item button on each Theme page to view theme demo, and different available templates and visual elements. This will help you get a solid idea on the appearance of the theme as well as how the user interface will look like.
Do a performance test
The theme that you choose for your WordPress site will be a determining factor for your site's performance. So it will be a great idea to run the theme demo through some speed tests. Some of the best options available for speed tests are Google Pagespeed Insights, Pingdom, and Chrome DevTools. These tests will give you some idea on the page loading speed of the theme that you are considering.
For example, we ran the above demo of Avada through PageSpeed Insights, and here is a screenshot of the results.
Check out reviews and comments
The next step you need to take is to go through the user reviews and comments posted on the theme page. When you take a look at the reviews, please consider the number of reviews as well. A theme may look like perfectly rated, but if the number of reviews is quite less, it may not be a clear indicator of customer satisfaction. If a theme is able to maintain its high rating after a significant number of reviews, you can safely assume its quality is good. For example, Avada is one of the all-time, top-selling WordPress theme on Themeforest.
Understand the support process
Getting timely support is crucial for any WordPress product including premium themes. Most theme developers on Themeforest offer support directly for their products. You need to register on Themeforest to get support for a product that you have purchased. From the support page, you also get access to theme documentation, video tutorials, etc. Once you have signed up for support, you will be able to raise a ticket on the product page itself. It will be a good idea to go to the support section of each of the themes that you have shortlisted and understand the process. If the theme developer is not offering support for a particular theme, it is best to not go ahead with that theme.
Check out more details available on the theme page
Each theme page will have several additional information that could be useful to determine whether it is the best fit for your requirements.
Apart from the number of ratings and comments, you can also see the number of sales for each theme. A top-selling theme surely is a better option for many site owners, compared to a relatively newer one. This is because a well-established theme must've already encountered several challenges like compatibility issues and could've overcome them. As a result, you will have less hassles dealing with the theme.
On the theme page sidebar, you will find a lot more valuable information. These include the last updated date, Status on support for Gutenberg, widgets and high resolution. You will also find compatibility status with major browsers and some of the popular plugins in the WordPress ecosystem.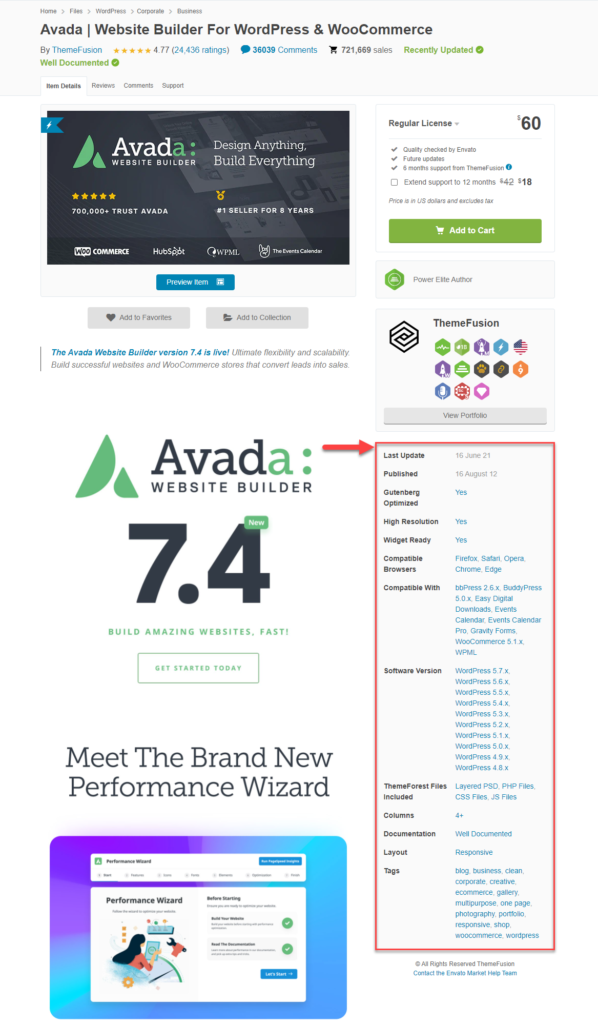 Top-selling WordPress themes on Themeforest
Just to make your choice easier, here is a list of 10 all-time bestsellers on Themeforest:
We hope this article will assist you in picking the best option from Themeforest while choosing a theme for your WordPress site. Let us know in the comments if we have missed out on any important points.
Further reading