WordPress version 5.7 "Esperanza" is finally here. The first major WordPress release of the year brings with it lots of variations and new features such as lazy-loading iFrames, login and registration interface updates, reset password links, a broad number of bug fixes, etc. Its new editor helps you do things you couldn't before without getting into coding. The controls you use most are exactly right where you need them. And the layout variations that should be simple, are even simpler to make. Version 5.7 also brings many changes for developers to apply in themes, wp plugins, and projects.
We've been trying out WordPress version 5.7 on some of our websites. So here let's have a closer look at the new features of "Esperanza".
Editor Upgrades in WordPress 5.7
Website owners spend the bulk of their time on the WordPress editor creating pages and writing content. And every WordPress version delivers new features and updates to the Editor. WordPress 5.7 also has some exciting features and upgrades for the Editor.
Drag and Drop Blocks from Inserter
WordPress 5.7 allows you to directly drag and drop blocks from the "Add new block" (+) inserter to the content area. So you can choose where to place a block before you drop it on the post canvas. Drag & drop only runs if your theme supports block patterns.
Full-height Blocks
Isn't it better to use the full-width blocks for cover, columns, and group blocks? This will allow you to produce visually striking layouts. WordPress 5.7 allows the creation of full-height blocks.  These blocks will fill up the length of the user's screen allowing you to produce further appealing layouts.
Block Variation Descriptions
WordPress 5.7 allows displaying descriptions for block variations. For instance, the social icons block has Instagram, Facebook, and other social media icons. These can be viewed in the block inspector with a preview.
Button Dimensions
This new feature now enables us to set a percentage width for the buttons housed in the Buttons blocks. Choose a button and pick 25%, 50%, 75%, or 100%. The image displays the various orders of button dimensions.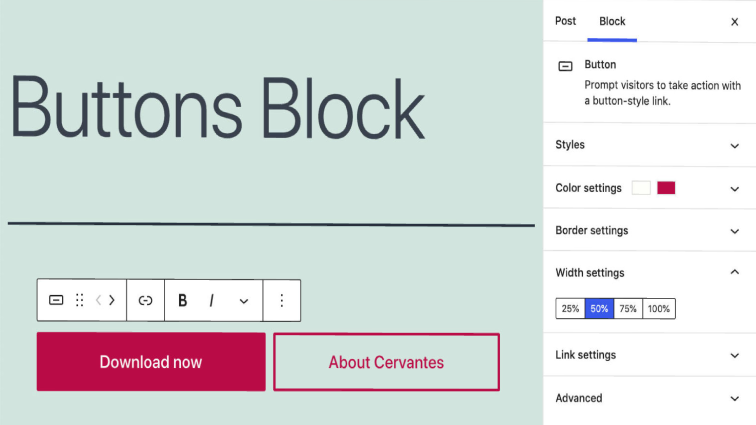 Vertical Alignment For Buttons
WordPress 5.7 allows us to add modifications for vertical orientation to the Buttons block. Users can change layouts from horizontal to vertical using the transformations switcher in block settings.
Social Icons Size And Color
WordPress 5.7 provides further customization opportunities to Social Icons: custom size and colors are supported. The Social Icons block toolbar now presents a size choice menu with 4 available sizes, small, normal, large, and huge. The same block presently supports color settings, enabling us to introduce various custom colors for icons and backdrops. The theme's color palette can be used for social icons, barring the colors of the icons from conflicting with the website's color scheme.
Font Size Support
WordPress 5.7 provides a font size altering option for both List and Code blocks. A typography card with the option to change for font size has been attached to the List block settings. Users can select one of the available font sizes for list items or introduce a custom font size represented in pixels. The "Reset" button returns values to default.
It also supports font size changes in Code blocks. When a Code block is selected, the block settings sidebar shows font size options. This option allows you to either choose one of the sizes available in your theme or introduce a custom value in pixels.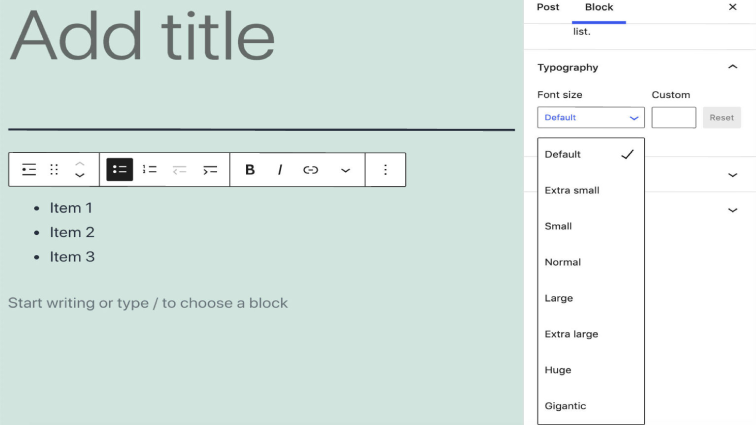 Semi-Transparent Spacer Block
In place of the previous dull gray shade, the Spacer block now has a semi-transparent backdrop. This feature should make it simpler to recognize the Spacer block over any backdrop color.
Further Improvements in the Block Editor
Turn on Dark Mode automatically when the dark background is enabled.

Telegram, Patreon, and TikTok added to Social Icons.

Block transform previews.

Enhanced Block Pattern Preview in the Block Inserter.

The Options model was updated and renamed to Preferences.

Inner Blocks API Changes.

Import/Export feature improvements.

Modifications to block editor components and blocks.
Lazy-loading iFrames
Lazy loading is an optimization method that delays loading non-critical resources till they are in the viewers' display window. Lazy-loading resources aren't downloaded and rendered until they're required. It can significantly enhance performance, particularly for websites donning high-resolution pictures and videos. WordPress users were required to use wp plugins to achieve similar effects before.
WordPress 5.7 will attach lazy loading to iframe embeds automatically. WordPress already uses lazy loading for pictures by default from version 5.5. This implies that all embeds that use iframes, such as YouTube videos, will apply lazy loading to increase your page loading rates.
Simpler Migration from HTTP to HTTPS
Before when you migrated WordPress from HTTP to HTTPS you had to manually update URLs embedded in the website. Not doing so leads to the mixed content issue. A mixed content issue in WordPress is produced by incorrect HTTPS/SSL settings. Often it doesn't harm your website's functionality, but it can impact your website's SEO and user experience negatively.
WordPress 5.7 makes it simpler to move your website to HTTPS. WordPress will recognize if a website's environment supports HTTPS. If so, it will display the availability of HTTPS in the site health menu as a critical issue. 
From here, users just have to click on a button to update their WordPress URLs. This will change your WordPress and Site URL settings, and update URLs in your site to adopt HTTPS with a single click. The site is migrated on the go, keeping us from any mixed content issues. The need for additional wp plugins are also eliminated. 
WordPress will show a notification if HTTPS is not supported.
Standardized WP-Admin Color Palette
The new version will standardize the WP-admin color palette. WordPress came with a restricted collection of color schemes and adding new color schemes was laborious as developers had to work with Sass variable-based systems.
In version 5.7, WordPress will drop all colors used in the CSS to one of the possible 12 shades each of blues, greens, reds, and yellows and 13 shades of grays, blacks, and whites. Normalizing this set of colors will assist themes and wp plugin developers to deliver consistent convenient design decisions.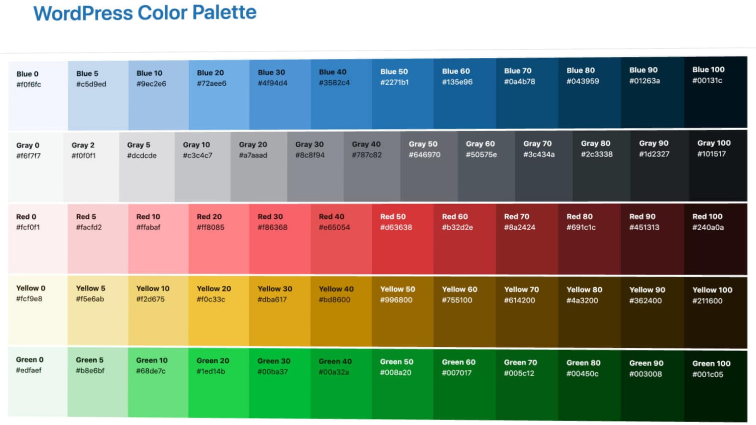 New Robots API
The new version includes a filter-based Robots API, giving central control over the robots meta tag. The robots meta tag allows you to utilize a granular, page-specific strategy to manage how a particular page should be indexed and attended to users in search engine results. This meta tag is generally set in the <head> section of a page.
The new Robots API allows you to incorporate the filter directives in the robots meta tag, and the API comprises the max-image-preview: large directive by default. That indicates that search engines can display bigger image previews, which can expand your traffic.
WordPress will automatically hide this tag for websites marked not public.
How to Update to WordPress 5.7
Before committing to any major update of WordPress core, always backup your website. We recommend doing a Complete backup that holds your WordPress database, files, themes, plugins, media library, etc.
You can see the WordPress version update ready in your admin dashboard on the Updates page. Click on update now to begin the update.
The days where you used traditional ways to manage MLM businesses are long gone!
If you are running a WordPress website, then try using a WP MLM Plugin, and control your MLM business with ease.
The major reasons why you should use a WP MLM Plugin have been explained here. Reach out to a leading WP MLM Plugin Development company now.
Further reading