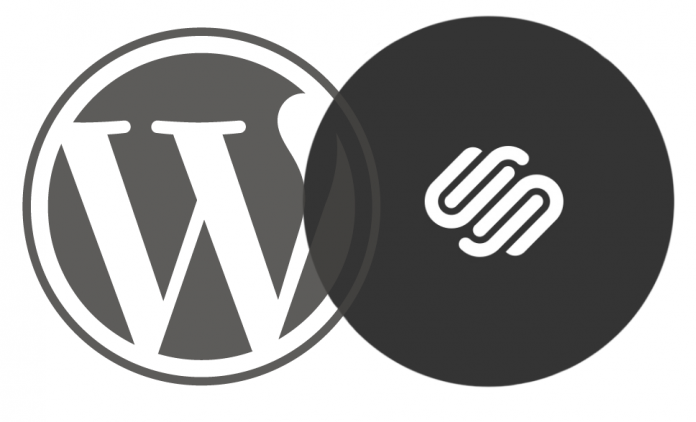 Last updated - July 8, 2021
If you have landed on this post, you are in a confusion to choose between WordPress vs Squarespace. WordPress is the most popular Content Management System (CMS) in the world. That doesn't mean that they are the only option. They have got some good competitions. Squarespace is one among them which is a beginner friendly website builder.
Through this article, we will take you through all aspects that you need to know before choosing the right platform that suits your site. For your convenience, this article is divided into different sections such as how easily one can build a website on each platform, how does each one of them handle eCommerce, how does each platform handle website maintenance, how does each handle data portability, how good are the design and features in both platforms, how much does each cost and finally which one should you choose.
How easy is to build a website?
WordPress
While getting started with WordPress you need to know some basic concepts such as pages, posts, categories, tags etc… One of the leading edges of WordPress is that it can be used to build both basic blog sites as well as highly professional websites.
The default WordPress editor TinyMCE comes with an easy interface for beginners. It comes with a visual editor as well as a text editor for advanced users. Now WordPress is working on creating its new editor Gutenberg and is expected to be released with WordPress 5.0.0.
From our experience, most of the users can easily adapt to use it. However, WordPress has still room to make the platform simpler and easier for beginners.
Squarespace
With Squarespace, you will get a single interface to make changes. Unlike WordPress, Squarespace doesn't come with a lot of features which make it more simple and easy to use. With the interface, you can change content, Tweak design styles, Add custom CSS, set up analytics, choose which social share buttons to display, and control the basic SEO settings for your page.
Squarespace provides a drag and drop content editor with which it is really easy even for beginners who  have never made any website. The installation also doesn't take much time. The whole setup process literally takes less than a minute. One important thing you have to note is that Squarespace does not support third-party plugins.
Conclusion
Both of these platforms allows building the website easily. But if you are looking from a beginners point of view and you want to build a basic website, then you can go with Squarespace. It never means that you need to be a professional to build a website using WordPress. It's not easy as Squarespace.
How does each platform handle eCommerce?
This might not be a concern for everyone but if you are planning to sell products through your website, you have more flexibility with WordPress.
WordPress
WordPress allows integration with a number of plugins such as WooCommerce, Easy Digital Downloads etc… that can convert your WordPress site into a fully functional eCommerce store. Apart from these WordPress allows tons of plugins to add additional functionality to your website.
While it comes to payment, WordPress allows you to integrate with any payment method you want. There are many plugins that allows payment integrations. Also, in WordPress there is no restriction to add products, you can add as much as products you want.
Squarespace
Squarespace supports eCommerce but it is limited in comparison to WordPress. Unlike in WordPress you are gonna miss tons of eCommerce focused third party plugins which will limit you from many eCommerce functionalities.
In case of payments, Squarespace only allows you to choose between three payment methods, they are Stripe, PayPal and Apple Pay. This limitation can restrict your store from a larger global audience. In addition to that one of the huge downside is that, Sqaurespace charges you a 2-3% transaction fee on top of your credit card processing fee.
Conclusion
So if you want to start an eCommerce store on Squarespace it will be in an expensive side. So WordPress is way ahead of Squarespace when it comes to eCommerce.
How does each platform handle website maintenance?
Just like you maintain your home, your website also requires constant maintenance and cleaning up to keep it working smooth.
WordPress
With WordPress, you are responsible for handling updates, security and backups. This might feel as a burden but you have many third party plugins that can do the job for you.
Frequent security checks and backups are recommended to keep your website secure. Read more about the best security solutions for WordPress here. If you manage WordPress host your host will manage all these for you. You can also hire a WordPress maintenance service.
Squarespace
In Squarespace, you don't need to bother about updates and maintenance, Squarespace handles all of that for you. But it doesn't give an option for their users to backup your entire site.
Conclusion
Since Squarespace is a closed ecosystem you never need to worry about maintenance. Squarespace handles all of it for you and thus makes it more simple. While WordPress is an open ecosystem and you need to take more active measure for maintaining your site.
How does each handle data portability?
If you use one of the platforms for building your website and if you are not feeling comfortable with the platform you use, there must be an easy mechanism to migrate all your work and data to some other platforms. Let's see how WordPress and Squarespace deal with it.
WordPress
WordPress comes with built-in tools for exporting all your data to somewhere else. One can easily backup their content, themes, images, plugins and the entire database. WordPress provides a provision to easily move all of these to other Content Management Systems. Also, you can change your web hosts anytime you want.
But the fact is that, if you start using WordPress you won't migrate to any other Content Management systems. WordPress provides you full ownership over your data.
Squarespace
Data portability is also limited in Squarespace. It only allows you to export certain contents in an XML file. You cannot export certain contents such as product pages, folders, index pages, audio blocks, video blocks, draft, style changes, custom CSS etc.
Conclusion
Those contents you create on your site is yours and you should have the power to migrate it to anywhere you want. Just like others, WordPress wins the race when it comes to data portability.
How good are the design and features of both platforms?
It is very important to look for the design and features before choosing a platform.
WordPress
As we discussed before, WordPress allows integration with tons of plugins. This is where WordPress is far ahead of its competitors.There are many plugins that can add features to your WordPress site.
Not only features, WordPress also has a collection of free and paid themes that make your site look good. Some of the best selling themes for WordPress are Themeforest, Elegant Themes, Themify, Template Monster, ThemeIsle, Catapult etc. These are the themes that can suit any kind of business websites. You can go through 2018's best-selling WordPress themes here.
Squarespace
Just like the others, Squarespace seriously falls behind WordPress in this category also. It provides you a limited amount templates that you can choose from. You can only change a limited set of features using Squarespace site customizer feature.
Same is the case with plugins. You can only use built-in plugins and features. Squarespace does offer some integration with specific services. But, still, it is very limited.
Conclusion
WordPress clearly beats Squarespace in terms of design and features. WordPress has a large set of plugins that can make your website experience a lot better.
How much does each cost?
Most of us will be concerned about the cost while making a business decision. Let us see how to platforms varies in terms of cost.
WordPress
You can download, use, change, and build upon WordPress for free. It is an open source software.
You need a website provider inorder to build a website with WordPress. You have different plans to choose a hosting provider depending on your needs. You can choose either a shared hosting plan, virtual private server or even a dedicated server.
One of the biggest advantages of WordPress is that the overall cost of building your website with WordPress is very low. It might cost only $50 per year if you are willing to go with cheap shared hosting.
Squarespace
The cheapest plan for Squarespace starts with $96 per year. Unlike shared WordPress hosting plan, Squarespace personal plan comes with limited features. The most expensive plan cost $480 per year.
The cheapest plan limits you to 20 pages and charges an extra transaction fee if you want to create an eCommerce store.
Conclusion
WordPress wins the race when it comes to cost. It beats Squarespace with flexible plans. In WordPress, you get the value for what you pay for and you are free to use your website any way you want.
The final verdict: Which one to choose?
By now you should have understood which platform to choose for your business. WordPress is far ahead of Squarespace as a web publishing platform for any kind of business. Squarespace is a good platform only for small businesses which requires limited functionality. Squarespace is only better in ease of use when compared to WordPress since it has very limited functionality. Nothing is 100% perfect each of them has some drawbacks. At the end of the day, it is your requirements that becomes the final deciding factor to choose between the two platforms.
We hope this article helped you in choosing the best between WordPress and Squarespace. Read more related articles here.