Last updated - January 18, 2022
Managing an eCommerce store is no easy task. You will have to ensure every aspect of store management is running smoothly and consistently. There is a lot of scope for automation when it comes to several daily tasks. Automating daily tasks could help to ensure they are executed flawlessly and without delays. Moreover, this could help in improving the overall customer experience in your store. In this article, we will discuss some of the best workflow automation plugins for WooCommerce.
This plugin will help you connect your WooCommerce store with several apps that will help you automate your workflow. You will be able to trigger multiple changes in different apps based on specific eCommerce events. This will help you not miss important steps in order fulfillment, accounting, customer relationship management, etc. The plugin will help you act on different triggers and actions like products, subscriptions, orders, coupons, etc. Moreover, it is compatible with several popular WooCommerce extensions and payment gateways.
Features
Create links between your WooCommerce store and popular cloud apps.
Set triggers and actions based on different eCommerce events.
Compatible with core WooCommerce currencies, payment gateways and popular plugins.
Simple user interface to help you manage different integrations.
The plugin will cost you $59.
This plugin will help you automate marketing communication on your WooCommerce store. It offers an option to send follow up emails including cart abandonment mails. You will be able to customize emails by inserting products, dynamic content and experimenting with different display options. You can schedule the email campaigns and offer interesting offers to customers as well. Furthermore, the plugin has a range of other features including email capture, session tracking and conversion recording.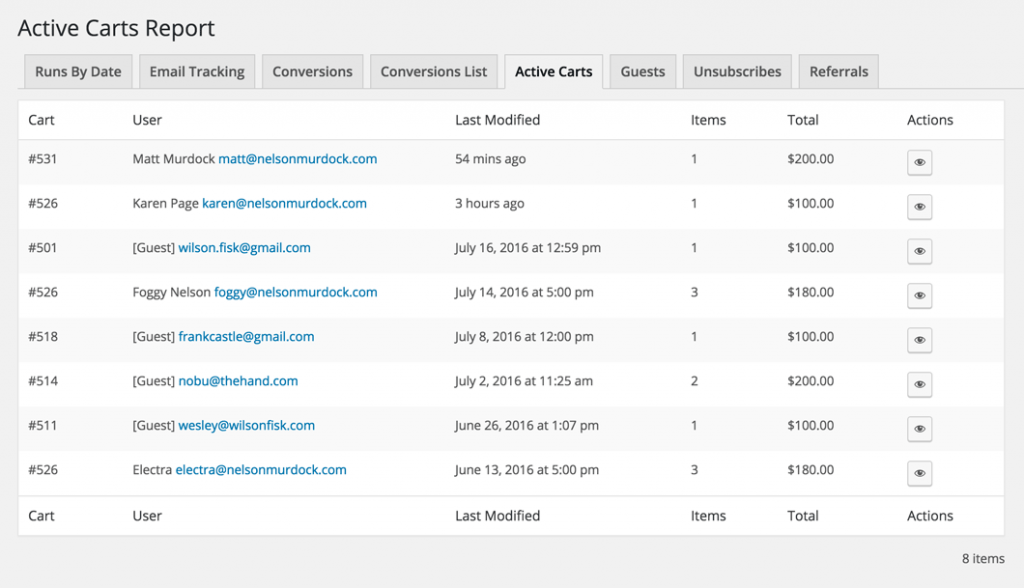 Features
Automate the follow up email process on your store to bring back customers and reclaim abandoned carts.
Send SMS notifications and wishlist reminders to customers.
Create personalized discount coupons.
Automate subscription management.
Refer a friend option with the help of an add-on.
You can get the plugin for $99.
You might be using several different tools to manage different aspects of your online store. Each of these solutions will require your store data in different formats and time schedules. This plugin will help you import different store data and helps you automate the process as per different requirements. It helps you customer, order and coupon data in CSV and XML file formats. Moreover, you can automate the export process and handle multiple exports manually at the same time using email, FTP, etc. And, it ensures the smooth running of the export process in the background without affecting your site performance.
Features
Export different store data including customer, order, coupons and even those from custom fields.
Use custom formats to export data as per the requirement.
Easily process export of bulk data.
Large file exports can be managed asynchronously.
Create automated export schedules by specifying a recurring time interval.
Compatible with several popular plugins.
The cost of the plugin is $79.
This is another great option that will help you connect your WooCommerce store with numerous cloud services that you may use. It will help you automate the process efficiently with support for more than 1000 enterprise apps and services. You will find a large range of conditions, advanced data types and error handling options to automate the workflow smoothly. Workato lets you customize integrations with several triggers and actions.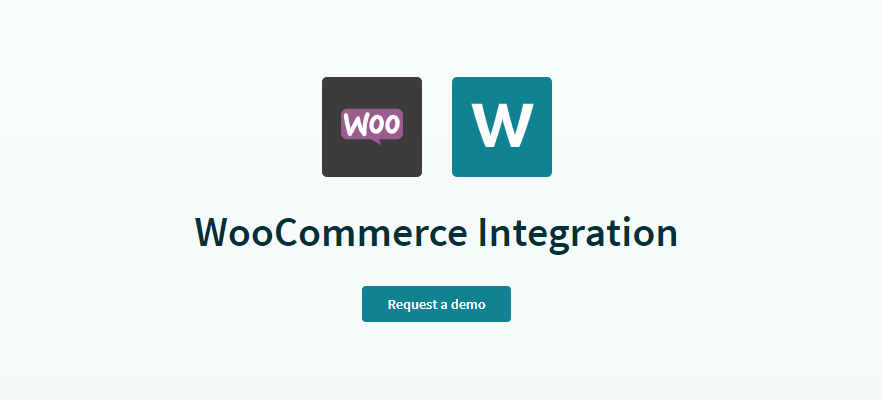 Features
Integrate your WooCommerce store with different cloud solutions.
Pre-built recipes that you can clone and customize for faster integrations.
Create automated workflows with triggers and actions.
Foolproof security features.
Easy configuration process.
Easily focus on enhancing conversions on your store.
You can schedule a demo on their website to know more about specific pricing details.
WSDesk is a popular WordPress helpdesk plugin that helps you handle customer queries with ease. It helps you create unlimited agent profiles and manage an unlimited number of tickets. In addition, you will find several features with the plugin including workflow automation for your customer service department. You can use triggers to set up different automation actions within the plugin based on ticket status and customer responses. The plugin also offers canned responses that your agents can use to quickly respond to common queries of customers.
Features
Handle unlimited ticket data for your customer queries.
Create unlimited agent profiles for your customer service team.
Automate the workflow of customer support department with triggers and actions.
Ajax-based design for faster page loads.
Process to import support emails to your ticketing system.
Detailed analytics options.
Option to make customers pay for support separately with the help of an add-on.
You can get a single site subscription of the plugin at $89.
You can automate the order fulfillment on your WooCommerce with the help of Amazon using this plugin. It will help make your order fulfillment process exceptional with options to specify a fulfillment flow with preferred shipping options. The plugin sends email notification if it detects any error in product or order information that hampers a smooth fulfillment.
Features
Offers an option for Fulfillment by Amazon (FBA) for individual products or for a set of products on your store.
Track the shipment status right from your WooCommerce admin.
Map your WooCommerce shipping options to the different shipping speed categories of Amazon.
Order status email notifications.
Automatic sync of stock levels.
Partial FBA fulfillment when an order has both FBA and non-FBA products.
Manual option for sending an order for FBA.
The cost of the plugin is $129.
This plugin helps you generate product feed for Google Merchant Center to display your products in Google Shopping ads. It will help you generate product feeds of your store taking into account the specifications of Google. More importantly, it will help you automatically update your feeds by setting a time schedule. This will ensure that any changes made on your products will reflect in the feed as well. Furthermore, the plugin has advanced features to map product categories and attributes with that of Google.
Features
Automatically create Google Shopping feeds considering your store location and preferred file format.
Update feed automatically based on a specified schedule.
Easily map product categories and attributes.
Specify diverse conditions for more effective mapping.
Helps you manage multiple feeds.
The plugin costs $69 for a single site subscription.
Generating invoices for your orders could be a hassle as WooCommerce does not offer the capability out of the box. You can use this plugin to automatically generate PDF invoices on your store. Moreover, you can share them with customers easily.
Features
Automatically generate PDF invoices.
Customize the template to include store specific information.
Number your invoices sequentially.
Allow customers to easily download their invoices.
Manually resend invoices to customers.
The cost of the plugin is $79.
You can integrate your WooCommerce store with ShipStation with the help of this plugin , and manage shipping and fulfillment more effectively. You will be able to import order data from multiple channels and access it on a single dashboard. It will also help you find the best discounts from shipping carriers. In addition, you will be able to customize shipping documents, tracking data and notification emails. The advanced automation features of ShipStation will help you manage order fulfillment effectively.
Features
Automate the order fulfillment process on your WooCommerce store.
Access order details from multiple sales channels.
Get discounts from prominent shipping carriers and save shipping costs.
Customize email notifications, invoices and other shipping documents.
ShipStation connect for wireless printing.
Mobile app for label printing.
You can download the plugin for free from the WooCommerce marketplace. Please note, you will have to opt for a monthly payment plan of ShipStation after the trial period.
MailChimp is one of the most popular marketing automation platforms in the world. This plugin will help you integrate your WooCommerce store with MailChimp seamlessly. It will automatically sync your store's customer and order data with your MailChimp account. This will enable you to create targeted follow up campaigns, reclaim abandoned carts and track your marketing success. It will be a great addition to boost your email strategy.
Features
Helps automate your marketing efforts.
Syncs purchase and customer data with MailChimp account.
Send targeted emails to follow up, reclaim carts and old customers.
Segment customers based on their shopping data.
Great reporting dashboard to understand the performance of your marketing efforts.
Automatically embed popups and add discount codes.
The plugin is free for download. You will have to get a MailChimp account as per your needs.
Hopefully, workflow automation plugins for WooCommerce make your store management more easier and efficient. Leave us a comment if you have a query.
Further reading