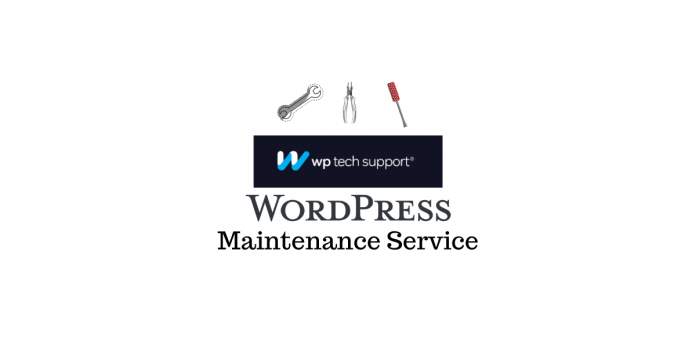 Regularly maintaining a WordPress site can be a challenging task. It can get really complicated if you are running a small business on your site. If you are not really an expert in coding, things can get really challenging as you face new issues. Hiring an expert every time you face an issue won't be the right way to go in terms of operational efficiency as well as cost effectiveness. This is where WordPress Maintenance Services can be a good option for WordPress-based businesses of all sizes. In this review, we will try to understand more about WP Tech Support, a dependable WordPress maintenance service that offers multiple packages.
How WP Tech Support can help?
Continuous downtime is an essential aspect for any web-based business. If your site faces unexpected downtime regularly, it can negatively impact customer experience and search engine ranking. It may not be quite an easy prospect to maintain the technical aspects of a WordPress site along with all the other business related responsibilities. That is where a dependable, proactive partner for your WordPress site maintenance can really help. With a holistic approach to site monitoring and maintenance, WP Tech Support will provide you with the essential peace of mind while handling a WordPress-based business.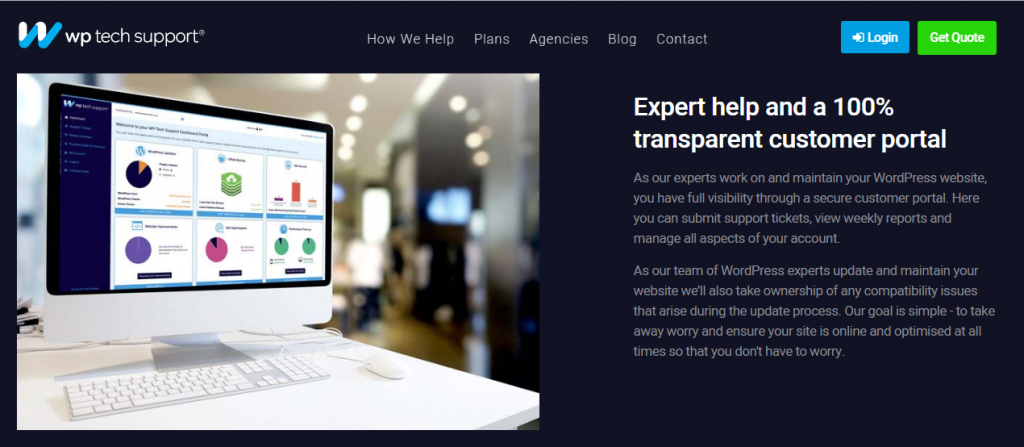 Feature Highlights of WP Tech Support
Let us take a look at some of the features of WP Tech Support that you will get when you sign in for a maintenance package.
Emergency WordPress Fixes
With all their packages, they offer an option for emergency WordPress fix. If your site is facing any issue that is preventing it from smooth functioning, they will fix it. For the starter package, this option is available once, and for higher packages it will be an ongoing option.
Regular backups
Backups are one of the most important aspects to make sure your site will run hassle free in the event of any security breaches. WP Tech Support ensures that there will be timely backup of your site's data to a secure cloud server.
Continuous monitoring
They also ensure that your site is continuously monitored for any possible security threats and malware. This will be a 24/7 process when you sign up for their services.
Get easy access to support
When you face an issue on your site, it is highly important to get support immediately. WP Tech support offers a portal that will ensure easy access for you with the support team. In addition to raising support tickets, you can use this portal to access performance reports as well as other aspects related to site management.
WordPress updates
As a WordPress site owner, you know the importance of regular updates. WP Tech Support offers regular updates of your WordPress core files, themes and plugins, which can be really helpful in site maintenance.
Protect from spam
Spam is most probably one of the most annoying things you may have to encounter while managing a WordPress site. With the help of WP Tech Support, you will be able to control the trouble of spam on your site. They will delete spam comments on your store, as well as keep on monitoring to avoid future troubles.
Improve site performance
Consistent site performance is an essential aspect of business success. If your site's page loading speed is low, you might be repelling users without knowing. With the top end package of WP Tech Support, you will find a "performance tune up" option that will take care of this aspect.
Helps with search engine optimization
WP Tech Support offers help to improve the search engine optimization initiatives on your store. They do an SEO audit on your website to understand the settings on your store. And help you implement changes to ensure that the search engine visibility is top notch.
Ongoing site improvements
Your WordPress site will require changes and updates from time to time. The higher packages of WP Tech Support offers time for small ongoing development work your site might need at times.
WP Tech Support Pricing Plans
There are several support packages that you can choose from for your WordPress site. Based on the specific requirements of your site, you can choose a package that is most suitable for you.
Basic
The basic package of WP Tech Support includes a one-time emergency fix, which you can make use of when you sign up with them. This package also include features like Weekly Reporting, weekly WordPress core and plugin updates, daily malware scanning, etc. It also ensures that your site security is improved overall, and provides weekly backups of WordPress files and database on a secure off-site location. The support window for this package will be 24/5, which Monday to Friday. The Basic package will cost you $25 per month.
Standard
The Standard package offers all the features of the Basic package and provides a few additional options. You will get an initial website health check, and an ongoing emergency fix once a month. You will also get daily backup option instead of the weekly backup option of the Basic plan, and round the clock up time monitoring. More importantly, with this plan, you will get 24/7 access to the support. This package will cost you $36 per month.
Pro
This is one step ahead of the Standard package. First of all, you will get unlimited emergency fixes with this one till you have it active. In addition, you will get periodic WordPress theme updates as well as malware removal. One of the added advantages of this package is the 60 minutes of site improvement, which includes small development work as well. This package is priced at $48 per month.
Business
This package naturally gets all the features of Pro, along with a few additional options. With the Business package too, you will have unlimited emergency fixes as long the package is active. In addition, you will have 90 minutes of development improvements per month, which will be done within 48 hours after placing a request. This package also includes an SSL certificate for your site, which can be a good option to ensure the safety of transactions.
Performance tune up is a unique feature of this plan that will help a lot in improving the performance of your website. In addition, you will also get help in improving your search engine visibility and organic traffic. When you signup for this plan, they will do an initial SEO audit on your site. You will also get before and after reports, which will help you understand the effectiveness of the changes they make.
WP Tech Support pricing details
White label WordPress maintenance
For designers and developers and agencies who have WordPress site owners as clients, WP Tech Support offers white label WordPress maintenance options. Let us take a look at the features of this as well. With this option, designers and developers will be able to offer maintenance support to clients without really taking in the hassles. The team of WP Tech support will work behind the scenes and ensure that the client gets top class support. They will interact with the client to understand the problem and provide a valid solution. So, without really fretting, designers and developers can provide reliable support to their clients, and ensure some additional income as well.
There will be a lot of designers, developers and agencies who create WordPress websites for their clients. They will mostly be not equipped always to carry out ongoing maintenance for their clients. In such cases, it will be a great option to collaborate with a reliable maintenance service provider to offer an option to clients. WP Tech Support offers sufficient expertise in this regard with an experienced team. Moreover, with transparent reporting features and straightforward pricing offers a simple solution. The result will be continued client satisfaction without a lot of heavy lifting.
Why you should consider opting for WordPress Tech Support?
Maintaining a WordPress site needs your full attention all the time. When you are handling the nuances of a business, it is not always possible to handle all the technical aspects as well. Moreover, a lot of WordPress site owners won't be technically savvy to handle maintenance aspects on their own. Under all these circumstances, it is fairly logical to handover the maintenance aspects of your site to a reliable team. WP Tech Support provides a dependable team of WordPress experts to handle the varied aspects of your site performance and security.
Checkout the services and pricing of WP Tech Support to find out if there is a suitable plan for your WordPress site. Leave us a comment if you have any queries regarding the service.
Further reading