Last updated - March 9, 2020
Everyone loves to drive traffic to their website. Social media is an integral part of any of the business. Many of the customers are choosing the products through social media nowadays. So if you are not at all bothered about your social media marketing, you are avoiding a larger customer base. Through this article, let's discuss some of the best social media plugins for your WordPress site.
Facebook, Twitter, LinkedIn, Pinterest, Google+, etc are some of the popular social media sites. It is your choice to choose the best for marketing your business. In this article, we have categorized the plugins based on factors like quality of the plugin, how it affects the overall speed of the plugin, design etc. When it comes to social media design and appearance has a lot to do.
Kiwi Social Sharing
This is an easy to use yet comprehensive social sharing plugin, Kiwi Social Sharing gives you all the options to catch the user attention. This plugin comes with a free as well as a premium version that you can use on your WordPress site.
Kiwi Social Sharing supports all the popular social networking site. You can easily set it up and increase your social media traffic. There are so many social media sharing plugins in the market, but most of them will affect the performance of your site; Kiwi stands out in this regard because it will not affect the loading speed of your site.
No matter where you place the social sharing buttons, it will surely catch the attention of your visitors. It gives you the option to place the buttons above and below the content, you can also set the floating icons so that it grabs the attention at all time. This plugin offers you the ready tweet feature so that your users can just click and share your post on Twitter.
Kiwi Social Sharing plugin also has a quick drag-and-drop setup option so that you can drag and rearrange the elements as of your choice. When it comes to customization, it offers you four different button designs to choose from and unlimited color options to style your buttons.
Monarch Social Sharing Plugin
Monarch by ElegentThemes is one of the popular social media plugins for WordPress which is one of the best in the market and deserves your attention. It has about 20 social sharing networks to share the contents of your website. Here you will get an option to add and arrange any number of available networks as you like.
The placement of the social sharing buttons can improve the effectiveness of your social media promotion to a large extent. Monarch social sharing plugin offers you customizations of locations that you can choose to place sharing buttons.
Another important feature to be noticed in this plugin is the image sharing option, we all know that sharing images on social media site can be very useful for your social media promotions. If you are looking for a plugin to share your contents on social media, Monarch social sharing plugin can do the job for you.
Jetpack
Jetpack is one of the most popular WordPress plugins available. It has over 34 modules and more are being added by Automattic. The sharing module is very simple and efficient.It supports nine social media networks, as well as email and print buttons.
You can display icons, text, official sharing buttons etc… and these buttons can be enabled on your homepage, archives, search results, pages, posts, and media. Overall the plugin is simple sharing solution. The output is great and it takes only few seconds to configure.
Social Warfare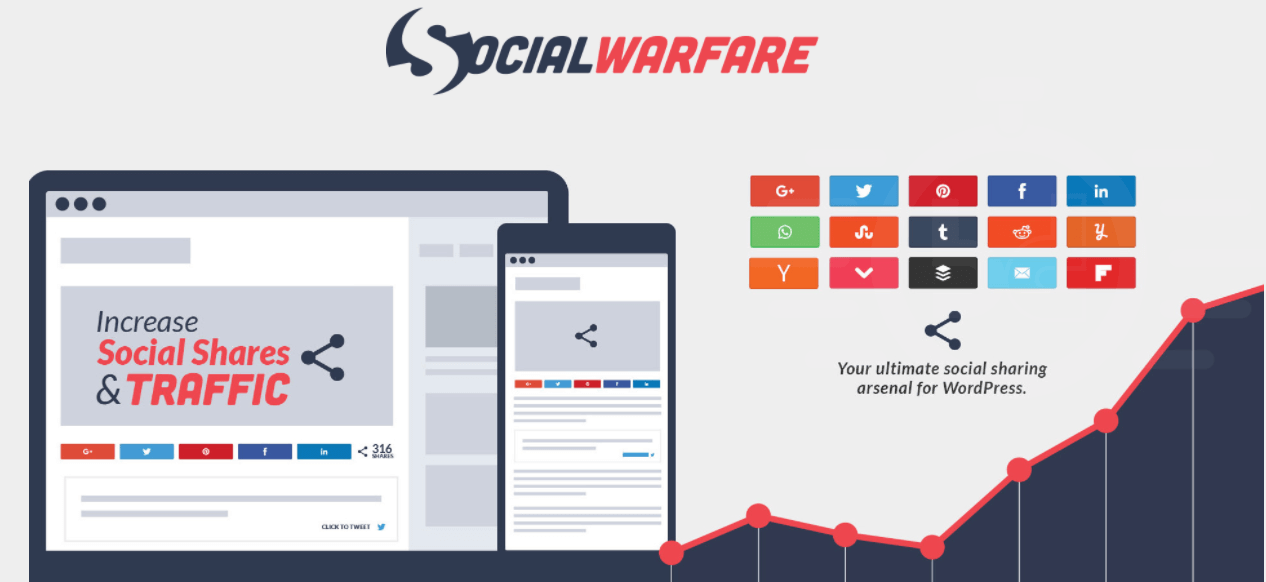 Social Warfare is an excellent social sharing plugin for WordPress. The buttons in this plugin are beautiful and highly customizable for your WordPress site. By using this plugin you can create in-post tweetable quotes that make it easy for the users to share your custom messages.
It also provides you an option to upload image and descriptions that are specific to Pinterest which will help any blog to drive a lot of traffic from the popular image sharing platform. It also has a widget that will help you to showcase the most popular content of your site depending on the number of social shares.
This plugin gives you a provision for analysis of the social data, it automatically adds UTM tracking to every shared link so you can keep a track on how your social shares are performing, and there are some other amazing features too that make it one of the best social media plugin for WordPress.
ARSocial
ARSocial is one of the best social media plugins that can fulfill all your requirement as far as social media integration of your site is concerned. This plugin can provide you the features like social sharing, social like fan counter, social locker, etc. , so once you have this plugin, you don't need any other plugin for these purposes.
This plugin supports about 42 different social media sites, which is quite more than many of its competitors. It provides you an option to place the social sharing buttons sitewide as well as section wide to maximize the conversion.
The plugin displays the social media buttons automatically at specific locations. It also has an option for the custom placement of buttons at specific locations for the mobile devices.
ARSocial has styling options so that you can change the design of your buttons according to your choice. You also have built-in analytics tool that will help you to get the details of your social sharing instantly.
Easy social share buttons for WordPress
Easy Social Share plugin is one of the complete and highly optimized social share buttons packages. With a single plugin, you get an opportunity to share your contents to a number of social media platforms. Thus increase your shares, grow your profile and increase your traffic.
This plugin offers you support for more than 45 major social networks including a wide range of optimized mobile messengers. Not only this, the plugin comes with a complete package of 27+ design positions, 30+ animations, and customizations.
If you are using the premium version of this plugin, you don't need to search for any other social media plugin, because it is a comprehensive solution for social media integration for WordPress. It provides you some options and features to play around and design the social sharing buttons as you like it.This plugin is highly customizable. You can adjust all the features according to your choice.
Simple Share Buttons Adder
Simple Share Buttons Adder has an option to attach buttons for social media sharing above and below your content areas automatically. The buttons can also be inserted into homepage, archives etc.
The plugin supports 15 social media services. The plugin also offers an option to change the text that's displayed next to the sharing buttons. Apart from this, you can modify the modify the styling of buttons, their alignment, and the container.
The plugin has nine unique button designs. This allows the number of shares that are to be displayed, and comes packaged with its own widget even though it is a simple sharing solution. The premium version of the plugin is available from $9.99 and offers various additional features such as retina-ready images, click tracking, and sharing statistics.
Mashshare
Mashshare is one of the big social media plugins. The free version supports Facebook and Twitter. It also shows the total number of shares and views. The sharing bar can be customized to share above or below your contents.
The plugin also has a subscription box. With this you can configure its contents using the WordPress editor, or, if you prefer, you can link the subscribe button directly to a URL. This is one of the highlighted features that makes Mashshare ahead of the competition.
Nine premium add-ons are available for Mashshare including an add-on to support 17 networks, facebook like bar, etc.
Concluding notes
When it comes to social media sharing everyone will be having different opinions and different requirements. Choosing the best social media plugins are totally up to your requirements. We would recommend trying out the plugins listed above. Try the demos of each of these plugins and if it suits your requirements, go for the premium version. We can assure you that all the plugins mentioned above are worth for the price they are being sold.
Make sure that the plugin that you choose has everything you needed and integrates well with your website. Hope this article was helpful. To read more related articles, go to learnwoo.com.