Description
Last updated - March 6, 2023
WordPress is basically a Content Management System (CMS) that allows you to build custom websites and blogs seamlessly. WordPress Tutorial PDF eBook by LearnWoo will teach you how to build a website and blog from scratch and also to set up an online store using WordPress and WooCommerce in simple steps with real screenshots! In addition to that, you will get an insight into various SEO techniques and essential themes and plugins which will enhance the scope of your website.
For your ease of understanding, we have divided the eBook into 16 chapters, and perfectly organized each chapter into convenient sections to make you understand all areas precisely.
1. Introduction to WordPress
This chapter will give you a detailed idea of WordPress, and how WordPress.org differs from WordPress.com. At the end of this chapter, you will definitely be able to install WordPress on your system and set up a local web server with XAMPP (for Windows) or MAMP (for Mac OS) by yourself.
2. WordPress Hosting Basics
After setting up your website, it is necessary to make it live on the internet to get the audience to your website or blog all around the world. This chapter will help you on how to register a domain name, choose a hosting plan based on your business requirements, and choose the popular hosting service providers to get your site up and live on the internet.
3. Configuring WordPress and Starting a Blog
If you go through this chapter thoroughly, you are good to go for writing and publishing your blog articles on WordPress flawlessly. This detailed section will help you on creating and publishing blog articles, and how to manage with Gutenberg theme and block editing options. Also, you will get a clear idea on HTML and CSS basics for writing blogs easily. In addition to this, you will learn how to assign user roles and get to know about the permissions and accessibilities of each user role in WordPress.
4. Introduction to themes and plugins
It is important to customize your website as per your business requirements. To make this task easier, choose a WordPress theme and integrate it with your website. In order to enhance the website performance and improve the scope of business, integrate essential plugins in your WordPress website. How to do this and where can you find these themes and plugins? This chapter will help you with this!
5. Introduction to WooCommerce
Do you want to run an eCommerce business with your WordPress website? Then, this section is for you! Go through this chapter to know more about the WooCommerce plugin and how it makes your site fit for running your online business.
6. Building an Online Store with WooCommerce
This chapter explains the process from downloading the WooCommerce plugin to making your storefront look and feel good for customers. This detailed guide will help you to set your store from scratch as it includes the steps to add your products, setting up categories, tags, and so on. Furthermore, you will find a list of themes that will help you to make your store more presentable.
7. Configuring WooCommerce Settings
An online store must be ready enough to manage all purchase and shipment related actions more than a physical store. In this chapter, you will learn how to groom your store with managing the currency, location, stock management, 'Add to Cart' behavior, shipping, checkout process, billing, etc.
8. Managing Orders, Coupons, Reports
What do you need to do when a customer places an order? How to provide coupons for your customers and how it works? Check out this chapter to know more details about these. Also, this section will give you an insight into how to learn and take action from the reports!
9. Managing WooCommerce Extensions
Plugins and extensions play a vital role in uplifting the quality of your online business activities. It will be great if you add plugins and extensions which makes the tasks smoother and efficient. But, how to get the extensions and check whether the selected one is the perfect choice for your store? And, how to upgrade these extensions and check the compatibility with the existing plugins in your store before choosing one? Check them in this chapter!
10. Basic SEO for WordPress
Search Engine Optimization (SEO) is a method to make a business reach more customers by optimizing websites with various techniques. There are a number of factors you have to optimize on your website while publishing an article, preparing content for a product page, deciding a page URL, and so on. These aspects need to be done internally and inside the website. Check out this chapter to get deep information about these.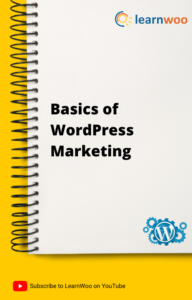 11. Basics of WordPress Marketing
This is an advanced section that will help you to get a deep understanding of where to start the website marketing, the tools you must explore, and practicing on-page and off-page SEO strategies to reach a potential audience.
12. Optimizing WordPress Performance
If you let your customers wait for a while to load a page, they will definitely jump from your site to your competitors' site. What are the factors that lead your site to load slowly? And, how can you avoid the reasons to make the site load slowly? You will get a detailed idea and solutions from this chapter.
13. WordPress Security Essentials
Do you think your site is 100% safe and protected against malware and hackers? No, right? Keeping your site away from attackers and hackers is not a simple task as the internet is not at all a secure place. Go through this section to know what security measures you need to take to prevent your site from security breaches.
14. Import & Export Products on WooCommerce
As a WooCommerce store owner, it is a routine task to add product details into the store frequently. But, what if you need to add multiple products together? The perfect solution is to make a list of products and export them to the store. How can you do this import and export of products? And are there any extensions in the market to make this work easier? Read it in detail in this chapter!
15. SEO Tips for WooCommerce
This chapter will be the compilation of all SEO and marketing strategies you must consider for the improvement of your WordPress site or WooCommerce store performance. You will gain good knowledge in managing your website and working out essential SEO and marketing practices once you complete this chapter. Hence, refer to this chapter for enhancing your knowledge on SEO and for polishing the strategies you have previously learned.
Themes are not at all limited to enhance the look and feel of a WooCommerce store. You have to consider other aspects like how it will impact the site speed, SEO,  compatibility with other extensions in the store, and so on before choosing a theme for your store. Also, check thoroughly whether it is capable of satisfying the visual quality and user experience of your online store. Read to know more in this chapter.
Are these eBooks Tutorials downloadable?
Yes! All the chapters of the WordPress Tutorial PDF eBook are downloadable. 
Can I get refund at any time after purchase?
No, refund is not applicable.
How long the download of the eBook will be valid after its purchase?
Your eBook download will be valid for one year after the purchase.