Last updated - October 10, 2021
It's always the choices you make which set you apart from the mainstream crowd! In the case of e-commerce web development, this isn't too different. When you're all set to establish your e-business, you've broadly got 2 options – either opt for customized solutions or sign up for Software as a Service (SaaS) / Platform as a Service (PaaS). Let's dive deep into the mix to grasp the gravity of the differences these two options bring to the table.
What Is Custom Software Development?
Custom development is one of the options for building e-commerce websites. It's scalable and lets you stay in sync even when your business achieves optimal growth. As a budding e-commerce startup, you'd always wish to keep growing and expand your business horizons.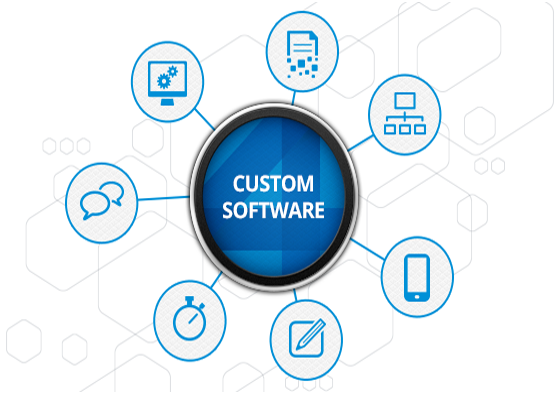 Custom software and web development caters to your specific needs and requirements with respect to your e-business objectives. Though you can attain the desired features and design, it's still a tricky task when it comes to the implementation. For starters, here are the main advantages and disadvantages:
PROs
A customized approach helps you accomplish the exact features and functionalities you want, the way you want them.
You're the sole owner of all data while no third-party gets access to it.
You enjoy full control of the website management system.
You don't have to tweak your methodologies to suit the software's needs.
Can give you a tech edge over competitors.
Helps you strike your own USPs and thereby build a strong brand presence.
CONs
Custom web development is a time-consuming process.
The initial project costs can be higher.
Real-time maintenance and QA testing are required for consistency.
Managing huge chunks of data and the hosting server is a challenge.
You'd have to heavily rely on your developer for technical changes and updates.
If you're planning to run an e-business with systematic core procedures, then custom web development services are the way to go. Translating core competencies and USPs into a custom, proprietary software system can result in amazing outcomes. However, a skilled workforce and in-depth research are crucial to a successful outcome.
What Is SaaS & PaaS?
SaaS (Software as a Service) can also be a viable solution for your e-commerce software needs if an off-the-shelf white label commercial product with limited opportunity for customisation is all you need.
The main advantage of a SaaS website solution is that it can be up and running very quickly with minimum set-up, configuration. The biggest job will probably be uploading your own content.
Web hosting is also the responsibility of the vendor you choose. You just have to upload your products and boom – you can start selling instantly!
With a SaaS-based website you're usually charged a monthly fee that covers hosting as well as the use of the white label website software. You may be charged extra for value-added services such as a payment gateway or smart cart. Or fees might come in the form of a small portion of your turnover. Shopify is one of the most popular SaaS-based Ecommerce platforms.
PaaS (Platform as a service) is similar to SaaS apart from the fact that a readymade website isn't on the cards. It can be used to configure your own website. From add-ons to other features – you can develop them on your own too. This is because PaaS provides you with the standard codes and API compatibilities.
For example, Magento is a cloud-based platform that lets developers design tailored extensions. The extent to which you can customise your e-commerce site is what separates PaaS from SaaS.
PROs
Your costs are leveraged to serve a large target audience.
You can focus on your business while the software company oversees the setup and maintenance requisites at all times.
SaaS and PaaS are generally quite cost-efficient.
Your software/website doesn't take long to get launched.
A huge amount of resources are up for grabs.
CONs
Your data is in possession of the software company's server system.
The availability of cloud services isn't guaranteed in the long run.
Apparent change in the system features would mean a potential risk of malfunctions and bugs.
More than a single cloud app might be needed to fulfill your e-commerce web requirements.
Re-development costs can outdo the cost of developing your own software or website.
Embracing a standard set of practices means a lack of USPs and competitive advantage.
Let's summarize – SaaS is a technology that can be leveraged for a small segment of the costs. Although, you'd still be depending on a generic platform and might have to let go of your vital processes to fit in with the platform.
Custom Software Development Vs. Web Development On SaaS / PaaS
A custom e-commerce website and one built on SaaS/PaaS have their own strengths, weaknesses and use cases. Here's a round-up comparison to conclude:
Costing Aspect
If you're planning an e-commerce start-up, custom web development services would demand deeper pockets and a long term approach. You'd need professionals who can prepare the product roadmap, supervise developers, and achieve your project's goals. Costing would include the salaries or fees of the development team you hire. Generally, this would mean significantly higher costs than SaaS/PaaS solutions.
SaaS/PaaS can be ideal if you're short on time and want to avoid the web development process. You'd just have to purchase a domain and choose a SaaS or PaaS solution. From there, the software vendor will take care of the entire setup and launch process. Costs will vary but as an example, Shopify packages range from $9 to $299 per month plus 2.9% commission on sales.
Time Aspect
You should plan for a minimum of 3 months for your website or software to be ready to go live if you're opting for custom development.
SaaS/PaaS solutions take anywhere from one day to a few weeks to get your website or software live.
Scalability
In the case of custom software development, you can expect:
A personalized structure and process.
An entirely scalable process.
No-limit expansion prospects with real-time updates possible.
Reap wholesome benefits from the initial investments.
In the case of SaaS/PaaS e-commerce solutions, you can expect:
Serving a large segment of users through generic software resulting in minimum scalability.
Business expansion is a farfetched possibility due to platform limitations.
Revenue Aspect
Custom web development means all the sales you generate and the revenue you earn stays with you. It's all yours and you'd owe nothing to the third parties. Moreover, customized solutions result in an efficient server and database which can manage huge web traffic with ease. You can customize numerous facets of business like providing custom offers, tailor-made page layouts, shipping discounts, and much more. With no intermediary existing to take money from your earnings, your margins stay with you!
While using SaaS/PaaS solutions, the revenues might take a beating in the long run. With increasing revenues, a per-transaction fee as high as 3% may be levied. Also, your website/software would be relying on shared public servers which may result in a crash, inaccessibility, etc. Also, with no customization, it results in a standard outlook with respect to your customers.
The Verdict – Where Should You Finally Invest?
Both of these channels have benefits and downsides. On one hand, custom solutions are meant for all the businesses which are looking to go all-in with their investments only to achieve heaps of it in return! On the other hand, SaaS/PaaS is specially cultivated to suit the needs of small enterprises and start-ups who need business stability initially and are willing to pay small portions on a periodic basis.