Last updated - September 1, 2021
If you have a WordPress site, you know comments are an important component. They help you accept feedback from your users. Generally, comments make blogs interactive and provides an option for users to clarify their queries and start discussions. They are also often a good strategy for marketing and search engine efforts. However, there are certain downsides too to WordPress comments like spammers using it extensively. So at times WordPress comments can turn out to be a big hassle for site owners.  How will you manage in such a situation? In this article, we will discuss some of the best ways to completely disable comments on WordPress sites.
Advantage of WordPress comments
Before getting into ways to disable comments, let us take a look at some of the advantages of allowing comments on WordPress site. When these advantages outweigh the negatives, you can look for ways to disable comments on WordPress.
Improve engagement
If you are managing a blog, one of the important metrics to measure the success of your blog is interaction from users. WordPress comments are an important component that will help you in this regard. It is actually providing an option to your users to let you know how they are perceiving your content. And interesting blogs always opens further discussions through comments and this will help to add more value for the content. Often strong discussions on the comments section can also be considered as important pieces of content. Overall, the content and readers can benefit from relevant discussions on the comments section.
Gather new ideas to expand your content
Comments are also a good option to get new content ideas. Readers of popular blogs often give suggestions on what content they are expecting to have on the blog. This will provide an option for you provide popular content through your blog. If finding new ideas for each new article is a tough process for you, the comments section could be a very helpful place.
Boost search engine ranking
An active comments section on your site will help with your search engine rankings as well. When there is solid engagement on your content, search engines will organically move such content pieces ahead on their search pages. And if user generated content is adding more value to article, that will be another reason for search engines to prefer such content.
Developing a community around your domain
When you open up discussions through your content, you are actually developing a community around a particular idea or domain. This can be very useful for eCommerce businesses and conversion oriented content. When you develop an expert community, new users will naturally begin to trust your brand, and the discussions will act as endorsements to your commitment to quality.
Challenges that may arise from allowing Comments on WordPress
Even though comments are really a great thing to feature on your blogs, it can create major headaches also for a WordPress site owner. Here are some scenarios
Spam
Spam is one of the most obvious challenge that you face by opening comments option on your blog or website. You have to invest in a good tool to weed out spam or completely disallow comments to deal with this hassle. We will discuss more about those aspects a little later in the article.
Time management
Allowing comments on your blog can demand more time and involvement from you. You will have to moderate the comments section, and even have to reply when there are queries. It may not be an easy thing to do if your site is not primarily a blog.
Negative opinions
Comments can also be a place where unethical business practitioners can use to malign your reputation. Since it is a public forum, replying to negative comments can be a tricky situation for some.
How to disable comments on WordPress using default settings?
WordPress has a few default settings to help you control your comments strategy.
Disable comments globally
WordPress provides you an option to disable comments globally on your website. On your WordPress admin panel, go to Settings > Discussion. You will see an option to allow comments on your upcoming posts. Simply remove the tick from the checkbox, and the future articles posted on your site won't have the option to allow comments. You can make changes on individual posts and pages that will override these settings.
Disable comments on individual pages
You can disable comments on individual pages or posts as well.
For Gutenberg
On each post editor page, you will be able to disallow comments. Click the Settings icon and open the Discussion menu. Here you will find an option to Allow comments on that page or post. This will be enabled by default. You can simply remove the tick from this checkbox. Now comments won't be allowed on this post or page.
With Classic editor
On the classic editor, you can go to Screen options and enable discussions. Now, you will find the Discussion option below the text editor, which you can disable.
Schedule to close comments
Another interesting feature is where you can allow comments for a specific period of time after the post is published. Go to Settings > Discussion, and tick the checkbox that says "Automatically close comments on posts older than". Enable this checkbox and specify the number of days after which you want to disallow new comments. Once this is enabled, comments will be disallowed after the specific period of time.
Controlling the comment strategy
In order to avoid spammers misusing your comments section, you can enable better controls on your Discussion settings. The following options will help you have better control over who you allow to comment and how you want to approve them.
Under Settings > Discussion, you can force users to enter their name and email to be able to comment. You can also allow comments only to registered users of your site. These two options will let you reduce the number of attempts by spammers to post randomly on your site. You can also consider using reCAPTCHA to prevent spam bots from commenting on your posts.
Here, you will also find options for cookie opt-in while commenting, which will help you with GDPR compliance.
Manage trackbacks and pingbacks
Whenever someone refers to your content from another website, WordPress sends you notifications. Some of these you can display in the comments section. However, in a lot of cases, this is also a preferred strategy for spammers. So, it is best to disable these notifications to avoid the hassles of pingbacks and trackbacks.
You can find the option on Settings > Discussion.
Simply untick the checkbox that says "Allow link notifications from other blogs (pingbacks and trackbacks) on new posts".
Plugins to help you disable comments on WordPress
Akismet is one of the most popular plugins that you will find in the WordPress repository. It helps you deal with spams better on your WordPress site. They maintain a huge database of spam and cross checks all your comment submissions to see if they are spam. In fact, this will help you weed out a lot of non issues and save you a lot of time in site management. There is a premium option of Akismet for advanced spam protection.
This plugin provides you better options to determine whether you want to allow comments on individual pages and posts. The main advantage of this plugin is that for a custom post type, you can easily disable comments and pingbacks. This will give you better options to control comments on your site.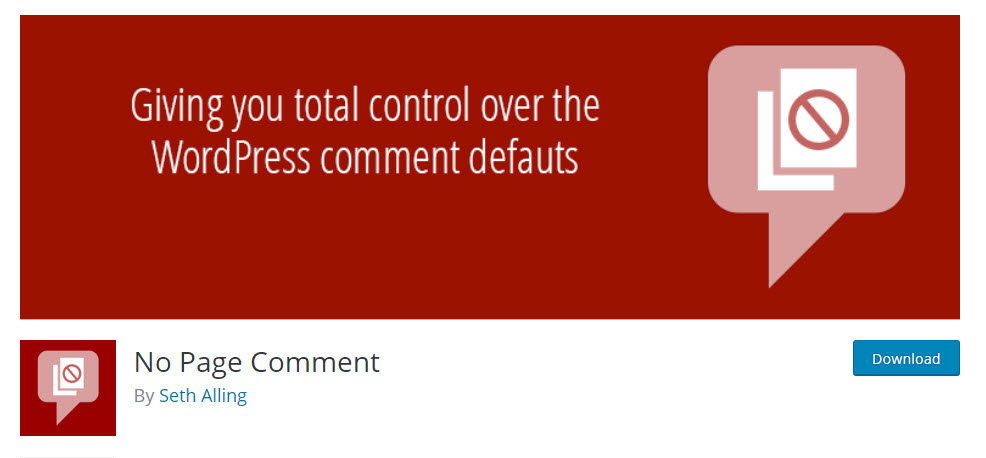 When you want to enforce a comment strategy on post types, you can use this plugin. Once you disable comments on a post type using this plugin, you won't be able to change the settings for individual posts. The plugin removes comment fields from edit and quick edit fields of a post as well. This plugin will be more useful to you if you want to completely disable comments on your site or specific post types. For individual posts management, WordPress default options will be good enough.
Hope you found out different ways to disable comments on your WordPress site. Leave us a comment if you have a query.
Further reading