Last updated - September 13, 2021
eCommerce doesn't always need to be about selling directly to customers. If you have your own set of products, or if you can directly source products from the manufacturer, there is another opportunity. That is selling to retailers at a wholesale price. Overall, the business strategy will change when you are in wholesale sales. However, your incoming revenue will definitely increase, as wholesale purchases are often in large quantities. Similarly, if you are selling your own products, the retailers you sell them to will do their own marketing. This is going to add some benefits to your business in an indirect way. If your online store is based on WooCommerce, you have several choices to set up a wholesale business strategy. This article lists out some of the best WooCommerce plugins to set up the wholesale price in your store.
WooCommerce Catalog Mode, Wholesale & Role Based Pricing
This plugin by ELEX (previously XAdapter) actually helps in multiple ways. You can make your eCommerce store into catalog mode, adjust prices based on user roles, and as you guessed, set up wholesale prices. As a wholesale seller, you may want to apply different pricing strategies. One of this would be to set up different prices for different buyers. This plugin helps you manage a wholesale strategy quite effectively. You can create different custom user roles and set a price or price adjustment for each of the user roles. That way, the plugin helps you set up different pricing strategies for your WooCommerce store.
You can read an article to understand how to set up wholesale price using XAdapter Catalog Mode, Wholesale and Role Based Pricing plugin here.
Get ELEX Plugin for Wholesale Pricing.
Wholesale for WooCommerce
This plugin will help you set up specific pricing for your products just for your wholesale customers. It will help you create multiple wholesale user roles so that you can set up a unique pricing for each. In addition, the plugin offers a customizable registration form that will help new wholesale customers to register on your store. The plugin also helps you make price adjustments based on user roles. Moreover, you will be able to sell to regular customers as well along with wholesale products.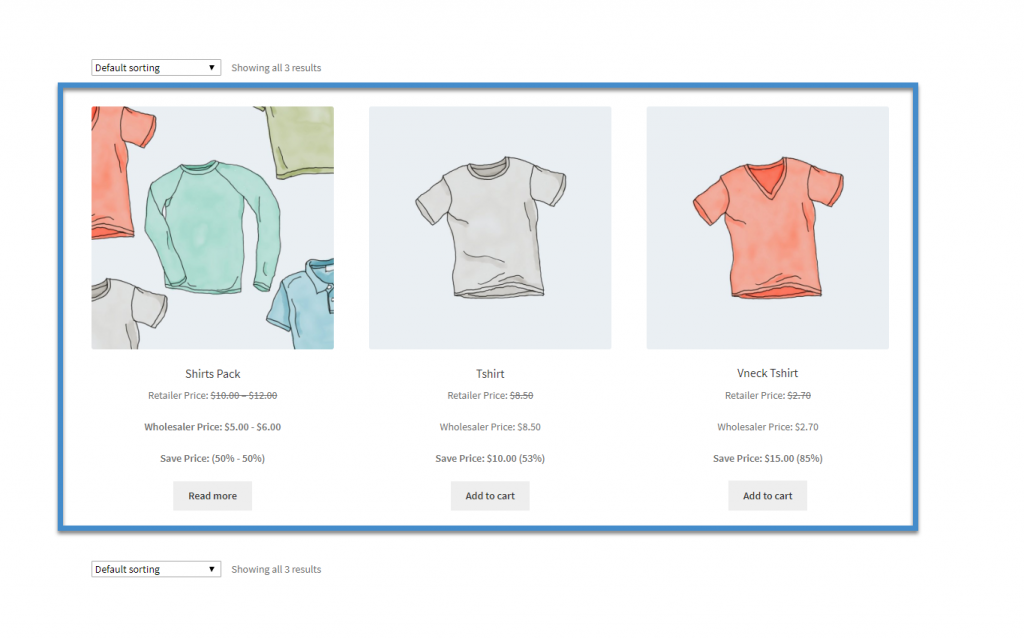 The plugin also has a nice feature to help you customize price labels.
Get Wholesale for WooCommerce plugin.
Wholesale Suite for WooCommerce
The wholesale suite by Woosuite lets you move your entire business online to streamline operations, thus increasing profits. This plugin makes it easy to create wholesale pricing whether fixed-price, tiered pricing, or even a percentage discount off for wholesale users.
This is a superb choice if you want to maximize the potential of your store, whether it's B2B or B2B + B2C.
Store administrators may use Wholesale Suite to create multiple pricing tiers without affecting product quality, gather wholesale leads, and develop fast wholesale purchase forms, among other things.
The best part is that the store owners can easily set dynamic pricing for the wholesale customers. You don't have to duplicate goods to offer different pricing; simply establish a separate price for B2B and B2C customers.
In addition to this, this plugin makes it easier for wholesalers to locate and order the items they want by streamlining the ordering process. You may also enable customers to explore your current store, but they will now see the wholesale pricing you specified for their account type instead of retail prices.
These features make the wholesale suite one of the best plugins for anyone looking to run a B2B or B2B + B2C shop.
Features
Create different pricing without duplicating existing products.

Uses inventory management to manage your B2B and D2C orders in one place.

Offers BOGO deals – Buy X Get Y.

Create tiered wholesale pricing.

Set minimum and maximum order quantities rules.

Create order increments for wholesale customers

Enable/disable payment methods depending on the user going through your checkout.
Get Wholesale Suite Plugin here
WooCommerce Wholesale Prices
This plugin helps you add multiple levels of wholesale pricing to your store based on different user roles. You can add wholesale pricing to all product types on your WooCommerce store, including variable products. This is managed with the help of an additional field on the product data tab. Whatever value you enter in this wholesale price field will override the default price of the product. The plugin displays this wholesale rate only when a user with a specified role log into your store.
One of the likable features of this plugin is the quick and easy installation procedure. And, you get the flexibility to select multiple user roles to activate different pricing. It also allows you to display how much savings each specific customer is making by comparing with the default pricing. Moreover, for customers to avail wholesale pricing, you can set up minimum and maximum quantities while checkout. You can also use an add-on with this plugin to allow users register directly with wholesale customers. Find the add-on for pricing register here.
WooCommerce Wholesale Prices by Rymera
This plugin offers you a chance to set up wholesale pricing on your store based on particular user roles. The pricing field will be available in the product data field, and you can set up the wholesale price for both simple and variable products. You can simply change the user role of those customers who you want to offer wholesale price. The plugin has become really popular owing to the easy to use nature. This plugin also offers you the flexibility to offer wholesale prices only to some of your products and not the entire range.
Once you set up the user roles and wholesale pricing, the plugin will automatically handle the changes in price display. And, the plugin is compatible with quite a few popular plugins available in the market. If you want more advanced features, you can always opt for the premium option, that we are going to discuss next.
Wholesale Suite
This is a great option if you are planning to convert your WooCommerce store into a full-fledged wholesale store. It helps you set up wholesale prices, streamline orders, and manage customers. The Wholesale Suite is actually a bundle of three separate plugins – Wholesale Prices, Order Form, and Lead Capture. The Wholesale Prices plugin lets you set wholesale prices and price adjustments on your store, minimum order amount for special prices, and separate tax and shipping calculations. Wholesale Order Form provides an Ajax-powered, responsive, searchable order form for wholesale customers. Lead Capture provides the registration and signing up capabilities for wholesale customers.
One of the awesome features of this plugin is the multi-tiered pricing option that gives you lot of possibilities. In addition, you can control the visibility of products by labeling them wholesale or retail. You can also enforce minimum purchase rules for order subtotal or quantities for each specific user role. The great after sales support is also one of the reasons why users are so fond of this plugin.
Wholesale Pricing for WooCommerce
This plugin is relatively new but can be quite handy in setting up wholesale pricing options on your WooCommerce store. You can show price variations on your shop page based on user roles, categories, and other parameters. In fact, using this plugin you can apply pricing rules on a group of products. For example, you can apply the price adjustments to all products in a certain category using a single rule. Moreover, you can schedule a begin and end date for these price adjustments.
WooCommerce Wholesale Pro Suite
This is another great plugin that offers a comprehensive option for your wholesale pricing strategy. You can easily create multi-level pricing strategy based on user roles. So, if you create a specific user role for your wholesale customer, you can easily set a different price for that role. This way you can create varied pricing plans for different customers based on your store strategy at the moment. Moreover, you can control the visibility settings as well – hide the wholesale pricing from retail customers. Similarly, you can set pricing variations based on products and categories as well.
The plugin offers more control to store owners by giving you options to set a minimum and maximum threshold for order totals, item quantities etc. Moreover, you can also set the minimum requirements based on the purchase history of a particular user as well. The plugin also allows to display both regular prices and discounted price to wholesale buyers. This way, your buyers will have a better perspective on the benefits they are gaining from your store.
WooCommerce Wholesale Ordering
This plugin offers a simple way to set wholesale pricing on your WooCommerce store. You can create separate user accounts for your wholesale customers and display special rates for products. It gives you the flexibility to handle both wholesale and retail customers on the WooCommerce admin dashboard. The plugin offers full compatibility with WPML and a few other popular WooCommerce plugins.
Alternatives to WooCommerce
If you are looking for eCommerce solutions other than WooCommerce, then Shopify has great features for wholesale pricing.
Download WooCommerce for Free!
Best wholesale price strategies for an eCommerce store
Selling to wholesale buyers offers great scope to exponentially increase your revenue. Moreover, it gives you some indirect marketing efforts from all the retailers who are selling your products. And in the current scenario, with so many solutions available, setting up a wholesale price plan on your WooCommerce store is quite easy. Here is a bird's eye view on some of the aspects of wholesale pricing in eCommerce.
Enhance your customer base
The extensions and plugins that offer wholesale pricing capability on your eCommerce store give you a chance to improve your customer base. In fact, you can create multiple tiers of customers in the same store. Basically, you will have your normal customers who would purchase products from you at default prices. Then, there will be wholesale buyers who are retailers themselves. You can set a special price for these wholesale buyers by applying a discount or markup.
However, one important thing to note here is the pricing strategy. How you are devising the pricing plan for normal customers and wholesale customers is really important. You need to give competitive rates to wholesale buyers so that they can also make a profit. This is because wholesale buyers often buy in bulk and it's advantageous to your general store strategy. And, if you suddenly decide to sell products to regular customers at a lower rate, that might topple the business model of your wholesale buyers who are retailers themselves. Finding a balance in pricing strategy is especially important here, and you need to figure out your plans well before starting the wholesale project.
Threshold values to ensure bulk buying
You can avoid any confusion in pricing strategy by making sure that wholesale buyers always purchase from you in bulk. With the help of above-mentioned solutions, you can easily set a minimum threshold value to ensure this. You can set a threshold on purchase value, item quantities, purchase history of the customer, etc. And, you need to make sure that the minimum threshold will ensure good returns for your store. That way, you will have a better control over how you want to distinguish wholesale buyers from regular customers.
Tiered pricing
Again, you can try multi-tiered pricing strategy to encourage bulk buying. For the same customer, you can offer different pricing options based on your selling strategy. The same product to the same customer can be sold at a different price per item, based on the quantity ordered. For example, $20 for 100 units, $18 for 500 units, and $15 for 1000 units. This way, the wholesale buyer would be more invested to buy more at the lower price range. But this strategy will be successful only if you are very sure about the demand for the product. So, it is advisable to study the market to ensure its feasibility before applying it to your store.
Offer special rates to new customers
For customer retention, you can try strategies like lowering the threshold or pricing pattern for new buyers. If they are able to manage good profit from the first few purchases, chances are they'll stick to you. But, you need to devise and clearly communicate with any newbie offers well in advance. It makes better sense to have a consistent pattern across the store, for such offers. You can always use the sales data to make any tweaks if necessary.
Consider dropshipping
Dropshipping is an eCommerce model that is tried by many online retailers. As a wholesale seller, dropshipping might give you a certain scope in the lines of marketing. Basically, online retailers will display your products on their site. When one of their customers purchase the product, you can ship it. The online retailer will pay you for the product, and you can offer them a discount if it comes to profitable range. As you are saving on marketing expenses, it might bring you some profit after all. However, it is best to be absolutely sure before venturing out into dropshipping, because it is an entirely different business model.
Conclusion
Selling wholesale gives you a lot of scopes to try out pastures that you wouldn't try otherwise as a regular eCommerce store owner. Firstly, you need to have your own set of products or direct links with manufacturers to start a wholesale business. Once you are convinced about that part, you can consider starting a wholesale selling strategy. Different eCommerce platforms offer useful solutions to set up wholesale pricing strategy. Specifically for WooCommerce, you can easily run a wholesale strategy, while at the same time running a regular store. This is achieved by creating user role-based pricing and creating multiple levels of pricing based on parameters like item quantity. This article has offered you a glimpse into some of the best WooCommerce plugins to set up wholesale price. We advise you to do a thorough research on your market and customer base before venturing out though. Happy Selling!
You can also refer to this article for a step-by-step guide to set up a WooCommerce B2B wholesale store.