Last updated - January 27, 2020
The following article is meant to give a detailed comparison of top two WordPress support plugins.
Both the plugins are pretty intuitive. Awesome Support has been there for quite a long time now and over the years it has adjusted itself to the need of its customers. Its popularity among the WordPress user is impressive. Which is well reflected from it's 8000+ free version active installation and 4.6 rating. If you had been around WordPress for a while, it would be hard to miss Awesome Support.
On the other hand, we have WSDesk, released just a year back and here it is already giving competition to the top WordPress helpdesk plugins. Its steady growth already speaks a lot about what we can expect from WSDesk in the coming years. Within this short span, WSDesk has gained 1000+ free version active installations and 4.3 rating. Both in terms of the look and functionalities, WSDesk has a significant similarity with Zendesk.
We shall start the comparison by analyzing the free versions.

There are certain awesome features which both these plugins have in their free versions, which are mostly the direct advantage of being a non-SAAS service. Those features are – Unlimited Tickets, Unlimited Agents, Unlimited Users, Unlimited Tags etc.
Now let's talk about the features which work little differently in the two plugins.
Note – All screenshots are taken from the premium versions (addons)
Customization
Customization is the degree to which you can modify the default behaviors in order to meet your requirements.
When you select a free plugin, most of the time you are self-assured of the fact that customization won't be an option for you. That's definitely true in most of the cases.
Awesome support provides a minimal amount of customization in the free version, like colors of the statuses, attachment type, labels of 'All Tickets' and 'Submit Ticket' pages.
WSDesk, on the other hand, offers a generous number of customization options even in the free version which includes – Custom statues (unlimited number), color change of statuses, and most importantly the complete ticket form can be customized including the labels. The ticket form customization includes the ability to add custom fields.
Awesome Support can offer the above customization only through paid addons.
Unlimited Ticket Status – $19, $34, $61 for single, two-five, unlimited site license respectively.
Custom Ticket Fields –  $49, $88, $158 for single, two-five, unlimited site license respectively.
Stats and Reports
Another premium feature which you rarely see in a free plugin.
Awesome Support doesn't include this feature in the free version. It has a premium addon for the same.
WSDesk, on the other hand, has this feature for free! Yes, you heard it right! WSDesk would give you all the required stats in the free version itself. The 'Reports & Analytics' in WSDesk would give you a complete stats and performance report. This section would give you some useful insight and help you streamline your support.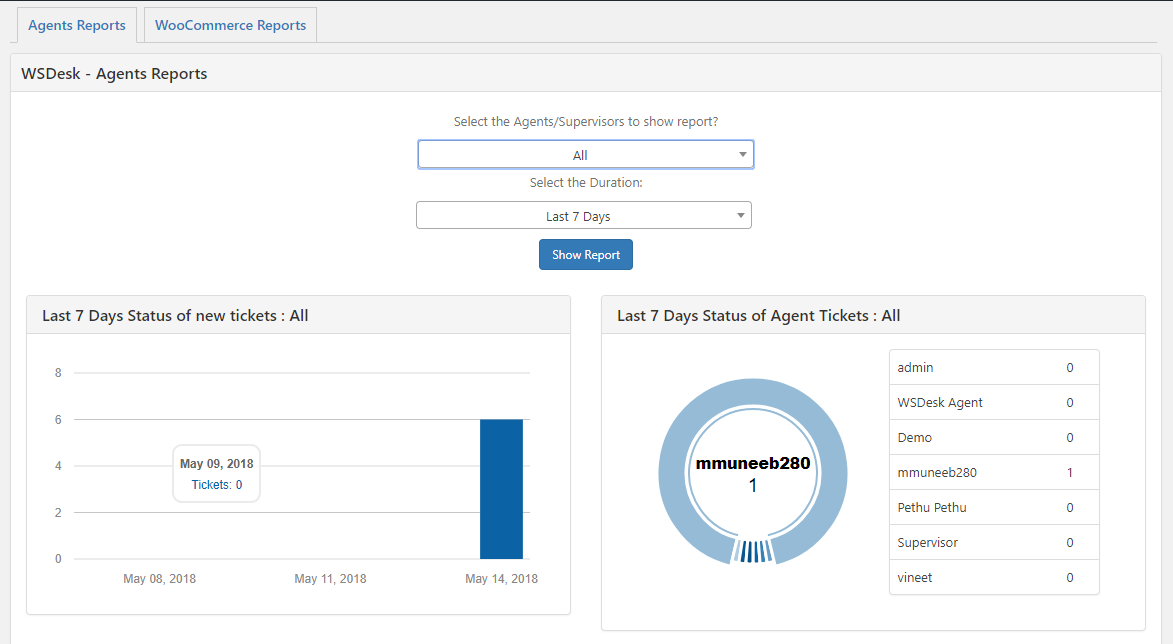 Awesome Support's premium addon for Advanced Reports Statistics has the following rate variations – $129, $232, $417 for single, two-five, unlimited site license respectively.
Though the Advanced reporting tool would present some deep analytical data, it's still one of their new releases and can be prone to some minor glitches. Moreover, we believe $129 for reports and stats of support is a huge investment when you can instead get the complete WSDesk premium version at just $89!
Easy of communication
Customer Support is all about the right communication. Thus, the ease of communication becomes one of the most important factors in deciding the value of a helpdesk plugin. When it comes to communication through messages, interface plays the most important role.
Interface is one of the strongest propositions of WSDesk, if not the best.
WSDesk's messaging interface is not like any other WordPress helpdesk plugins. If you look from an Agent's point of view, the interface would appear similar to the top SAAS based services like Zendesk, Helpscout. Infact, once you are inside the WSDesk dashboard, you would not realize that you are working in a WordPress site!
While replying to a customer, you get to view all the required information. Another feature which deserves a mention here is the 'quick view and quick reply' feature. Without opening the ticket, you can just get a sneak peek at it and choose to reply right from there. This further justifies the ease of communication.
Awesome Support, on the other hand, uses the usual WordPress editor which doesn't give you the real feel of communicating. Especially if you have ever used Zendesk, you would be slightly disappointed to communicate through this. Moreover, it doesn't allow you to cc any email id.
Then, there comes the need of inter-agent communication. There would come times when you would be required to discuss a ticket with your fellow agent. Sure, you can do this via email but, in case you are required to access the information at a later point in time, how would you be able to get easy access to that ticket specific communication? That's where the need of 'private/internal' notes come into play. WSDesk has this feature in the basic version itself and it's pretty simply added. Just while submitting the ticket, you can mark it as 'Submit as Note'!
Awesome Support, on the other hand, has a premium addon for Private Notes which would cost you $19, $35, $63 for single, two-five and unlimited license respectively
Email Piping
Email Piping is the interface that allows the tight integration between your support system and your email. With this feature, any issue reported to you via mails gets automatically converted into a ticket, you can respond to your customers via emails and your customers can receive any ticket update notification via emails.
Can you show me a plugin which has can provide email piping for free? Well, WSDesk does!
Awesome Support has a premium addon for this which would cost you $49, $88, $158 for single, two-five and unlimited site license respectively.
Ticket Creation Process
This feature sheds light on what are the possible channels available to create tickets. WSDesk free version would allow you to create tickets from the following channels –
Frontend form through the usual 'Submit Ticket' form.
Emails through the email piping functionality
Backend add ticket functionality
Awesome Support's free version allows ticket creation via the frontend form and backend but doesn't offer ticket creation through emails in the free version. But, Awesome Support has one extra feature through a free addon which is the 'Rest API integration'. This would enable you to receive tickets through external systems.
WSDesk has the 'Rest API Integration' in the premium version.
Then comes the question of who all can raise tickets?
WSDesk free version offers three ways of defining the ticket raisers –
All – This would allow anyone to raise a support ticket irrespective of them having an account or not.
Registered Users – This would allow only the registered users to raise tickets.
Guest Users – This would allow only the non-registered users to raise tickets.
You can further control whether the guest users should be prompted to create an account prior to raising ticket or not.
Awesome Support free version too allows you to have control over whether to prompt a user to create an account or not by directly allowing registration in the support page. But, in order to enable guest users to raise a ticket, you must purchase the premium addon at $29, $52, $93 for single, 2-5 and unlimited site license respectively.
Miscellaneous Features
WSDesk includes some more premium features in its free versions. These are –
Email Filtering and Blocking. You can block specific email ids from sending emails.
Support of Easy Digital Download. It's just a code snippet away.
Tabbed Ticket View and the ability to open multiple tickets simultaneously. That's another feature added to the ease of communication. You don't have to close one ticket to open another.
WSDesk has recently added a bundle of new and powerful features. The following infographic would let you know about those newly added features –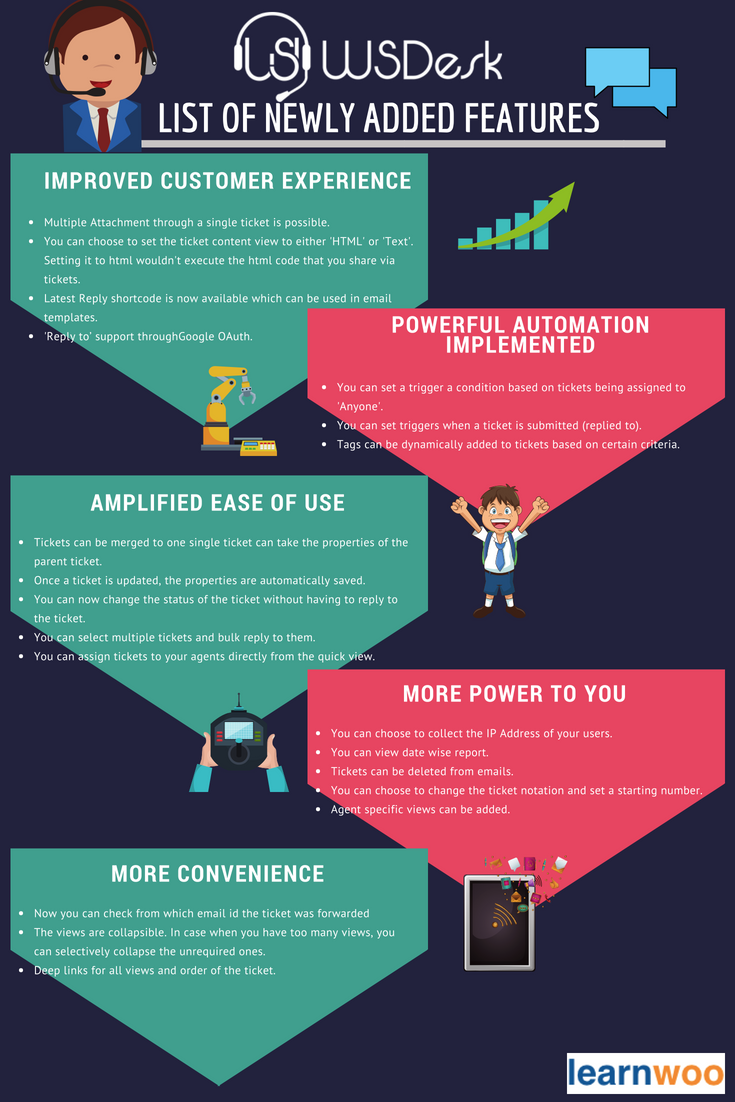 Now, let's move on to the premium versions which are meant for addressing more advanced customer support functionalities.
WSDesk has a premium version which comes at $89, $129 for single and five sites license respectively.
Awesome Support has 4 variations of premium versions based on the availability of the premium addons.
Standard Bundle ($149 | $199 | $249)
Professional Bundle ($229 | $299 | $399)
Enterprise Bundle ($289 | $399 | $549)
Agency Bundle ($409 | $799 | $999)
The choice of your bundle would depend on the addons you require and the type of business you are in. As the names suggest, the Standard Bundle is suitable for small business. It's definitely not an option if you are a large business or even a growing business. The number of addons increases as you move from the Standard to Professional and so on.
You can check out these complete list of premium addons available for Awesome Support.
Now, we shall discuss some advanced helpdesk functionalities and compare their implementations in both the plugins.
Trigger & Automation
As your business scales up and your investment escalates, a number of tasks are required to be set on auto-pilot. A helpdesk plugin without an automation feature is not even an option when you have a growing business.
Let's start with the automation addons available for Awesome Support.
There are three addons for automation –
Auto Close ($29|$52|$93) – This would automatically close any old and abandoned ticket based on certain criteria which you can control. Through this addon, you can also automate some warning emails for pending tickets.
Smart Agent Assignment ($129|$199|$249) – Through this addon you can auto-assign tickets to your agents based on certain criteria like products, department and time.
Notifications ($39|$70|$126) – Through this addon you can set up notification for any operations on any of your tickets. You can further choose your preferred way of getting notified. email, slack, sms/push-bullet are the options you get.
Now, let's come to the most impressive feature of WSDesk, which is 'Automation & Triggers'. The automation in WSDesk works in a very simple and easy to understand way. You can set up what action(s) to 'Trigger' when certain conditions are met. This feature can automate nearly everything. Few of the uses are mentioned below –
Auto-send email notifications on any changes in tickets.
Send auto reply based on some conditions.
Sending reminder/warning of a pending ticket.
Auto-assign, Auto-tag tickets based on its subject, description etc.
Further, you can schedule when a defined 'action' would be triggered.
Automatically marking a ticket as 'resolved' when kept in a pending state with no activity for a long period of time.
Set a differentiation parameter for tickets received through a different source like 'Zendesk'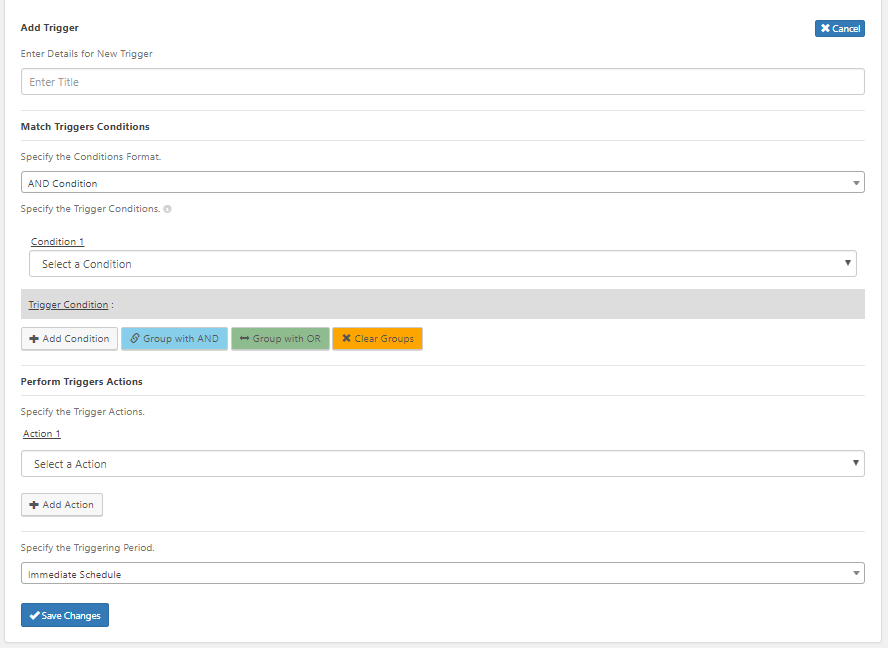 Knowledgebase and self-help
An organized knowledge base serves well to both customers and agents. A portion of your customers would choose to resolve their issue themselves rather than creating a ticket.
Awesome Support has Documentation ($39|$70|$126) and FAQ ($19|$34|61) addons as a knowledge base support. This Documentation addon is like any other knowledge base plugin available for WordPress. So, if you are already using a third-party documentation plugin, you might never need this.
WSDesk simplifies its self-help by Auto-Suggestion. Once auto-suggestion is enabled in the settings while raising a ticket your customers would get live documentation suggestions based on what they type in the Ticket subject. The same applies for the support agents too.
Pre-defined responses
As a support agent, you are often required to deal with similar questions repeatedly and it's not always a good gesture to direct the customers to documentation. In such cases, 'pre-defined responses' comes to your rescue. You can type and save those responses and just include it while replying to the concerned tickets.
Both these plugins have this feature quite sorted. Awesome support has a paid addon for this which is Canned Responses ($29|$55|$99).
WSDesk has this in its premium version.
Satisfaction Survey
As you must be aware, that reviews are an integral part of a support system. Along with helping in support analysis, they also serve as a boost for the support agents.
Awesome Support's addon for Satisfaction Survey ($49|$88|$158) would allow you to automatically send a survey link to the customers on the closing of a ticket. You can further choose to customize the date and time after which the survey link would be sent. Instead of a survey link, you can choose to send simplified option like "thumbs up" and "thumbs down".
In case of WSDesk, once a ticket has been closed and marked as resolved, a review request would be sent to the customer through which the customer can give their rating. This feature is also handled by the 'Automation & Trigger' settings, so, this too can be highly customized.
Compatibility and Integration with third-party addons
Both Awesome Support and WSDesk offer close-fitted integration with WooCommerce.
Awesome Support's paid WooCommerce Addon would cost you $49, $88, $158 for single, 2-5 and unlimited sit license respectively. Awesome Support also integrates with Easy Digital Downloads (EDD) with another addon would cost the same as the WooCommerce addon.
Awesome Support also has support for Gravity Forms i.e, you can choose to use the Gravity Forms instead of the default ticket submission form. But again, this would require you to purchase yet another addon for the same price as mentioned above.
WSDesk, though doesn't have a close-fitted integration with EDD, but works well with it, with the help of just a code snippet. WSDesk also integrates with Gravity Forms, Contact Form 7 and any HTML forms with its Rest API feature. Thus, with enable just the one feature, you can choose to use either Gravity Forms or Contact Form 7 or any other form in place of the default ticket submission form.
Spamming Prevention
Spam prevention is necessary in order to save your inbox from getting flooded with spammers, unnecessary emails and also in order to prevent recurring auto-mails.
Awesome Support doesn't have this feature.
WSDesk, on the other hand, along with providing email id blocking option in the free version also allows you to block emails based on its subject, in the premium version. This is mainly in order to prevent recurring auto-emails.
Pricing
By now, you must have got a faint idea that the pricing structure of Awesome Support is pretty complex. They have bundles of addons and then they have individual addons. We have already mentioned the prices of each bundle. Except for the two free addons, prices of other individual addons ranges from $19 to $129 for a single site. Having such complex pricing structure would make it difficult for you to plan your support budget. And we can't stress enough on the importance of a budget plan.
WSDesk, on the other hand, has a very simple pricing model. With just $89 (for a single site), you can convert your WordPress site into a complete support system.
Closing Comments
Both the plugins are feature rich and would form an integral part of your support system. While in Awesome Support, you get to choose the features (in terms of addons) and purchase only the ones you would be needing, in WSDesk, once you purchase the premium version, you can just sit back and relax without bothering about what you need and what not. Further, in case you need a new feature you can contact their customer support.
The issue with the addon system is that the cost can go real high when at times, for one single addon you are having to pay $129. Thus, you can go for Awesome Support, if your requirements are a handful of functionalities. For instance, you might just need a customer support with full WooCommerce integration and an in-depth Reporting tool. In this case, you can choose to go with Awesome Support and purchase the two required addons for a total of $178 ($49 + $129). But, then again, you won't get a complete support system unless you purchase the other addons. You might choose to go for any of the expensive bundles. The need to decide which addons to include is the biggest limitation of Awesome Support.
If you are looking for a complete plugin with all the necessary support feature, then you can instead purchase WSDesk for just $89 after of course being convinced by the free version.
Awesome Support is a great option if you can correctly figure out your complete support model and choose the addons accordingly. It's also a good option if you do not want to load your site with features you do not need and keep only the one you would be using.