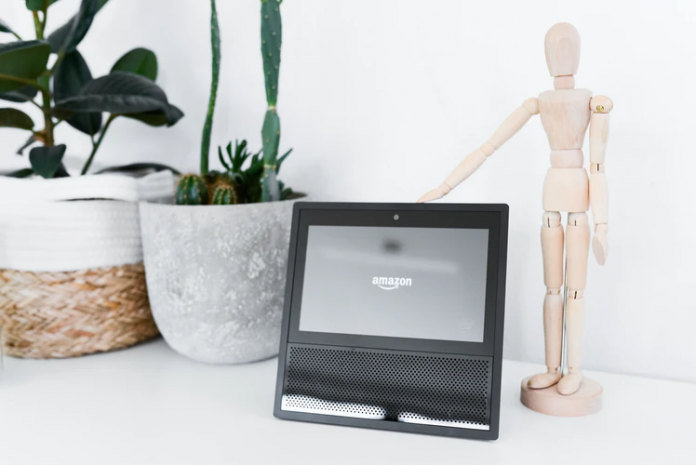 Are you having a hard time to boost your eCommerce sales, despite the strategies you've been implementing?
If you answered "yes," then maybe you'd want to consider using this modern technology online stores are raving about.
It's called artificial intelligence or AI.
eCommerce stores employ AI for their dynamic capabilities that help improve their customer engagement, shopping experience, etc.
You, too, can use AI to optimize critical business aspects and drive your ecommerce sales to catapult.
In this post, allow me to share how you can use AI to boost your ecommerce sales.
Let's begin.
Customer-focused Queries
If you typed the keywords "blue stripes dress for $25" on the search box in an eCommerce website, you'd expect to find a 25-dollar blue-striped dress in the results, right?
If the search yielded results you didn't ask for, like a red nightgown under $25, you'd probably wish the search engine understood you better like a human salesman.
Thankfully, a search engine can, using an AI-powered tool like Twiggle.
Twiggle applies AI to create relevant and direct connections between your customers' search queries, your store's inventory, and product information.
Through machine learning and natural language processing, Twiggle understands product information like material, attributes, and other words usually used to describe an item.
When this happens, Twiggle yields accurate results, and your customers can find the right item and continue with the purchase.
As you can see, these AI capabilities go a long way in benefiting your eCommerce business and boosting your sales.
Fortunately, if you're interested in learning AI, you can take up AI courses.
There, you will learn AI concepts and practical applications for your business, such as price prediction, demand forecast, improving customer support, etc.
In time, once you've mastered these skills, you may even build tools like Twiggle according to your store's needs and operations.
Fit Finder
If you make and sell clothes online, you've probably received fit-related complaints from customers even when they ordered according to their usual sizes.
Even if you provide sizing charts to guide your customers, it's not a guarantee they'll get the perfect fit.
The problem lies in the designing stage where you can only assume and generalize measurements based on lookup tables or traditional fit models. 
Not all measurements apply to all your customers, though. When this happens, you can get unsatisfied customers and high product return rates.
To solve this problem, you can customize the size and fit for each customer through AI-run tools like BoldMetrics.
Here's an example:
Image Source: ThreadChoice
Boldmetrics only asks you a few questions regarding your body measurements. 
Through machine learning and data science, Boldmetrics uses various algorithms to give precise fit and size recommendations to customers.
Instead of using generic lookup tables, you can get actual customer body data to help you create better-tailored apparel.
This results in personalized fitting and customer satisfaction.
When your customers are satisfied, they're more likely to patronize and buy their clothes from your store.
Personalized Product Recommendation
Let's say you clicked on an item you like in an eCommerce store, and you see similar items below.
Wouldn't you feel like checking them out in case you might find something better — or another that you can add to your cart?
It would, right? 
That's because the products recommended are closely related to what you viewed, which represents what interests you.
In other words, the recommendations are personalized —  all because of AI.
To show you how it works, I clicked on white men's running shoes as an example. Here's what Amazon showed below: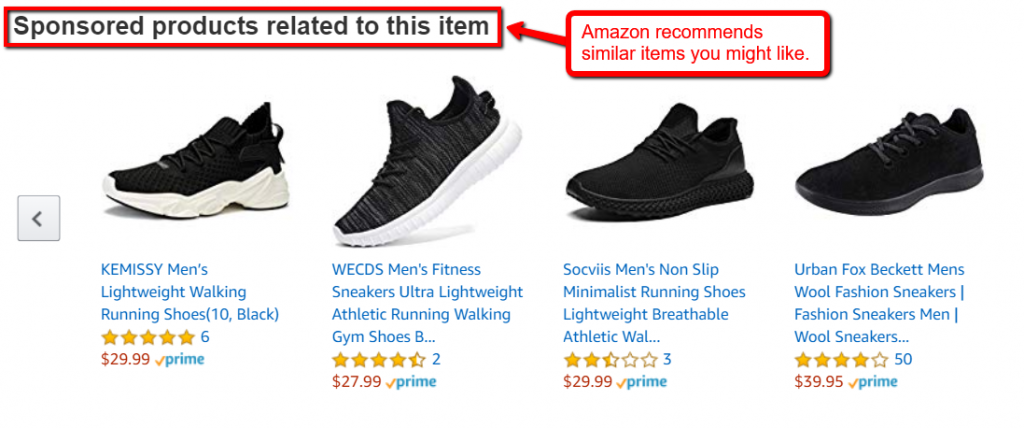 Using AI and its Amazon Web Services platform, Amazon noted the features of the item you clicked (or even previously viewed), like the material, size, color, etc.
Amazon then displays items with related features to give you more choices to excite your eyes and entice you to buy.
In this way, AI-powered personalized recommendations help increase your eCommerce sales.
Visual Search
Have you searched for an item in an eCommerce store but had difficulty deciding what keywords to use? 
Perhaps you didn't know what it was called or the design was too intricate for words. You wished you could search using a photo you have of it.
If you've experienced it, then let me tell you this.
You can do a visual search now through AI-powered tools like Visenze.
Upload a photo from your gallery or choose from the eCommerce store's items. You can then crop the picture to select the specific item you're looking for.
ViSenze analyzes the contents of the image and delivers similar-looking results.
It can even describe the items' attributes for you, like the style and color, as well as tags or product categories.
With visual search tools like Visenze, you help your customers find desired items instantly.
Keep in mind that findability is one of the factors that influence your user experience greatly.
The tools reduce wasted time brought about by keyword-guessing attempts and show more accurate results.
When this happens, you satisfy your customers. They're also likely to decide on buying the item, hence boosting your eCommerce sales.
Virtual Reality Shopping
When your customers shop online, they may sometimes hesitate to buy because they're not sure how the item looks like on them.
To eliminate any doubt from your customers and help them decide to continue with the purchase, let them shop in virtual reality.
L'Oreal, for instance, allows its customers to try on their cosmetic products virtually before they buy them.
Here's how it looks like:
Use their MakeUp Genius App and allow the application to scan your face. 
This face tracking technology maps 64 data points on your face in real-time to identify contours and expressions, different skin tones on your face and lips, and others.
Next, scan the cosmetic product — in this case, a lipstick. Pick a color you want to test and see how it looks like when applied on.
In this way, you no longer need to smudge product testers on your hands or lips but instead, see the results from your screen.
The app can even personalize recommendations based on customers' real-time data. 
For example, if they've browsed through metallic shades, the app can suggest a shimmer makeup look. Your customer can then virtually test it.
Through virtual reality shopping, customers can explore your products instantly and conveniently. In turn, they can be more decisive about buying.
Final Thoughts
AI helps you enhance various aspects of your eCommerce business in several ways, like fostering your customers' shopping experience.
Its dynamic capabilities to process rich data and learn to think like humans, among others, enable you to reach out to your customers.
That leads them to choose your store and products among the rest, boosting your sales.
Think this post was insightful? Do hit the share button now. Cheers!