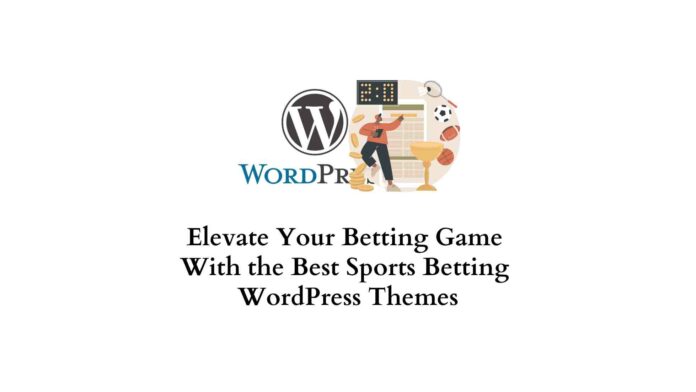 Last updated - September 12, 2023
Introduction
Technology is constantly evolving; the gaming industry has grown significantly in this era of possibilities. With the gaming industry booming, the youth have started showing interest in online betting. For online betting, you need a website or an app, and building a website was more complex and more challenging than it is now.
Now, people have several efficient tools like WordPress, where websites can be created with just a few clicks. WordPress themes play a significant role in determining the look and functionality of the website as WordPress continues to grow. With a wide range of customizable themes available, selecting one for sports betting becomes essential.
Let us guide you through the best sports betting WordPress themes that will provide your end users with a seamless experience. Pick a theme from the options below and find the best ready-to-use design for your online sports betting brand. Let's take your website to the next level!
7 Best Sports Betting WordPress Themes

Description
FC United WordPress theme will be the best choice to create a sports betting website with a user-friendly interface. This theme has various sports betting features like live score updates, a dynamic odds display, and an intuitive bet slip functionality.
You can have additional functionalities like club switching, player profiles, league tables, etc. This theme can easily be integrated with popular payment gateways for secure transactions. You can use this theme to develop a fully functional responsive design with inbuilt SEO optimization to boost your site's visibility. It can significantly be used for running a sportsbook, sports prediction blog, or tipster service to engage users and enhance their betting experience.
Technical Aspect
FC United theme is built on Elementor and offers easy WooCommerce integration to manage the website. The theme's appearance can be modified with various plugins and Elementor, whereas the website layout is easily customizable with WordPress.
Key Functionalities
Responsive layout for mobile-friendly view
Customizable player statistics and team profiles
Match schedule display with date and time
Live score updates
Integration with WooCommerce for merchandise sales
Widgets for featured content and promotions
Support multi-language and translation plugins
Social media integration
Price
Regular License Fee: $79
Extended License Fee: $2200


Description
Sportodds is a dynamic and versatile WordPress theme designed to create various sports betting websites. This theme is used to host live casino games, poker tournaments, and promotions with a single click through readymade templates.
Its user-friendly interface and responsive design can facilitate live score updates and customizable betting options. Sportodds provides social media integration and user profiles to nurture the community of sports enthusiasts. Due to this theme's intuitive features, it is an excellent choice for building an informative sports betting website using the Sportodds WordPress theme.
Technical Aspect
Sportodds theme is a modern HTML template designed specifically for sports betting websites. It is compatible with Bootstrap 5.x and includes HTML files, CSS files, SCSS files, and JavaScript files.
Key Functionalities
Performance optimization for fast-loading pages
Ad placement areas for monetization
Support for popular plugins and extensions
Archive templates for organized content browsing
Flexible widget options to enhance website functionality
Live score updates and game progress
Customizable layouts for diverse content representation
Match schedule and fixtures with date, time, and team details
SEO-friendly to improve website visibility
Social media integration for better engagement
Price
Regular License Fee: $59
Extended License Fee: $800

Description
Nuts is a WordPress theme ideally used for gambling, casinos, and betting. This full-featured theme offers premade pages like Home, About, and Online stores with powerful shortcodes and widgets for easy usage. The best thing about the Nuts template is that it has everything you need to build a poker, online gambling, or casino website.
You can also use its premium drag-and-drop page builder called Elementor to customize the page easily and quickly. Nuts is entirely responsive and provides full cross-browser compatibility to enhance user -experience. This theme can easily be integrated with the WooCommerce plugin to boost e-commerce capabilities.
Technical Aspect
Nuts theme is built on WordPress and offers easy WooCommerce integration to manage the website. The theme's appearance can be modified with various plugins, Beaver Builder and Elementor, whereas the website layout is easily customizable with WordPress.
Key Functionalities
Customizable layouts and templates
Performance optimization for faster loading times
E-commerce compatibility for online stores
Responsive design for viewing on all devices
Support for multimedia content like videos and images
Widgetized areas for functionality enhancement
Customized typography and color options
Social media integration for sharing and engagement
Price
Regular License Fee: $69
Extended License Fee: $1999

Description
Rumble is the most appropriate choice among the WordPress themes if you want to build a martial arts, karate, boxing gym, or MMA website. The best thing about Rumble is that it has premium plugins and powerful extensions like Revolution Slider, Event Schedule, and Instagram Feed to build custom pages.
WooCommerce integration is possible with Rumble to convert Rumble's website to an online store to sell sports equipment, manage inventory, process payments, and provide a seamless shopping experience. Rumble stands out if you wish to craft a feature-packed sports betting website to awe your audience.
Technical Aspect
Rumble theme can easily be integrated with Elementor page builder, a popular tool to create and customize web pages using drag-and-drop.
Key Functionalities
Real-time odds updates for different sports
Integration of live scores and match updates
Develop a user-friendly bet slip system
Payment gateway integration for secure deposits and withdrawals
User accounts for tracking bets and personalization
SEO optimization to improve visibility
Analytics integration for tracking website performance
Social media integration for social feeds
Price
Regular License Fee: $69
Extended License Fee: $2200

Description
Tennis Today is a WordPress theme most used for sports betting websites, as it offers a modern, user-friendly, and attractive design with customizable options. With this theme, it is possible to change the entire layout structure, and it is considered a universal option for sports websites.
This WordPress theme features a pack of custom widgets and shortcodes to showcase the skills and achievements of players. If you wish to sell things online on your website, Tennis Today comes with WooCommerce support. It is the best way to create a perfect shopping experience for your sports betting purposes.
Technical Aspect
Tennis Today is built with WordPress, and further, to enhance and customize the layout. one can use Elementor, Beaver Builder, and WPBakery page builder.
Key Functionalities
Seamless integration with sports betting odds provider
Provides live scores and match updates
Create customizable bet slips
Flexible membership options to manage account
Secure payment processing for deposits and withdrawals
Multiple customizable widgets to display sports content
Drag and drop builder for layout customization
SEO-friendly for search engine rankings
Customizable fonts and colors
Multi-language for a global audience
Support and updates for theme maintenance
Price
Description
Ludo Paradise is a WordPress theme that can be used to create a gaming and sports betting website. When working with this theme, no coding is required to build pages as it is compatible with the WPBakery page builder. It is a multi-purpose WordPress gaming theme that lets you create gaming blogs, gaming news, team pages, and many more.
This theme is fully responsive and designed to provide a unique and engaging experience for casual players and Ludo enthusiasts. This stunning, dark-styled theme has gaming-specific features like player profiles, clan management, gaming live streams, forums powered by bbPress, and game results management.
Technical Aspect
Ludo Paradise is suitable to work with various plugins like Contact Form 7, Slider Revolution, M Chart, Essential Grid, and many more to make the gaming website more memorable.
Key Functionalities
Fully-functional Ludo game accessible from the website
Sports betting integration for real-time sports events
Live score updates for sports enthusiasts
Customizable betting options to change bet types and amounts
Multiplayer support to engage friends
Leaderboards to reach and display players and bettors
Secure and streamlined payment processing
Customer support for theme maintenance
Price
Regular License Fee: $69
Extended License Fee: $2600
Description
If you wish to develop a responsive, fully customizable online casino enjoy gambling or billiards website, WinZone is the suitable WordPress theme. This theme is the best for a responsive layout, accompanied by a highly functional admin panel for odds management and website customization.
WinZone is the best choice for sports betting enthusiasts looking to develop a website for real-time odds, customizable betting options, and live score updates. This platform is also for someone who is a bookmaker or is aspiring to create a betting community. Using "One Click Demo Import," you get the easy and fast installation of the theme along with the documentation.
Technical Aspect
This theme allows editing pages and content on the pages using the Elementor plugin and MIM Elementor Widgets Add-on plugin.
Key Functionalities
Betting analytics to help users make informed decisions
Multiple payment gateways to support various payment methods
Live chat support for immediate assistance
Notification system for game updates, odds change, and important events
The best history to review past bets and outcomes
Live streaming for users to watch alongside bets
Features a section for news and sports updates
Mult-currency support
Responsible gambling tools to set betting limits
Price
Regular License Fee: $68
Extended License Fee: $989
Final Thoughts!
Choosing the best sports WordPress theme is very important, as it will directly impact or navigate your betting business' success and various operations. While looking for a sports betting WordPress theme, you need to ensure that your theme will provide a fantastic experience to the users.
Take some time to review all the above themes, identify your match, and start developing your sports betting website in a way that suits your business. Building a website with WordPress will be a good choice if you are looking for a cost-effective solution, but you may also create a betting app to provide a more personalized experience.
Further Reading