Last updated - January 18, 2022
The cart page is a crucial factor for customer experience in an eCommerce store. WooCommerce offers a default cart page option, which is functional and quite effective. However, depending on your store strategy and customers' interests, you can make improvements to the cart page. There are several plugins in the WooCommerce ecosystem that will help you enhance how customers interact with the cart page. In this article, we will list out some of the best WooCommerce mini cart plugins that will help you provide a better purchasing experience to your customers.
This plugin enhances the shopping experience of your customers by providing a summary of items in their cart while they are still shopping. Thanks to this feature, your customers will be more informed during their stay on your store and can easily make purchase decisions. The plugin displays the products in the cart, subtotal, shipping charges and total cost of an order. In addition, there will be a button to redirect customers to the checkout page.
Features
Displays a mini cart with the summary of products in the cart, as well as other details.
When cart is empty, display a button to help customers return to the Shop page.
Customize the color scheme of the menu and the checkout button to suit the overall color scheme of the website.
Easy interface – Simply add an attribute to your cart page to enable.
The plugin will cost $29 for a single site subscription.
A smooth checkout experience will help a lot in improving customer experience, and consequently, your store conversions as well. The floating cart offered by this plugin will offer customers a chance to checkout faster from your store after a purchase. Basically, the plugin will create a floating cart that will be visible even when customers are scrolling through the page. This will help to ensure better chances for conversions as customers are aware of the cart all the time. Moreover, you can customize the visibility and placement of the floating cart without any difficulties.
Features
Display a floating cart with animations when customers are scrolling through pages on your site.
Offers an option to customers to view cart items in a popup, while they continue browsing through your product catalog.
Enable or disable floating cart in a single click.
Refreshes the cart automatically when customers add new items.
Customization options to modify the appearance and position of the floating cart.
The single site subscription of this plugin will cost you $29.
Floating Sticky Cart is a super flexible WooCommerce plugin for instant access to your WooCommerce shop cart and follow-up shopping.
The plugin can be accessed from anywhere on your website pages. It can be easily configured and customized. The main feature of this plugin lies in its mobility and responsiveness in the form of a sticky sidebar with all the necessary functions for making purchases in an online store.
Add products to your cart with just one click. Browse and pay for the collected products directly in the same panel using the PayPal system.
There is an integrated shipping form is available for direct delivery o added products.
A nice addition is the built-in coupon system, which will give your clients to get a lavish defined price discount. 
With Floating Sticky Cart, your online shop will become even more attractive to your customers and your sales conversion will sharply rocket up.

Floating Sticky Cart made with care for its users. Full-fledged plugin to enhance your online WooCommerce shop

Features:

Responsive and comfortable sticky shopping panel

Full customization options

PayPal integration

Cross-sells and up-sells related products

Coupons system

Shipping form

WooCommerce Cart + checkout 
Floating Sticky Cart is available for a $29 single site subscription.
Booster for WooCommerce is an all-in-one plugin that offers a lot of assistance in extending the default features of WooCommerce. Once you have the plugin installed on your WooCommerce store, you can enable the mini cart module for this feature. You can add custom information that you want to be displayed on the mini cart widget. Also, you can manage the positioning of the widget with the help of shortcodes. The settings are simple, and you can easily configure them according to the requirements of your store.
Features
Display a customizable mini cart on your WooCommerce store.
Control the information displayed as well as the position of the widget with the help of shortcodes.
Simple settings and a user-friendly interface to configure the mini cart.
The single site license will cost you $69.00 for the Basic version. You can try it out without worries as they offer a 30-day moneyback guarantee.
Whenever customers add products to cart, this plugin will help with a popup cart. This will help customers get a clear idea on what they have added to cart, while continuing with the purchase. Moreover, it even helps with your promotions by presenting product recommendations on this mini cart. With advanced features and simple user interface, this plugin is one of the best WooCommerce mini cart plugins.
Features
Create customizable popup carts on your WooCommerce store when customers add products to cart.
Flexibility to let you define what content is displayed and how it is organized.
Customization and animation options to help you design the popup cart.
Display product recommendations on popup cart.
Exclude products or categories from displaying on the popup.
Floating cart icon to help customers access the popup cart easily.
A single site subscription will cost you $49.99
This plugin will help a lot in making the purchase experience convenient for your customers. When customers are shopping, they can view all the items they added to the cart in a sidebar widget.  This will help customers to be clear about what they have added to cart till that point. And as a result, customers will be able to checkout faster, because they don't have to repeatedly visit the cart page. The plugin has extensive customization options and works with all versions of WooCommerce.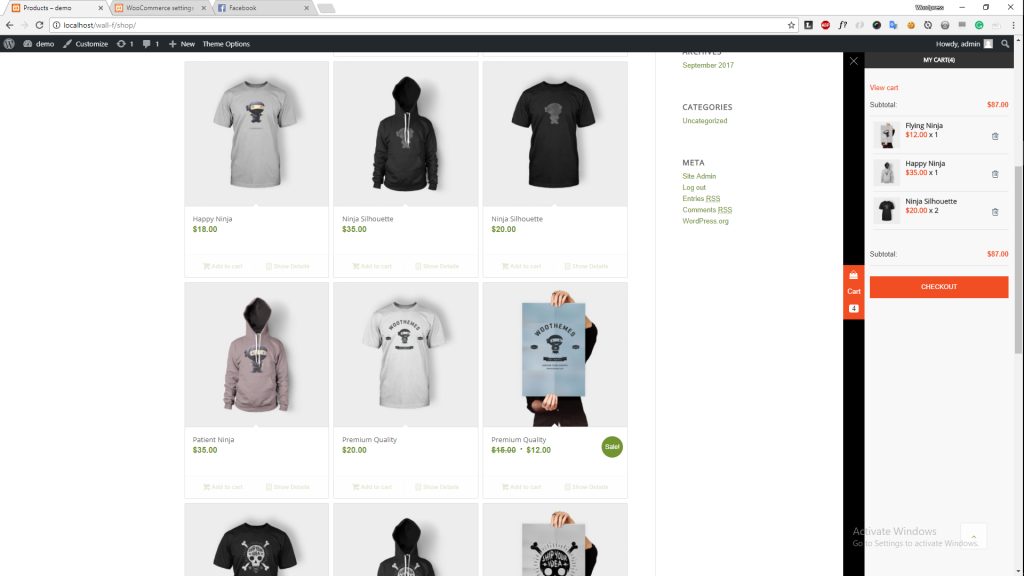 Features
Offers a mini cart on the sidebar of your website with cart details to help customers avoid frequent visits to the cart page while shopping.
Helps enhance the checkout process on your store as well as conversion rate.
Customization options to make the mini cart aligned to the design and color scheme of your website.
The plugin is Ajax-enabled for real time updates of the mini cart, so that there won't be any time lost for customers.
Compatible with popular WordPress themes.
Supports multiple languages with WPML compatibility.
Simple user interface.
The regular license of this plugin costs $20.
This plugin will help you in making cart more accessible to your customers. You can display cart page as part of your navigation menu, or using a shortcode, display it anywhere on your site. There is also an option to pop up the cart details when cursor is placed on the cart icon. Moreover, the plugin gives an option to hide the cart display when the cart is empty, and replace the icon with another image. With a variety of design elements and plenty of customization options, this is one of the preferred WooCommerce mini cart plugins.
Features
Display cart details as an item in your navigation menu.
Customers can view the mini cart by hovering the cursor over the mini cart icon.
Use shortcode to conveniently display mini cart anywhere on your site including header and footer or product pages.
Customize the position of the mini cart with the help of several options available in the plugin settings page.
Customize the text and link on the mini cart as well.
More than 13 icon styles to choose from to customize the display on your site.
You can purchase the regular license of this plugin at $25.
This is another plugin that offers an option to configure a mini cart on your WooCommerce store. It helps you create a floating cart on your store, which you can place anywhere on your site with the help of shortcodes. There are 10 pre-designed icons to choose from, and also an option to upload custom icons. Moreover, the plugin offers several customization options to help you personalize the look and feel of your site.
Features
Helps to add a customizable WooCommerce mini cart on your store.
Option to choose different locations on your store to place the mini cart.
Pre-defined cart icons and option to upload custom ones.
Personalize the color scheme according to your brand's design and theme.
The price of the plugin is $19.99 for the Pro version of the plugin. It offers a 7-day money-back guarantee as well. You can also checkout the free version of WooCommerce Minicart plugin on WordPress repository.
If you are looking for a free option to create mini cart on your WooCommerce store, you can check this plugin. Customers will be able to add products to cart as well as modify the quantity using this plugin. Also, the plugin offers several customization options in the settings page.
Features
Ajax-based mini cart that will help customers add products to cart as well as change quantity.
Several customization options to personalize the design.
JavaScript functions for developer level customization.
Hopefully, you got a better idea on WooCommerce mini cart plugins after reading this article. Leave a comment if you have a query.
Further reading