Last updated - February 20, 2023
While both SeedProd and Elementor are both popular website builders for WordPress, they do have certain differences that make them better suited for users with specific needs. So it is better to understand these tools in detail before committing to one. Let us dive into them and find out which tool will be ideal for your WordPress website.
What is SeedProd?
SeedProd is one of the best website builders for WordPress. You can build a complete website from scratch using this tool and quickly, at that thanks to its drag and drop website builder.
SeedProd: Design
SeedProd has a drag and drop builder that is extremely easy to use. A lot of people who have used SeedProd, including me, point out that this drag and drop builder is far better when compared to other WordPress website builders.
Their builder allows you to easily and quickly create beautiful pages. Even beginners who used the tool for a very short time managed to create beautiful pages.
It is important to note that no coding is required!
If you are editing your page and you want to see what it looks like, it is possible to preview it before publishing. Layout navigation is also available with the help of which you can more easily arrange rows, columns, headers, specific categories, and so on.
Revisions history is a great feature of SeedProd with help of which you can return to the previously saved with just one click.
Also, note that there is a draft mode option. A very useful option is to tidy up your site and put it private until you finish it and finally publish it.
And finally, one of the important things is responsiveness. See how your page will look on mobile devices, laptops, and desktop computers and customize the look further for optimal performance.
The templates are something to boast about in SeedProd. They point out that they have over 150 landing page templates and are constantly adding new templates.
You can create different pages such as opt-in forms, application pages, thank you pages, pages that appeal for a discount for example, and much more.
Ready-made template blocks are available so you can change styles quickly and easily. You have over 20 built-in color schemes or you can create your ideal color to use for your site.
SeedProd integrates with Google Fonts so that unlimited font types are available. If you want to customize the CSS of your website, SeedProd does have an option to just enter the CSS code and you're done.
Create your pages, posts, headers, footers, and all without any code. All of these options are available with the help of a WordPress builder.
Competent site editing is available. You can turn all the loss of people from your site into your customers. You did not understand the meaning of this sentence. All right we will explain.
With the click of a button, you can create your 404 page to help you collect emails from lost traffic. You can turn your poorly designed application page into a real masterpiece and thus, say strengthen your brand.
SeedProd: WooCommerce
Woocomerce integration is an option that allows you to create pages of your product, or say a basket for your site. So you can create a billing page however you like, all with the help of Woocomerce blocks and integrations.
What is Elementor?
It is not an exaggeration to call Elementor as one of the most famous plugins for WordPress to create web pages, perhaps even the most famous.
As such, it is very easy to use. It is especially suitable for beginners. It also comes in a great free version, while let's say there is a paid version that has a lot more add-ons compared to the free version.
Compared to other website builder plugins, Elementor is by far the fastest which is its biggest advantage.
Elementor: Design
With the help of the regen drop editor, you can build any part of the page you can imagine. You can easily drag and drop whatever you want. Everything can be customized without writing codes.
There are over 300 design templates.
Over 100 widgets are available and this will help you make each part of the page exactly the way you want.
A nice addition is responsive editing with which you can change the look of how the page will be displayed on the screens. So you can see what it will look like, for example, on a computer screen or a phone screen.
You can also use Elementpress for WordPress and thus expand your WordPress capabilities. The Elementor allows for frequent updates. So your account is running at full speed.
This is a great feature because you can design an entire website from one place. This includes the header and footer text content.
Adjust the colors you see and more so you can reuse them anywhere on your page. The option used by a large number of users is dark mode. Which saves energy and is great for the environment. With the help of the navigator, you can move quickly through the elements.
Contextual editing, shortcuts, inline editing, and right-clicking menus are just some of the countless useful features of web creation. Auto-save is also available, which means you don't have to squeeze always save after a change.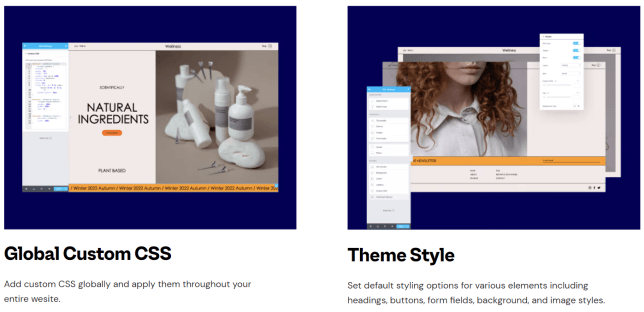 The design options are numerous. A lot of people compare the design of Elementor and Divi. You can also add custom CSS and apply them to the entire page or change the background and apply any color. Distinguish between your website and other sites, and add its name, logo, description, and other things.
In addition to the colors and images you can set in the background, Elementor offers the option of placing a video in the background. You can also play with slide shows in the background to create your slide show for any segment of the page such as fonts, their size, weight, and length. You can also use Google Fonts to choose from hundreds of fonts. You can set your typography unit to be expressed in pixels or say Em.
Elementor: WooCommerce
All the features used for eCommerce are available in the pro version of the element. With this, you can create a store on your site and sell your products.
Dynamic WooCommerce tags are also available, so in one place when you change something the same thing changes everywhere on the site.
Elementor: Support
Elementor offers great customer support that is available worldwide.Premium Elementor support is available as part of all pro plans. Ask a question about whatever you are interested in and get an answer in an average of one day.
VIP Elementor support is also available, with the help of which you can talk live for their team.
SeedProd vs Elementor Comparison
SeedProd vs Elementor: Design
We will divide this comparison onto several categories. The first category is design. SeedProd and Elementor are excellent website builders in terms of design.
There are some differences. Let's say that while you are designing with Elementor, you can use the right click and in that way duplicate some of the elements, while with SeedProd you don't have the right click option. Elementor wins in terms of design.
SeedProd vs Elementor: Speed and Performance
The second category is the speed of the WordPress websites running on either of these tools. In this category, both SeedProd and Elementor are excellent. But several tests have shown that SeedProd is lighter than Elementor and therefore faster. So the victory in this field goes to SeedProd.
SeedProd vs Elementor: WooCommerce
Both builders come with WooCommerce integration. You can design your store however you want and arrange it according to your taste. Design your cart, product pages, and more. Convince your visitors to buy your product. I would divide the points into this category.
SeedProd vs Elementor: Pricing
SeedProd Pricing
SeedProd comes with four paid packages as well as their free version.
The first package is the basic package and is also the cheapest on offer. The normal price of the package is $79, it is currently on sale and costs $39.50, which is a nice discount.
Of course, when buying a package, you must know that it is valid for one year. This package provides basic tools for creating a landing page.
The second SeedProd package is the Plus package. The starting price of this package is $199, as with the first package, it has a discount, so now this package can be yours for $99.50, which is a great option.
This package is great for businesses that want are aiming to grow and expand. The Plus package has everything and a basic package with the addition of email integration.
Next on the sheet is a package called Pro. Which is normally priced at $399 and is currently available at a discounted price of $199.
Unlike the basic and Plus packages, Pro offers premium support, as opposed to the standard support offered for the lower tiers. Of course, the package has everything the previous two with the addition of premium features such as dynamic text, over 3000 Zapier integrations, and a theme builder.
Considering everything, Pro offers the most features compared to the cost it incurs.
And finally, you mention the best and at the same time the most expensive package, that is, the elite package. The normal price is $599, which is a lot, but it is offered at $239.60 as a short term discount. It has everything that previous packages have, with the addition of a premium feature, which is domain mapping.
Plus, the pro and elite package have free bonuses and that's stock photos with over two million images to pick from. All packages offer a 14-day refund. If you are not satisfied with the package, the money will be refunded in full.
Elementor Pricing
Like SeedProd, Elementor has four packages and a free version.
You have the $59 cloud option, which is valid for one year. This is a good option to go with if you are a beginner and want support for only one website.
It also includes all features such as live editing, responsive design, 100+ widgets, and more.
In my opinion, if you are a beginner it would be best for you to choose the free version. But if you are not a beginner then I suggest the Expert package.
Speaking of prices, we can't help but mention that if you don't like the package, you have 30 days to get your money back. Another ueful thing is that Elementor has a free version which is great for beginners. Of course, it is quite limited in terms of the features it offers but it is still a good option for those with a tight budget.
When we look at the whole price situation, in my opinion, the winner is Elementor. There are two reasons.
The first is that with the Elementor Pro version you get all the unlocked functions, but you can only use it in one location, which most people will use. Another reason is that the free version of Elementor is simply better and more powerful than the free version of SeedProd.
Final Thoughts
In the end, we can conclude that both tools are great. But we just have to be realistic and say that Elementor is a better WordPress website builder by a small margin for beginners because of the reasons we have seen in this article. Let me know in the comments which tool has worked better for you.
Further Reading