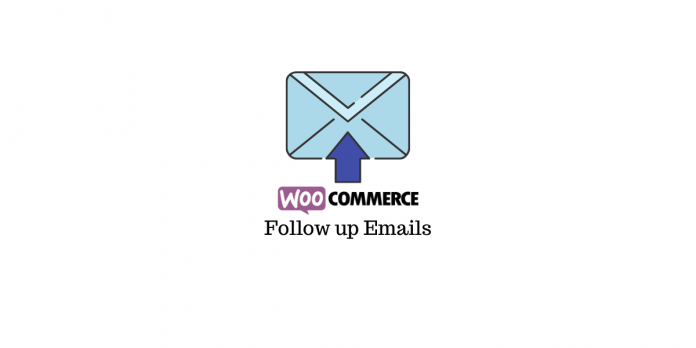 Last updated - December 5, 2022
Of all the marketing strategies that eCommerce store owners try, emails still prove to be quite effective. A lot of customers tend to respond better to emails compared to other marketing approaches. So, for eCommerce store owners, emails remain one of the best ways for remarketing and building customer loyalty. You can engage customers in various scenarios like cart abandonment, new product release, promotional campaigns, etc., via emails. If you have a WooCommerce store, there are several plugins that can help you a lot in setting up follow up emails. In this article, we will discuss some of the best WooCommerce follow up email plugins you can use on your store.
This plugin will help you improve customer engagement on your WooCommerce store with the help of personalized emails. You will be able to encourage customers to complete a purchase or pursue them for additional purchases, or simply get them back to your store. The plugin helps you create targeted campaigns through a simple interface. You can create emails and easily group them together to create campaigns. It also helps you create follow-up campaigns through Twitter.
Features
Create email and twitter campaigns targeting existing customers as well as prospective buyers.
Automate marketing campaigns to ensure continuous customer engagement.
Create notifications easily to make sure you are not missing out on any important communication.
Create templates specific to each campaign.
Personalize emails easily.
Good reporting features to track the efficiency of your campaigns.
The single site subscription of this plugin costs $99.
This is another great options on WooCommerce extensions store that you can use to improve customer engagement and boost conversions. It integrates effortlessly with the WooCommerce interface and will help you create targeted email campaigns pretty easily. You can schedule campaigns and configure them to send emails to customers at specified intervals or based on particular customer interactions on your store. It has advanced features to distinguish existing customers and new users even before signing in and captures guest user emails during checkout.
Features
Create follow up campaigns, abandoned cart reminders, triggered SMS notifications, etc to help you engage your customers efficiently.
Helps to offer rewards to customers for posting reviews of your products.
Create wishlist reminders, birthday emails, credit card expiry alerts, etc.
Helps to generate dynamic coupons customized according to the customer.
Detailed reporting features to measure the success of each of your campaigns.
No limit to the number of emails that can be sent.
Flexible to developer level customization.
The plugin has a price tag of $99 for a single site subscription.
This is another popular option to create customized email campaigns on your WooCommerce store. You can set up diverse conditions to ensure that the emails are sent only to the customers or group that you intend to. This will ensure that more customers will open your emails. And, as a result, you will have better success with your email campaigns.
Features
Create customized transactional emails on your WooCommerce store.
Easily define which user groups will receive the emails.
Insert dynamic content to email using macros.
Create re-usable content blocks.
Automate sending of emails through triggers.
Easily configure the schedule of sending by specifying interval, dates or through custom conditions.
The regular license of this plugin will cost you $39.
Cart abandonment is a common occurrence in eCommerce store, and holds great opportunity to boost sales. With the help of this plugin, you can send targeted mails to recover abandoned sales. The plugin will help you define schedules to ensure the best outcome for your email campaigns. Moreover, the plugin offers extensive reporting features to help you understand how well your campaigns are performing.
Features
Create cart recovery strategies for only specific group of customers with the help of WordPress user roles.
Option to save guest users' carts to be able to contact them and convert them to customers.
Create custom email templates and link them to specific carts easily.
Send cart recovery emails in a specified schedule suitable for your store and customers.
Integrate coupons to recovery emails.
Notifications when an abandoned cart is converted.
Great reporting features to understand the most effective campaigns and their conversion rates.
The single site subscription of this plugin has a price tag of $79.99.
You can use this plugin to reduce cart abandonment on your store and also to encourage repeat purchases from customers. The plugin will capture email addresses of users on your site and automatically send a set of emails based on a specified schedule. It will save you from a lot of manual efforts as the cart recovery emails can be sent automatically based on a schedule set by you. Moreover, it will stop sending the emails as soon as an abandoned cart is recovered. With premium plans, you will get additional features like email capture of users on your site.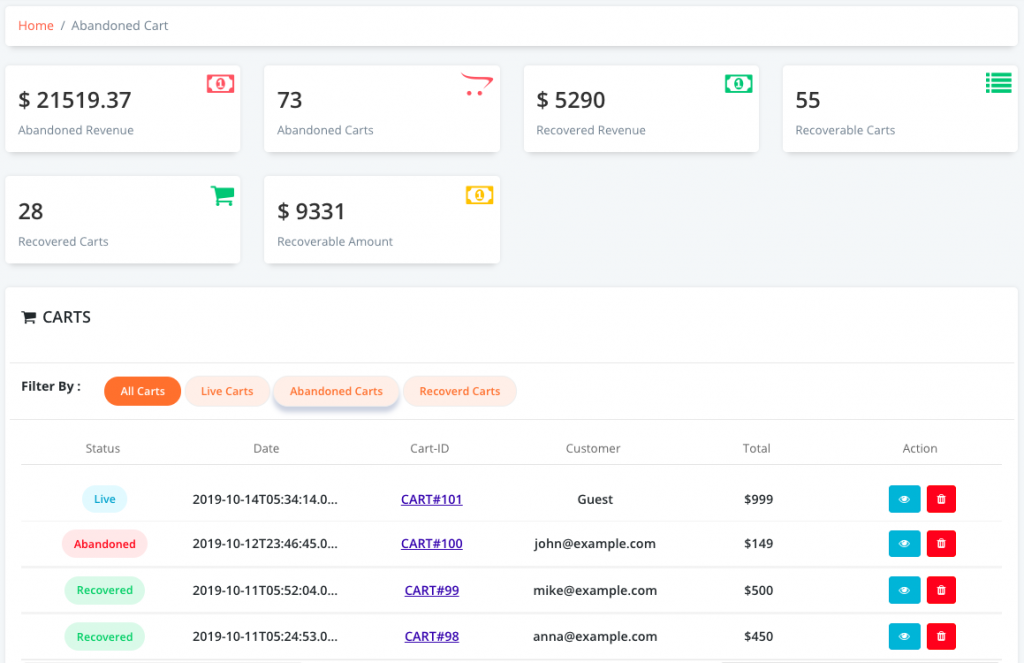 Features
Send reminders for incomplete purchases starting from 30 mins after adding the product to cart.
Include a recovery link in the cart recovery email.
Schedule a series of recovery email according to store strategy.
Include a single use coupon code for the next purchase.
Shortcodes to insert customer information in the emails.
Drag and drop editor to personalize email templates easily.
Extensive reporting features to measure success rate.
This plugin helps you send automatic email reminders, SMS as well as Facebook messages to recover abandoned carts on your WooCommerce store. You will be also able to configure pop up notifications to capture the email ids of your guest users. Moreover, you can personalize the emails with customers' information, and also include targeted coupons to drive conversion. The plugin offers three in-built campaigns that will help you get a jump-start on your campaigns. Also, there are no limits on the number of emails you can send using this plugin.
Features
Send abandoned cart recovery emails, text messages and Facebook Messenger reminders.
Capture emails using Add to Cart popup.
Multiple email templates to choose from.
Personalize emails by inserting customer information, coupon codes, etc.
WPML compatible to help customers receive notifications in their language.
Extensive tracking options.
You can purchase this plugin to use in a single store for $119.
With the help of this plugin, you will be able to send cart recovery emails automatically based on specified schedules. It also lets you insert coupon codes to these emails to encourage customers to make a purchase with you. Overall, you will be able to build customer loyalty on your store thanks to this plugin.
Features
Recover abandoned carts with the help of unlimited email templates.
Helps to send recovery emails to both registered customers as well as guest users.
Efficient tracking to help you understand the efficiency of each of your campaigns.
Integrate coupon codes automatically to recovery emails.
Translation ready with WPML compatibility.
Capture phone numbers for manual follow up.
The regular license of this plugin will cost you $49.
This plugin utilizes customizable conditional logic to create automated follow up emails on your WooCommerce store. You will be able to set up multiple campaigns at the same time as the plugin does not have any restrictions on the number of emails that can be sent. The plugin could be a great help to set up segmented emails to a specific group of customers. For example, you can send an email to all customers who used a particular shipping option or payment gateway. Or, encourage them to leave a review on your store. Overall, this plugin will be a great option to enhance customer engagement on your WooCommerce store.
If you are looking for a solution to send discount coupons to customers through email on strategic occasions, this plugin will help. This will be a great option to reward your loyal customers as well bring back those who have not purchased from you for a while. You will find 4 different templates to customize the email with this plugin. It even allows automatic sending of coupons when the customer is not active over a certain period on your store.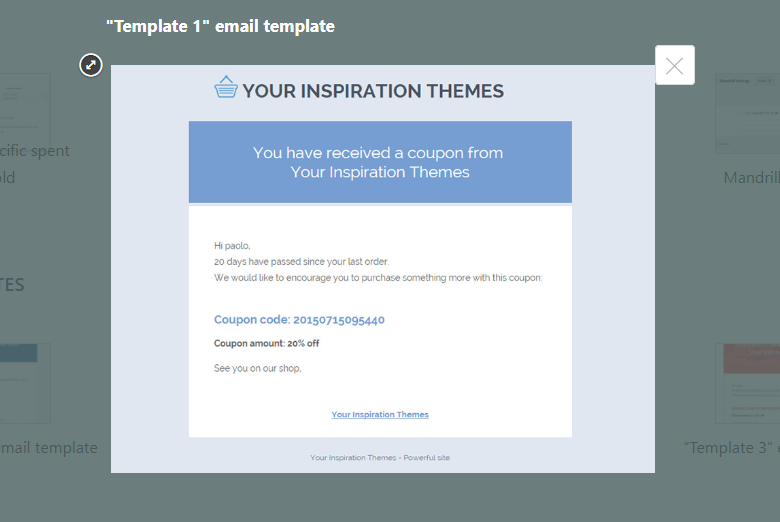 You can turn uninteresting WooCommerce email templates into a devoted messenger for your business with the aid of this WooCommerce Email Customizer, also known as YayMail Pro.
You may access the visual email designer connection with 50+ third-party WooCommerce plugins when used in conjunction with YayMail Premium Add-ons.
You may drag & drop components into the email templates in YayMail. In the visual email editor for WooCommerce, each component creates a block. As with the Gutenberg editor or the Elementor page builder, it is also incredibly simple to change content and create email layouts. The plugin costs $59 billed annually.
We hope this article has helped you identify some of the best WooCommerce follow up email plugins. Please leave a comment if you have a query regarding one of these plugins.
Further reading