When you sell through multiple sales channels, the reach of your products will increase significantly. Moreover, you will be able to find a more diverse range of customers through different channels. The result will be naturally increased sales and revenue. When you already have a product catalog on your WooCommerce store, how will you explore other sales channels? In this article, we will discuss a few WooCommerce plugins that will help you sell through multiple sales channels.
Walmart is a popular marketplace that has a reputation in terms of the quality of products and dependable customer support. Moreover, Walmart does not charge you any recurring fees, and you only pay a certain amount as commission when you make a purchase through them. You can use this plugin to integrate your WooCommerce store with Walmart marketplace. The plugin will help to automatically sync the products and to manage the inventory from a single location. You can invest in this plugin if you are looking to explore the huge customer base of Walmart.
Features
Easily sync your WooCommerce product data with Walmart marketplace.
Product properties and fulfillment rules can be according to your WooCommerce configuration.
Manage all orders centrally from your WooCommerce dashboard.
Upload products based on Walmart's categories and attributes.
Option to automatically accept Walmart orders.
Review and re-upload products to Walmart marketplace if you spot errors.
Real-time synchronization of products and inventory.
Dedicated account manager and dependable support.
The cost of the plugin is $249.
Etsy is a marketplace that is globally popular with a focus on creative items like handmade jewelry or crafts. The price of selling on Etsy is quite low at $0.20 per listing for a period of 4 months. If you are creating unique products, and are looking for a place to get better exposure to your products, this is the best place. You can use this plugin to integrate your WooCommerce store with Etsy. It will sync your inventory and orders, and enables you to manage sales without hassles. The selling process is quite smooth and you will be able to customize the features according to your unique needs.
Features
Integrate your WooCommerce store with Etsy marketplace.
Single click process to authorize your Etsy account.
Easily upload WooCommerce products to Etsy in bulk.
Configure inventory rules, price and shipping methods as per your strategy.
Can upload products based on the attributes and categories specified by Etsy.
Easily manage orders from your WooCommerce admin.
Real time synchronization of inventory and order data.
Automated shipping process.
Dedicated account manager and expert support.
You can get the plugin for $199.
In Southeast Asian markets, Shopee is a popular eCommerce marketplace. Selling through this platform will give a lot of traction for your products in these markets. Shopee is preferred by sellers thanks to the relatively low commission rate that is charged only when you make a sale. With the help of this plugin, you can automatically sync your WooCommerce store products and inventory with Shopee platform. It will also let you manage order information from a centralized platform as well. Moreover, you can make use of the bulk upload feature to save time.
Features
Sync products and inventory real time between WooCommerce and Shopee.
Set product details, fulfillment rules and prices based on your WooCommerce settings.
Product preview option that will help you check all the details before making a product live.
Import option out of the box.
Manage orders from the WooCommerce admin.
Provide shipment tracking information to customers.
Account manager to help with issues and round-the-clock support.
The price of the plugin is $199.
Wish.com is a popular marketplace in European and North American markets. The specialty of Wish.com is that they present a carefully crafted list of products based on buyer profiles. You can add Wish.com as an alternative sales channel for your WooCommerce store products using this plugin. It will provide you with all the required features of marketplace integrations such as automated inventory and orders sync, centralized order management and smooth sale process.
Features
Easily upload your WooCommerce store products to sell on Wish.com.
Regularly sync product and inventory information for hassle free sales.
Manage orders centrally from the WooCommerce store admin.
Easy option to enable or disable products to be on sale on Wish.com.
Provide shipment tracking information to customers to improve their experience.
24/7 support through different media and the help of an account manager.
The plugin costs $199.
Amazon and eBay are two of the most popular marketplaces in the world. You can use this plugin to integrate your WooCommerce store products with both of these platforms. It helps you list products and sync inventory and prices seamlessly. You will be able to connect to multiple Amazon and eBay accounts and the set up will help you through the integration. The plugin also helps you in bulk uploading product details and setting up pricing, shipping and inventory rules as well. Moreover, you will be able to manage multiple retail channels from your WooCommerce dashboard.
Features
Easily list your products in Amazon and eBay.
Create new products individually, or link existing Amazon products with your WooCommerce store.
Option to configure separate pricing and fulfillment rules based on your WooCommerce catalog.
Automatic, real-time sync of inventory and products.
Handle orders for all sales channels on the WooCommerce dashboard.
Simple installation process.
You can download the plugin for free from the WooCommerce marketplace and use it for a trial period of 14 days. After this, you will have to opt for a Codisto subscription plan starting from $29 per month.
Google Shopping is an important marketing platform with global relevance. Listing your products on Google Shopping ads can significantly increase product visibility and conversion potential. In the United States and France, you can even let users make a purchase directly on your Google Shopping listing. You can use this plugin to automatically create a product feed suitable for Google Shopping ads. The plugin helps you generate Google Product feed in CSV, TSV and XML formats. Moreover, it will help you match your product data with Google categories and attributes. You can also set an update schedule to update Google product feed according to any changes on your WooCommerce catalog.
Features
Create a product feed for Google Merchant Center to make your products available for Google Shopping ads.
No limits in the number of feeds or scheduled jobs that you can manage.
Works with multiple countries and all WooCommerce product types.
Multiple file formats such as CSV, TSV and XML.
Schedule regular updates of the product feed.
Choose multiple languages for Google categories.
Map product or categories with Google categories.
Conditions to customize attribute values and mapping.
Manage multiple feeds easily.
Compatible with WPML.
A single site subscription of this plugin will cost you $69.
This is a combination of three plugins that you can use to manage Facebook advertising, sales channel and chat through Messenger. You can sync and present your product catalog on your Facebook page, and use it as an alternate sales channel. With a single click, you will be able to send all your products to the Facebook shop page. With real-time sync, any changes that you make on the store will reflect on the Facebook page as well.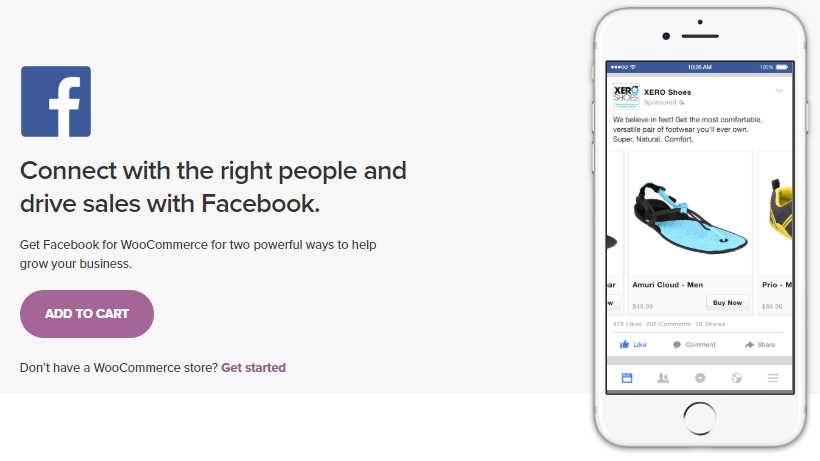 Features
List your product catalog easily on Facebook shop page.
Automatic synchronization to ensure any changes will be reflected on the Shop page as well.
Organize and market your products more effectively.
Responsive design to work well on all devices.
Explore a customer base that prefers shopping through social media.
Also helps in Facebook advertising and chat through Messenger.
You can download the plugin free from WooCommerce marketplace.
Pinterest is yet another social media channel that will offer great visibility for your products. You can use this plugin to create a link between your WooCommerce store and your Pinterest account. Instead of the product image of your WooCommerce store, you can suggest an alternate image for the Pin. Moreover, you can manage pins directly from your WooCommerce admin.
Features
Connect WooCommerce store with Pinterest and list all your products in a matter of minutes.
Easily add new products to Pinterest.
Graph markup to enhance your product images.
Add hashtags from the WordPress admin.
Replace the product image with a different images for the Pin.
The plugin costs $79.
Hopefully these WooCommerce plugins will help you sell your products through multiple sales channels more efficiently. Leave us a comment if you have a query.
Further reading