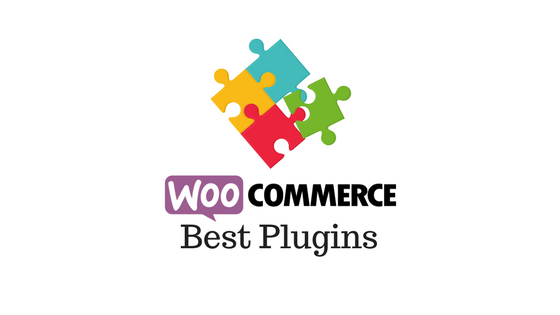 Last updated - September 28, 2018
WooCommerce is all about enhancing specific functionalities of your store the way you want it. Or, more significantly, how your customers want it. Be it a common daily activity, or a unique functionality, you will be able to find a plugin for all your needs. Most of these plugins that you find in the WordPress WooCommerce community ensure good quality and a great support system. Due to the strong sense of co-existence prevailing in the community, there is a good focus to ensure compatibility between plugins. As a result, store owners can peacefully invest in multiple plugins that would help them with varied store functionalities. This article intends to get your focus on some of the Best WooCommerce plugins that will make sure that you run your store a little better.
Best WooCommerce plugins
The plugins discussed in this list are either offering a unique functionality or have proven themselves to be exceptional. Almost all the premium plugins offer great post-sale service, which is really a necessity in the current scenario. Thanks to the simplicity of WooCommerce, a lot of entrepreneurs without extensive coding knowledge, are able to create great online stores. The easy availability of plugins adds to the confidence of store owners to provide the best experience for their customers. Here is a list of some of the best WooCommerce plugins that you can use in your store.
This extension helps to enhance the integration between your WooCommerce store and Google Analytics account. You will get more detailed insights on your store traffic and performance so that you can make the necessary adjustments. Basically, the extension makes sure your store events are also taken into account in the analytics data. Additional metrics like your order value, sales numbers, the rate of conversion, etc. will be considered for analytics insights. At the start of the integration, you can choose what all store metrics you need to integrate with the Analytics account. The extension will ensure the rest, and you will have better insights on your sales and conversion.
You can purchase the single site subscription of the extension at $29.
When you are running a WooCommerce store, you are probably also using a lot of external services to manage varied aspects. How about integrating almost all of these services to your store? It will really save a lot of time and manual effort from your team to connect store data effectively. The WooCommerce Zapier integration will help you trigger updates in multiple external services based on the store events that you specify. The store events can be a new order or a new customer registration, which you choose based on your particular requirement. In fact, it will help you connect to more than 750 different services across functionalities. Overall, it will help you reduce cart abandonment and be in touch with customers in a more efficient manner.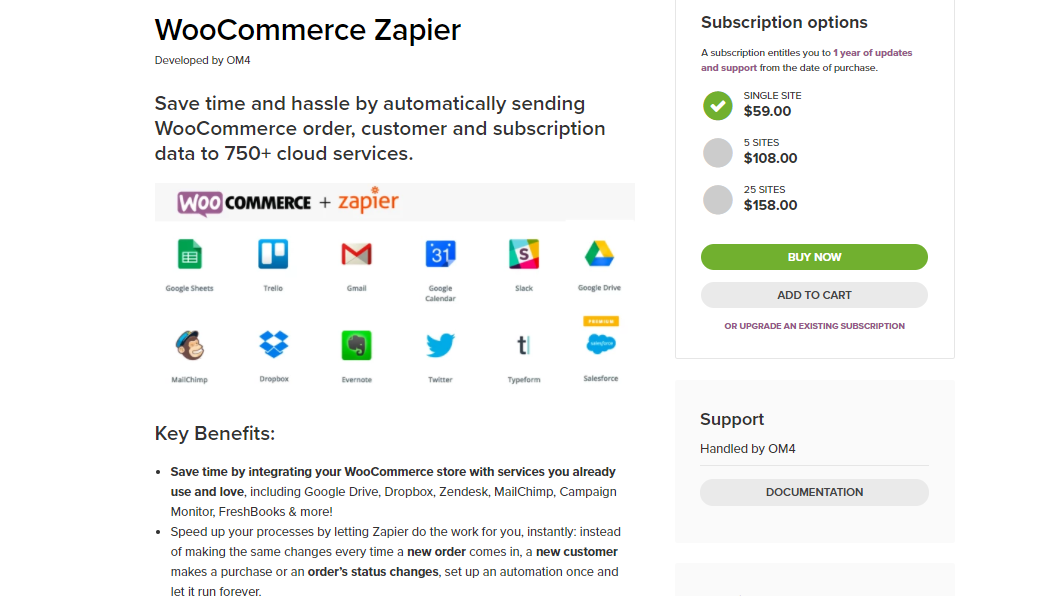 A single site subscription of this extension would cost you $59. You can read more about WooCommerce Zapier extension here.
Sales tax may prove to be a big headache for WooCommerce. Not when you have the plugin that integrates TaxJar with your store. It will automatically calculate the tax settings in your store and periodically update the rates. You can practically forget about sales tax compliance once you set this plugin in your store. It helps with the tax calculations for the United States and Canada. If you have tax nexus in multiple US states, the plugin will take care of each one quite accurately. And, if you are selling in other channels, it will ensure that the tax rates of those are also calculated correctly. Moreover, you will get specific reports related to each, so no more worrying about that.
Furthermore, automated tax filing is also possible with the plugin. However, you need to pay an additional fee for that. The basic pricing plan of TaxJar starts at $19 per month, which will be suitable for you if your store transactions don't cross 1000 monthly.
Shipping is one of the more difficult aspects when you are running a WooCommerce store. Almost always you would want additional functionalities other than the default shipping functionalities of WooCommerce. This is one of the most popular shipping plugins in the WooCommerce community at the moment. It helps you set up a shipping rate table based on a combination of conditions that you specify. Product weight, price, cart subtotal, shipping class, the location where you are shipping to, etc., can be used to define shipping rates. You will be able to define various shipping rates based on different delivery speeds as well. In addition, you can easily move the rates via a CSV file. With multiple calculation methods, it is possible to set up highly advanced shipping rates based on your specific store strategies.
The single site license of the plugin is $69. You can try it out by downloading the free version here.
Creating a kit of products is a great way to upsell some of the items in your store. When offered with a considerable discount, it can prove to be an amazing marketing strategy for your store. Also, if you have products that need to be assembled, this extension can be quite useful. You can use this extension for a variety of uses on your store. For example, you can group together a set of related products, or up-sell certain products as part of a bundle. You can create product bundles out of any of the WooCommerce product types on your store, including digital downloads. This extension should help you with your marketing efforts and conversion quite efficiently.
You can purchase the single site subscription to the plugin for $49. The 5 site subscription is $79 and it is $149 for the 25 site one.
Having just one fixed price for your products has somewhat become old fashioned. Almost every online retailer is experimenting with new pricing strategies to lure more customers to them. ELEX (previously XAdapter) WooCommerce dynamic pricing and discounts plugin is a great tool to revamp your pricing strategies. It helps you apply dynamic prices and discounts at the product, category, cart and combination levels. The simple and intuitive user interface helps you a lot to create complex calculations with minimal efforts. In addition, if you want to keep a control over the discounts, that is possible too. You can create a maximum discount limit for every rule that you configure on the plugin.
The plugin is available for purchase at prices starting from $69. Download the free version of the plugin here, if you want to try it out before the purchase. If you want to read about similar plugins in more detail, read another article.
Beeketing is one of the leading marketing plugins available in the market. It includes 10+ marketing tools designed to optimize conversion rates, increase average order value and nurture loyal customers… all in one single plugin. Among all built-in tools, the massive Beeketing for WooCommerce plugin has some highlighting ones that any eCommerce store should have to increase conversion and sales like: upsell and cross-sell popups, automated follow up emails, product recommendations, exit-intent pop ups and social proof widgets,…
It's very easy to install and try Beeketing out since most tools in this plugin are totally free. The premium ones provide 15-day free trial.
The checkout page is one of the most important determinants of your conversion rate. You may have to experiment quite a lot to find an optimized checkout strategy for your store. WooCommerce Checkout Field Editor extension provides you great flexibility to add and edit fields displayed on your checkout page. You can add different types of fields such as text, checkboxes, date pickers, etc. When you need additional input from customers while checking out, you can use this plugin effectively. Similarly, if you want to give additional options or information to customers such as shipping details, it can prove to be quite handy.
The single site subscription of the plugin is available at $49.
WooCommerce offers pretty decent features to make you able to sell internationally. However, you may find it slightly tricky to show converted rates in multiple currencies. That problem is completely alleviated with this plugin that helps your customers switch currencies. They can do this real time with conversion presented to them instantly. You will be able to display three different widgets using this plugin –  currency switcher, converter, and rates. It comes loaded with many other features you may find quite handy while handling international transactions. There is also a premium version of the plugin, which you can find here. If you want to understand more about similar options, find an article here.
This plugin is hugely popular in the WooCommerce community with its easy to use interface and reputed support. You can import all types of WooCommerce products to your store within a matter of minutes, owing to its automatic mapping option. This is something that is notably absent in its competitors and makes it really a winner in terms of WooCommerce product import. Coming to the functionality of the plugin, you can import and export all type of WooCommerce products including unique product types such as product bundles. In addition, it helps to import and export product reviews as well. Moreover, the plugin helps you schedule an import or export via FTP, which thankfully makes your job a lot easier.
If you want to understand the working of this plugin in more detail, check out an article here.
Thanks to its ability to provide regular income consistently, subscriptions have become really popular in the eCommerce industry. If you want to set up subscriptions on your store without purchasing an expensive extension, you can try this one out. It enables you to create subscriptions out of all WooCommerce product types including variable products. The interface of the plugin is pretty simple too, so you can configure all the settings in a matter of minutes. An added advantage of using this plugin is that your customers can checkout with both subscription products and regular products in their cart. Furthermore, it facilitates the automatic renewal of subscriptions as well. However, this is dependent on the payment gateway that you choose.
If you want to read more about WooCommerce subscriptions strategies, read our article on the subject.
Coupons are a great way to ensure better conversion rate on your online store. WooCommerce, by default, provides quite decent options to create and manage coupons. However, if you want to incorporate really advanced features into your coupon strategy, this plugin is for you. With the WooCommerce Smart Coupons extension, you will have the power to generate coupons in bulk, which you can then email to your customers. In addition, you can create and sell gift certificates to customers. If strategically utilized, coupons and gift certificates can prove to be great enablers of repeat purchase in your store. You can purchase the single site subscription to the plugin for $99. If you want to read an article to understand various coupon strategies in more detail, find it here.
Product personalization is a great strategy to ensure the best experience for your customers. This WooCommerce extension lets you allow customers to personalize the products they purchase from your store. It achieves this by letting you add extra fields on the product pages to take input from customers. Furthermore, you can use conditional logic, where you can make multiple fields dependent on each other. As per experts, product customization, if feasible to you operationally, can boost customer satisfaction index on your store. Purchase options for this extension start from $99 for a single site subscription. Read more about product customization here.
Conclusion
When you look into the WooCommerce community for a plugin, you may find abundant options that may leave you spoiled for choice. You might often be confused about which one to choose. This article has compiled some of the best WooCommerce plugins currently in the market that might help you with varied functionalities. Let us know if you have any suggestions.